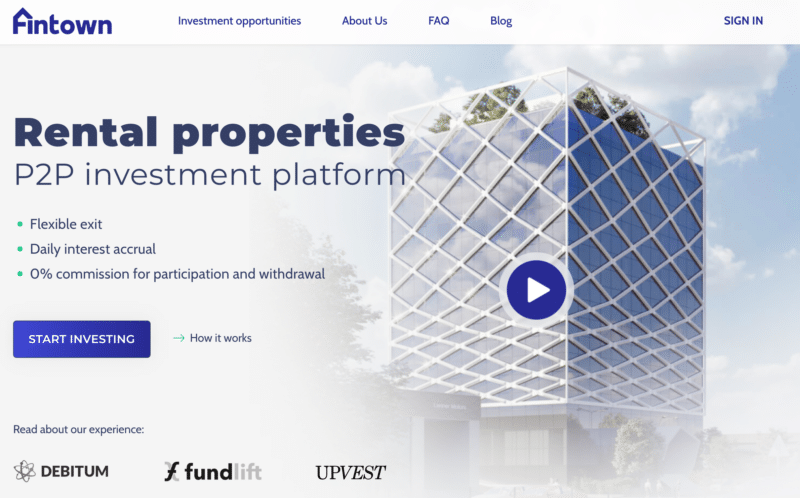 Fintown is an investment platform powered by Vihorev Group (more than 10 years of experience in the Czech real estate market) that provides investors with convenient and safer opportunities to invest in real estate developments across Europe, with a special focus on Prague, the capital city of the Czech Republic. The platform aims to make real estate investing more accessible to individual investors, enabling them to diversify their portfolios and benefit from the potentially high returns of property investments.
Account Opening and Verification
My experience with Fintown began with the account opening process, which I found to be user-friendly and efficient. The platform required me to provide some basic personal information and upload a copy of my identification document for verification purposes. The verification process took a few days, which I considered reasonable given the importance of ensuring investor security.
Once I got verified, I was able to deposit euros, which is the only currency available for deposits on Fintown. You can start off with as little as €50.
User Interface and Experience
Once my account was verified, I gained access to the Fintown platform's dashboard. I found the user interface to be clean and intuitive, making it easy to navigate and manage my investments. The platform offers a seamless user experience, with clear navigation menus and quick access to essential features like the investment marketplace, portfolio overview, and transaction history.
Flexibility is one of the platform's major selling points, with the emphasis being on exiting an investment easily, gaining daily interest accrual (rather than say, monthly, which would reduce exit flexibility), and 0% commissions on deposits and withdrawals of cash. There are also no fees for participating in an investment.
Investment Options on Fintown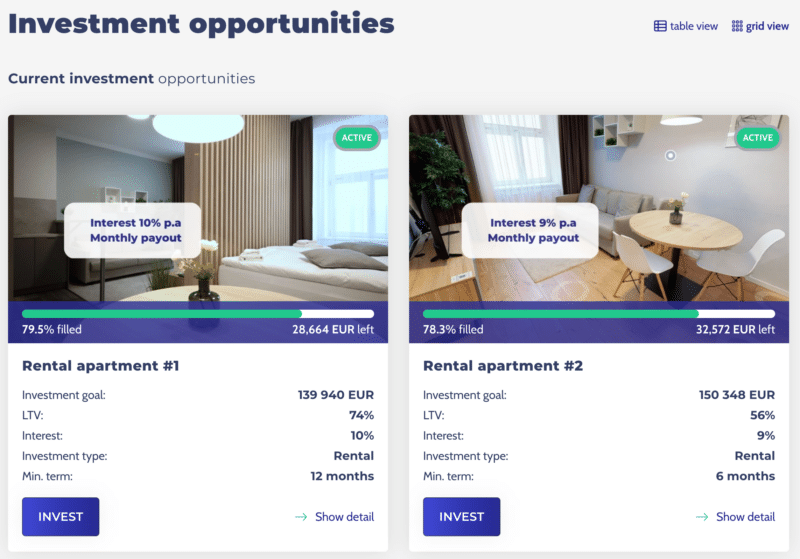 Fintown's primary focus is on real estate investments, offering a range of opportunities for investors to participate in European property development projects. The platform carefully vets and selects projects based on factors such as location, potential returns, and overall risk. This allows investors like myself to have confidence in the investment opportunities presented.
Many of the projects are rental apartments in Prague (Czech Republic). This is perfect for those who want exposure to this burgeoning economy.
The minimum investment is €50 and there are no investment fees. You will be glad to know that the team invests at least 20% of their own funds in every project, meaning they have skin-in-the-game.
The available investments generate between 9% and 12% yearly yield and pay monthly interest, which is pretty good.
Types of Real Estate Offered
The real estate investment opportunities on Fintown cover various types of projects, but mostly short-term rental apartments in Prague, the capital city. Specifically, the apartments are located in the Smichov District. You can view several of the apartments on Booking.com and view for yourself the level of reviews for these properties. Here's one example
The short-term rental market in Prague has experienced significant changes in recent years. Following the global pandemic in 2020, the short-term rental market, particularly Airbnb-style accommodations, faced a substantial drop in demand due to lockdowns, travel restrictions, and social distancing measures. However, as travel restrictions have eased and the world has gradually adapted to the new normal, the short-term rental market in Prague is rebounding and showing positive signs of growth.
One of the factors contributing to the good prospects of short-term rentals in Prague is the city's enduring appeal as a tourist destination. With its rich history, stunning architecture, and vibrant culture, Prague continues to attract millions of tourists every year. As international travel resumes, the demand for short-term rentals is expected to increase, offering property owners and investors opportunities to capitalize on this growing market.
Additionally, the rising prices of real estate in Prague have contributed to the overall appeal of short-term rentals. With property prices increasing, purchasing a property for short-term rental purposes has become an attractive investment option for many investors, both domestic and international. The prospect of earning a higher return on investment compared to long-term rentals has further fueled interest in this market segment.
Moreover, the city's thriving startup scene and the growing number of international companies establishing their presence in Prague have increased the demand for temporary housing for business travelers and remote workers. This trend further strengthens the prospects of the short-term rental market, as professionals seeking comfortable and flexible accommodation options often prefer short-term rentals over hotels.
All these factors make investing in short-term rentals in Prague very attractive at the moment, and Fintown offers one of the easiest ways to get exposure to this market.
Investment Process
Investing in real estate developments through Fintown was straightforward. Once I had reviewed the available projects and identified one that aligned with my investment objectives, I simply had to decide on the amount I wished to invest and complete the transaction. The platform also provides updates on project progress, keeping me informed about how my investments are performing.
There are two formats for investing, mezzanine loans and participative loans.
A mezzanine loan is a type of unsecured subordinated debt, which implies that in the event of borrower default, the borrower's assets will be liquidated to repay a senior loan (such as a mortgage) before addressing other obligations, including subordinated debt.
A participative loan is a type of debt extended to a borrower in which the lender shares both the income generated and the losses resulting from the loan agreement.
Both types of investments carry a higher risk compared to loans secured by a mortgage.
Returns and Exit Strategy
One of the key considerations for any real estate investment is the potential return on investment and the exit strategy. Fintown projects typically offer attractive returns, with the platform aiming to provide investors with a combination of capital appreciation and rental income, depending on the nature of the project. As for the exit strategy, Fintown usually outlines the projected timeline for each investment, giving me a clear idea of when I can expect to realize my returns.
Each project featured on Fintown has a specified minimum term, which indicates the lock-up period for your funds.
These terms range from 9 to 24 months. Once the period concludes, you have the option to withdraw your funds at no additional charge whenever you choose.
Should you decide to exit your investment prior to the loan term's completion, you can submit a request directly through the platform. However, note that Fintown will assess an exit fee based on the remaining duration of the term.
Fintown VIP Club
Fintown's VIP Club is an exclusive program designed to reward its dedicated investors with bonus interest on their total invested amount. This initiative stands out as it offers additional interest irrespective of the specific projects one invests in.
Benefits at a Glance:
Investments ranging from €10,000 to €29,999 earn an extra 0.5% p.a. interest on the total amount.
Investments exceeding €30,000 are entitled to a 1% p.a. bonus interest.
Eligibility and Terms:
Any investor who commits €10,000 or more is immediately eligible for the VIP Club, with no other conditions.
The program calculates bonuses based on the total investment, not individual transactions.
After a 12-month holding period, members can decide to reinvest or withdraw their accrued bonuses.
As long as the investment stays above €10,000 post the 12-month period, bonuses will keep accumulating and can be withdrawn whenever desired.
However, if due to partial withdrawals, the balance drops to between €10,000 and €29,999 from an initial €30,000 or more, the bonus interest rate will decrease from 1% to 0.5%.
If an investor's balance goes below €10,000 post-withdrawal, their VIP Club benefits will be halted, and any related earnings will cease.
Fintown's VIP Club is an enticing proposition for investors looking to diversify their portfolios. By reaching the €10K or €30K investment thresholds, members are instantly rewarded with an additional interest percentage. This program not only incentivizes higher investments but also ensures that dedicated investors receive tangible benefits for their commitment. Join the VIP Club by clicking this link.
Customer Support
During my time using Fintown, I had a few occasions to interact with their customer support team. I found them to be responsive and helpful in addressing my concerns and questions. They were knowledgeable about the platform and its features, ensuring that I received accurate information and guidance when needed.
One of the interesting things I chatted with them about was the Czech market, so this helped me to learn more about the market there, specifically in Prague, and how investors are generating good returns due to the favorable conditions there.
Alternative Platforms
While I've had a positive experience with Fintown, it's always a good idea to explore alternative investment platforms to find the best fit for your individual needs. Here are a few other platforms that you may want to consider:
EstateGuru: EstateGuru is a European real estate crowdfunding platform that offers investors the opportunity to invest in property-backed loans, providing a different approach to real estate investing.
CrowdProperty: CrowdProperty is a UK-based peer-to-peer lending platform that specializes in property development financing, allowing investors to fund projects in exchange for attractive returns.
ReInvest24: ReInvest24 is a real estate investment platform that allows investors to buy shares of rental properties, offering a more passive approach to property investing and the potential for rental income and capital appreciation.
In conclusion, my experience with Fintown has been positive overall. The platform provides a unique opportunity for investors to participate in real estate projects in the Czech Republic as well as potentially in other countries in Europe. They offer carefully selected investment opportunities and a user-friendly experience. Although there are some limitations, such as the platform's exclusive focus on real estate investments, I believe Fintown is a valuable addition to my investment portfolio.
Summary
Profitus is a Czech real estate crowdfunding platform that connects investors with Czech property developers and borrowers seeking funds for various projects. Profitus offers a range of investment opportunities in the property sector, including residential, commercial, property development, and real estate-backed loans.
Pros
Real estate investment focus: Fintown's specialization in European real estate projects offers a unique opportunity for investors to diversify their portfolios with property investments.
Carefully selected projects: The platform's rigorous project selection process ensures that only high-quality investment opportunities are presented to investors.
User-friendly interface: Fintown's clean and intuitive user interface makes it easy to navigate and manage investments, providing a seamless user experience.
Detailed project information: Investors can access comprehensive information about each listed project, enabling them to make informed decisions about their investments.
Responsive customer support: Fintown's customer support team is attentive and helpful, providing assistance and guidance whenever needed.
Cons
Limited to real estate investments: While Fintown's focus on European real estate projects is a strength, it may not be suitable for investors seeking diversification across multiple asset classes.
Project availability: The number of projects available for investment on Fintown may be limited at times, potentially impacting an investor's ability to deploy capital.
No secondary market: Currently, Fintown does not offer a secondary market, which may limit liquidity for investors looking to exit their investments before the project's completion.