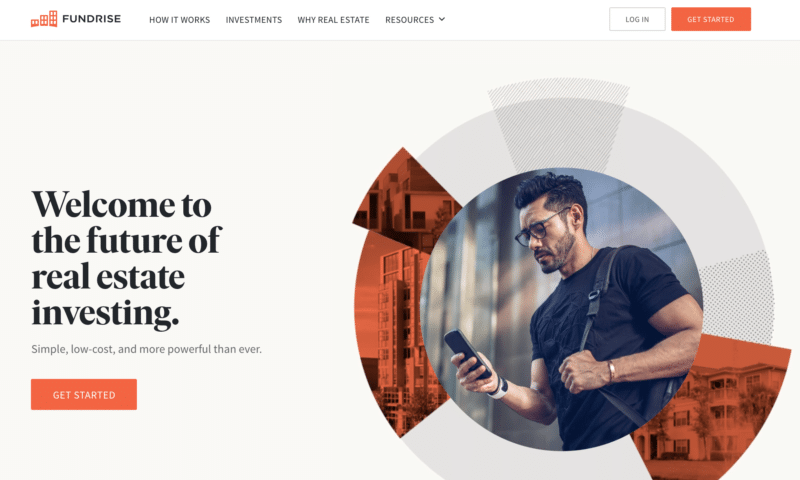 Over the years, real estate has been doing generally better than stocks. However, most people don't invest in real estate because of the hefty amounts of money involved.
Fundrise, on the other hand, offers an excellent opportunity for the average, non-accredited investor to invest in commercial real estate with an amount as low as $500.
Nonetheless, the question remains; is Fundrise worthy and reliable? With that said, read on to learn more about this real estate investment platform and determine if it's the right choice for you.
Fundrise is a real estate crowdfunding company based in Washington, DC, and was founded in 2002. It is an investment company that allows small and unaccredited investors to invest in commercial real estate using only their smartphones or computers.
The platform invests through crowdfunding, where they pool investor's funds together to buy properties. Unlike most companies that focus on institutional investors, Fundrise caters to non-accredited investors and is open to US residents.
Pro's
Low minimum investment
Doesn't require accreditation and is open to all investors
Investments are passive
Relatively low fees
User-friendly platform
90-day guarantee
IRA is available
Access to more significant and diverse investments
Con's                        
Doesn't permit investors to invest in property deals or individual Fundrise REITs
Investments are complex and need due diligence
Distributions taxed like ordinary income
Fundrise is suited for all investors, including those that are non-accredited. In addition, both the Starter account level and Basic plan offer lower minimum investments than commercial real estate investments.
Aside from this, it also offers automatic investments that start at $100 monthly, making it great for average but not very wealthy investors.
Finally, it is also worth considering for investors who are after something long-term or those seeking diversification beyond bonds and stocks.
How Does Fundrise Work?
To start investing with Fundrise, you first need to sign up for an account. Here is how to sign up on the Fundrise Platform:
To create an account, click on the "Invest Now" option and provide the necessary information, such as your full name, email address, preferred password.
Next, choose your preferred type of account, whether an individual account or joint/trust/entity account.
You will be then be asked to fill in your other details like your date of birth, phone number, and home address.
Next, you will be asked to choose your funding option. Fundrise provides online payment options through debit/credit cards, EFT, or wire transfers.
After signing up and picking an account, Fundrise will invest your money in its allocated products like the eREITS and eFunds, depending on your investment needs.
The eREITS or real estate investment funds focus on investing in income-producing real estate through holding mortgages or buying and managing buildings.
The other product is eFunds, which generally involves purchasing land, developing housing, and then selling to home buyers using investor's pooled money. Unlike REITs, eFunds focuses more on growth rather than on income.
For both products, payouts can be made in two ways: quarterly dividend distributions and appreciation in the asset value at the end of its investment term.
Low Investment Minimums
One feature that makes Fundrise stand out is its low investment minimum of only $500. This makes it an excellent choice for those on a tight budget who still want to get into private real estate investments.
Easy-To-Use Platform
The Fundrise investment platform is also straightforward and easy to use. Since this platform is designed for individual non-credited investors, signing up is easy and only takes around 10 minutes.
To create an account, you just need to provide the necessary details, the type of account you want to create, and your preferred payment method.
Customer Support
Fundrise also offers excellent customer service to cater to the needs of investors and real estate developers. When you scroll through their webpage, you will come across valuable guides and CRSs to help you reach them.
However, the company insists more on email support than phone or live chat, which can be frustrating when you need immediate help.
Redemption Program
Fundrise also provides investors with a redemption program that lets them sell their shares back to Fundrise. However, this entails a fee that's paid into the eFund or eREIT.
Nonetheless, the said fee for redeeming shares is usually calculated as a reduction from the price value of your shares.
Here is a summary of the fees, depending on how long the shares are held:
0% fee if the shares are held within 90 days
3% if held between 90 days and three years
2% if held between 3 years and four years
1% if held between 4 years and five years
Shares held for five years or more do not entail payment of a share-price reduction fee. Also, the redemption program is exempted during times of extreme economic uncertainties.
Interval Fund
This is another product offered by Fundrise that provides greater diversification and liquidity than eREITS and eFunds. In addition, because it is very liquid, it gives investors access to their money quarterly without suffering from penalties.
Other than the benefit of being more liquid, this fund is also significantly larger than the other Fundrise funds and accommodates more assets. That means that it provides more diversification for investors.

What Is Fundrise's Minimum Investment?
Fundrise stands out from other crowdfunding platforms because it provides several account levels with varying investment minimums. This means that investors have different real estate deals to invest in instead of just an individual option.
Also, Fundrise, when compared to most private real estate investments, boasts of low and flexible investment minimums that allow investors to place the right investment amount to meet their goals.
Here is a summary of the different account levels and their minimum investments.
The minimum investment for the starter account level is $500. This is a good choice for investors that want to test Fundrise's investment options before fully committing.
You will need to invest a minimum of $1,000 for the Basic Plan. However, with this plan, investors get all the essential options available, such as investor goals, IRA investment, dividend reinvestment, and auto-invest.
The Core Plan requires a minimum investment of $5,000. Investors that choose this plan get the ability to customize their core plans. In addition, it also allows investors to choose what they want to focus on, whether to increase their long-term growth, get consistent cash flow, or focus on a balanced approach.
For this plan, investors need to pay a minimum of $10,000. However, when you choose this option, you will get the ability to add more offerings to your investment portfolio.
This plan has a minimum investment of $100,000. It offers access to private funds that provide better opportunities for significant returns.
What Are the Investment Styles Offered by Fundrise?
When you invest $1,000, you will be upgraded to the Core portfolio, where you can choose from three plans. They include the following:
Supplemental Income
This plan focuses on revenue, and the approach is to invest in cash flow. You will then get returns through dividends.
Long-Term Growth
As the name suggests, this program is growth-oriented. It involves investing in real estate that is undervalued and then improving it before selling.
As a result, most of the returns from this strategy are from asset appreciation, while a small portion is from cash flow or dividend payments.
Balanced Investing
This is a diversified portfolio that combines both income and growth. Investors can invest in cash flow-generating property to earn dividends and purchase undervalued property to earn from asset appreciation in this plan.
Fees
Fundrise charges a 0.85% asset management annual fee to cater to the ongoing expenses involved with running the portfolios. In addition, investors also need to pay an advisory fee of 0.15%, which adds up to a total of 0.1% in fees.
The advisory fee goes towards compensating for the money and time, and the company has invested in creating its platform. Moreover, this fee supports services like fund administration, customer support, asset rebalancing, composite tax management, and more.
However, you should note that this fee can be waived based on the current circumstances. Additionally, something else to note is that the 1% fee lowers your dividend and not your account's balance. Lastly, Fundrise can also charge other fees.
What Is the Procedure for Redeeming Fundrise Shares?
To redeem your Fundrise shares, you will be required to send a redemption request through the platform's account settings.
After submitting your request, you may need to wait for about 60 days before you can start getting liquidity monthly. Additionally, this will entail a penalty fee of about 3% for every redemption value.
What Are the Risks?
Unlike other platforms, investments in Fundrise are passive, which means that investors need to give up control over their investments. Also, Fundrise investments, especially those that have higher returns, come with some risks.
Just like investing in the stock market, there is a possibility of losing money in your investments. However, the risks are considerably lower when you invest in the starter account level.
Additionally, something else to note is that their dividends are non-qualified. This means that they are taxed like ordinary income, requiring investors to pay for the extra tax.
Another downside of this platform is that it is a long-term investment. Therefore, after investing your money, you may only access it after five years without incurring penalty fees.
Final Verdict: Is It a Good Idea to Invest with Fundrise?
Generally, Fundrise is a good option if you are looking to diversify your investments. It is also the preferred investment platform for those with low savings. However, if you have a tight budget but still want a long-term commitment or a liquid investment, investing in REITs would be worth considering.
Ultimately, Fundrise is a private Real Estate Investment Trust that is easy to use, has low minimums, low risks, and a reasonable rate of return.
Additionally, it is entirely passive and provides an opportunity for anyone to get into real estate investing. Nonetheless, you should note that it will tie your money down for a long time.