Investing in startups, or even founding them, is a risky proposition, but the payoffs can be huge. I believe that investing a small percentage of a sizeable portfolio makes sense for many investors, especially if they are young and have a long investment horizon that will allow the time necessary for these investments to play out.
Unfortunately, until recently, most successful startups tended to be concentrated in the San Francisco Bay area, and if you weren't based there as an investor you would have been quite excluded from deal flow. Luckily, we now have several platforms that startups use to raise money via crowdfunding campaigns. Not only that, but we also see platforms that can obtain a slice of capital from early-stage startups that is then distributed among the platform's investors, in exchange for some kind of commission for that platform.
I have several friends who were able to enter the startups game early and have become wealthy due to those investments. Imagine having invested in companies like Amazon, Facebook, Airbnb before they even had their IPO. Of course, you need to have a good idea and a certain degree of luck, but I'm happy that it's a game that investors all around the world can now play thanks to these platforms.
This post is dedicated to sharing some of the best platforms I have found so far.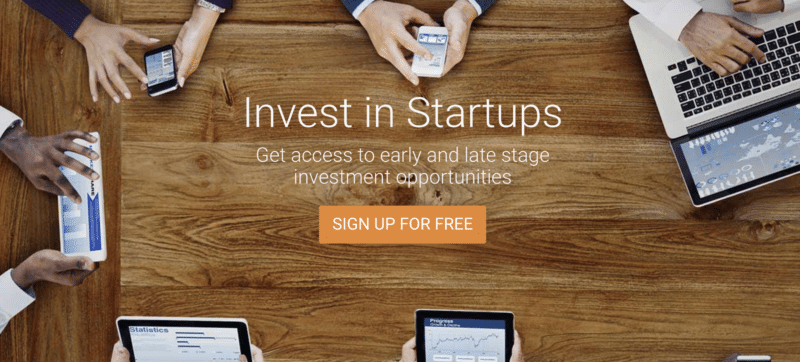 The MicroVentures platform offers investors a gateway to investment opportunities in pre-vetted early-stage startups and also secondary investment opportunities. Traditionally these investments have required a larger capital commitment. Not anymore. Now you can access private investment opportunities, sometimes for as little as $100.
On this platform, to gain access to Reg D investments, you will have to pass a phone call vetting process to make sure you are an accredited investor. During the call they will ask to confirm that you have an income of over $200K for the previous 2 years, and expected for this year – or a household income of over $300K for the previous 2 years and expected for this year – or a net worth (not including your primary residence) of over $1 million. This will get you access to their Regulation D offerings as an accredited investor.
Regulation D offerings are typically later stage companies, sometimes early stage, with larger investment minimums (generally in the $5,000-$10,000 range). As an accredited investor you will have access to these offerings that are listed after the vetting process.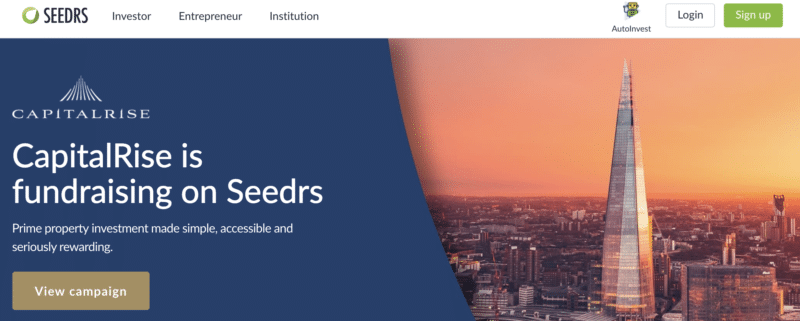 Invest in the equity of ambitious, growth-focused businesses and receive full voting shares with professional grade investor protections. There are 3 ways you can invest on Seedrs:
Equity – The simplest and most common way to invest and become a shareholder in a business. Starting at £/€10
Funds – Diversify across multiple businesses with a single investment, and become a shareholder in each. Starting at £/€100
Convertible – Invest in a business now and your investment will convert, at a discount to other investors, in the future. Starting at £/€10.
They also have a secondary market for investors who want to dispose of their investments earlier than they had originally planned. This is one of the top benefits of investing through Seedrs.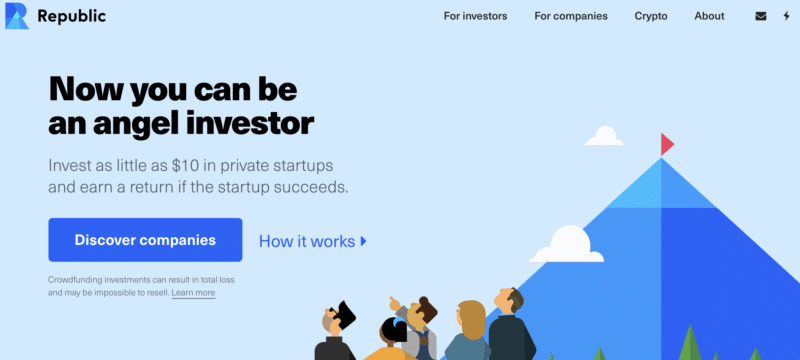 Republic was founded by alumni of AngelList — the world's largest online investment platform for accredited investors. AngelList was instrumental in passing the JOBS Act that enabled equity crowdfunding and remains their strategic partner.
Their mission is to democratize investing and level out the fundraising landscape for founders and investors alike. They're SEC-registered, FINRA-licensed, and if you're at all interested in startups, you've heard of their past work: Republic is part of a family of startup platforms together with AngelList and Product Hunt — one of the most trusted online startup ecosystems in the world.
They only allow US-based startups onto their platforms at the moment, but investors from anywhere around the world are allowed to invest.
Unlike Kickstarter, you are not buying a product or donating to an artist. Instead, you are investing in a business with the hope of earning a return.
You decide which companies are worthy of funding. If the business does well, you may make money.  If it doesn't do well, you lose all your money.
Either way, you join a community of other investors who seek to help the startup succeed. You sometimes get neat perks from the companies too.
You can invest as little as $100 in your favorite startup.
The amount you may earn depends on the type of investment contract the company is offering.
There are four classes on Wefunder:
Debt.  Some local businesses offer a simple loan or revenue share.  A simple loan, just like your car loan, has a fixed repayment schedule known in advance.  Unlike a loan, a revenue share returns a fixed amount of money (such as 2X your investment), but the time it takes to repay depends on how well the business does.  The faster the business grows revenue, the faster you earn a return, and the higher your effective interest rate.
Convertibles. Most early-stage technology startups use a Convertible Note or Simple Agreement for Future Equity. These will convert your investment to stock at a later date if the company raises a "priced round" from major investors, most often venture capitalists. At this point, you are a shareholder owning equity, and you earn a return if the value of that stock goes up over time, and you are able to sell it.
Stock, No Dividends. When a startup is at a stage where they can afford to pay lawyers tens of thousands of dollars, they will do a "priced round". Like the stock market, you are buying equity at a fixed price per share (or unit for LLCs).  If the company is successful, the value of the stock can increase with each subsequent round of financing, until the company is acquired or goes public. Then you earn a return.
Stock, Dividends. While a tech startup almost never offers dividends, a later-stage local business – such as a brewery opening a second location – often will.  The type of dividend can vary.  Some might offer a fixed dividend per share per year. Some might offer a percentage of profits.  A common scenario is also to "swap" the dividend after your investment is repaid.  For instance, a brewery might share 80% of its profits until the investors are repaid, and then 20% thereafter in perpetuity.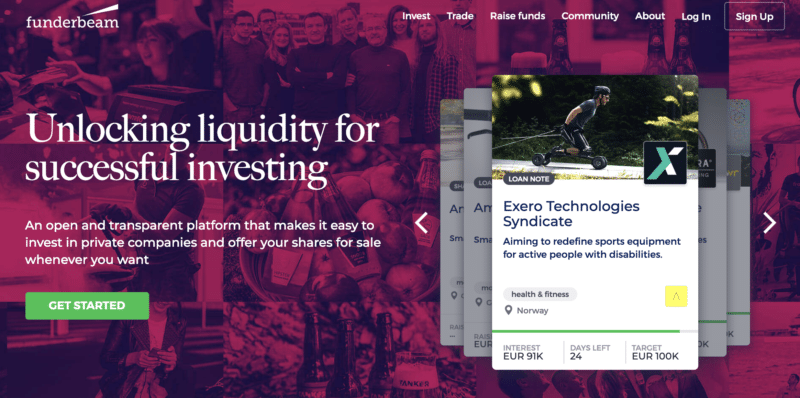 Funderbeam is a funding and trading platform for high-growth private companies. It helps founders raise funds beyond borders and provides access — and unique liquidity — to early stage equity investors.
Funderbeam was founded in 2013 by Kaidi Ruusalepp and Urmas Peiker.
Kaidi had led Nasdaq Tallinn as CEO since 2005, noticing many inefficiencies in the public markets. Companies list late and at high costs, meaning investors can't access good growth companies. In addition, many investors have a poor understanding of how to succeed in the market and typically buy high and sell low.
The idea came to create a game to teach young people how to invest, using startups as a more relatable subject than stocks. Even before starting development, the game evolved into what Kaidi and Urmas really saw a need for: A platform where investors could efficiently invest and trade companies while in their growth stage.
In early 2016, Funderbeam Markets launched with the first four companies raising funds, and shortly after they were trading on the secondary market. In August 2018, Funderbeam started operating as a regulated UK entity, Funderbeam Markets LTD, after being authorised by the UK Financial Conduct Authority.
For investors, Funderbeam provides access to a community of ambitious growth companies — and the liquidity afforded by being able to get in and out whenever needed. Each business has a lead investor who will act as an ambassador for the deal.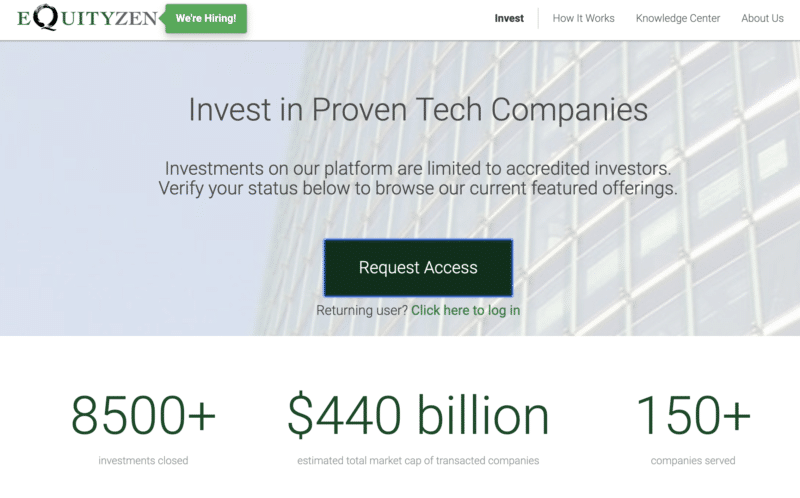 EquityZen provides alternative investment opportunities in late-stage private technology companies. Accredited investors can get access to pre-IPO companies and proven startups.
Typical investor profiles are:
Angel Investors
High Net Worth Individuals (HNWIs)
Family Offices
Registered Investment Advisors (RIAs)
EquityZen's model leverages the intersection of crowd sourcing and private markets. It bridges a gap in the private equity markets and smaller investors. By allowing a group of investors to act as a fund, EquityZen enables them to act as a larger buyer of private equity. This is key as it creates efficiencies across the entire investment process.
Accredited investors can now access premier investment opportunities, and transact with a wide base of shareholders and pre-IPO companies. Keep in mind that certain companies trade more often than others; the most activity happens in companies that have received late-stage funding (e.g. Series D+) and have enterprise valuations of $2B+.
Math for Investing in Startups
A very good article about the math behind startup investments.
How to Identify a Disruptor
Investing in startups is all about identifying and betting on disruptors. But what does disruption mean and how can we spot a disruptor early on?
"Disruptive innovation" was originally coined by Harvard Business School's Clayton Christensen to describe "a process by which a product or service takes root initially in simple applications at the bottom of a market and then relentlessly moves up market, eventually displacing established competitors."
Disruption has always been a driving force for the economy. Consider the car. Ford's Model T disrupted the automobile market in 1908. Now, over a century later, this same market is facing another disruption: self-driving cars. From UBER to Tesla to General Motors and Waymo, the race is on to capture what's predicted to be a $556 billion market by 2026.
Disruption is not just about new ideas and cutting-edge technology. It's also deeply connected to profits, and today's disruptive companies are making profits at a much faster and higher rate. This means that investors are getting richer faster than ever before.
For example, it took Apple over 23 years to reach a $10 billion valuation. Just last year, e-cigarette company JUUL Labs reached $10 billion in under 7 months.
This is just one example. The chart below (originally shared by Forbes) shows how disruptive companies are reaching $10 billion faster than ever.
So how can you spot the next $10 billion company?
Look at growth. Try to find companies that are generating strong organic growth by creating new markets. You can also look for companies that are causing significant changes in old markets. Ask questions like who is using their product and why?
Look at consumer behavior. Disruptors are not just creating an innovative service or product for the market, but they are seeking to change human behavior. For example, Netflix completely changed the way people think about and consume television. They've eliminated the need for Blockbuster and other physical video stores, and by moving to streaming, they ended the need for their own mail-in video service. In fact, due to Netflix and other streaming services, the traditional cable/satellite TV market is expected to fall an additional 26% by 2030. When looking for a company to invest in, think about how that company is looking to change consumer behavior within a market—what specific actions or activities they will disrupt.
Look at the founders. It will take extra superhero skills to bring a disruptive idea to market. The founder will need to have the vision, commitment, and resources to succeed. Nathan Lustig, Managing Partner at Magma Partners, shares his top questions to ask when assessing whether a company is worth investing in. You can also read personal interviews with founders as part of our Startup Superheroes series.
And remember—disruptors by nature are a bit of a gamble. When something new and innovative is introduced to a market, there's no guarantee that it will be a success. It can also take time. New ideas don't change consumer behavior overnight and some never take hold.
The trick is to invest early. If you spot a disruptive idea, back it with a small investment. This early investment is less risky and could result in exponential gains in the future.
What about the Risks?
The biggest risk you will be facing is that the startup will fail to gain traction in the long run and have to shut down. The majority of startups indeed fail, so you need to be aware of that fact first thing.
About 80 % survives their first year.
About 70 % survives their second year.
About 50 % survives their fifth year.
About 30 % survives their 10th
These rates are surprisingly consistent over time but vary from country to country and industry to industry.
It's also worth keeping in mind that you have to be in it for the long run as startup investment returns come from stock value appreciation that takes 3-5 years as a minimum. In those years, you might find the market pretty illiquid, especially if the platform does not have a secondary market where you could resell your shares.
You must also be prepared to accept the fact that your percentage ownership of the companies will get diluted over time. Almost all unlisted startup companies will raise more capital along the way. Normally, this is done by issuing new stock to the new investors. With more stocks outstanding, each existing shareholder will own a smaller percentage of the company. Thus, this will result in a decrease in your ownership percentage.
Further reading
How do YOU invest in startups?
Have you already invested in startups? I'd love to know how you got started with investing in startups and how things work in your own country.
In Spain, one can invest in startups through clubs like AngelClub, a private platform whose members benefit from being given the opportunity to become early-stage investors in promising Spanish startups.
Then there are the startup crowdfunding platforms like Fellow Funders and StartupXPlore.
Two other funds are Lanzame and Itnig. Other countries have similar platforms, and going forward we will surely see other platforms starting up, especially those that combine blockchain technologies with startup investing.
In the UK, a popular platform is Seedtribe.