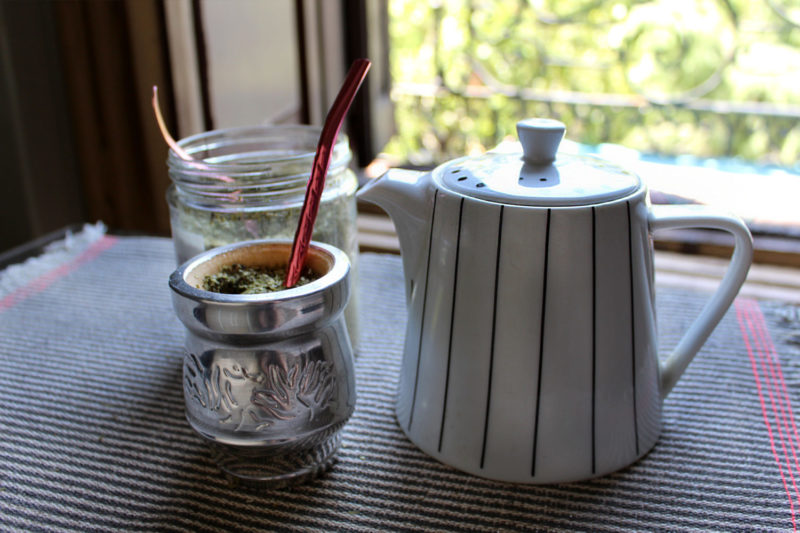 One of the habits I've taken up since I moved to Spain is that of drinking mate. Mate is a very popular drink in South American countries like Argentina and Uruguay.
I've made some amazing Argentinian friends here who have introduced me to the drink and the ritual associated with it. It's important to say that mate is a social ritual beyond being a drink. You can drink it on your own but it also is an important social lubricant in those countries, with a well-defined ritual and dos and don'ts.
Mate is consumed from a traditional hollow gourd (sometimes also called guampa). This is a metal container that is filled with hot water and the yerba mate herbs.  The tea is sipped through a metallic straw (called a bombilla). In a social setting, friends pass the drink from person to person refilling with hot water from a thermos when necessary!
It is made from the naturally caffeinated and nourishing leaves of the celebrated South American rainforest holly tree (Ilex paraguariensis). Mate contains caffeine, theophylline, and theobromine, well-known stimulants also found in tea, coffee and chocolate. I tend to use it mostly as a stimulant when I want to switch from coffee for a while.
Below is a very good video on how to prepare it.
My favorite brand of mate is Cruz de Malta.
Here's the textual description for preparing a good yerba mate:
Pour some yerba mate tea into your mate cup (until it is ¾ full)
Close the cup with the palm of your hand and shake it to make the bigger pieces of the mate leaves sink down to the bottom.
Make sure the mate is reclined in a 45-degree angle.
Pour warm water onto the lower part of the yerba mate.
The yerba is now getting wet and the infusion is starting to take place. Wait 30 seconds.
Put mate straw into the wet yerba mate tea on the lower part of the contents.
Pour in hot water softly. Never flood the cup as you want to keep repeating this process many times, thus you don't want to wet all the mate at once.
Hope you enjoy, let me know what you think of it!