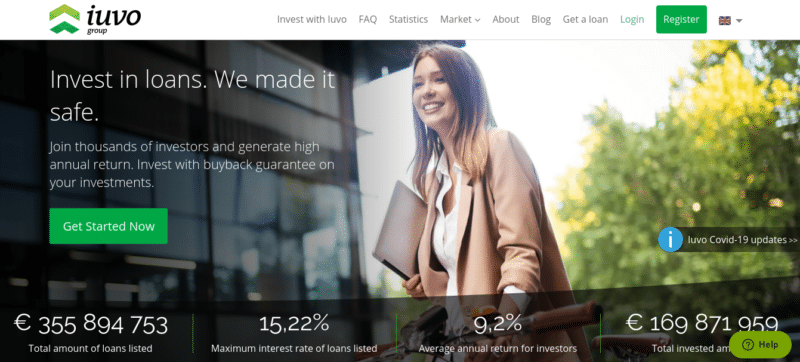 Fully in-line with the growth of fintech, more and more peer-to-peer platforms are entering the market. As such, knowing which provider is right for your financial goals and attitude to risk can be a challenge.
In this review, I explore the ins and outs of Iuvo Group – a fast-growing fintech platform in the P2P sector. I cover key metrics surrounding how the platform works, what interest yields can be achieved, and how safe your investment capital is.
Iuvo Group- An Overview
Iuvo Group is a peer-to-peer marketplace registered in Estonia but operating primarily from Bulgaria.
Launched in 2016, the platform allows its users to invest in loans offered by financing companies. In turn, these originators benefit from the extra source of funds that will help them further expand their credit-based endeavours.
As is quickly becoming the norm in the P2P space, when you invest via the Iuvo Group platform, your capital will be allocated to its partnered loan originators.
Borrowers make loan applications to these originators. In turn, once they are approved by the respective lending company,  the loan agreement will appear on the Iuvo Group platform. You then have the ability to fund the loan.
At the moment, Iuvo Group has over 23,000 registered investors that have funded more than 150 million euros worth of loans. To date, the platform has also paid out more than 3 million euros in interest.
Below I list the core features offered by Iuvo Group:
Multi-currency investments in euros, Bulgarian lev, Russian ruble, Polish zloty, or Romanian leu.
Obtain an average interest rate of between 7% and 12% annually.
Automated investing based on your financial goals.
A Buy-back guarantee is available on loans.
Minimum investment amount of just 10 euros.
Loan Originators
Currently, Iuvo Group collaborates with 12 loan originators – all of which are regulated, non-bank financial institutions. These are primarily operating in European and Asian countries, including Bulgaria, Romania, the Philippines, Latvia, Russia, and Poland.
Iuvo Group provides detailed information regarding each of the leading companies it has partnered with. You will be able to see the activities of each originator, including the type of credit it offers, its license, the value of its portfolio, and whether or not it offers a buy-back guarantee.


This allows you to make informed decisions on which originators you want to invest with. What makes Iuvo Group different from other P2P marketplaces is that its partnered originators are required to put up at least 30% of loan capital themselves. In other words, they have more 'skin in the game'.
This will ensure that loan originators also have a considerable stake in the loans it issues and thus – will operate with the best interests of investors in mind.
Iuvo Group has set a strict due diligence process for adding new loan originators on the platform. However, you must also know that three of the loan originators on this P2P platform are owned by the same parent company as Iuvo Group  – namely Easy-Credit, iCredit Romania, and Viva Credit.
Loan Types
Loans on Iuvo Group are available both for the long-term and short-term. The duration of loans typically ranges from 14 days to 60 months.
You can find a detailed description of the different loans available on the site, which includes information such as the collateral type, amount, and details regarding the buy-back guarantee.
Note: You will not be able to access the identity of the borrower as with other P2P platforms in Europe. However, you can access the credit score class that will tell you the probability of the borrower defaulting their loan. 
Iuvo Group Secondary Market
Apart from investing in newly issued loans, Iuvo Group also allows you to tap into the secondary marketplace.
For those unaware, secondary markets allow you to sell loans you have already bought. It is up to you to decide whether you want to sell the loan at a discount, premium, or a nominal rate.
Crucially, the secondary market ensures that your investment is liquid. That is to say, you won't need to wait until the respective loan agreement has matured to receive your capital back. However, like any secondary marketplace in the P2P space – there is no guarantee that you will find a buyer that is willing to take your loan on.


At the other end of the spectrum, the secondary market also gives you the opportunity to invest in discounted loans. This will be the case if a seller is willing to sell their investment at a lower rate, perhaps because they need fast access to cash.
That said, it is important to note that investing via the secondary market also comes at a 1% fee – which is payable by the seller. On the other hand, buyers can access the secondary market commission-free.
Iuvo Group Buy-Back Guarantee
All Iuvo Group loan originators are required to provide a buy-back guarantee for the principal amount. This will protect you in the event of a loan default. That is, if any borrower is unable to pay back the loan, the respective lending company will purchase the loan from you.
The buy-back guarantee on Iuvo Group is activated if the loan is overdue by more than 60 days. Additionally, the buy-back guarantee is applicable only for the principal amount and not the interest. 


It is important to note that the buy-back guarantee is offered by the individual loan originators and not Iuvo Group itself. As such, if the loan company in question went bankrupt, the buy-back guarantee will become null.
As I always explain, this is just the nature of the game in the P2P space – so never become disillusioned that your investment is risk-free. On the contrary, the risks are fully in line with the high interest rates that you target.
The good news, however, is that partnered loan originators at Iuvo Group are properly vetted and have been profitable for several years. This suggests that they are in good standing to fulfill the liabilities of the buy-back guarantee.
Iuvo Group Auto-Invest
Iuvo Group also gives you the option to automate your investment endeavors.
With the 'Auto Invest' feature, you can create a portfolio based on any specific criteria you have. For instance, you can define a portfolio based on the credit score class for each loan, interest rates, loan status, and more.
Before you confirm, you can see the number of loans available that match your preferences. This way, you can make sure that your parameters are fully aligned with your financial goals and tolerance for risk. Once you have set your desired parameters, you can activate the portfolio, and the system will go on autopilot mode. 


Meaning, the platform will automatically invest in suitable loans. The process will continue for as long as there are funds available in your account and there are loans that match your criteria. You can also have more than one Auto-Invest portfolio on the platform – perhaps to cover several strategies.
That said, Iuvo Group still gives you unanimous control over your Auto Invest portfolio. You are free to change the criteria, pause it, or cancel it at any given time. However, remember that when you delete an Auto Invest portfolio, you can only delete the criteria and not the investments you have already made.
It is worth noting that you can manually invest on the platform regardless of whether you have the Auto-Invest portfolio set up or not. This means the Auto Invest feature might capitalize the same loans you have already invested in manually.
In order to be eligible for the Auto Invest feature, you need to have a minimum amount in your account. This varies from one currency to another – starting from 400 Russian rubles to 10 euros.
Who can Invest with Iuvo Group?
Iuvo Group investments are open to both individuals and companies.
As an individual investor, you need to fulfill the following requirements:
Be at least 18 years old.
Hold a valid bank account in the European Union or a third country that runs an equivalent anti-money laundering program.
You will also need to submit an identification document and contact address.
On the other hand, if you want to invest in Iuvo Group as a legal entity, then there are a few more boxes to tick off.
You must provide:
Identity information of the representative.
Documents concerning company registration.
Contracts that establish the ownership, management, and control of the company.
Information about the owners, shareholders, and partners who hold over 25% of shares directly or indirectly in the company.
Iuvo Group Fees and Charges
As with the majority of P2P platforms, Iuvo Group also allows you to invest for free in the primary market.
However, as I mentioned earlier, you will have to pay a 1% fee to sell a loan on the secondary market.
Other than this, the platform doesn't charge you any fees to make deposits or request a withdrawal. Bear in mind that you might still be liable to pay a fee charged by your bank to process your deposit.
Iuvo Group Customer Support
The platform enables you to reach the support team through email, telephone, and various social media platforms. The usual response time via email averages 1-2 days.
Iuvo Group Safety
As with any P2P lending platform, the security of your funds should be your main priority. In this section, I explore how safe your capital is when investing at Iuvo Group.
Regulation and Reputation
Iuvo Group is a part of Management Financial Group, a well-established company providing non-bank financial services in Europe. The firm manages a diverse portfolio of investment models that range from business loans, consumer loans, credit cards, and alternative financial solutions.
Iuvo Group is also registered and regulated by the Estonian Financial Supervision Authority (EFSA). In addition, the company is regularly audited and certified by an independent auditor under the guidelines of International Financial Reporting Standards.
If you need further information regarding the financial standing of Iuvo Group of MFG, you can find detailed reports on its website.
Risks Involved
With P2P investments, the main concern is that the borrower will be unable to pay back the loan in full. If this happens, your investment is, of course, at risk.
This is where the buy-back guarantee comes into play – securing you against such an event.
However, since the buy-back guarantee on Iuvo Group is completely dependent on its partnered loan originators, it will be wise to hedge against the potential risk of default by diversifying your capital as best as possible.
Not only in terms of investing through multiple originators at Iuvo Group – but across several different P2P sites. Iuvo Group is also transparent about how it selects its partnered loan originators and subsequently provides sufficient information on each of them.


However, if any of these originators terminate their relationship with Iuvo Group, they are still obliged to continue providing you with information regarding any current investments you might have with them.
Iuvo Group has a contractual relationship with each lending company, and if any irregularities occur, 'relevant steps' will be initiated. However, the provider does not explicitly state what these measures are.
Iuvo Group notes that it will not hesitate to take legal actions against lenders that fail to fulfill its obligations towards investors. Any details regarding such actions can be found in the blog section of the website.
This additionally reinforces that Iuvo Group takes the best efforts in securing the relationship between loan originators and investors. Ultimately, although it appears that the P2P site has several safety nets in place, your money is never 100% safe – so do bear this in mind.
Pros of Investing with Iuvo Group
Highly diverse loans.
Attractive interest rates.
Auto-invest and manual investment options.
Access to the secondary market.
Buy-back guarantee on the principal amount.
Cons of Investing with Iuvo Group
Investment returns are inconsistent across partnered lending companies.
1% fee when selling loans on the secondary market.
Primarily focused on European countries.
The buy-back guarantee doesn't cover the interest.
Iuvo Group: The Verdict?
All in all, Iuvo Group appears to be a legitimate marketplace. The platform employs strict verification requirements while selecting loan originators. As such, all lending companies you find on the platform are profitable and according to Iuvo Group – possess healthy balance sheets.
On top of average interest rates of between 7% and 12% – the buy-back guarantee is another aspect that I like. Crucially, the main benefit of investing through Iuvo Group is that you can gain access to the central and eastern European marketplaces – if it is something you want to achieve.
As always, make sure that you do your own due diligence before you start investing on any P2P platform. After all, you must consider how a financial turndown will impact the safety of your capital.
Summary
A P2P lending marketplace run by a Bulgarian team, this platform has been around since 2016 and has thus proved its worth in the space.
Pros
Highly diverse loans.
Attractive interest rates.
Auto-invest and manual investment options.
Access to the secondary market.
Buy-back guarantee on the principal amount.
Cons
Investment returns are inconsistent across partnered lending companies.
1% fee when selling loans on the secondary market.
Primarily focused on European countries.
The buy-back guarantee doesn't cover the interest.