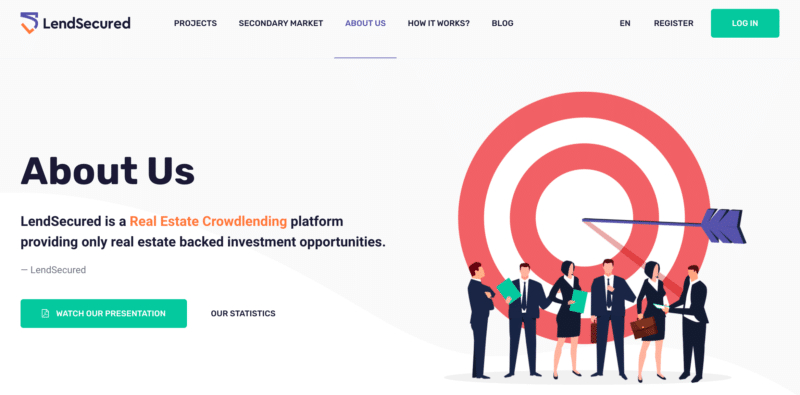 In a recent episode on Mastermind.fm, I had the opportunity to interview Ņikita Gončars, the CEO and co-founder of LANDE. This is one of the newest real estate backed crowdlending platforms in Europe, however, it's worth noting that it's an offshoot of an existing lending business that has been operating successfully for several years.
LendSecured was started in 2017, when two experienced professionals from the secured lending sector Ņikita Gončars and Edgars Tālums became aware that there is a niche in the crowdlending market, as none of the existing market players offered low-LTV investment deals. At first, it was available exclusively for high net worth private investors and local banks. Since July 2020 it is open for any European investor.
LendSecured is a brand managed by Secured Finance MGMT ltd, registered in the Latvian company register with No.50103266451, which forms a part of a group of companies providing mortgage lending and other services related to real estate and construction with 2 beneficial owners Nikita Goncars and Edgars Talums.
The core pillar and philosophy of LendSecured is to minimize risks, hence the name.
Many platforms might say the same, so how do LendSecured actually implement this philosophy? It all boils down to publishing investment projects with low LTV (Loan to Value ratio). The lower, the ratio, the lower the risk. As LendSecured also invests in each project, there is an extra incentive to do proper due diligence.
Unfortunately, many platforms these days only act as promoters, indiscriminately publishing many projects and letting the lenders take all the risks, not giving a care in the world whether projects make sense or whether the repayments will ever be made. I'm looking at you, Housers. Other platforms ended up being outright scams, like Envestio, Fast Invest, Monethera, Grupeer. I don't see any such risk at all with LendSecured.
Some highlights about this platform:
Knowledge and experience in real estate market since 2008 when first mortgage brand was established and is still working successfully;
5% co-funding for every project;
Avg. LTV 37%;
Partnership with Lemonway, all investments are held on a segregated account on the BNP Paribas;
Certificated real estate appraisal in English.
LendSecured issues loans to SME's, real estate developers and farmers. No consumer credits.
LendSecured's achievements so far:
30 million sold real estate in collateral value;
Since 2013 mortgage brands have received consumer credit license (which now cost 250k eur);
Average LTV for all portfolio is 37%;
16 million – total loans issued with collateral value of 21 million;
8 million outstanding portfolio;
More than 800 real estate objects sold;
10 million market value of renovated projects;
One of the brands (Loan MGMT) has a debt collection license since 2018
How does LendSecured Work?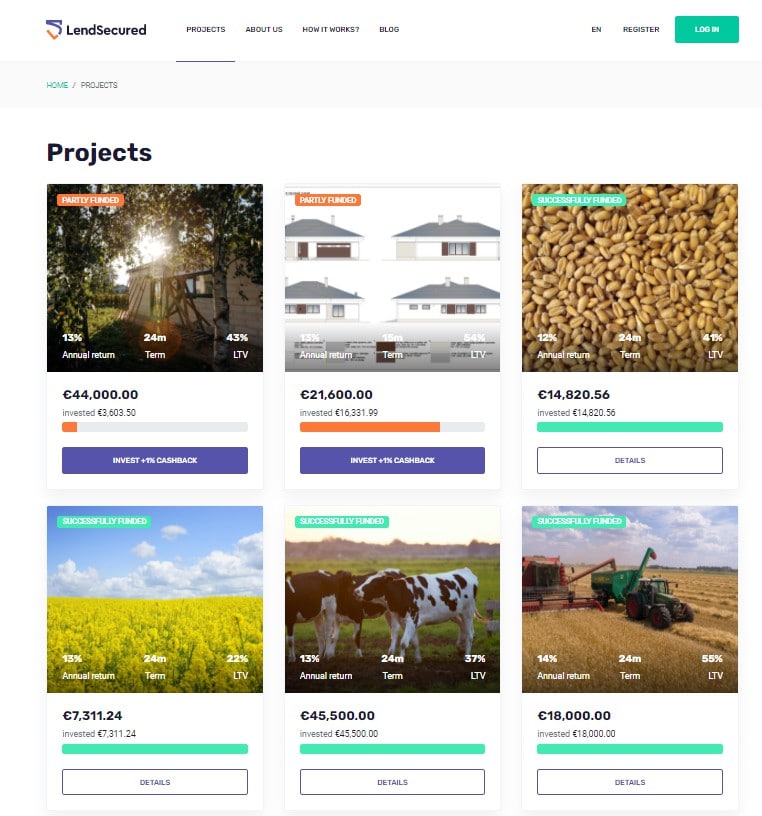 After careful evaluation procedures, projects are published on LendSecured.eu where investors can find detailed information about the project, appraisal of the collateral and details on the loan terms.
No hidden details – LendSecured has a strong belief that transparency is the key to build strong relationships with investors, therefore ensure success in the future.
LendSecured's business model is to finance projects using first rank mortgage which is the most straightforward and secure type of funding real estate lending.
All mortgages can be monitored online on the Land Register of Republic of Latvia.
LendSecured requires a minimum of 50 eur to start investing in real estate projects operating in Latvia. LendSecured reaches its clients with associated brand activity on social media and local mass media, by promoting agricultural lending on TV, radio and newspapers. All applications are carefully evaluated as their acceptance rate is 5.8-6.5% from all applications.
Investment process and cashflow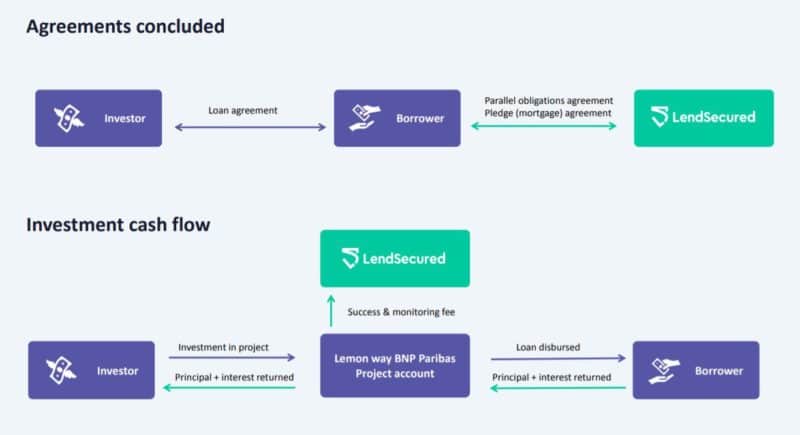 The Loan Contract is between the borrower and investor and is available online on LendSecured for both parties. In the Loan Contract it is clearly stated that the investor lends money directly to the borrower and that no third parties are involved.
Who can invest?
LendSecured accepts investments from private individuals and registered legal entities. The registration process is similar for both, only different type of documentation is requested.
In order to register on LendSecured, a person must be at least 18 years old and submit 2 types of identification documents. Once all KYC and AML procedures are done, the client can invest.
As for legal entities – upon registration, the representative must upload identification documents and certificate from local company/commercial register that proves the person's ability to act in the interests of the company.
Registration process
First, choose "start to invest"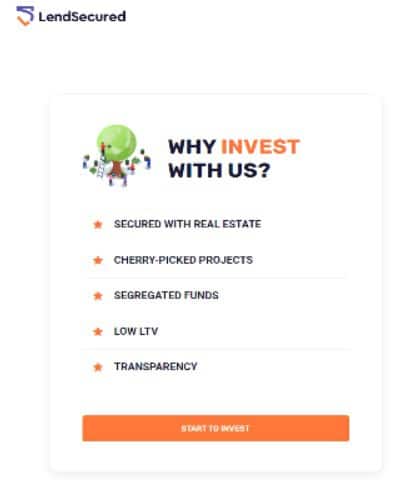 You will be asked to enter an email and password, afterwards, you will be asked to verify your email:

After that, you will be asked to choose if you are registering as an individual or legal person;

When choosing "Individual person", personal data will be requested.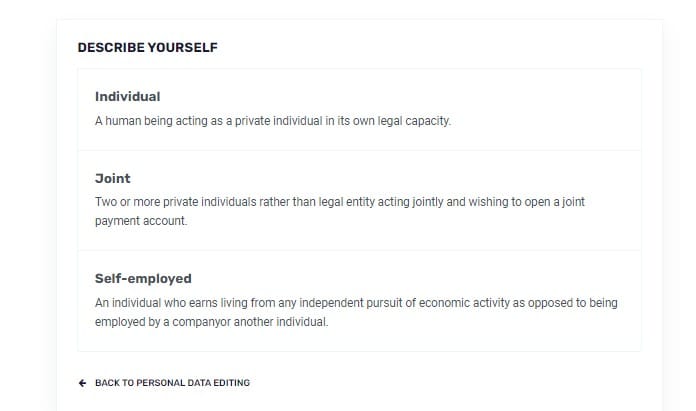 The last step in the registration process is identification upload. Registration requires 2 types of identification documents. After ID upload, the registration process is completed and the request is being processed by Lemonway.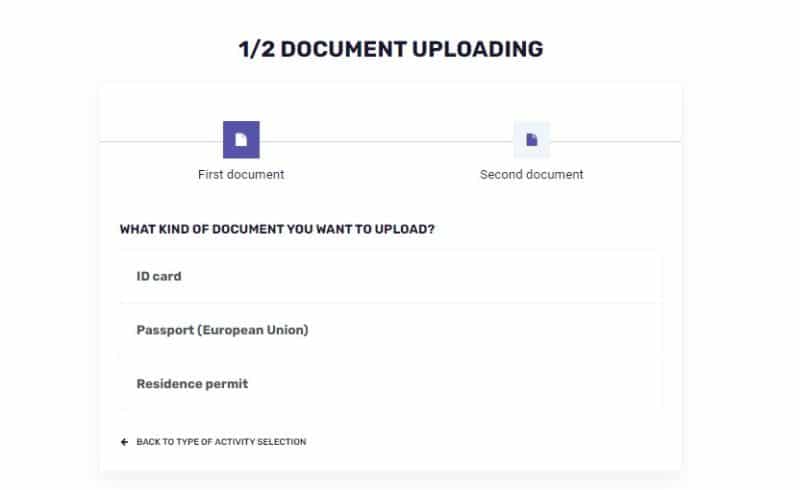 After completed registration, you can start to invest!
Secondary Market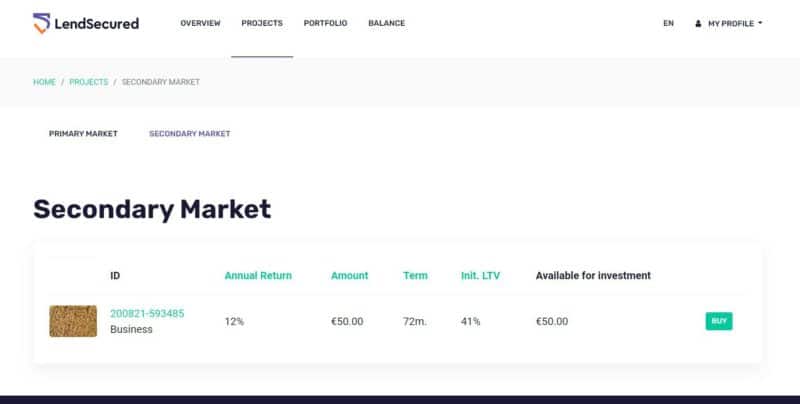 This feature allows investors to sell their claim rights arising from investments to other registered users of the platform and exit projects early, while giving other users an opportunity to join the project and earn passive income.
Also, the seller will receive interest while the investment is listed for sale until someone buys the claim rights and the deal is finalized. There are no extra fees for this feature.
Professional Team
The LendSecured team has extensive experience in real estate, mortgage lending and construction.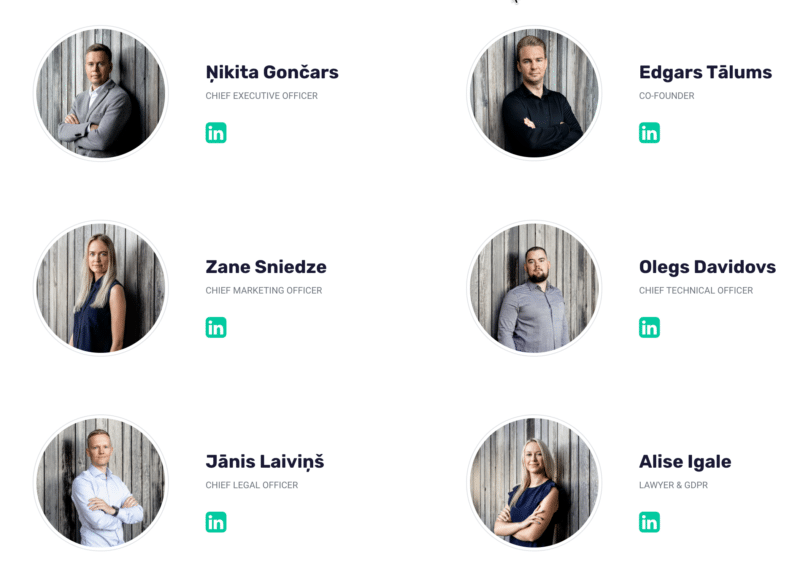 How stable is the platform?
The paid-up capital of LendSecured (company name Secured Finance MGMT) has reached EUR 100K. Upon starting operation, in order to rise the financial stability of the company, Secured Finance MGMT increased its share capital and now has also paid it up and registered the changes in the Commercial register of Latvia.
LendSecured has done a lot and continues to take steps towards making the platform as safe as possible. Currently, they continue to adapt the platform to the provisions of the new crowdfunding regulation and cooperate with the supervisory authority (FCMC) to be the first platform to receive the ECSP license in Latvia when the crowdfunding regulation becomes applicable in November, 2021.
It is also worth mentioning that investor funds are held separately, and LendSecured has relationships with Lemon Way and BNP Paribas for handling investor payments.
All projects are first rank mortgage, which is the most secure type of mortgage you can get. Other platforms offer second rank mortgages which are riskier, but can have higher interest rates.
The existing Latvia-only private secured lending business under the leadership of Ņikita and Edgars had bought its strategic investors a return of over 10%. They thus decided to launch the platform to expand publicly and internationally.
LendSecured benefits from a debt collection license (Loan MGMT Ltd.). Besides that, LendSecured is a member of the European Crowdfunding Network since 2020.
The team has considerable experience in Latvia and they want to expand to the rest of Europe, with Germany and Spain being one of the first big markets they are targeting.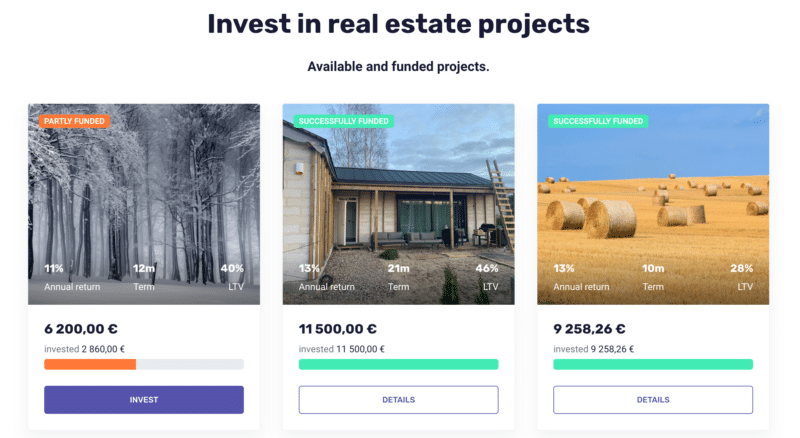 LendSecured is going after the agricultural loans niche. There is currently a big gap between the financing needs of farmers in Eastern Europe and what's available to them from banks and other lending providers.
The new product – seasonal funding for farmers with grain as collateral – will offer a possibility for investors to diversify their portfolio and invest in loans with added value to the whole EU economy. The financial gap in the EU agricultural sector is between EUR 7.06 billion and 18.6 billion, thus LendSecured's goal is to narrow it down by offering farmers better access to funding.
Funds Safety
To ensure the safety of investor funds, LendSecured have partnered with one of the most successful French banks and Payment Solution service providers – BNP Paribas and Lemon Way.
Lemon Way is regulated by the Banque de France and is currently providing its services to almost 200 platforms all around Europe. Since 2012, Lemon Way has been in possession of an APCR Payment Institution license from Banque de France.
Do they have good support?
Support is great, you can easily contact the team through their website. You can ask them about any of the projects they have available for funding and they'll be happy to give any further information you need. Although I must say that every project comes with a section with all the relevant information nicely presented.
Regulation
LendSecured is already a step ahead in putting into practice the obligations set out in the available crowdfunding regulation. As previously stated, LendSecured already uses the services of the payment institution Lemon Way to perform investment operations within the LendSecured platform.
This requirement is essential for investor's safety.
In the near future, LendSecured plans to take the next steps in meeting all regulatory requirements.
Final Verdict
The website itself is professionally done, with good English being used throughout. I only found a few grammatical mistakes here and there which I'm sure they'll polish off in the coming months as the platform grows.
LendSecured is already a step ahead in putting into practice the obligations set out in the crowdfunding regulation. As previously stated, LendSecured already uses the services of the payment institution Lemon Way to perform investment operations within the LendSecured platform. This requirement is essential for the investor's safety.
In the near future, LendSecured plans to take the next steps on meeting all regulatory requirements. LendSecured aims to obtain a license for crowdfunding service providers as soon as the regulation is applied and the licensing process is approved and enforced which is scheduled for November 2021.
I would recommend having a look at LendSecured as it might be one of the most innovative players in the space going forward. It's worth mentioning that LendSecured also has skin-in-the-game for every project launched.
Summary
LendSecured is a new platform but the team behind it has been operating successfully in Latvia for many years, generating stable returns for investors in a private lending fund. They are now expanding internationally to offer the same opportunities to foreign investors. They also have a good focus on being regulated for everyone's safety, so I see a bright future for LendSecured.
Pros
Innovation with agricultural loans
Professional team with a successful track record
Collateral provided and first rank mortgages make the loans more secure
Cons
Recently launched
Copy in English needs to be polished