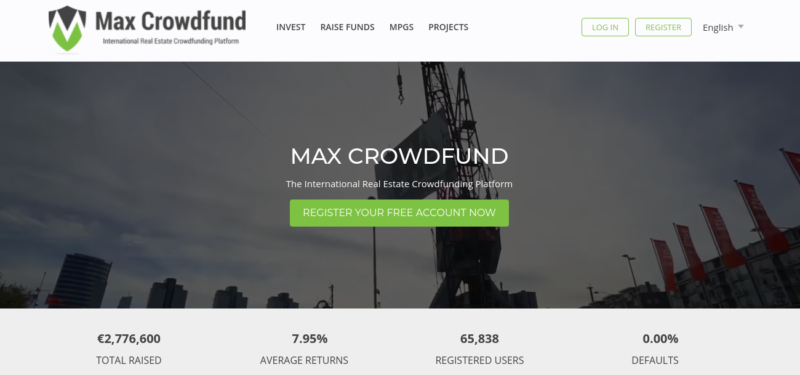 Invest in real estate the easy way
When considering investing in real estate, the first thought that might come to mind is that it is going to be a long and expensive process. However, in today's digital-savvy world, it has never been easier to invest in properties effortlessly.
These days, there are several new and innovative ways that will allow you to put money into this investment class. In this review, I will introduce you to one such option – a real estate crowdfunding platform Max Crowdfund.
Max Crowdfund is a global marketplace for real estate investors and property developers. However, unlike typical crowdfunding sites you might come across, this platform achieves this goal through tokenization.
In my review of Max Crowdfund, you will be able to learn more about this platform and find out for yourself whether it will make a good addition to your investment portfolio.
Max Crowdfund is the product of an established real estate company, Max Property Group. Since early 2016, this firm has been involved in several projects across the Netherlands, Germany, and the United Kingdom by setting up multiple property investment funds.
By 2017, the group developed its first global property solution, Dominium. However, although the platform was quite successful with over 70,000 users, it had to be reevaluated due to trademark issues that occurred in 2018. The result is Max Crowdfund – a much-advanced rebranded version that gives you access to alternative investment spaces.
This platform integrates blockchain technology to streamline real estate crowdfunding on a global level. In a nutshell, Max Crowdfund facilitates lower entry points for cross-border real estate investment – without compromising on regulatory compliance.

The main issue the platform is trying to tackle is the lack of transparency in real estate dealings – which is one of the main aspects that concerns many investors in this arena. By using blockchain technology, Max Crowdfund aims to improve the landscape of real estate investments.
Max Crowdfund deploys digital ledger technology which in turn – will record all transactions made with an unchangeable cryptographic signature called a hash. The platform has also partnered with FIBREE (Foundation for International Blockchain and Real Estate Expertise) to ensure that all your investments will be accurately represented on the blockchain protocol.
According to Max Crowdfund, the platform has already raised a total of €2,776,600 and has generated an average annual return of 7.95%. More importantly, there have been no defaults until now.
Max Crowdfund – How to Start Investing?
As I mentioned earlier, the main consideration associated with real estate investments is the huge capital requirement. However, with Max Crowdfund – you can start investing in properties from as little as €100. The platform strives to make the real estate investment space fully transparent and accessible to everyone.
Most importantly, all investment opportunities available on Max Crowdfund are completely vetted by an experienced real estate team. This will eliminate the need for you to do any of the legwork required to find safe and secure ways to invest your capital.
As an investor, here is how you can start investing on Max Crowdfund.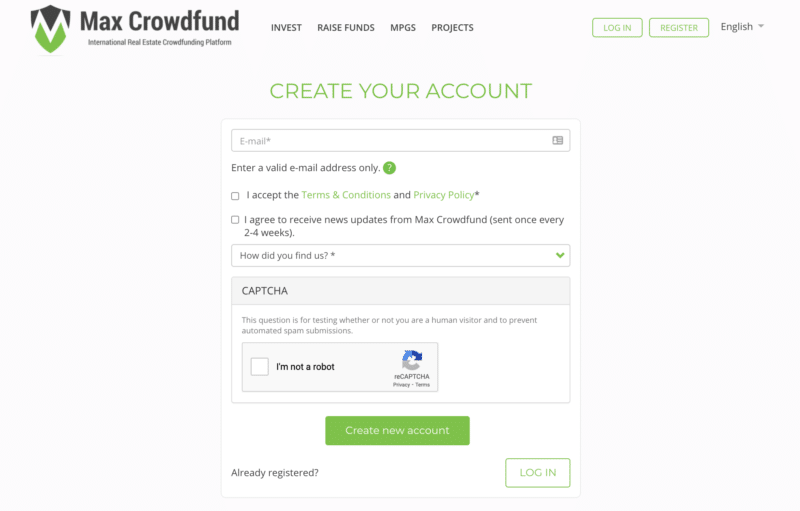 As with any other fintech platform, you can start by creating an account on Max Crowdfund by providing your email address. After confirming your email, you need to set a password.
Step 2: Verify your Account
In order to verify your account on Max Crowdfund, you will be required to complete two important steps.
1. KYC Verification
As Max Crowdfund is a funding platform, you will be required to complete a KYC (Know Your Customer) process. Since this is automated, you can add your address, upload your ID, and submit a picture of you holding the identity document.
2. Bank Account Verification
Once your KYC information has been approved, the final verification step is to add your bank account. You will also need to make a transfer – which can be of any amount from one cent to the escrow account of the platform. When Max Crowdfund receives your transfer, you can proceed to make an investment.
Note: If you need to add another layer of security, you can verify your mobile number or add a Google authenticator account at a later date.
Step 3: Find Investment Opportunities
Max Crowdfund displays all investment opportunities available with detailed information.
Every investment option will include details such as:
Full details of the company
Ultimate beneficial owners
Investment plan
Collateral
Assessment of any involved risks
Loan terms
Any returns you receive from your investments will be paid directly into your account. The term of these investment opportunities typically varies between six months and five years. There are also fixed interest rates between 3% and 12% per annum. However, this will depend on the risk class of the particular project.
As you can see, Max Crowdfund offers a transparent view of all the information you need. When you see an opportunity you would like to pursue; you can decide how much you wish to invest.
Step 3: Deposit Funds
At this stage, you can start depositing funds into your Max Crowdfund account. There are multiple payment methods that you can use to fund your account. However, it is imperative to know that – currently, Max Crowdfund accepts only euros for investing.
The platform might soon begin to accept other currencies – including crypto tokens. But for now, you can only pay in euros. When the funds have been received, your balance will be automatically updated.
Step 4: Start Investing
With a sufficient balance in your account, you can select an investment to back. After you have confirmed, the specified amount will be reserved from your account balance. Max Crowdfund gives you a window of 24 hours to change your investment amount or cancel it. This will not incur any additional charges.
After this cooling period, it will not be possible to make changes or cancel your investment. You can, however, make another deposit into the same scheme.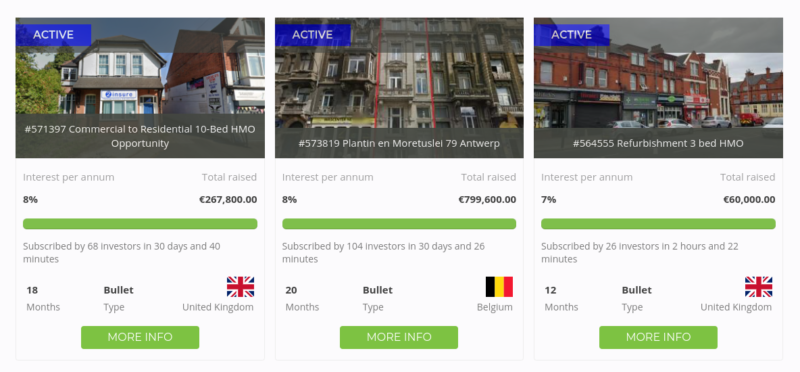 Note: The maximum investment is limited to €80,000 per individual investor and €160,000 for joint accounts. Company accounts and qualified investors have no limits.
Step 5: Earn Returns
When the investment has been finalized, the money will be transferred to the fundraiser, and their interest payment obligations will commence. Depending on your chosen investment, you will receive interest payments monthly, quarterly, semi-annually, annually, or at the end of the term.
Step 6: Withdraw or Reinvest
Any payments and interest from your investments will be added to your account balance, which you can then withdraw to your verified bank account. If the payment sits in your account for more than 60 days – it will be automatically transferred.
As you can see, investing in real estate with Max Crowdfund is fairly straightforward. However, remember that investment decisions will ultimately be yours, and so you should do your due diligence before parting with any capital.
If you are looking to raise money for a real-estate project, the process might be more complicated. This is primarily because you will have to go through multiple stages of verification to be eligible for a loan.
You can follow the steps I have outlined below to get started.
Step 1: Create and Verify Your Account
Setting up your user account is the same as that I have explained above. Apart from providing your basic information, you will also verify your identity by completing the KYC process.
Step 2: Verify Your Company
If you want to raise funds on Max Crowdfund, aside from a verified personal account – you will also need a verified company account. Once you have a verified personal account, you can add your company from your profile on the Max Crowdfund dashboard. The platform will approve your company after performing a credit check.
When you have completed the Know Your Company process, you will need to link your firm's bank account to your profile by making a transfer. This last step will complete the process of your account verification as a fundraiser.
Step 3: Submit Your Project
When you are ready, you can click on 'Raise Funds' on the platform to get started with your application. This will involve you filling out a form that describes your real estate project details as well as your loan requirements. Once you have submitted the application, the Max Crowdfund team will get back to you within 24 hours.
Note: This initial review will cost you €250 plus VAT – which will be charged to your company account. So make sure that you have sufficient funds available before applying for a loan.
Step 4: Fundraiser Approval
Upon receiving confirmation for a loan application, the platform will then proceed to evaluate your underlying asset and your ability to make repayments. If approved, Max Crowdfund will publish your fundraiser.
Step 5: Loan Subscription and Release of Funds
When you have received the full subscription for the loan amount, you will have to sign the loan agreement, and the funds will be released to you. Your loan will have a set minimum amount.
Even if your application does not receive a full subscription, your application will still be considered successful if your minimum loan amount has been attained.  If not, the Investment Committee might decide to extend your application period one more time.
If the minimum is not met within that time, your application will be canceled, and any investment acquired will be returned to the respective investors.
Step 6: Make Repayments to Investors
As per the loan agreement, you will have to make repayments to the platform's escrow account, which will be further distributed to the investors.
If you are unable to meet the repayments, you should reach out to Max Crowdfund so that the platform can devise a strategy to revise the loan conditions to come up with the best solution for all parties involved. Early repayment of the loan is also possible, but only if you are making full payment.
MPGS
When going through the Max Crowdfund website, you will undoubtedly come across MPGS – which are Max Property Group Share Certificates provided by the Max Property Group. Investing in MPGS will allow you to own a share in the company – given that you are qualified to invest.
However, it is crucial to understand that this investment vehicle is not affiliated with Max Crowdfund. Instead, the assets are issued by the Max Property Group, the parent company of the platform.
The only reason I am mentioning this here is so that you do not make investments assuming that MPGS is directly backed by Max Crowdfund itself. If you are considering this, you will need to do your own research about the real estate company and its financial standing first.
MPG Tokens
Max Property Group has also launched an MPG digital token which was released in February 2019. You can buy this token from cryptocurrency exchanges or directly by contacting the MPG group. Investors and fundraisers can use this token to pay for transaction fees and other charges on the Max Crowdfund platform.
Max Crowdfund Fees
As with any other online fintech platform, you will be liable to pay a fee to avail of the services of Max Crowdfund.
The charges can be classified into two – for investors and fundraisers.
Fees For Investors
Subscription fee for bonds – From 0% to 2% of the total invested amount.
Monthly administration fee – 0.1%
Administration fee incidental payment (example – for profit share) – 0.5%
Note: All investor fees are inclusive VAT.
Fees For Fundraisers
Application fee – €250
Publication contracting fee – €750
Success fee – 2.5%
Monthly administration fee – 0.06%
Administration fee incidental payment (profit share) – 0.5%
Loan restructuring – 0.5%
Early repayment – 0.5%
Late payments- Starting fee of €500
Note: All fundraiser fees are exclusive of VAT
Max Crowdfund Safety and Security
Max Crowdfund's take on transparency extends to its compliance as well. The platform is registered with AFM in the Netherlands and has received an 'exemption' from them for "mediating in repayable funds." However, it is also clearly stated Max Crowdfund is not under the strict and continuous supervision of the AFM.
Nevertheless, the platform regularly consults with the financial authority in question and also submits reports. In addition – as I have mentioned throughout the review, the platform thoroughly investigates each fundraising project in order to submit it for the consideration of investors.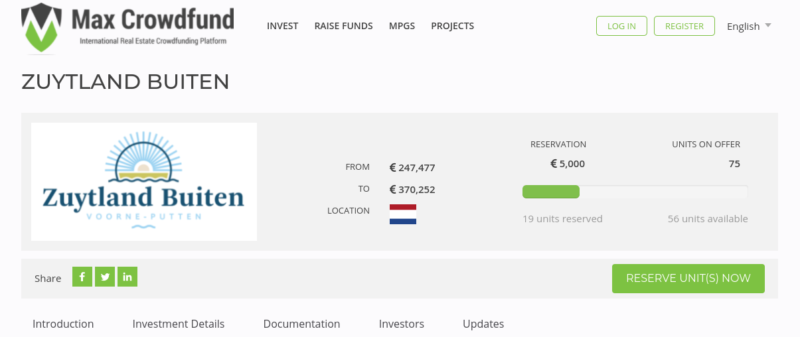 If you need to know more about the risk assessment process, Max Crowdfund also has a dedicated section on its website. You can see how the platform calculates the solvability, profitability, LTV, marketability, and other risk factors involved with each project.
Max Crowdfund Customer Service
Max Crowdfund provides users with animated video tutorials on how to start investing and how to raise funds. Additionally, you will also find all the relevant information in the Help Centre. In case you need further assistance, you can reach out to the team through their contact form, email, or phone.
Max Crowdfund – The Verdict
Max Crowdfund has opened the doors for global investors to fund real estate projects without having to go through the cumbersome process of obtaining a long-term mortgage. Registered with financial authorities in the Netherlands, the platform comes across as a credible financial solution to explore this alternative marketplace.
Moreover, the blockchain integration makes the platform more transparent and trustworthy. With all that said, when making investments – there are several considerations to make. The good news is that Max Crowdfund provides you with all the necessary documentation you will need to make an informed decision.
However, it is up to you to decide whether or not the real estate markets offered by the platform align with your portfolio. On the flip side – at a minimum investment of just €100, this allows you to diversify in a risk-averse manner.