During the past weekend I've had the chance to take part and play in the International Padel Experience tournament in Rotterdam.
Together with my partner Ole, I was really looking forward to my first experience playing and competing outside of Spain. Padel is the second most popular sport in Spain but it's still in its early stages throughout the rest of Europe. I was therefore curious to see how the sport is picking up in the Netherlands.
We played at Padel club Victoria. They have 3 very nice padel courts and many players who converted to padel after playing other racket sports such as tennis and squash. It was very nice to chat with players from several countries and talk about their padel experience. I think in the coming years we will be seeing the definite explosion of this sport throughout Europe and many more new players.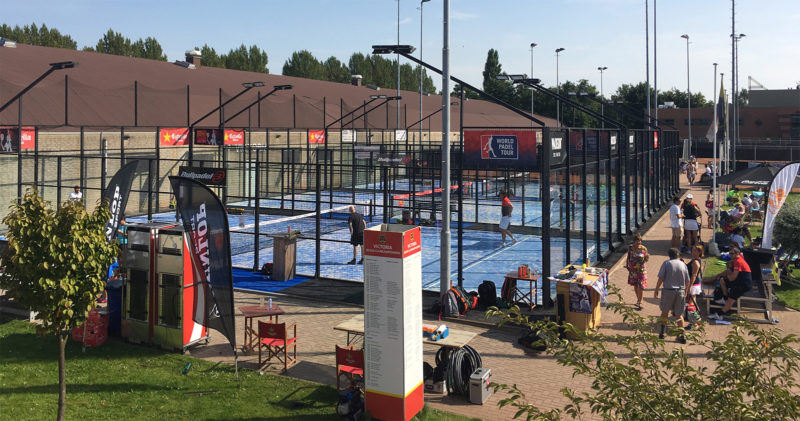 Let's get back to the IPE Rotterdam tournament, it was well organised. All the matches we had scheduled started on time and there was a very nice atmosphere at the club. Free beer was provided by sponsors Estrella Damm, although to be honest I would have preferred to have free water or at least a water fountain. We were lucky with the weather as it was hot and sunny during the whole three days, so it was very important to stay well hydrated while playing.
The tournament had four categories, Men A and B, Women, and Mixed. We took part in Men B, guided by the padel level guide available on the International Padel website. In reality we encountered players between levels 2 and 3.5 in this category, so there was quite a wide range. This led to some very easy matches against players who only started playing very recently. The final however was really hard and we thoroughly enjoyed it. We only managed to win at the very last moment after a super tense tie break that decided the match. After chatting with Luis from International Padel, I learned that every tournament is a bit different with regards to the players' levels. For example, since padel is more established in countries like Spain and Portugal, the level is considerably higher. Luis therefore recommended that we stick to category B for our next tournament in Lisbon, Portugal.
Going to these tournaments is also great because there is enough time to have a quick run about the city where the tournament is being played. I had never been to Rotterdam and so it was a perfect opportunity to combine leisure and sport. I liked the city; it's very walkable and like other Dutch cities is also a perfect place for cycling as a means of transport. We were lucky with the weather, as I mentioned earlier, so we also had the chance to take a few beers and coffees in the sun. My top tip for anyone visiting Rotterdam would be to try the water taxis, they're speedboats that transport people from one side to the other of the harbour, but they are an experience in themselves and worth doing even if you don't really need to use them as transport.
So, all in all, a very good experience with International Padel Experience, I look forward to playing in Lisbon and hope that padel will continue growing as a sport all around the world.