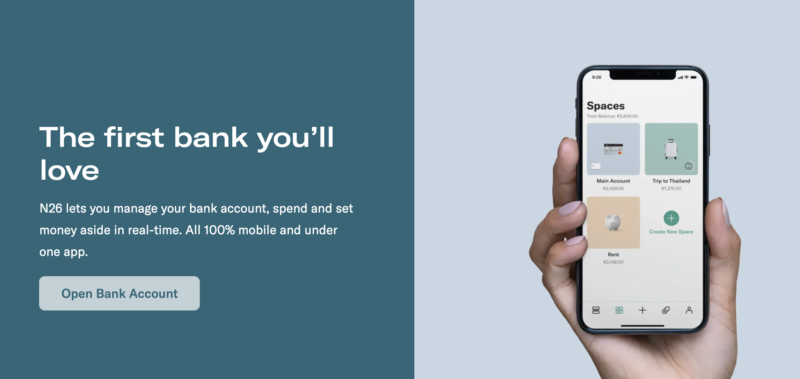 The challenger banking space has grown to exponential heights in recent years. No longer are you required to visit an outdated banking branch to open an account, nor do you need to submit countless forms. Instead, it's entirely possible to facilitate most of your everyday banking needs from your mobile phone. 
With that said, the likes of N26 – a German challenger banking app that's since expanded to multiple European countries and the US – now boasts a customer base that exceeds 3.5 million users. In a nutshell, N26 offers a number of localized bank accounts that allow you to send and receive money – both domestically and internationally. 
On top of fee-free accounts, a fully-fledged MasterCard debit card, and instant transaction notifications sent straight to your phone – the account opening process takes just minutes. 
If you're keen to find out whether or not the challenger banking app is right for you – be sure to read my in-depth N26 review. We'll explain the ins and outs of what you need to know – such as how the app works, what it allows you to do, fees, payment methods, regulation, and more. 
What is N26?
Launched in 2013 and headquartered in Germany, N26 is a challenger banking app that allows you to access everyday banking services at the click of a button. With no physical branches, everything at N26 is facilitated via your mobile phone. When you first open an account with the provider – which shouldn't take more than a few minutes, you'll have access to a unique bank account number.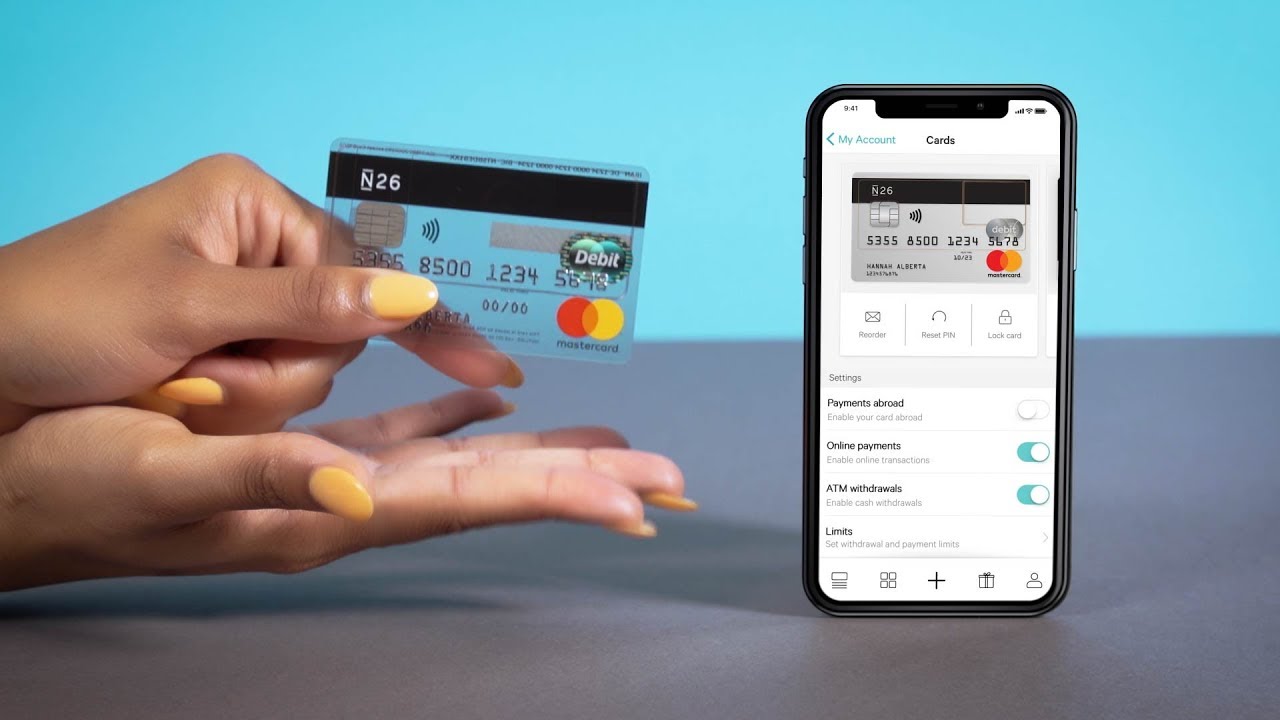 Note: For those unaware, a challenger bank is a small retail bank that seeks to "challenge" the status quo of large, established financial institutions. The likes of Revolut, Monzo, N26, and many others do this by offering consumers a seamless, convenient, and burden-free service – with all banking facilities accessed via a mobile app. 
This can be a UK sort code and account number, or a European account number with a German IBAN. With that said, customers based in Spain can now get a local IBAN number – meaning that direct debits and salary deposits are supported. Regardless of which N26 account you decide to use, you'll be able to send and receive money much in the same way that you would with any other bank account. 
This includes international payments that are supported by TransferWise, so you can send funds overseas both quickly and cheaply. All N26 accounts come with a debit card. Backed by MasterCard, this allows you to purchase goods and services online and in-store, as well as withdraw cash from an ATM.
As is the case with most challenger banking apps, N26 gives you much more of an oversight as to where your money goes. For example, every time you use your debit card, a notification will be displayed on your phone in real-time. Moreover, transactions are categorized, so you can keep tabs on where you might be overspending.
As we'll cover in more detail further down, N26 also offers a couple of paid-for plans. This includes the N26 You and N26 Metal plans, which cost €9.90 per month and €16.90 per month, respectively. Finally, and perhaps most importantly – N26 is in possession of a European Banking License. This means that under the European Deposit Protection Fund, your money would be safeguarded up to the first €100,000.
So now that you have a general overview of what N26 is, let's explore who is eligible to open an account.
N26 Eligibility
On top of having an Android or iOS smartphone and being aged 18 years and above, you'll need to be a resident of one of the following countries to open an account with N26.
Austria

Belgium 

Estonia 

Finland 

France 

Germany 

Greece 

Ireland 

Italy 

Latvia

Lithuania 

Luxembourg 

Netherlands 

Portugal 

Slovakia 

Slovenia 

Spain 

UK

US
N26 is in the process of adding more eligible countries, which it plans to do so on a continuous basis. As and when it adds new countries, you will have the opportunity to add yourself to the waiting list.
How to Open an Account at N26?
If you meet the rather lax eligibility requirements listed above, follow the step-by-step guidelines below to open an account with N26.
Step 1: Download the N26 App
Your first port of call will be to download the N26 mobile app. You can download it free of charge from either the Google Play or iOS stores. As a side tip, you are best to get the download link directly from the N26 website, rather than searching it for yourself in your respective store. This is to avoid the risk of downloading a fraudulent imitation of the app.

Step 2: Enter Your Personal Information
As is standard practice with any bank account application, you'll now need to enter some personal details. With that said, the process is a lot less intrusive in comparison to a traditional financial institution. 
You'll need to enter your:
First and Last Name

Home Address

Date of Birth

Nationality

Contact Number

Email Address
Step 3: Verify Your Identity
In order to remain compliant with European anti-money laundering laws, N26 is required to verify the identity of each and every customer that uses the app. Unlike a conventional bank, the KYC (Know Your Customer) process at N26 takes less than a minute. 
All you need to do is take a photo of your government-issued ID, and then a photo of you holding the ID next to your face. Depending on where you live, you might also have the option of doing a video verification call. 
Step 4: Add Funds to Your N26 Account
As soon as you pass the speedy KYC process, you'll then be able to add funds to your newly created account. You can do this via a standard bank transfer directly to your unique N26 account. 
Step 5: Activate Your N26 Debit Card
You should receive your N26 MasterCard within a few days of opening the account. When it does arrive, you'll need to activate the card. You'll find instructions on how to do this within the booklet that N26 encloses within the letter.
N26 Plans
N26 offers three plans – one of which is free. Here's the lowdown of what you get with each plan.

Standard N26 Plan – Free
The vast majority of features offered by N26 are available in the fee-free plan. This includes a fully-fledged current account, debit card, customer support in five languages, real-time notifications, and free payments when physically using your card abroad – or online.
In reality, the free account is likely to be sufficient for most of your everyday banking needs. With that said, there might come a time where you need a bit more from your account – so we've outlined what you get in the premium accounts below.
Standard Plan: Fees and Charges
Firstly, there are no fees to open an account with N26, and if remaining on the standard plan, you won't be charged a monthly subscription. When it comes to ad hoc charges – such as ATM withdrawal fees, this can vary depending on where you are based. 
For the purpose of illustrating the types of fees you might be paying, we'll base the following costs on a US N26 account.  
If performing a bank transfer from within your N26 account, you won't pay any fees.

You can make up to 2 free ATM withdrawals per month.

After that, you will pay $2 per withdrawal until your monthly allowance resets. This can start to add up if you have a tendency to make frequent withdrawals throughout the month at smaller amounts. 

You will still need to pay the fee that the respective ATM charges you – if applicable

You can use your debit card anywhere in the world, albeit, US account holders pay $2 per ATM withdrawal, plus 2% in conversion fees. 
As I will cover in the next section, the foreign ATM fee is scrapped if you are on one of the paid-for plans. 
N26 You Plan – €9.90 Per Month
The cheaper upgrade of the two is that of the N26 You plan. At a cost of €9.90 per month, you'll be offered a number of enhanced features. This includes a choice of five different debit card designs, and crucially – the ability to withdraw funds from an overseas ATM without being charged. 
This could be highly beneficial if you have a tendency to travel a lot – or you're a digital nomad that moves from country to country. For example, as long as you withdraw more than €600 per month from a foreign ATM, the account would pay for itself (ordinarily you would pay €10.20 in fees).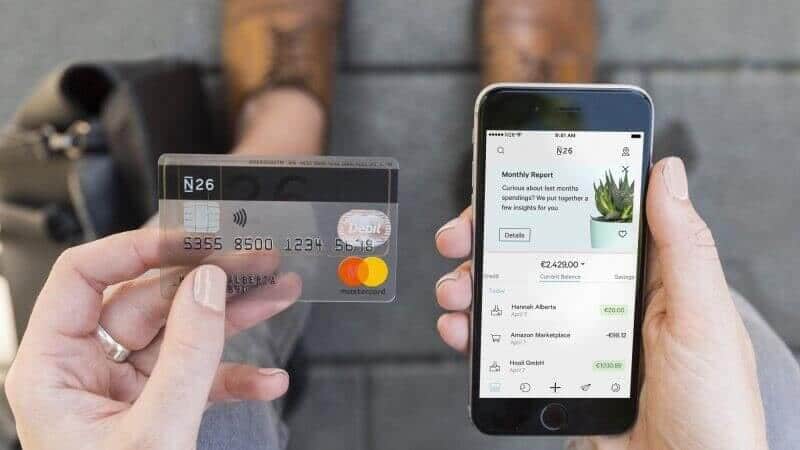 In fact, you'll likely save even more when you consider that you'll be offered the same inter-bank exchange rate that N26 gets from MasterCard. This is in stark contrast to traditional banks, which are known to add an excessive mark-up of 2-3% on top of the transaction amount – sometimes more.
You'll also have access to 10 sub-accounts, which can be used to create savings pots. 
Additional perks include:
Discounted offers from Hotels.com and WeWork 

Medical Insurance while traveling 

Winter sports insurance 

Flight and baggage delay insurance
N26 Metal Plan – €16.90 Per Month
At €16.90 per month, the Metal plan is the top-tier account at N26. On top of all of the features that you get with the N26 You plan, you'll get an 18-gram Metal MasterCard, car rental insurance while traveling, and mobile phone theft and damage cover. Is it worth the extra €7 per month? Well, only if you have a need for the additional insurance coverage that the account comes with.
Note: It is disappointing that you are still only given five free domestic ATM withdrawals per month – even on the premium accounts. This could become costly in the long-run, so you're best off maximizing your withdrawals throughout the month to stay within the free allocation. 
N26 Features and Benefits
Below I have listed some of the main features and benefits offered by N26. 
Real-Time Notifications
As soon as you make a purchase with your N26 debit card, the transaction will pop-up on your mobile phone. Not only does this allow you to keep tabs of what you're spending, but you'd be notified straightaway in the event that your card was used fraudulently. 
Transaction Categorization
On top of real-time notifications, your debit card purchases will also be categorized. For example, a Netflix subscription would fall under 'Entertainment', and your electricity bill as 'Utilities'. This allows you to get a birds-eye view of what you typically spend your money on throughout the month. 
Reporting
You can break down your transaction categories to generate financial reports. This can help you budget in certain areas of your financial life – especially if you're working towards a particular savings goal.
Receive Your Salary
If you're based in the UK, Germany, Spain, or the US – you'll be able to get your employer to pay your salary into your N26 account. This is because the aforementioned countries come with localized account numbers. 
Free and Unfreeze
Losing a debit card is something that has happened to all of us. But how many times has the card reappeared after you've called your bank to cancel it? N26 allows you to freeze and unfreeze your debit card whenever you want. 
As such, if you've misplaced the card but you think you might be able to find it, simply freeze it, and then unfreeze if it reappears. If it doesn't, you can report it stolen and then reorder a new card from within the app. 
Savings Goals
N26 allows you to create sub-accounts, which is ideal if you're looking to work towards specific savings goals.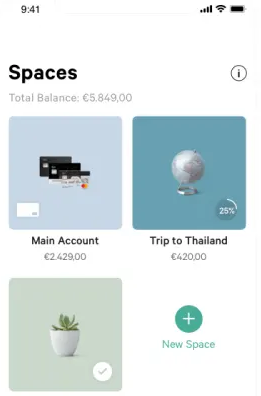 For example, you could set up a holiday pot and get daily updates on your progress.
Is my Money Safe at N26?
As I noted earlier in my review, N26 holds a European Banking License. This means that your money is safeguarded by the European Deposit Protection Fund. 
For those unaware, this protects your cash deposits up to the first €100,000 in the event that N26 collapses. As long as your account balance does not exceed this figure, your money is 100% safe at N26.
Take note, if you're based in the UK you won't be protected by the Financial Services Compensation Scheme (FSCS), which covers the first £85,000 in the event of a collapse. Instead, you're also covered by the European Deposit Protection Fund. 
N26 Security Features
Account Access:

You will need to enter your unique PIN to gain access to your N26 account. Alternatively, you can also set up fingerprint ID or face recognition if you want to take security to the next level.. Either way, N26 can only be paired with one mobile phone. 

Transaction Verification:

All transactions must be confirmed with your PIN, such as when you transfer funds out of your N26 account.

Permissions and Restrictions:

You can add or remove permissions on certain areas of your N26 account. For example, you can switch off the ability to make online payments – or payments abroad, as and when you see fit. 
Customer Support at N26
As is often the case with new-age challenger banks, N26 strives to place the customer experience at the heart of everything. The easiest way to make contact with N26 is via live chat, which you'll find within your app. 
Take note, customer support through live chat is only available between 7 am and 11 pm. This is a bit disappointing, as the likes of Revolut and Monzo – two key market rivals of N26, offer 24/7 support.
N26 Review – The Verdict
In summary, N26 is a useful app for those of you that wish to access everyday banking services while on the move. You'll have the capacity to send and receive funds at the click of a button, and your MasterCard debit card allows you to purchase goods and services online or in-store. You can also withdraw cash from an ATM – both domestically and while overseas. 
However, if you make more than five local ATM withdrawals per month, you'll then be charged €2 a time. Moreover, unless you upgrade to one of the two premium accounts, you'll need to pay a 1.7% foreign ATM withdrawal fee. It is also important to note that N26 doesn't have the capacity to completely replace the types of current accounts offered by traditional banks – especially in the credit department. 
Nevertheless, if you're looking for an alternative banking app to supplement what you already have, N26 is well worth considering. 
Summary
My online bank of choice at the moment. It works really well and provides all the facilities I need from an online bank. As a bonus, N26 also provides local IBAN numbers to those living in Spain, which greatly facilitates direct debits.
Pros
Fantastic app.
Good support.
Lots of extras.
Cons
No physical branches of this bank – if that's a concern.
Not crypto-friendly.