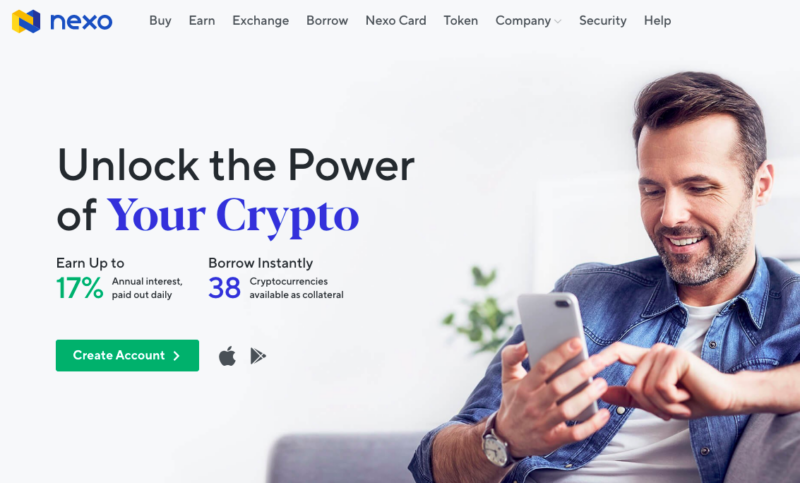 When faced with the volatile nature of cryptocurrencies, investors have an ongoing dilemma – exit the position or 'HODL'. Those investors in it for the long run, will simply look to hold on to their cryptocurrencies with the hope that in the not-too-distant future they will appreciate and be worth significantly more.
Until then, the coins would typically remain idle in a private wallet – resulting in opportunity costs along the way. After all – and much like gold, Bitcoin and many other cryptos do not yield any income.
With this in mind, Nexo has created an online platform that allows you to earn interest by depositing your digital currencies. In turn, this will then be loaned out to those that wish to engage with crypto-loans.  Today, the company presents itself as a crypto-fiat finance service that offers a variety of distinct features to meet the needs of both investors and borrowers.
In my Nexo review, I explore the ins and outs of how the platform works. This will include a breakdown of the interest-yielding service and an analysis of a number of other key features found on the platform.
Nexo – The All-Round Financial Service
Founded in 2017, Nexo is a subsidiary of Credissimo, a Switzerland Fintech Company which had its IPO in 2014. Nexo is currently licensed and regulated as a financial institution in the EU and currently manages assets for 4М+ users across 200 jurisdictions.
Nexo's mission is to successfully solve inefficiencies in the lending markets by creating innovative, convenient and sustainable solutions. Capitalizing on the potential behind blockchain technology, Nexo is pioneering a new digital financial system.
Nexo offers a token-based cryptocurrency investment platform, where one can avail from crypto-backed loans and a credit card to support that. Nexo also offers crypto and fiat interest-bearing savings accounts and an exchange.
So, if you are either a digital currency diehard who wants to 'HODL' or otherwise even hanging on to fiat while waiting for the right opportunity to put it to work, with Nexo you can earn a return on both types of holdings through generous interest rates.
At a glance, Nexo offers the following features:
Users can earn daily interest from their cryptocurrency assets and fiat currencies (such as U.S. dollars, British pounds, and Euros).
The loan period of the platform is one year, which can be renewed if the lender wishes.
Nexo does not charge any platform fees.
The lender can withdraw or deposit funds at any time.
Some of the major digital currencies supported by Nexo include but are not limited to Bitcoin, Ethereum, Nexo Token, BNB, XRP, Litecoin, Tron, Stellar, Bitcoin Cash, EOS, Cardano, Dash, IOTA, Ethereum Classic, Zcash, Tezos, Monero, VeChain, KIN, NEO and Tezos.
The minimum loan you can get on Nexo is $50 and the maximum is $2 million.
In addition to BitGo, which provides top-level security services, Nexo also has an insurance value of US$100 million provided by Lloyd's. In other words, your funds are very safe.
Good customer service.
Overall, Nexo is a valuable platform packed with flexible features for every cryptocurrency investor.
Buying Crypto on Nexo
With Nexo you can invest in 38 digital assets by either using a Mastercard or Visa or otherwise via a bank transfer using SEPA or SWIFT.
In order to buy crypto you first need to have your identity verified which only takes a couple of minutes. Once you pass verification, you can proceed with purchasing crypto through one of the following 2 methods: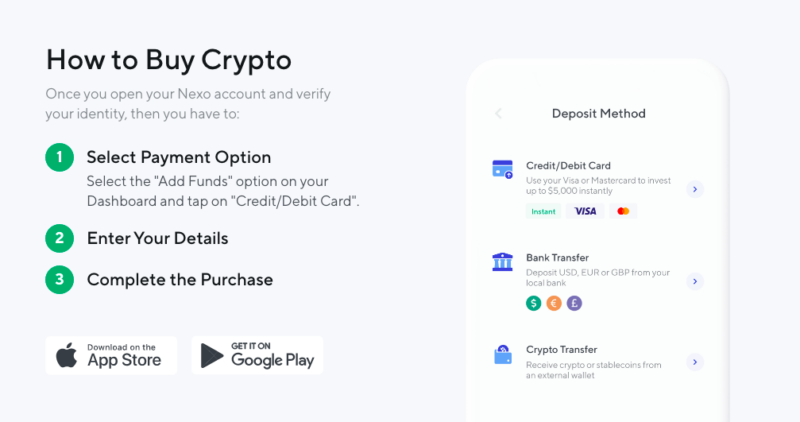 A. Using a credit or debit card
From the Dashboard, tap on the "Add Funds" option and select the "Credit/Debit Card".
Pick your desired asset and enter how much you would like to spend.
Enter your credit or debit card details.
Confirm your purchase and you're done.
When paying with a card, you will be able to see the exact processing fee you'll be charged on the final Order Confirmation page before you complete each purchase. The amount shown on the Order Confirmation page is what you will pay for the transaction. There are no other hidden fees.
B. Via bank transfer
You can also top up USD, EUR or GBP from your local bank via Nexo's wire transfer option. Wires sent from the US generally take 1-2 business days to be reflected in your account. Wires sent from other countries typically take longer to process – up to 3 business days. GBP wires via Faster Payments are instant.
Once your funds arrive, simply go to the Exchange tab inside the Nexo app and swap them with any cryptocurrency you want.
When buying crypto, Nexo' s Smart Routing System monitors crypto prices across the top 10 exchanges at once, providing you with the most cost-effective execution possible.
The minimum transaction limit is $50 and the maximum is $5,000. You can buy up to $10,000 worth of crypto per month.
Earn up to 0.5% cashback on crypto purchases
When purchasing crypto on Nexo you can earn up to 0.5% cashback by keeping at least 1% of your Portfolio Balance in NEXO tokens. The cashback you get depends on your Loyalty Tier – the higher your Loyalty tier is, the more cashback you'll earn.
If you want to get the maximum cashback of 0.5%, you will need to join the Premium Loyalty tier by holding at least 10% of your Portfolio Balance in NEXO tokens which you can purchase directly from within the Nexo platform.
Example
Let's say you stay within Nexo's Premium Loyalty tier and you buy $5,000 worth of BTC via the Nexo Exchange. That means you'll get $25 worth of BTC in instant cashback:
$5,000*0.05% = $25 in BTC
Note that the total cashback paid is limited up to $100,000 in exchange volume per month. That means you'll be earning cashback until your total monthly amount of swaps reaches $100,000. That limit resets back to $0 on the 1st day of each month.
Withdrawing your crypto
All cryptocurrency transfers between Nexo accounts are instant, unlimited, and free of charge. Depending on your Loyalty tier, you will also receive between 1 and 5 monthly crypto withdrawals to an external wallet that are feeless, as can be seen in the graphic below.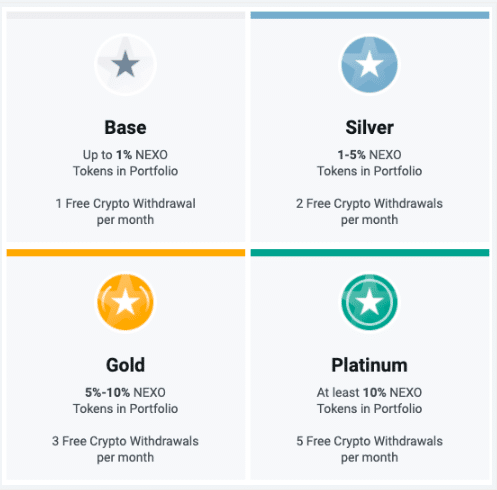 Internal Nexo transfers do not affect your free monthly crypto withdrawals since they are off-chain.
Once the free withdrawal limit is reached, you will be automatically charged a fee incurred by the network. The fee is not fixed and depends on the current condition of the respective blockchain. You will see the amount required for the processing of your transaction before submitting the withdrawal.
The counter for free crypto withdrawals will reset on the first day of each month, after which you can make another set of free withdrawals.
The minimum amount of crypto you can withdraw is listed in the graphic below: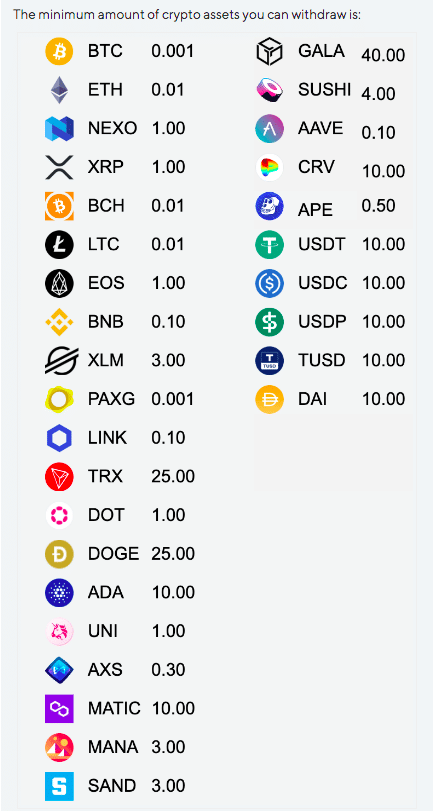 Earning Interest on Your Crypto Balances
While buying crypto and HODLing it until the price goes up is a great option for turning a profit, it requires lots of time and a bit of luck. With Nexo you can put your idle assets to work straight away and have a predictable source of passive income without the risk.
Once you top up and buy crypto you can start earning up to 17% annual interest immediately without further action being required from your side.
Apart from earning interest on cryptocurrencies, you can also earn up to 12% APR on USDx, EURx and GBPx stablecoins. Stablecoins track the movement of the corresponding fiat currency, meaning the price of these stablecoins is pegged to the underlying fiat. As such, if you have idle fiat earning nothing (or even costing you money in negative interest rates) in your bank account, converting them into these stablecoins to earn passive interest thereon is a no-brainer. You can buy these stablecoins using fiat or other cryptos such as Bitcoin or Ethereum, and sell them in exchange for other cryptoassets.
The actual APR is determined by:
Your Loyalty tier, which in turn depends on the ratio of NEXO Tokens against the balance of other assets in your portfolio. The requirements for each tier are as follows:

Base: No NEXO Tokens are needed.
Silver: At least 1% of the Portfolio Balance in your account must comprise NEXO Tokens.
Gold: At least 5% of the Portfolio Balance in your account must comprise NEXO Tokens.
Platinum: At least 10% of the Portfolio Balance in your account must comprise NEXO Tokens.

The type of interest payout you choose:

Earning 'in kind' means you receive your interest payments in the currency you're earning on.
Earning in NEXO means you receive interest payments in NEXO Tokens and benefit from up to 2% additional interest on all your holdings.

The type of saving term: FLEX or Fixed. If you choose to create a 1-month Fixed Term on your crypto, you'll earn an extra 1% interest. Hence you can either trade while you earn on the FLEX offering or otherwise create a Fixed Term to get an additional 1% interest on your assets.
Another benefit of the FLEX offering is that you get instant access to the interest you've earned through daily payouts. Your yield is automatically paid to your Nexo account, so the next day, you begin earning compound interest on top of it too.
Exchanging Cryptos on Nexo
Catering for 300+ pairs, the Nexo Exchange is a vast exchange where you can swap seamlessly between almost any two supported cryptocurrencies you'd like – with 100+ rare market pairs you'd struggle to find anywhere else. There are no limits on the number of swaps you can make, with minimum and maximum order value of $30 and $250,000, respectively.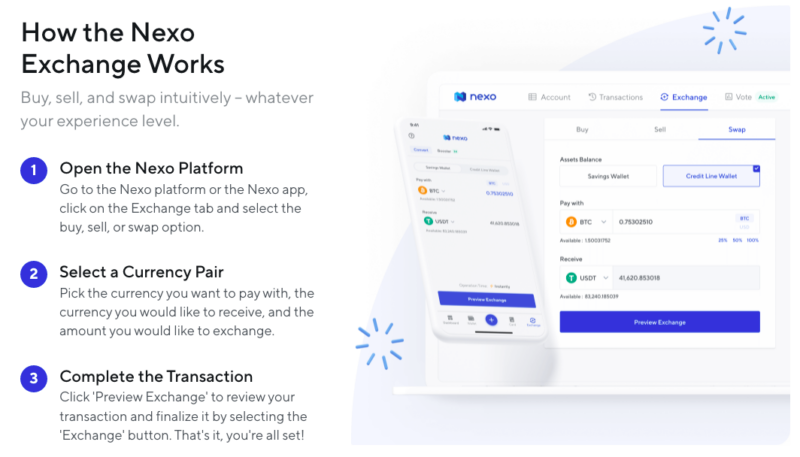 A unique offering by Nexo is the Smart Routing System whereby Nexo aggregates rates from the top 10 exchanges providing you with a quote based on the best available spot price and no price fluctuations between order submission and order fulfillment. Unlike most exchanges where prices might fluctuate by up to 5%, Nexo fixes the rate the moment you place your order. That means the price you see is the price you pay. Also, with Nexo, market pairs are exchanged in real-time. In fact, your balances are updated instantly, the moment your order is confirmed.
Just like when you purchase crypto, depending on your Loyalty tier, you can earn up to 0.5% instant cashback for every swap you make on the Nexo Exchange.
Example
Let's say you stay within Nexo's Premium Loyalty tier and you swap USDC for $5,000 worth of BTC via the Nexo Exchange, that means you'll get $25 worth of BTC in instant cashback:
$5,000*0.05% = $25 in BTC

Borrowing with Nexo
Unlike a traditional loan that takes your credit score in to account, Nexo offers crypto-backed credit lines where your digital assets act as collateral. Put simply, Nexo gives you fiat or stablecoins, and you provide crypto as security for repayment. This service has gained considerable traction with more than $6B being issued in credit thus far. Apart from the tax benefit associated with not selling your crypto, Nexo provides you with the opportunity to access fiat funds at the touch of a button, something that with legacy banks is unimaginable.
Once you top up your Nexo account or buy crypto on the Nexo exchange, you can head to "Withdrawal Funds From Credit Line" where you will see the available loan amount. Choose your preferred withdrawal method between one of the following:
a) Either withdrawing fiat straight to your bank account. You can choose between 40+ currencies, including USD, GBP and EUR. Please note that in this case you may be as well requested to provide supporting documents to prove the origin of your funds.
b) Or withdrawing USDT or USDC to your Nexo account or another compatible address.
If you choose the second method, the crypto in your Nexo account can be accessed through a Nexo card which you can apply for free on the platform. The Nexo card is accepted internationally by 40+ million merchants and does not incur inactivity fees, maintenance fees, POS payment fees or FX fees. Another benefit of the Nexo card is that you will get a 2% cashback on every purchase affected by it. It will also let you withdraw up to €10,000 per month from ATMs. The Nexo card can be managed through the Nexo Wallet app.
With Nexo you can borrow from a minimum of $50 to a maximum of $2M. Your credit line will be instantly approved without any credit checks. There is also flexibility in terms of repaying your balance. In fact, there is no fixed payment schedule in this regard. Upon repayment, you can choose between fiat, crypto, or a combination of both to settle your credit line.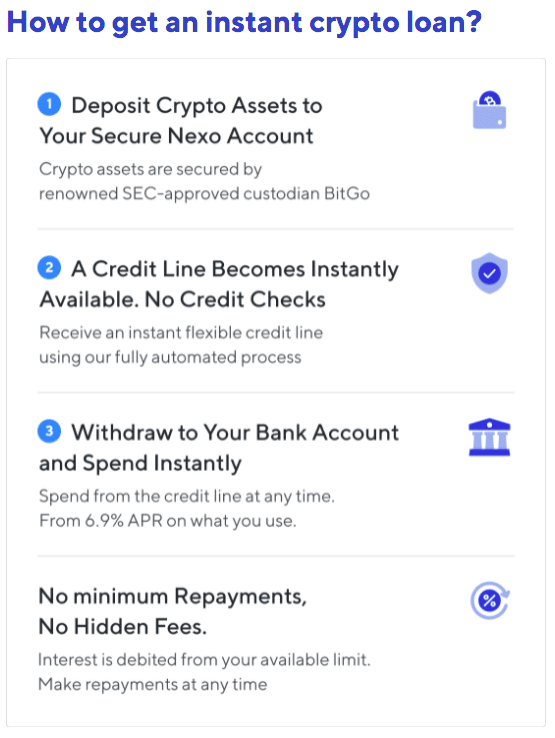 Managing Loan-to-Value on Nexo Loans
The Loan-to-Value (LTV) ratio will depend on which digital asset you place as collateral. In case you're new to this term, a credit line's loan-to-value (LTV) ratio determines the amount of crypto collateral you need in order to take out a crypto credit. LTV is calculated as the ratio between the crypto credit amount in USD and the value of the collateral in USD, expressed as a percentage.
At Nexo, LTV ratios range from as low as 15% with Nexo tokens as collateral, to as high as 90% with stablecoins, such as USDC and USDT, as collateral. Bitcoin and Ethereum placed as collateral both imply a 50% LTV. With that said, it is important to note that due to anti-money laundering regulations, you can only use stablecoins to cover 50% of the collateral required for fiat credit. The other half of the required collateral must comprise crypto assets.
If your collateral's value increases, your credit line limit also goes up. You're free to withdraw more or leave your current credit line as is.
You can also use the extra value of your crypto to pay off part of your credit. If your assets have met your price target, then you can:
Place an order in your Nexo Wallet to sell a fraction of the crypto assets in your account.
Repay part or all of your outstanding balance.
The transaction is performed without any additional fees on Nexo's part. Any resulting charges are fees from the exchange that facilitated the trade.
If your collateralized assets decrease in value your LTV will rise. You will receive a minimum of three margin calls (via SMS and email) when the LTV increases to 71.4%, 74.1%, and 76.9%. If the value of your collateral continues to drop and your LTV reaches the 83.33% mark, Nexo may initiate partial automatic repayments to rebalance the LTV ratio back within limits. Nexo will sell as little as possible, so you retain as much of your crypto as possible.
To avoid this scenario, you will be able to top up more assets and enable the Automatic Collateral Transfer feature, allowing Nexo to automatically transfer a small portion of your assets from the Savings Wallet to the Credit Line Wallet, thus keeping your credit line health in check.
On Nexo's website, you can also find an on-screen calculator (as shown below) which displays your available fiat credit limit depending on the value of your assets to be placed as collateral.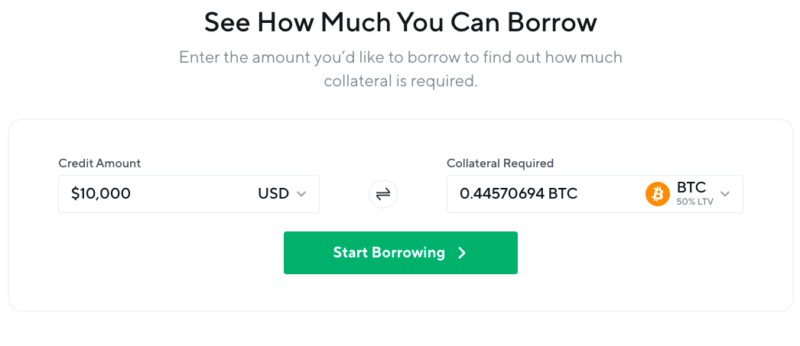 After topping up your Nexo account you will be able to borrow almost immediately with no credit checks.
The processing time for funds to arrive is as follows:
Local transfers: 1 business day
International transfer: 3 to 5 business days
USDT (Tether) and USDC (USD Coin): usually takes no longer than half an hour before you receive the funds.
Interest Payable on Nexo Loans
As soon as you receive the funds, you will be able to withdraw cash or stablecoins instantly. Interest will be charged only on the amount you actually withdraw and will range from 0% to a maximum of 13.9%.
The applicable interest rate depends on your Loyalty Tier which is determined by the ratio between the value of your NEXO Tokens and the total value of your portfolio:
Base: No NEXO Tokens are needed; interest on your outstanding credit line balance is 13.9%.
Silver: At least 1% of the Portfolio Balance in your account must comprise NEXO Tokens; interest on your outstanding credit line balance is 12.9%.
Gold: At least 5% of the Portfolio Balance in your account must comprise NEXO Tokens; interest on your outstanding credit line balance is 8.9% if your LTV is above 20% and 1.9% of your LTV is below or equal to 20%.
Platinum: At least 10% of the Portfolio Balance in your account must comprise NEXO Tokens; interest on your outstanding credit line balance is 6.9% if your LTV is above 20% and 0% of your LTV is below or equal to 20%.
The standard maturity of the loan is one year. If not repaid the loan is automatically extended for another 12-month term. The number of extensions shall be unlimited. Note that the maturity period re-starts every time you withdraw funds from your credit line. Also bear in mind that you only pay interest on the funds that you withdraw. Interest is added to your outstanding balance daily at 00:00 CET.
It is important to note that loans repaid in less than 30 days are charged interest for the remainder of the 30-day period at the standard APR of 13.9% regardless of your Loyalty Tier. This is in order to prevent improper use of the Nexo platform and to safeguard Nexo as a company, but more importantly, clients and investors.
You can also repay your loan at any time using crypto and stablecoins, as well as EURx, GBPx, and USDx. Minimum repayment limits apply depending on which crypto or stablecoin you pay with. For example, while the BTC and ETH minimum repayment amounts are 0.003 and 0.03 respectively, the ones for EURx, GBPx and USDx are only 1.
Nexo Token
The Nexo Token is the key to unlocking the full potential of Nexo and is a fundamental part of Nexo's Loyalty Program.
Depending on how many tokens you have as a percentage of your whole Portfolio Balance you fall into one of four tiers – Base, Silver, Gold or Platinum. The higher your tier the more generous the benefits with respect to yields, exchange cashback, borrowing rates, daily interest and number of free withdrawals per month, all of which are explained in further detail above.
Another advantage of holding Nexo tokens is that if used as collateral they will also earn interest, unlike other crypto held as collateral. It doesn't matter if your tokens are in your Credit Line or Savings Wallet as long as they are in your Nexo account.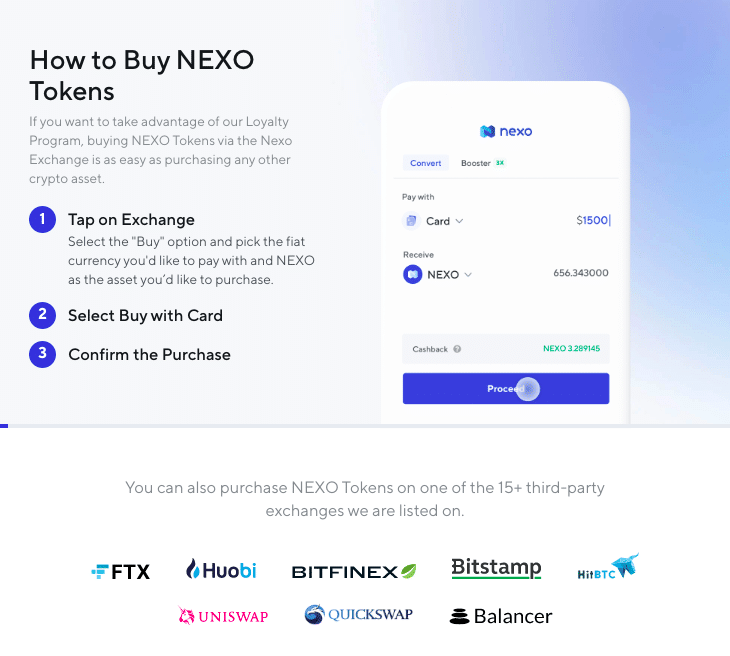 One other benefit of holding Nexo tokens is that it gives you the opportunity to participate in any future Governance Votes, thus designing the future of Nexo (1 NEXO = 1 Vote).
How Safe are my Holdings with Nexo?
Nexo partners with the foremost providers of security in the blockchain space, including BitGo and Ledger Vault, among others. Collectively, they carry $375M in insurance protections for digital assets held on the Nexo platform via reputable underwriters. Nexo's policy is to only lend client digital assets to institutions on an over-collateralized basis.
Other security features supporting Nexo's services are the following:
military-grade 256 bit encryption storage provided through BitGo, a trusted provider of highly secure multi-sig wallet storage; BitGo investors include large names like Goldman Sachs.
real-time and transparent attestations over the company's custodial holdings through Proof of Reserves assessment in conjunction with Armanino
Nexo uses Jumio to adhere to the strictest KYC and AML global compliance standards. Jumio is also trusted by Microsoft, Oracle, Monzo, and HSBC.
2-factor authentication
ISO/IEC 27001 certified
biometric identification (fingerprint or face recognition)
all sensitive/credit information you supply is encrypted via Secure Socket Layer (SSL) technology; data protection is taken very seriously.
Furthermore, Nexo is cultivating a community of security-savvy users and employees to strengthen the blockchain and crypto lending ecosystems. This includes running regular internal security & privacy workshops to ensure that Nexo's staff is up to speed with today's cybersecurity matters.
Customer Support
While Nexo's FAQ section is particularly comprehensive, the platform also offers live 24/7 online support via chat.
A scan through Nexo's TrustPilot review account will indicate that the vast majority of platform users are happy with Nexo's level of customer support, with a rating of 4.6 from 8600 reviews providing a clear indication of this. Commonly featured qualities in the reviews include platform user-friendliness, swiftness of deposits and withdrawals, competitive interest rates and the availability of the Nexo card.

The few negative reviews I came across related to the closure of accounts in territories no longer supported and the fact that crypto-assets placed as collateral against credit lines do not earn interest.
Final Thoughts
Nexo unwraps a golden opportunity for those investors seeking an active strategy for their crypto holdings by providing access to a crypto-exclusive savings account, interest-bearing loans, crypto exchange and a Nexo card which will give you access to fiat without needing to sell your crypto.
Rather than leaving your digital coins sitting idle in a private wallet and incurring the related opportunity cost, Nexo allows you to earn a yield on your holdings. At the same time, you get to keep hold of your investment and thus – you can cash out your coins whenever you see fit.
It is true that earning yield on assets held with a custodian will always carry some risk compared to self custody, but Nexo has a good reputation for being one of the safest platforms for those who are looking to earn passive income with peace of mind, and a generous one in comparison with many other platforms, for that matter.
Summary
An excellent way to earn yield on crypto assets, Nexo have earned the public's trust over a number of years.