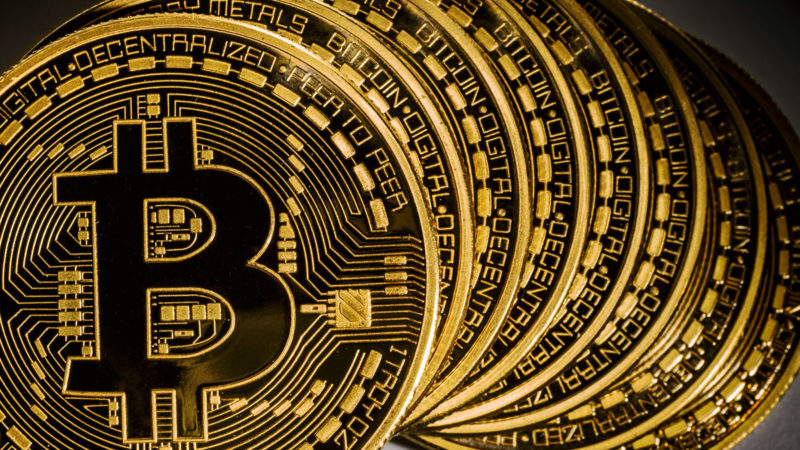 Bitcoin and other crypto-assets have taken a huge tumble this week, March 2020.
For the first time, we saw a correlation between the stock market and crypto assets, dealing a blow to the narrative of crypto being an uncorrelated asset and its usefulness as a hedge against the stock market.
Oil prices are tanking too and coronavirus is spreading like wildfire throughout the world.
However, we need to keep in mind that the big issue here is the global Coronavirus pandemic, and thus we are living in very exceptional circumstances. Investors are not, in my opinion, behaving in a rational manner.
There is panic in the market, and hence it's an exciting time for the shrewd investor who is able to think with his head rather than his emotions.
In my opinion, Bitcoin at around 5,000 Euro, down from 10,000 Euro just a few weeks ago, is an awesome opportunity to stock up on this asset.
As the world recovers from the Coronavirus scare in the following weeks and months, I expect to see Bitcoin rising up again to at least 10,000 Euro and possibly beyond, giving investors who invest now incredible returns that are probably not possible to achieve anywhere else.
Apart from this general thinking that I have, here are a few more pieces of information that help reinforce my opinion.
Data Shows Cryptoasset Sell-off Was Driven by Short-term Holders
On-chain data provided by Coin Metrics shows that recent price movements were likely mostly driven by shorter-term and relatively new holders. Long term holders appear unfazed in spite of the severe market downturn.
While market cap for most cryptoassets fell, the market cap for most stablecoins increased. This potentially signals that investors are piling into "cash," or at least crypto cash equivalents.
BTC has also entered a historically attractive price zone, with a market value to realized value (MVRV) below one. MVRV compares a cryptoasset's market cap to its realized cap. Realized cap can be thought of as an estimation of the asset's aggregate cost basis.
Read the full report on the Coin Metrics' State of the Network report substack.
Google Trends
It looks like people are suddenly more interested in buying Bitcoin after the crash. That's good news, as more people buy then the price is bound to rise.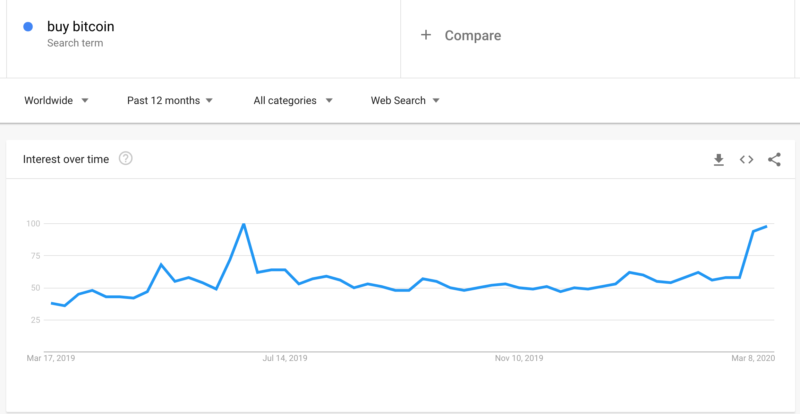 European countries legalizing Bitcoin
As reported by Les Echos, Bitcoin now has the official status of money in France.
Meanwhile, Bitcoin has been qualified as a financial instrument in Germany.
Bitcoin is getting stronger and stronger
The cryptocurrency market in 2020 is actually very promising. Compared to just two years ago, the technology is incredibly well-developed and attracting many institutional investors. Whether it's Visa partnering with Coinbase, Fidelity offering a crypto mutual fund or Facebook trying their hand at a digital currency, the signs are clear that crypto is here to stay.
The future of crypto represents not a replacement to fiat currency but an alternative to those who wish to participate in a more liberating monetary system. As governments continue to lay down the regulatory foundation for this new technology, risks and volatility will eventually dissolve into a stabilized product that will bring unique innovation to the world of finance. So if you're thinking about exiting the market for good because of market conditions, perhaps you should give that another thought. Not only is it time to HODL even more aggressively than before but it's one of the best times in recent years to enter the market.
Fear & Greed index suggests a buy
The crypto fear & greed index shows that we are in a moment of extreme fear and pessimism with regard to crypto, which in my opinion makes it a good moment to buy.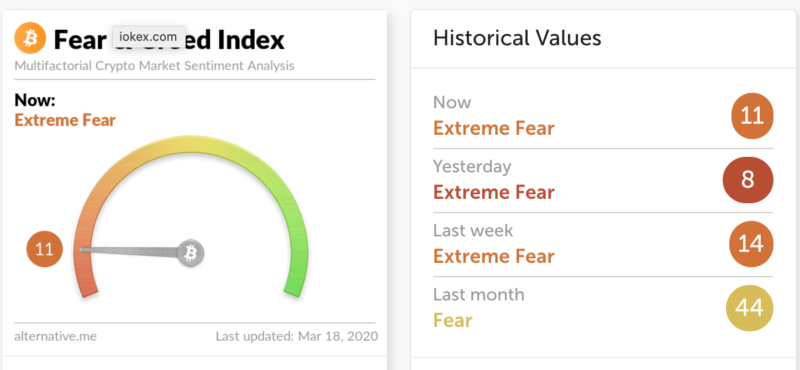 Stock-to-flow ratio still consistent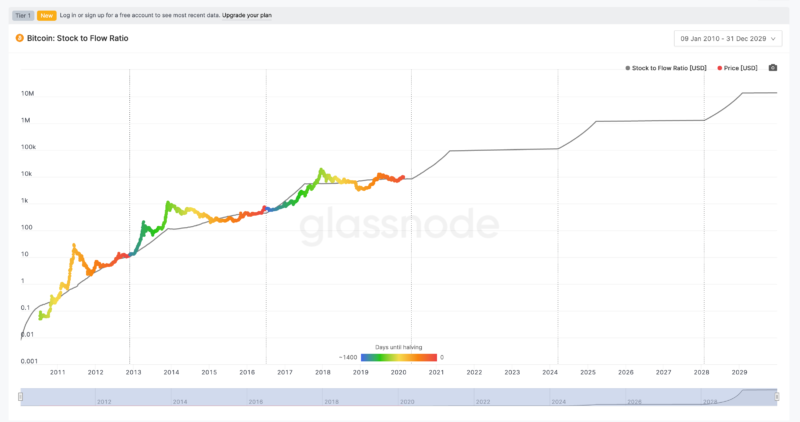 The stock-to-flow ratio chart is looking good. According to the chart, the next halving which is due in a little over a month, will set Bitcoin on course to the moon, with the next stable price point being $100,000.
BeInCrypto has reported on PlanB's popular "Stock to Flow" model for determining future prices of Bitcoin based on scarcity many times previously. The projection posits that, all other things being equal, abrupt decreases in the issuance rate of Bitcoin have a direct impact on the cryptocurrency's price.
Given that the Bitcoin network follows a predetermined set of rules that can only be adjusted by network consensus, the only changes to Bitcoin's issuance rate come in the form of quadrennial "Bitcoin halvings." Every 210,000 blocks, the number of new Bitcoin issued with each block mined halves automatically. The next halving, that will see the block reward drop to 6.25 BTC, is due this May.
Previous halvings have preceded colossal gains for Bitcoin holders. The stock to flow model, shown in the tweet below, has largely fit Bitcoin's previous price movements and, sure enough, dramatic bull market moves do indeed appear to follow the events themselves.
In the image below, the left-hand chart shows the stock to flow projected price (thin dark blue line), as well one and two standard deviations from it (lighter blue areas). Even after plunging hard to less than $5,300 at the time of writing, PlanB contends that the model remains intact since Bitcoin price did not even leave deviation bands.
The analyst writes that the extreme volatility is simply another example of market players shaking out "weak hands." They state:
"No extreme returns without extreme risk."
A 100k price might sound optimistic, but this model has been pretty accurate in the past and the logic behind it is sound. You can listen to an interview with the guy who came up with this on the What Bitcoin Did podcast.
The Bitcoin Rainbow Chart
The Bitcoin Rainbow Chart has been around since 2014, and basically overlays coloured bands, from red through yellow to blue, over a log-scale BTC price against time graph.
Whilst the original chart was graded as simply 'buy', 'sell' or 'average', this has now taken on a finer delimitation. At the top end we have 'maximum bubble territory', going through sell indicators, building FOMO, and down to 'HODL!' in the middle yellow band.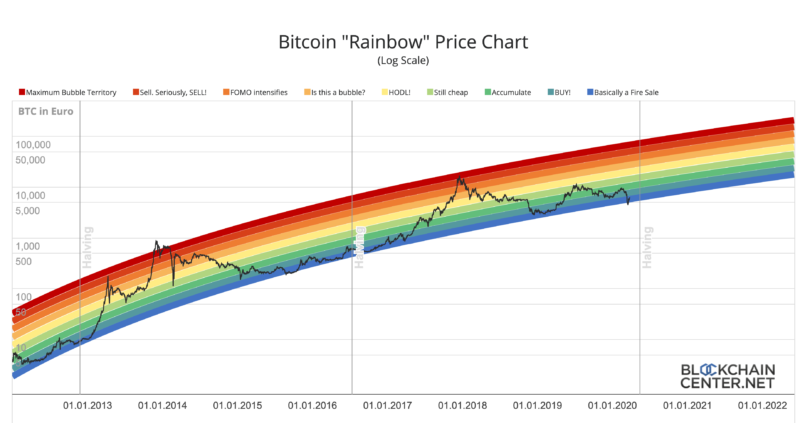 On the lower end of the spectrum, the scale goes through various levels of good value, down to the final 'basically a fire sale' band, where it currently stands. Again, another optimistic indicator.
The Great Upcoming Wealth Transfer
Kraken Intelligence, the in-house research team at the crypto exchange of the same name, released a new report entitled "Inheriting USDs & Acquiring BTCs: How 'The Great Wealth Transfer' Will Fuel 'The Great Bitcoin Adoption.'"
According to the report, if American Millennials were to invest at least five percent of their inherited wealth into Bitcoin (BTC), they could drive the price up to $350,000 in 2044. This would effectively give the generational group almost $70 trillion of value from a $971 billion investment.
With many older Americans on the verge of retirement, the report suggests those in younger generations who are not only more familiar with but more accepting of Bitcoin will have more options investing in the future.
"…a disproportionate percentage of the Millennials and Gen X will continue to be the driving force of adoption [of cryptocurrency] for the foreseeable future. While this can be explained in part by the fact that both generations harness a greater technological competence than their elders, we should also consider that bitcoin's current volatility is unsuitable for individuals nearing or in retirement."
Baby Boomers in the United States currently control approximately 57% of the total wealth, $50 trillion of which will pass to Millennials and Gen Xers in the next two years. This redistribution is referred to as the "Great Wealth Transfer".
If younger people were to use just 1% of this wealth to then invest in BTC, the price could rise to $70,000 — if not more — in 2044. This is based only on investors in the U.S., meaning the actual numbers could easily be higher.
Need Cash? Take a crypto loan instead of selling
‍If you need quick liquidity, you typically sell-off some of your assets. Anyone can run into an emergency situation. But there are alternatives to selling.  Crypto backed P2P loan platforms are very popular, big holders of crypto prefer to get loans in fiat currency using their crypto as collateral instead of selling their crypto.
How to buy Bitcoin
If it's your first time getting into Bitcoin, I recommend buying from Bitwala, Bitfinex, or Bitpanda.
You could also use your crypto to earn interest using platforms like Youhodler.
I would recommend storing your Bitcoin and other crypto-assets offline using a Ledger Nano.
Or maybe Gold?
The gold vs Bitcoin debate is still ongoing, and gold bugs like Peter Schiff think that gold will be the winning asset in the coming crisis.
If you were to ask me, I would rather bet on Bitcoin than gold in 2020, but who knows…
Concluding Thoughts
I hope that this crisis drives people to look at Bitcoin as an alternative to the current shaky banking system.
In the meantime—despite its price taking a tumble—Bitcoin remains fundamentally unscathed. In its ten-year lifespan, BTC has crashed and recovered in countless cycles, been declared dead 380 times and counting—and yet somehow, has managed to prevail time and again.
I think we should focus on the long term, the big picture. If you have faith in this technology you know this is the worst time to panic sell and the best to keep hodling, or better yet, buy more crypto.
The other alternative is to engage in trading, if you have the right skills to do so. In shaky times like these when the price tends to be quite volatile, trading can be a very profitable endeavor.
When trading, keep in mind that you can't be always right. Even the best traders are happy if they are right slightly more than 50 percent of the time, I consider that good. On a long-term basis there are always some good periods and some bad periods as the market will catch you unawares and surprise you with sudden unexpected shifts up or down.
It doesn't matter how many times you're right and how many times you're wrong; it matters how much you make when you're right and how much you lose when you're wrong.
You have to have that ratio right. You could be right only 30 percent of the time and still make a lot of money as long as you make three times more on your right predictions as you do on your losses.
Given the huge upside potential and promise for Bitcoin, I think that the easiest and most fool-proof strategy right now is to just buy Bitcoin and store it safely. Wait a few years and if all goes according to the ideas exposed above you will be sitting on a nice increase in your net worth.
What are your thoughts? 
Further reading