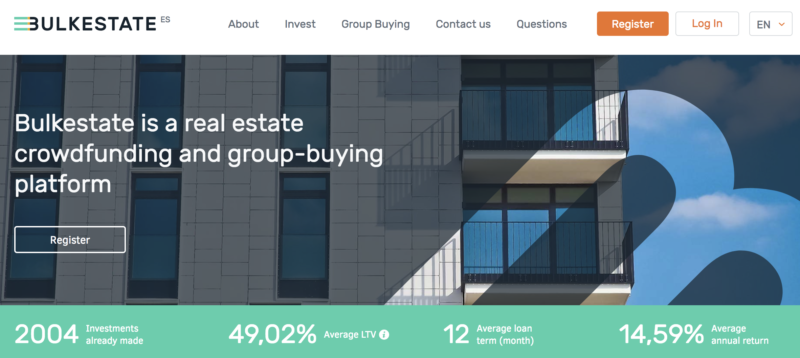 The Baltics are one of the hotbeds for crowdfunding innovation in Europe; new platforms keep popping up every year and existing ones keep getting better and better.
Today I want to focus on one of my favorite platforms, Bulkestate, which was founded in December 2016 and has a financial institution license in Estonia (EU). The people behind Bulkestate are from Latvia.
The Bulkestate platform, as the name implies, enables real estate investment project crowdfunding and apartment bulk-deals for a price lower than the market value.
Their website is available in multiple languages: English, Ukrainian, German, Estonian and Russian. That gives you a clear idea of their target markets.
The vast majority of the deals available on Bulkestate are in Latvia, although I've also seen one in Bulgaria.
These are their main stats:
2004 

Investments already made

49,02% 

Average LTV

12 

Average loan term (month)

14,59% 

Average annual return
That's not bad at all. On other platforms such as the Spanish or British ones, the returns are much lower. Usually this would indicate that the investor is accepting a much higher degree of risk, but in this case, speaking from experience, I can say that it's mostly a question of bigger growth opportunities that are currently found in the Baltic states.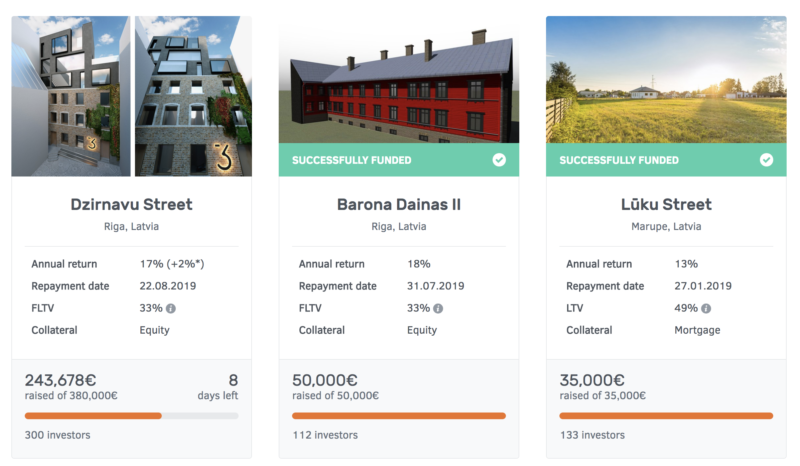 There are currently (July 2018) 1454 investors registered on this platform, hailing from 63 different countries. If you're a real estate developer, you can also find investors for your property by applying with Bulkestate and submitting your project proposal. They will then vet it and you'll have a chance of getting approved to join the platform.
Investing in Property Development Loans
The investing part of the platform consists of loans to property developers. This is something I've seen on other platforms like Property Partner in the UK and Housers in Spain.
Like many other platforms, Bulkestate allows you to do things in a completely passive way by using Auto Invest. Auto Invest is an investment tool that automatically invests available funds on behalf of investors, basing on their chosen criteria. Once investors set their investment criteria, Auto Invest automatically places orders for matching settings. Investors can review, adjust or pause Auto Invest at any time. There are no additional costs for using Auto Invest.
The minimum investment is 50 EUR and there are upper restrictions on how much you can invest.
A downside to investing on Bulkestate that you should know about is that there is currently no possibility to withdraw invested money before the scheduled repayment date. That means that there is no secondary market, so before you invest make sure you won't need the money before the loan repayment date.
A common question when dealing with such platforms is about what happens if Bulkestate declares bankruptcy. There is reassuring information on this front. Bulkestate solvency does not affect the risk of losing investments, as the investors buy claims rights along with the associated security when making an investment. In case of bankruptcy, the liquidator, separately from the assets and creditors of the company, manages all investor assets. Investors' funds are safe in a separate escrow account apart from the Bulkestate operational bank account. Thus, if a particular crowdfunding project is not successful and investors fail to raise the necessary funding, investors do not incur any losses and receive all the investments to their accounts.
Of course, as you would expect, Bulkestate has a comprehensive FAQ section which you can go through. In fact, I recommend doing so especially if this is your first contact with such investment platforms.
Group Buying
What is perhaps more interesting and eye-catching due to its novelty is the group buying facility. This consists of structuring group buying deals to acquire small size (such as one apartment) real estate at wholesale prices (sales price of an entire building). I like the idea a lot and look forward to how this section developers. At present, it seems that it's still in its fledgling stages.
There is currently an offer on apartments in Bulgaria, but I wasn't impressed at all by their design nor the Booking.com reviews of the resort they are part of. If I were to buy property online with full ownership it would have to be much better than this. The potential savings via the group purchase don't justify it for me.

However, this doesn't mean that I don't like the group buying facility. I am quite excited by it simply because it's the first time I come across a platform that is geared for this, and I look forward to what other opportunities arise.
The only other opportunity that has been previously available in the Group Buying section is one for apartments in a nice building in Riga. The building looks much more enticing to me than the Bulgarian one, and the deal was successfully completed. What I think Bulkestate should provide is some way of administering the property after the purchase is completed, and helping investors resell it on the open market. I am not interested in traveling to Riga or Bulgaria to manage the sale of the apartment, but I definitely see the attractiveness of the group buy discount and the possibility to resell immediately after at the market price for a tidy profit.
All in all, I think Bulkestate is a very promising platform. I would suggest sticking with the Investment part of the site for now, until the Group Buying part takes off and we can see some success stories.
I also think it is important for Bulkestate to have a blog. That will add credibility and a more personal touch to the experience of investing on this platform. Right now, the only news we can get about Bulkestate comes from their Facebook profile, but not everyone has Facebook and I don't think that should be the primary location where a crowdfunding platform posts its news. I would much prefer to see a blog that details the important milestones and growth of the platform, as well as real assessments of what worked and what not in previous investments.
Start investing in real estate on Bulkestate.com
As always, if you have any questions about Bulkestate or online real estate investment in general, please leave a comment below and I'll do my best to answer your queries.