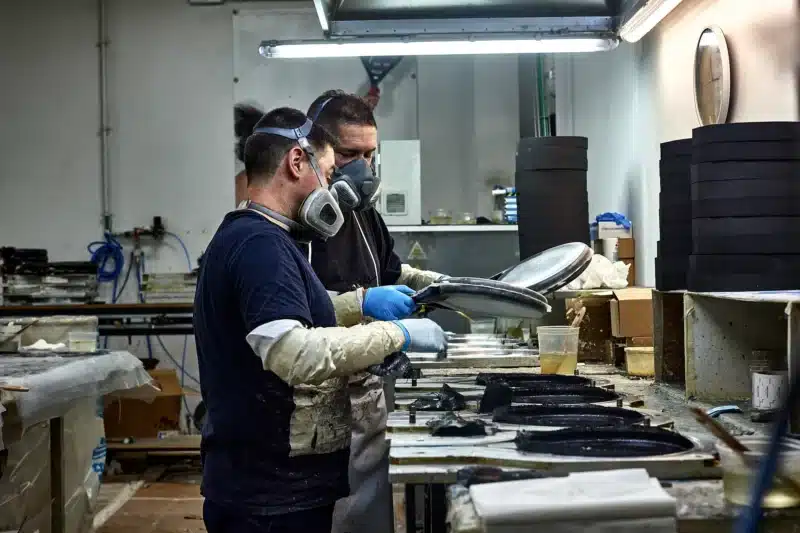 Padel, a sport that originated in Mexico, has become hugely popular in Spain, which is often considered the epicenter of the sport. The Spanish take on the sport's equipment, particularly the padel racket, is regarded as some of the finest in the world. On the other hand, Asia, known for its mass production capabilities, has also entered the market, offering a wide range of rackets at varying price points.
While many amateur players base their buying decision on which racket their favorite padel player is using, or just buy a racket from one of the big brands that are household names, others look a bit deeper at other factors. One big factor is where the racket is made. Personally, I almost exclusively buy rackets that are made in Spain, and I typically want to know exactly which factory they were made in.
I've met a lot of resistance when I talk about this fact, so in this article, I'll try to explain the differences between the typical Made in Spain racket and rackets made in Asia.
Before we start, I want to make it clear that I am totally aware that great products can be made in Asia, after all, I'm a big fan of Apple which has been manufacturing exquisite products in China for decades. However, in the padel world, there are still some big differences. I imagine that as the popularity of padel grows, brands will afford to build their own factories in Asia with meticulous quality control, top materials etc, which will close the gap and the place where a racket was manufactured might become a trivial fact.
As of today, here are some of the key differences between padel rackets produced in Spain versus those produced in Asia:
1. Design and Craftsmanship
Spanish manufacturers are often lauded for their attention to detail, craftsmanship, and quality. The country's long history with the sport has allowed for a deep understanding of the players' needs, leading to rackets that are often well-balanced, durable, and performance-oriented.
Asian-made rackets, particularly those from China, are designed with a broader market in mind. While they may lack the fine-tuning seen in high-end Spanish rackets, they generally offer solid performance and a decent balance between power, control, and durability. Brands like Kuikma and Artengo, for example, have gained popularity for their cost-effective offerings.
2. Materials
Spanish manufacturers often use high-quality materials for their rackets. High-grade carbon fiber, EVA or FOAM cores, and advanced technologies are common features of Spanish-made rackets. Some manufacturers also incorporate novel materials like Kevlar or titanium for their unique properties.
In contrast, while some high-end Asian rackets also use good-quality materials, others may utilize lower-cost alternatives to maintain competitive pricing. This can impact the racket's performance and longevity, but these rackets can still be a good choice for recreational players or beginners.
3. Production Process
Spain, especially in its renowned factories in places like Alicante, Manresa and Madrid is known for its artisanal production process. Many rackets are handcrafted, undergoing stringent quality checks, ensuring that each racket meets the highest standards. This can lead to consistency in the performance and feel of the rackets.
Asian production, on the other hand, often leans towards mass production, capitalizing on the region's efficient manufacturing capabilities. While this can lead to lower prices, there might be slight variances in the final product due to the large-scale production methods used.
4. Price
Generally, Spanish-made rackets tend to be pricier than their Asian counterparts due to their higher quality materials, artisanal production process, and brand prestige. On the other hand, Asian-made rackets often offer a lower price point, making padel more accessible to a wider range of players.
5. Testing Centers
As mentioned earlier, Spain is currently the leader in padel racket manufacturing, and this means that there is a lot of research and development happening, not only at a brand level, but also from third parties. For example, Testea is a third-party independent lab that tests all aspects of a racket, and it is based in Valencia (Spain). This means that factories creating rackets in Spain have easy access to not only professional and amateur players and good courts to test their rackets in practice, but can also test all properties in a lab environment.
Sure, the Chinese factories could also ship the prototypes to Spain and follow the same process, but it is much more laborious done that way.
What Should You Choose?
The choice between a Spanish-made or Asian-made padel racket will largely depend on your individual needs as a player. Spanish rackets are generally better for professional or advanced players who require top-tier performance, while Asian rackets may be suitable for beginners or recreational players seeking a cost-effective option. As always, it's crucial to try out a few different rackets and find the one that best suits your playing style and budget.