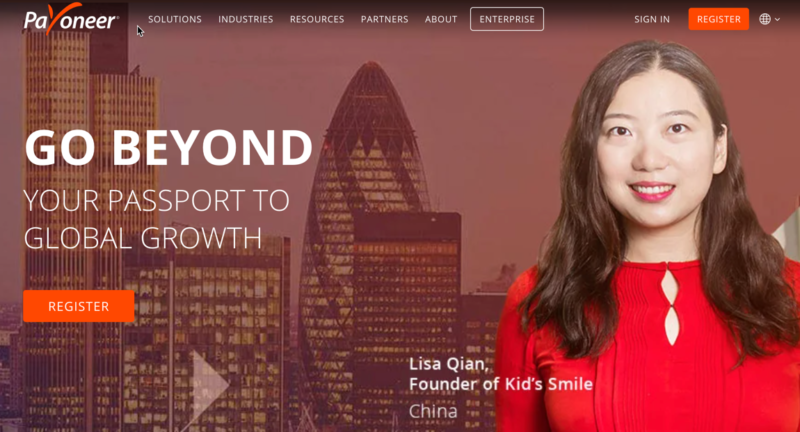 Payoneer is a payments and remittances company that has been around for many years.
Here's some information about the Payoneer services:
Payoneer Prepaid Debit MasterCard Card
You can sign up for a Payoneer card, and receive your payments directly to that card. You pay a flat fee per payment received, and then the funds are loaded to your card within 2 business days.
You can also choose to pay an extra $3 to have it loaded within minutes. The card is held in USD, and you can use it to make purchases online, in stores, and at ATMs worldwide.
As a debit MasterCard card, all purchases in a non-USD currency are converted using MasterCard's official exchange rates. A conversion charge of up to 3% also applies.
The Payoneer prepaid MasterCard works just like any other MasterCard. The card is accepted at all locations worldwide, wherever MasterCard is accepted electronically. You can use it at any point of sale location to make purchases, whether online or at retail locations. You can also use the Prepaid MasterCard at ATMs worldwide to withdraw cash. The Prepaid MasterCard may be used for online transactions wherever MasterCard is an accepted form of payment.
The fees for withdrawing at an ATM are $3.15+3% of the withdrawal amount for currency conversion.
Payoneer charges 1% of the payment amount when transferring to it.
Payoneer Global Bank Transfer Service
If you don't want the prepaid card and instead want to get paid directly to your bank account, you can sign up for this service. It allows you to receive payments directly to your bank account in over 200 countries.
For more than 50 countries, Payoneer provides a local transfer solution. This means that funds are actually being paid to you from a local bank in your country, in your local currency.
This eliminates any international transfer, and the extra charges associated with them. For the remaining 150+ countries Payoneer offers SWIFT transfers.
You pay per payment, with costs starting as low as $2.99 per payment (depending on your country).
You will be able to choose the currency of payment, and if currency conversion is required, Payoneer uses the official market mid-rate (at the time of transfer), and a conversion charge of 2% for the six major currencies we use, which are Euro (EUR), British Pound (GBP), Canadian Dollar (CAD), Philippine Peso (PHP), Australian Dollar (AUD) and Romanian Leu (RON). For all other currencies, a charge of up to 3% applies.
The yearly fee of Payoneer is $29.95 per year.
Anytime money crosses borders or currencies, MasterCard and the issuing bank apply processing fees to the transaction. This is true of both POS (Point-of-Sale) and ATM transactions.
When the Payoneer card is used for non-USD transactions, a currency conversion fee takes place based on MasterCard's exchange rate, which is adjusted regularly based on market conditions. The processing fee charged with the Payoneer card can be up to 3%. Please note that currency conversion fees are charged by all banks, and the fees charged with Payoneer cards are among the lowest in the market.
With all these options, you should also keep in mind that the two bank accounts can be set in different currencies. Be careful because with most banks, if you transfer an amount in one currency and the receiving account is set in another currency, that money will automatically be converted to the receiving account's currency, thus incurring you a currency conversion fee and potentially an exchange rate which is not so good. To keep abreast of how the exchange rates are fluctuating, use Oanda, as I detailed in another post on this blog.
Paying Remote Workers
Working remotely is becoming more and more popular, with lots of European companies outsourcing part of their workloads to labor in the Philippines and other Asian countries where Payoneer is very popular.
The big question is how to pay these remote workers at the end of every month.
The current methods I know of are:
PayPal
Bitwage
Bank transfer
There are many other services but they mostly seem to cater for US companies rather than European ones. For example, Xoom does allow economical transfers of money, but the source bank account or debit/credit card should be in USD, else you will be hit by a conversion fee from EUR to USD, apart from the eventual fee to convert to Philippine Pesos.
So far, the most straightforward service remains PayPal. It is possible to have both a USD and a EUR balance within PayPal accounts, so this gives the best level of flexibility when paying remote workers in the Philippines.
On the other hand, Payoneer is a strong competitor, with the slight disadvantage that you will have to sign up for a Payoneer account and supply some company documents for them to verify the company before being able to put payments through.
Testing it out
To test things out, I sent a payment of around $1000 to the Philippines with both PayPal and Payoneer.
I used USD for the PayPal transfer and Euro for the Payoneer transfer, but the value was the same, I just calculated the Eur value using that day's exchange rate.
After calculating all fees, conversion to currencies and receiver's bank fees, Payoneer comes out the winner as long as you send in Euros.
Compared to PayPal, the receiver saved at least $35-45 after all is said and done with a Euro payment. If I had done it in USD the receiver would only save about $8-10.
Have you found any great services for transferring money from Europe to Filipino, Indian or other Asian remote workers? Let me know!