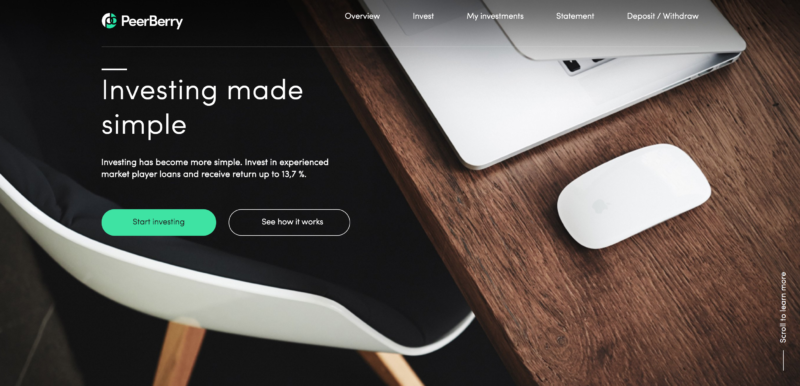 Launched in 2017, PeerBerry has been gaining quite a lot of popularity among peer-to-peer platforms recently. As with many crowdlending platforms, PeerBerry originated in the Baltics – specifically Riga, Latvia.
At the time of this review, the platform has an average annual investment return of 11.51%, a solid return for most platforms. With more than 18,000 investors and over €212 million in funded loans, PeerBerry is certainly making some waves in the peer-to-peer business.
Let's delve deeper into how PeerBerry operates, its transparency, risks, and returns.

⚙️ How does PeerBerry work?
PeerBerry works in a similar way to Mintos, in that, it is a loan aggregator. The platform started out in 2017 with loans originated solely by Aventus Group – a group of digital loan originators with short-term, long-term, and leasing loans across Europe and Asia.
Ever since, PeerBerry has continuously expanded its loan originators network to include others such as Gofingo (another group of loan originators) and their subsidiaries.
In 2019, GofinGo Group saw an increase in issued loans (2.4 times more than 2018) and had a net interest income of €11.06 million. This translated into a total loan portfolio of €6.6 million at the end of 2019, with equity standing at €4.1 million. This is 3 times higher than all the liabilities to investors who invested in Gofingo Group loans through PeerBerry.

This increase in loan originators allows for a diverse portfolio. PeerBerry claims to offer a wide variety of loans – short, long, real estate, leasing, and business loans – although, the available investment opportunities at the time of this review were mostly short term, with most maturing at one month. This means that most of the loan originators are operating with payday-style loans.
The platform offers loans from:
Lithuania
Poland
Belarus
Czech Republic
Kazakhstan
the Republic of Moldova
Russian, and
Ukraine
It is important to note that all of PeerBerry's loan originators offer a BuyBack guarantee, meaning that the loan originator is obligated to buy back the claim, should the payment be delayed by more than 60 days.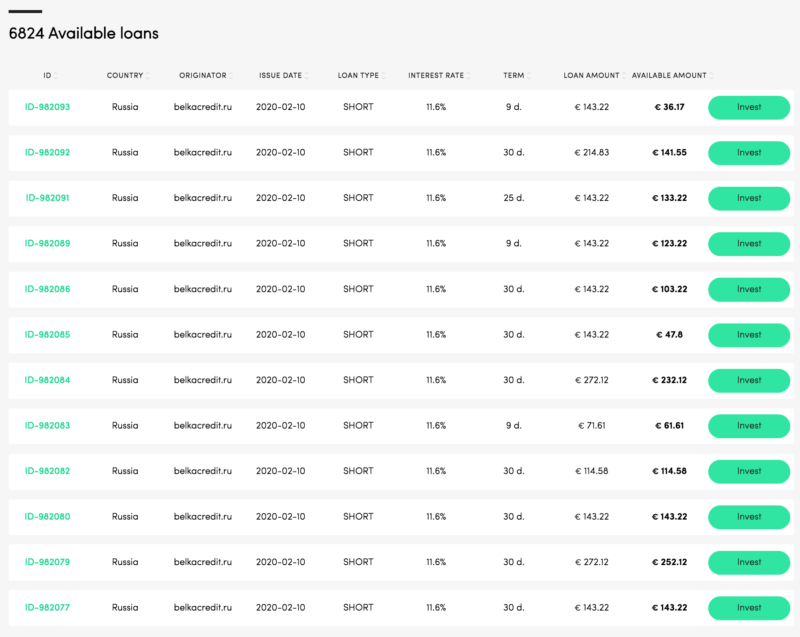 There are currently 12 loan originators in total, and they all publish their financial statement, the majority of which have been audited for extra peace of mind.
✍🏻 Registration
Now let's take a look at the online interface.
The website is clean, straightforward, easy to use, and comes in three languages:
Registration should take you no longer than a couple of minutes, you just need to fill in a few details and you're in. Although there is no tedious identification process upfront, the platform requires it eventually, when you decide to withdraw your funds.
You will be asked to scan and upload your identification document (passport or ID card) as part of the platform's anti-money laundering and terrorism process. Once this is done, you will then have to make a transfer to the bank account from which the deposit was made. Withdrawals can only be done in Euro.
This is the first time I've ever come across this sort of set-up. All other P2P platforms require you to verify your identity at the get-go, thus ensuring that the funds used to power their investments are coming from lawful sources.
It is certainly odd that you are only required to verify your identity at the withdrawal stage. As an investor, I want to make sure that I will be able to transfer my funds without any identity issues at a later stage.
Upon contacting the platform, PeerBerry has announced that it is currently working on implementing new identification and KYC processes.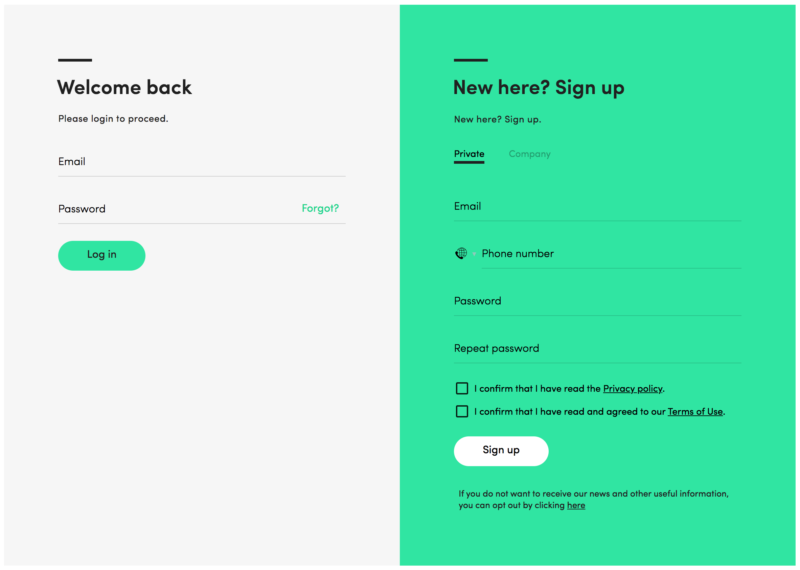 PeerBerry makes it possible for both private individuals and companies to open accounts. Keep in mind that any investor should be at least 18 years old, with a bank account registered in the European Union.
The next step is to transfer your funds, which can be as little as €10, to PeerBerry's bank account in order to start investing.
The platform accepts transfers in Euro only using SEPA (Single Euro Payments Area) transfers. This provides further protection for European investors against currency swings.
Processing may take up to 2 working days. PeerBerry then sends you a confirmation e-mail stating that your deposited funds were added to your Investor Account and you are now able to start making investments.
👥 What can I invest in?
PeerBerry offers mostly short-term loans on the consumer marketplace. The platform presents you with an overview of each loan, including the loan originator, amount, interest rate, remaining principal and days remaining for investing in the loan.
Borrower details are also available. These include the borrower's country, city, age, gender and number of loans taken.
Since most of the loans available mature in around 30 days, they are often considered to be Full Bullet loans. This means that the investor would receive the principal and interest at one go, through one payment, at the end of the investment period, as illustrated in the schedule in the screenshot below.
On the other hand, the platform's long term loans are paid back every month through an Annuity Type Schedule, where the principal and interest are paid back periodically over the investment period. PeerBerry offers a breakdown of the returns for each investment available.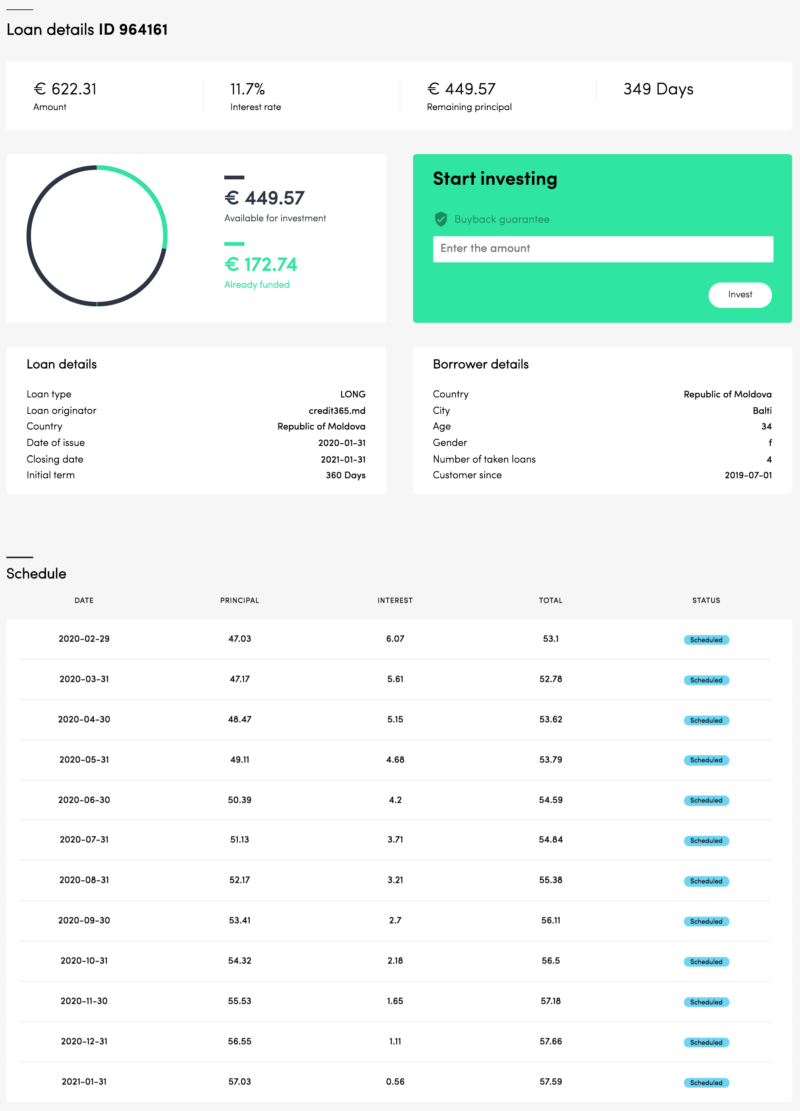 Auto Invest
The platform allows investors to make use of their Auto Invest feature which uses the returns in your account to automatically invest in active loans, based on your preferences.
You can activate, pause, or cancel this feature at any time. Simply set up your preferred criteria for investing and you are good to go.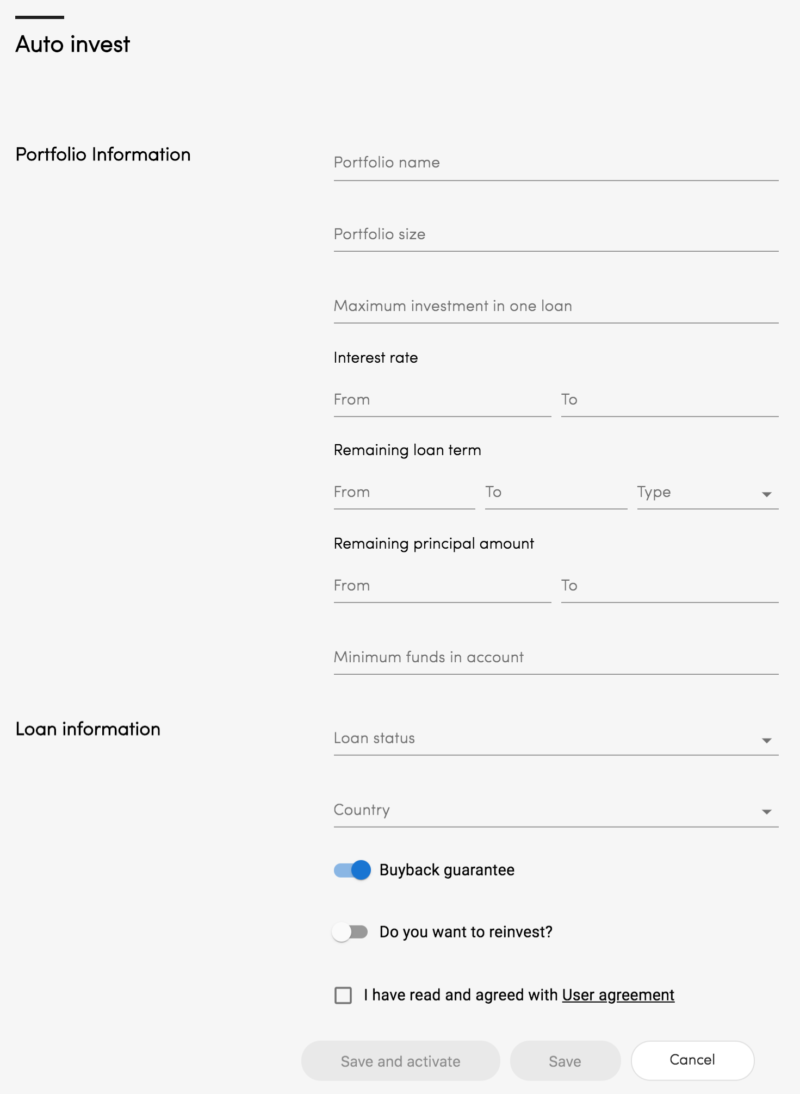 The possible setting options are listed below:
The total amount of funds you wish to reinvest using the Auto Invest strategy.
The maximum amount of investment in one loan.
The annual interest rate.
The remaining loan term.
The remaining principal amount.
The minimum amount of funds you wish to retain in your account.
The loan status (Current or late).
The country of issue.
The loan originator.
BuyBack guarantee.
Interestingly, even though PeerBerry states that all its investments come with BuyBack guarantee, their Auto Invest asks whether you prefer a BuyBack guarantee or not. This seems to suggest that the platform has plans to include investments without BuyBack in the future.
Auto Invest is great for those of you who do not wish to spend time keeping up with all the available investment opportunities on the website, while still achieving a diverse portfolio.
🕵️ Transparency
The About page, shows a team of four, including Arunas Lekavicius, the platform's CEO, who has been working in the financial industry since 2007.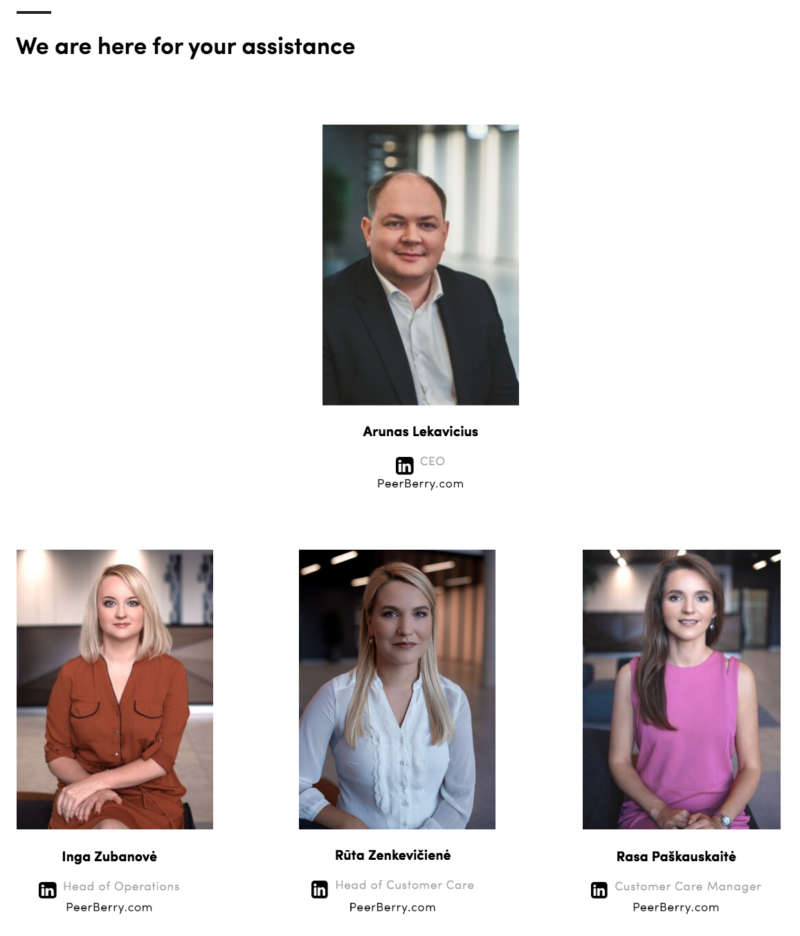 The profiles are accompanied by working LinkedIn profiles, however, no further information is found on the platform's website. It is strange that the rest of the team is not shown here, especially with respect to the CTO, Marketing Managers, and Lawyer.
On reaching out to the platform, PeerBerry has clarified that the team is made up of a total of 9 employees:
Arūnas Lekavičius, CEO PeerBerry
Viktar Kamiahin, CTO
Inga Zubanovė, COO
Rūta Zenkevičienė, Head of Customer Care
Rita Simanavičiūtė, Head of Marketing and Communications
Karolina Staugaitė, Digital Marketing Manager
Rasa Paškevičiūtė, Customer Care Manager
Milda Martišiutė, Customer Care Manager, and
Tadas Bulota, Lawyer
The team was quick to answer any of my queries in detail and in record time, which reflects positively on the entire company. The website has an online chat function for any customer queries. Should you have a number of questions, you will most likely be instructed to send an email to [email protected].
🌟 Loyalty Program
PeerBerry offers a loyalty program to investors who have been members for more than 90 days. The program is based on the amount of money you have invested and comes in 3 levels:
Silver: for an active investment portfolio above €10,000 you will get 0.5% on future investments.
Gold: for an active investment portfolio above €25,000 you will get 0.75% on future investments.
Platinum: for an active investment portfolio above €40,000 you will get 1% on future investments.
This means that if you are a member of the Silver Program, for instance, and invest in a loan that provides an 11% return, you will automatically be upped to 11.5%.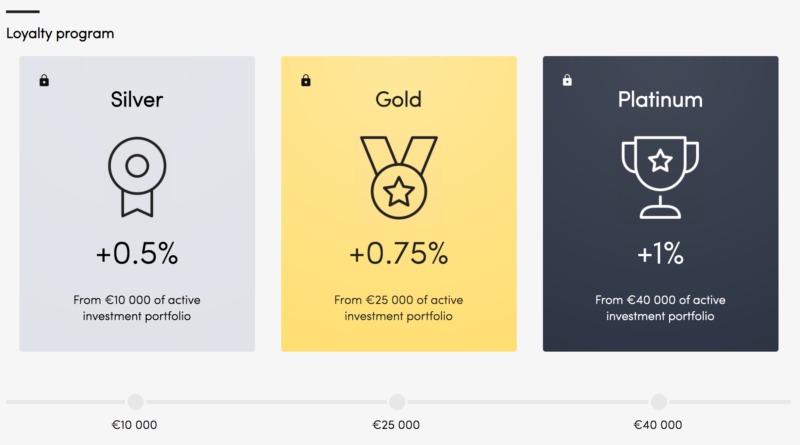 💡 Potential Risks
One of the main risks with any peer-to-peer platform is Loan Originator default. PeerBerry offers an additional guarantee, further to the BuyBack guarantee mentioned above, specifically for such potential cases.
The platform stated that their main partner, Aventus Group, has signed an additional guarantee agreement. This means that in case of loan originator default, Aventus Group and Gofingo will "do everything … to protect your investments, maintain transparency and good reputation of all partners – loan originators", as A. Lekavičius explains on their blog.
80% of total loans on the platform are accounted for by Aventus Group, with Gofingo following at 15% and Lithome at 5%.
It is important to note that in 2019, Aventus Group posted a net profit of €12.6 million, whereas their equity stood at €14.3 million. These figures suggest that the company would be able to cover any liabilities, should they come up. A comprehensive article with Aventus Group CFO comments can be found here.
Coronavirus Effects
All P2P platforms have been affected by COVID-19, and PeerBerry are no exception. The positive side, however, is that they have maintained a good level of communication with their investors.
🙋 FAQs
Who can invest in PeerBerry?
Investors must be 18 years old and over, with a European bank account. Both private individuals and companies can join the platform.
Who are the loan originators?
PeerBerry provides a comprehensive list of loan originators, together with a description of each originator. You can view the whole list here.
Does PeerBerry have a Secondary Market?
No, PeerBerry does not have a secondary market at the moment.
Do I get the same interest on overdue loans?
Late or overdue loans generate the same interest per annum as current or active loans. They cover the delayed period, until the borrower makes a repayment or until the loan originator buys back the investment.
Do I pay taxes on my returns?
Taxes are not deducted by the platform on investments made by private individuals. It is the investor's responsibility to pay the taxes on any income made through the platform. Taxation is based on the legislation of your respective country of residence.
Can I cancel my investments?
PeerBerry does not offer this option at the moment. They are, however, working on implementing this functionality on long term loans in the near future.
Will I be notified of any new investments?
PeerBerry sends out newsletters to whoever signs up to the service. They include monthly reviews, as well as alerts for any new investment opportunities and new loan originators.
Alternatives to PeerBerry
At the moment, the most popular alternatives to PeerBerry are Swaper and Income Marketplace. Have a look at those platforms if you want to diversify your funds across multiple sites.
📍 Conclusion
PeerBerry offers a multitude of investment opportunities, specifically with respect to short term and long term loans. The platform has been continuously expanding its loan originator network, which I believe is a step in the right direction.
As with many peer-to-peer platforms, PeerBerry offers an Auto Invest function and a BuyBack guarantee. Unfortunately, however, no secondary market is available yet.
The platform presents you with daily/weekly summaries of your transactions, as well as the ability to generate tax statements. This is a great tool to facilitate the monitoring of your investments. Keep an eye out for their blog for any important and new information they may publish.
Summary
I really like this platform and its website. I'd like to see some improvements as noted in the review, including the secondary market which is essential for better liquidity. Overall, however, PeerBerry has the potential to be one of the big players in European P2P over the coming years.
Pros
BuyBack guarantee
Additional guarantee
Auto Invest function