Mastermind.fm is my first foray into podcasting, and it's been a great ride for a number of years now.
I think podcasting is as popular as blogging now if not more so.
Podcasts have become one of my favorite ways to consume new information and keep updated on my chosen subjects. While I still love reading and will always treasure books, podcasts make it possible for me to make even better use of my time.
Before the advent of podcasts, my time at the gym and walking/traveling around was mostly dead time. Now, I just have to pop in a pair of headphones and continue consuming the best podcasts (and even audiobook versions of my favorite books).
Should You Start a Podcast?
No doubt one of the challenges with podcasting is that it is still quite a challenge to create a podcast. You need to invest in some equipment (I use the Audio Technica ATR-2100 or  Rode Podcaster microphones which are both great entry to mid-level picks) as well as software (Audacity, Garageband etc).
Perhaps more than equipment and software you will need to invest a lot of time in learning how to podcast properly and how to use that hardware and software.
When I started the podcast we decided early on to outsource the production of the podcast and that has been one of the most important decisions for us. If we were doing the production ourselves I'm sure we wouldn't have made it so far, because it is very time-consuming and frankly it's not a job I'd look forward to doing every week.
Choosing a good topic and niche to cover is also crucial. My podcast is an extension of my blog, in that it enables me to talk about the topics that I write about in greater depth with some of my favorite experts. That, in turn, fuels more writing and thinking.
The deep connection that forms between the host and the listener is also extremely rewarding. I've attended several conferences where people walk up to me and introduce themselves as listeners of Mastermind.fm. They usually follow by mentioning something specific that they learned from the show. It feels great to know that you have helped people. When I compare the effect on the listener of podcasting to the same with blogging (which I have been doing for far longer), the former one is definitely more powerful.
Adding on to that, a podcast can give you more exposure within your community or line of business. That can be important if you're looking to land more clients, speaking engagements, etc. Personally, this wasn't one of my main motivations since my blog was already doing very well, but people seem to attach more credibility to someone who not only runs a blog but also a podcast (YouTube channels have a similar effect).
Podcast monetization is not easy at all. You need to have a sizeable audience before being able to attract any sponsors for the show. Affiliate links don't really work well as listeners are unlikely to follow any of those through clicking links in the shownotes or using your referral codes. That leaves you with having to work for many months for no payment in the hope of attracting a sizeable audience, then being able to convince a brand to sponsor you.
Sponsors are not a great solution to monetization either, as listeners are typically annoyed by ads and frequently fast forward through them, which means that your sponsor won't be getting much out of it. The only way to nail this monetization source is if you can weave the mentions into the course of your show. Mixergy and What Bitcoin Did do this well.
If you can do without sponsors, it's even better. In that case, you'd probably rely on memberships or Patreon donations. I haven't reached that level yet and I'm not sure my podcast will ever get that big, but who knows.
Given the many other benefits of podcasting, however, monetization need not necessarily be the main goal for you. You could very well have a successful podcast and never earn a single cent directly from sponsors and affiliate links, but it would still have been rewarding in other ways and perhaps even profitable by helping you attract more clients, becoming well known etc.
My Podcasting Experience
I've always considered myself a decent writer, however, speaking was a much bigger challenge. Throughout my childhood, I'd always been labeled as quiet and introverted and encouraged to speak more. Of course, things are never that simple. I like to think a lot before declaring an opinion, and that's perfect for writing when you have all the time in the world to get comfortable with an opinion and formulate the right words. However, when speaking in the context of a group discussion or podcast, you need to be very fast in your thinking and persuasive in your speech.
Hence Mastermind.fm presented a huge challenge for me and a great opportunity to improve this weakness in my skill set. I'm quite satisfied with what I've achieved so far, although there's still a long way to go and many more improvements to be made. I've also had some sessions with an accent coach who has been helping me on eliminating some Maltese English peculiarities in my pronunciation which can be a stumbling block when speaking to an international audience. I would wholeheartedly recommend such coaching if you're not a native English speaker. Podcasts in English are dominated by American hosts and so you need to be able to make yourself understood as a basic first step. Again, a podcast is less forgiving than a blog in this respect.
I would highly recommend that you start a podcast, but only if you know you can commit enough resources to it. I see too many shows fizzle out after a few episodes and that's a shame. You need to establish a schedule and stick to it religiously. Compared to a blog, a podcast audience is way more sensitive to changes in your publishing schedule and quality of episodes. Two or three delayed or sub-par episodes and you will most likely lose a big chunk of your audience.
With blogging your content is more evergreen as Google does a great job of serving older content to people every day, while there is no search engine for podcast content yet. Moreover, you can always go back and updated old content on a blog, but you can't do the same with a podcast.
If you like how it sounds so far and want to take the plunge with podcasting, read on for some learning resources and recommended equipment.
Equipment and software I recommend
Rode Podcaster / Audio Technica ATR2100 – both are dynamic mics
Audio Hijack / Ecamm Call Recorder for Skype (Mac) / Pamela for Skype (PC)
Zencastr / Cleanfeed / Squadcast
Podcasting Learning Resources
If you're new to the world of podcasting however it can seem a bit daunting as there are a lot of details you need to get right in order to make sure that your podcast is professional and successful. Here are the top learning resources I've found:


The home of Cliff Ravenscraft, a well-known podcast producer with tons of experience. You will find everything you need here, and Cliff also sells podcasting hardware packages, handy if you're in the US and don't want to spend time researching the different hardware options out there. His whole site is a podcasting resource, but you can start off with his dedicated set of how-to videos.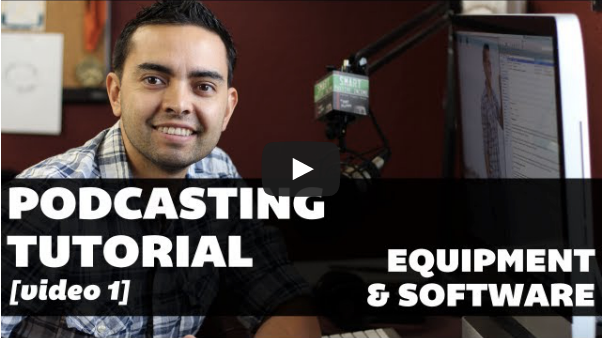 Perfect for those who are just starting out, Pat Flynn is absolutely killing it with his podcast, and he spells things out very nicely in this set of videos about how to get started with podcasting.

John Lee Dumas is one of my favourite podcast hosts and he amazingly releases one podcast a day. He has a free weekly webinar which you can join, and from there you can also subscribe to become a full paid up member of his podcasting community, where you can continue asking questions and learning.
This is a post containing some useful resources and Jeff's journey in starting his podcast.
Recommended Podcasts For Entrepreneurs
Here are my favorite podcasts in the areas of business and entrepreneurship.
This is my all-time favorite podcast as it never fails to be interesting. Tim has, of course, made a big name for himself with his 4 hour series of books and on the strength of that he has been able to consistently attract superb guests to his show.
He also comes across as a very down to earth person, somebody you can relate to. I'm sure many entrepreneurs and lifehackers will identify with the topics discussed on this show. While it is not always business-focused, it is most definitely always interesting.
Andrew Warner has been producing Mixergy for what seems like ages now, and his experience comes through in the quality and consistency that is provided in each and every episode.
In this podcast you will meet successful entrepreneurs who are coaxed by Andrew into revealing their methodologies and most important facts about their businesses and how they were able to be successful.
I had the opportunity to meet Rob and Mike at Microconf Europe. They're both successful bootstrapped business owners, and in their podcasts they discuss topics related to starting and sustaining a business from scratch.
This podcast is especially good for those who own a SAAS product.
John Lee Dumas is a super prolific podcaster who also interviews successful entrepreneurs. He is a very successful entrepreneur himself, his main product being Podcasters' Paradise, a membership site where people can learn how to create great podcasts.
John has an inimitable energetic style that will ensure you don't dose off during his podcast episodes.
Brian Casel and Jordan Gal are the hosts of this podcast, which in a way is similar to Startups for the Rest of Us as it deals with topics faced by bootstrapped entrepreneurs. However, this should not discourage venture-backed entrepreneurs from listening to this podcast, as most of the concerns are shared after all.
Max Breckbill has started this podcast quite recently but it has quickly become one of my favourites due to his straightforward interviewing style and the fact that it takes us through the start and eventual success of businesses that are mostly very relatable to new entrepreneurs.
Max in fact tends to stick to interviewing solo founders and people who have built lifestyle businesses.
This podcast has been around for a long time and is very popular among digital nomads, especially those who are members of Dan Andrews' Dynamite Circle community.
Tropical MBA's content is more focused on bootstrapping and building a lifestyle business, but also contains a lot of useful content for any type of entrepreneur.
Pat Flynn produces a very professional weekly podcast that is focused on generating passive income. While passive income is of course the official tagline, Pat talks about a lot of practical business topics and also has some great guests on board from time to time. Pat has become famous due to the fact that he shares his monthly revenue figures, and he also discusses his own business on this show.
Pat seems like a very friendly guy who is really genuinely interested in helping his readers and listeners, so this podcast is especially ideal during those times when you are feeling a bit down with the results of your business and need a pick-me-up chat with a friendly mentor. If you don't have that kind of person in your life, Pat's SPI Podcast can be a good substitute.
Monthly income reports have long been popular when presented on blogs. The Top brings those income reports in audio version. Shows are short and to the point and consist of Nathan Latka (the 25-year-old CEO at Heyo.com).
This is a fast-paced podcast that involves sharing real revenue numbers so you can have a good idea how your own business is doing in comparison. One of the most unique podcasts that provides a huge deal of inspiration.
Amy Porterfield is an online marketing superstar and best-selling author. This is a very tactical podcast in which Amy shares the strategies she uses in her own product launches.
Building a great product is not enough, and I feel this podcast is one of the best places to dig for inspiration when it comes to marketing your work and build authority in your niche.
Best of the Rest
Here's a list of other podcasts that I don't regularly listen to but are also very popular with entrepreneurs.
I hope this list will serve to inspire you and perhaps bring your attention to some podcasts you might have missed.
So what are your favorite podcasts? I'd love to hear your thoughts!