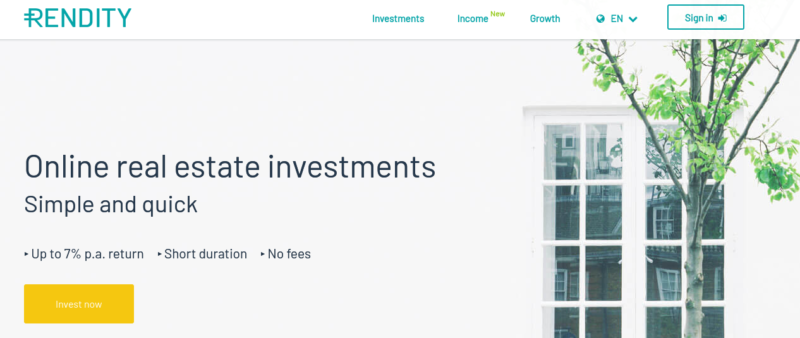 If you're looking to invest in real estate, but you don't quite have the means to go through the traditional channels, it might be worth considering a crowdfunding alternative.
Rendity focuses on properties located in Austria and Germany, two markets known for their stability and growth potential. By pooling funds from numerous investors, Rendity can participate in lucrative real estate opportunities that might otherwise be out of reach for individual investors.
The platform allows you to access the German and Austrian real estate markets with a minimum investment of just €500.
In my Rendity review, I cover everything you need to know about the crowdfunding site. This includes the types of real estate you will be investing in. what sort of returns you should expect, and of course – whether or not your money is safe.
What is Rendity?
Launched in 2015, Rendity is a European crowdfunding platform that focuses exclusively on real estate projects. This is typically split across two main channels – traditional real estate buy-to-let and then the funding of third-party projects. Regarding the former, you – alongside your fellow investors, will be providing a subordinated loan for the purchase of a property with the view of having it rented it out to tenants.
Then, you will receive your share of monthly rental income – less fees. For even larger returns, Rendity also allows you to back development projects. For example, you might help fund a new block of apartments, whereby the developer enters into a loan agreement with Rendity. In return, you and your fellow investors will receive a fixed rate of interest (usually one payment per year) until the loan is repaid in full.
Irrespective of which project you back, the vast majority of deals are situated in Germany and Austria. In terms of statistics to date, Rendity notes that it has successfully completed 196 funded projects, which translates into €137 million in invested capital. The average annualized return thus far amounts to 6.43% – as per Rendity.
What Investments Does Rendity Facilitate?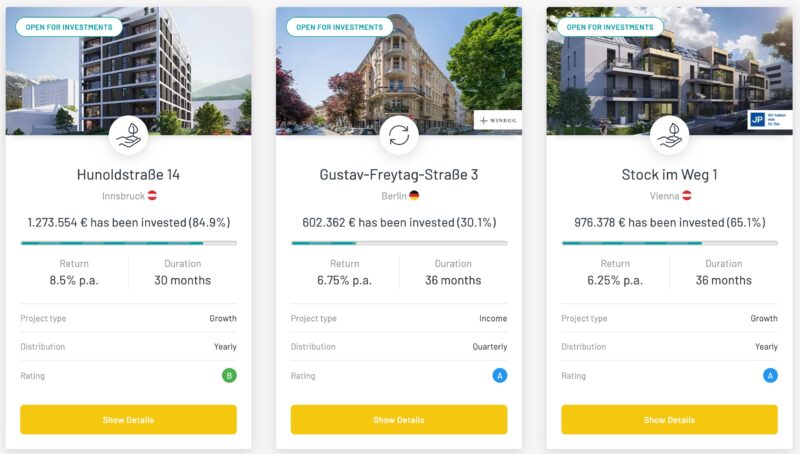 As noted above, Rendity offers two different types of investments – one based on equity (rental real estate) and the other based on debt (development loans).
Let's explore these investment streams in more detail.
Rental Property Investments
In its most basic form, when you invest in a rental property at Rendity, you are funding a subordinated loan together with other investors. Then, the property will be rented to tenants. As such, you have the opportunity to generate income in two forms – appreciation and monthly rent.
Appreciation: If and when the value of the property increases in value. Of course, this can only be realized once the property has been sold – more on this later.
Monthly Rent: As and when the tenant pays their rent, this will be forwarded to Rendity. Payments are typically settled in your account quarterly. Obtaining the full payment is always on the proviso that tenants do not fall behind on their payments – more on this later.
I noticed two things in particular when browsing historical rental property opportunities at Rendity. Firstly, deals seem to fill up very quickly when they hit the platform. Secondly, and most importantly – most rental properties already have tenants. This means that you stand the chance of earning income the moment the deal has been signed off.
To show you the types of deals available, below I have listed a couple of example projects.
This particular funding opportunity was for a rental block that consists of 176 apartments. Based in Vienna, the property raised just under €1.5 million from Rendity investors. The project also received funding from external sources, including a €35.1 million bank loan.
The project comes with an annualized rental income of 4%, which is distributed every three months.
In this funding opportunity, Rendity investors collectively contributed €420,000. Located in Duisburg, the property consists of 23 residential units.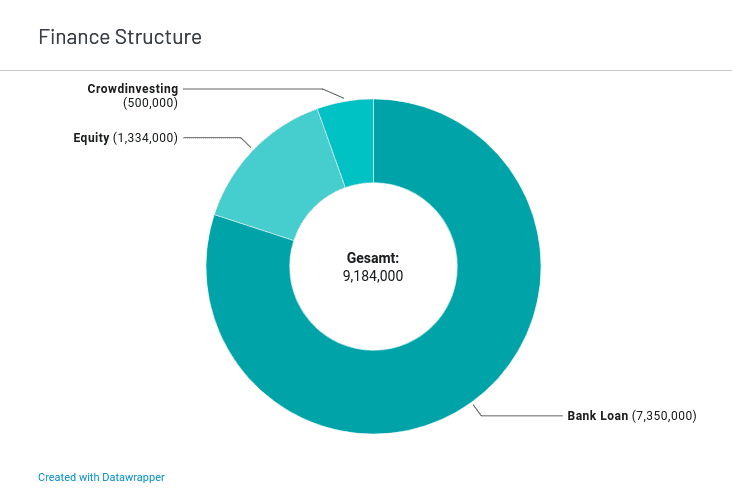 There are also four commercial units as part of the premises. The deal pays 5.25% per year, with rental income paid every three months.
Development Loan Investments
The second investment stream available at Rendity is that of its development loans. In its most basic form, you and your fellow Rendity investors will be loaning money to real estate developers. In turn, the funds will be used to help develop new projects – both in the commercial and residential sectors. Some of the development loans available at the platform are for major renovation projects.

In terms of duration, projects typically range from 18 – 30 months. In the vast majority of cases, the developers repay the interest on an annual basis, which is somewhat unusual. From your perspective as an investor, this does limit the opportunity to reinvest your payments on a month-by-month basis. In terms of yields, this sits within the 6-7% per year range, albeit some deals do pay slightly higher.
Crucially, Rendity explains that it performs a highly stringent due diligence process before a developer makes its way to the platform. This starts at the very offset with an enhanced analysis of the developer itself – with a particular focus on its balance sheet. After that, the due diligence team will then explore the specifics of the project.
Rating System
I am impressed with the transparency of the Rendity Rating System. In simple terms, this allows you to view the metrics that the platform utilizes to assign a project with a rating.
The Rendity Rating System uses a sliding scale that starts with A (least risk) and ends at E (most risk). Each individual variable is awarded a point score, which is then collectively added up to form the rating. For example, if the property is located in a top central location in one of 12 selected European cities, it will receive the highest score.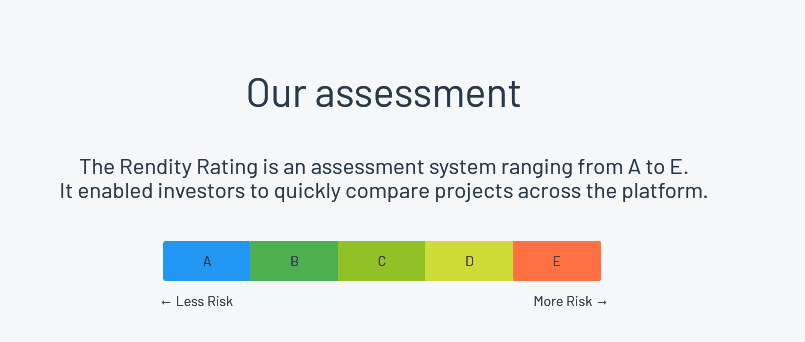 At the other end of the spectrum, properties based in a rural location or emerging market will get the lowest score. There is also a strong emphasis on the current state of the tenancy fulfillment rate. For example, if the property is a multi-complex with several units, Rendity prefers locations that are 90% leased with continuous income. At the other of the scale, a low score is given to locations without a lease at all.
Does Rendity have Auto-Invest?
Many new investors look to stay as hands-off as possible with their investments, after all, that is one of the main reasons to invest in real estate using a platform rather than doing so directly. You get to get good returns without getting your hands dirty.
Therefore one of the most sought-after functionalies with platforms is the auto-invest feature, which allows you to invest automatically based on a set of parameters that you set yourself.
Rendity offers the Rendity Savings Plan system which is essentially an auto-invest system.
The Savings Plan simplifies the investment process and makes real estate investment more accessible, leveraging the strength of automation.
Investors can set up a monthly deposit of a predetermined amount, starting from as low as €50, to be automatically invested in real estate projects. This plan takes the guesswork out of investing, allowing for a hands-off approach to building a diversified real estate portfolio.
One of the key benefits of the Rendity Savings Plan is the potential for high returns. The properties in Rendity's portfolio are carefully selected and vetted for their income potential, aiming to provide investors with a steady income stream through rental revenue and potential appreciation.
Additionally, by automating investments with the Savings Plan, investors can take advantage of a concept known as dollar-cost averaging. By investing a consistent amount each month, investors buy more shares when prices are low and fewer when prices are high, potentially reducing the impact of market volatility over time.
Overall, Rendity's Savings Plan represents a simplified, accessible way for individuals to invest in the real estate market of Austria and Germany. Its focus on automation and consistency, combined with the potential for high returns, make it an attractive option for investors looking to diversify their portfolio.
How Much Does Rendity Charge?
Rendity notes that it does not charge investors any platform fees, nor will you be charged to make an investment. Instead, Rendity takes a cut from the deals it facilitates. The latter is different from project to project, but is visible in the VIB document (investment information sheet) of each project.
Who is Behind Rendity?
Rendity was founded by Lukas Müller and Tobias Leodolter.
Lukas Müller serves as the CEO of Rendity. Prior to founding Rendity, he worked in the real estate industry with a focus on property development and project financing. This experience gives him a deep understanding of the market, which he brings to his leadership role at Rendity.
Tobias Leodolter is the CTO of Rendity. His background is in economics and computer science, and he has experience in startups and fintech companies. This combination of skills and experience makes him well-suited to his role at Rendity, where he is responsible for overseeing the technological aspects of the platform.
Together, Müller and Leodolter bring a blend of real estate, financial, and technological expertise to Rendity. Their combined experience has been instrumental in shaping the company's vision and strategy, as they work to make real estate investment more accessible and transparent through technology.
In 2020, the company also raised €1.8m in seed funding from a Vienna-based venture capital firm – aws Gründerfonds.
When do I get my Money Back?
When you get your money back ultimately depends on the type of investment stream you opt for.
Here's the lowdown:
Rental Properties
As is to be expected, rental property deals at Rendity are long-term investments. That is to say, the money is tied up in the property until a sale is realized. The good news is that you do have the opportunity to exit your investment after 24 months and when you do so, there is no exit fee.
Development Loans
In the case of development loans, things are a bit more straightforward. That is to say, you will receive your principal investment back at the end of the term. As noted earlier, deals average anywhere between 18 and 30 months – so you must be comfortable having the funds locked up for the entire period.
No Secondary Market
Crucially, there is no secondary marketplace available at Rendity. Once again, this means that you need to view your investment on a medium-to-long-term basis, as you won't be able to liquidate your funds early.
Is Rendity Safe?
As is the case with all online investment platforms – especially those involved in the crowdfunding arena, you need to make some serious considerations about the risks.
In the case of development loans – the overarching risk is that of default. In other words, if the developer borrowing the funds is unable to repay your interest or worse – the principal, you stand the risk of losing money.
In order to counter this, Rendity notes that there is a "liability in the form of a hard letter of comfort in the amount of the loan amount issued by the parent company". This still, however, does not act as a surefire safeguard on the protection of your funds.
When it comes to rental income, the risks here are somewhat less prevalent. That is to say, one of the biggest risks that you face is that of a tenant default. As most of the projects hosted at the Rendity are complex-style apartment blocks with dozens of rental units, this at the very least means that you are not over-exposed to a single tenant. You also have the risk of depreciation on the property value.
The good news is that most of the rental properties that the team at Rendity accepts are new builds. Once again, these are typically less risky.
As always, if you do proceed with an investment, just make sure that you never inject more than you can afford to lose.
Rendity is regulated by the Deutsche Industrie und Handelskammer as an investment broker.
Getting Started at Rendity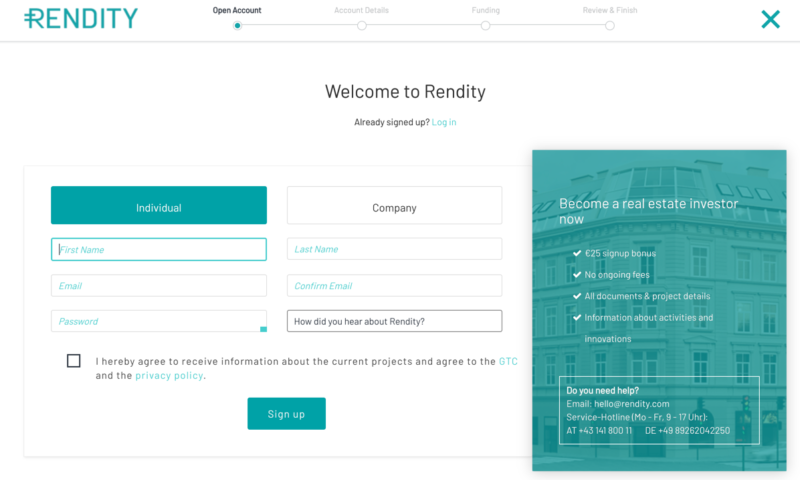 Like the sound of Rendity and wish to get started with an investment today? If so, below I list the main steps that you will need to take.
Step 1: Open an Account
You will first need to visit the Rendity homepage and elect to open an account. As is standard practice in the online crowdfunding space, this means that you will need to provide some personal information.
Step 2: Deposit Funds
Once you have opened your account, you will then be asked to deposit some funds. Fortunately, Rendity accepts debit cards.
This means that you can get started with an investment straight away – as opposed to having to wait days on end for your bank wire to arrive. With that said, bank wires are also supported, so if you're in no rush then this is an alternative option for you.
Don't forget – minimum deposits/investments start at €500
Step 3: Upload Document
In order to comply with anti-money laundering regulations, Rendity will now ask you to upload a document to validate your payment details. If opting for a debit card, this needs to be a copy of the card (with the middle 8 digits covered), alongside a bank account statement that contains your name and address on it.
This needs to be from the same bank that your debit card is attached too. Alternatively, if you are depositing funds from your bank account, just a statement will suffice.
Step 4: Browse Investments
It is reasonable to suggest that the due diligence team at Rendity are into quality over quantity. After all, the platform has facilitated just 63 deals since its inception in 2015. As such, you likely won't have an abundance of opportunities to browse through.
With that being said, there is a significant amount of research available at your fingertips. This includes a full breakdown of the property or respective development project – as well as a Layman's overview of the risks and returns. You will also get to assess the structure of the deal.
Step 5: Complete Investment
Once you have done your homework on your chosen opportunity, the investment process can be completed at the click of a button. Simply enter the amount that you wish to invest (making sure it is at least €500), and confirm it. After that, you will need to wait for the rest of the funding target to be met by other investors of the site.
Customer Support at Rendity
If you need to get in touch with the team at Rendity, you can send an email to hello@rendity.com. The platform typically replies within a few hours.
Alternatively – Rendity also offers a telephone support line, which is somewhat unusual for a crowdfunding platform.
The Austrian toll number can be reached at: +43 141 800 11
The German toll number can be reached at: +49 89262042250
Alternatives
If you're looking for real estate investments elsewhere in Europe, you can check out the following platforms:
Also, have a look at my list of best European real estate crowdfunding platforms for my most up-to-date thoughts on the best platforms.
The Verdict?
In summary, Rendity offers you the chance to gain exposure to the Austrian/German real estate industry without breaking the bank. Instead, the platform allows you to invest from just €500. You will have the choice of backing development loans with an average yield of 6-7%, or for those of you that desire regular income – rental properties. Either way, the end-to-end set-up process is super easy, and the platform even supports debit cards.
On the other hand, it remains to be seen how the early exit fee system actually works. As I discussed in this review, Rendity notes that investors can exit a rental income property after 24 months by paying a fee, but what this amounts to I do not yet know. Other than that, Rendity is an option well worth considering – although just make sure you have a firm grasp of the risks and that you are prepared to lock your money away for the stated term.
Rendity offers a 25 Euro signup bonus for new investors, so click the link below if you want to get a leg up and start investing in German and Austrian real estate.
Summary
Rendity is one of the few platforms that offer the possibility of investing in German and Austrian real estate projects to English-speaking investors. So far I can say that my expectations have been met, and this seems to be a reliable and serious platform. I will continue to use it for the foreseeable future to invest in these attractive and well-established markets.
Pros
Austria and Germany have solid economies
Yields are attractive
There is an auto-invest function
Regulated in Germany
Cons
No secondary market
Does not publish financial reports