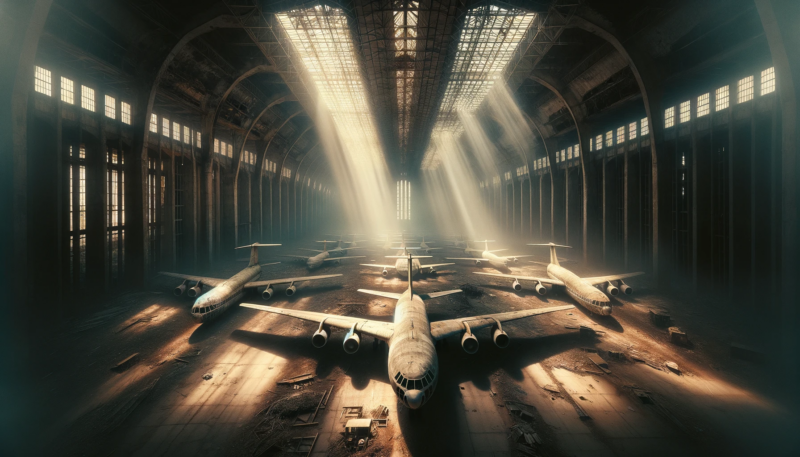 Transportation has long been a cornerstone of societal progress, opening doors to the far reaches of our globe. The 19th-century skepticism towards expanding mobility, epitomized by figures such as the Duke of Wellington, has been left in the dust by the adoption of railroads and automobiles. These innovations first took root in the world's more affluent regions before extending their reach to emerging economies.
One form of transit, however, has been notably gradual in achieving global ubiquity: air travel. Nonetheless, a shift is occurring. With rising global incomes, air travel is becoming accessible to a broader population. Concurrently, costs have been on a downward trajectory when adjusted for inflation. This democratization of the skies has been facilitated by the construction of new airports, particularly in areas previously devoid of such infrastructure.
Looking ahead, air travel is poised for further growth, particularly in regions that historically have had limited access. Yet, this expansion faces potential turbulence from climate initiatives that prioritize emission reductions over the cost of flying.
Growth of Air Travel in the Global Arena
Statistical evidence underscores the ascent of air travel. It's an industry that has seen a dramatic increase in passenger numbers and distance flown over the last few decades, despite the recent pandemic-induced downturn. In 2004, the global threshold of two billion annual air travelers was crossed, and by 2019 this figure had soared to 4.6 billion, marking an unmatched growth trajectory in transportation history.
Developing nations are at the forefront of this trend. Regions such as Latin America and countries like Congo and Bangladesh have seen passenger numbers multiply. Yet, there remains substantial potential for further growth.
Forecasts by the International Civil Aviation Organization (ICAO) predict a 4.3 percent annual growth in air transport over the next twenty years, with the most significant increases expected in the developing world. This contrasts with the past, where frequent flyers from developed nations dominated growth statistics. The future will see millions of new passengers, many of whom are the first in their families ever to fly.
Climate Initiatives in the Air Transport Sector
Despite accounting for only a small fraction of anthropogenic climate change, air travel emissions are under scrutiny. With advancements in fuel efficiency driven by market forces, the industry is looking to further reduce its carbon footprint. Beyond efficiency improvements, sustainable aviation fuels offer another avenue for reducing emissions, though their cost and environmental benefits are subjects of debate.
The ICAO has set ambitious climate goals, including net-zero emissions by 2050, and introduced the Carbon Offsetting and Reduction Scheme for International Aviation (CORSIA) to curb emissions from international flights. Similarly, the European Union has integrated air travel emissions into its Emissions Trading System, aligning with the Paris Agreement targets.
A recent survey conducted by the Consumer Science and Analytics Institute (CSA) has revealed a startling inclination among the French populace towards imposing severe restrictions on air travel. The study indicates that 41% of French individuals are in favor of a policy that would cap the number of flights one can take in a lifetime at four, a proposition brought forward by engineer Jean-Marc Jancovici, encompassing both business and leisure travel.
The survey, which gathered insights from 1,010 French adults, shows a pronounced generational divide: 59% of young adults between the ages of 18 and 24 are advocates for this stringent limit. Despite the majority being against a lifetime cap of four flights, a significant 64% of respondents are open to reducing their air travel in the short to medium term to mitigate the impact of climate change.
The Price of Progress
The financial implications of these climate policies for air travelers are not yet clear. Estimates suggest achieving net-zero emissions from aviation by 2050 could cost $175 billion annually. However, environmental advocates argue that current measures are insufficient and are pushing for more stringent controls, which could further escalate costs.
The United States has seen legal actions aimed at tightening emissions regulations, reflecting a broader international push for more rigorous standards. Yet, critics argue that even the most severe restrictions may have a negligible impact on global temperatures.
Impact on Air Travel in Developing Countries
The debate around aviation and climate change often overlooks the impact of stringent climate measures on the affordability of air travel, particularly for citizens of developing nations. There is a risk that aggressive climate policies could price these new segments of air travelers out of the market.
As usual, the privileged few put their virtue-signaling and short-term way of thinking above all else.
The implementation of stringent air travel restrictions would have disproportionate consequences on developing countries. Aviation is a critical driver of economic growth, facilitating trade, tourism, and investment. For many developing nations, the connectivity afforded by air travel is a lifeline that links them to global markets and opportunities. A cap on air travel could severely dampen their economic prospects by limiting the influx of tourists and business investments that are often necessary for these countries to thrive and progress.
Furthermore, such restrictions could exacerbate global inequalities. While developed nations have already benefited from decades of unfettered air travel, accruing economic and social advancements, developing countries may find themselves handcuffed in their pursuit of similar progress, having to adhere to restrictions that were not in place during the formative years of more developed economies.
Beyond economics, the social fabric of communities in developing nations could also be at risk. Many individuals from these countries travel abroad for education and employment, sending remittances back home that are vital to their families' livelihoods. Limiting air travel could disrupt these essential flows of income, potentially leading to increased poverty levels.
Moreover, the emotional toll on families can be significant. The ability to visit family members who have migrated for work or to escape conflict could be curtailed, leading to prolonged separations and the erosion of family bonds over time. In the context of developing countries, where community and family structures are paramount, the repercussions of such separation could be deeply destabilizing.
My Final Thoughts
The concept of imposing strict limits on air travel raises profound questions about the trade-offs between climate action and personal freedom. The potential policy could mean an end to various forms of long-distance human connection and experience — whether it's business-related travel, personal vacations, or crucial family moments like bidding farewell to a loved one or welcoming a new family member. Once an individual's flight quota is reached, their ability to connect with far-off places and people would be drastically limited.
This presents a dystopian scenario where personal mobility is significantly constrained, possibly leading to a future where individuals might find themselves confined to their localities, with limited access to the broader experiences the world offers. The debate thus centers not only on environmental sustainability but also on the fundamental values that underpin our society — freedom, connection, and the pursuit of happiness.