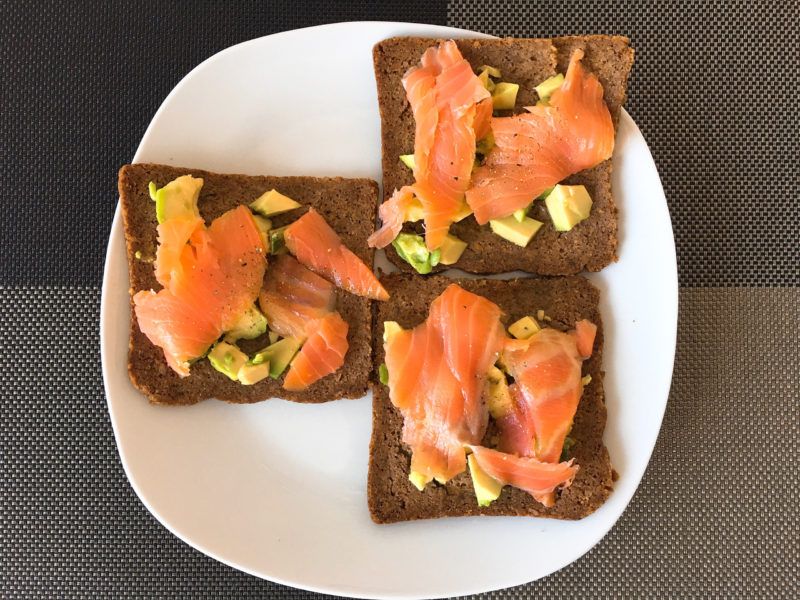 Here's another quick and easy breakfast recipe that fits right into my ideas of a healthy diet. I love simple and nutritious dishes, and this plate packs a lot of protein and healthy fats together with a great dose of fiber to keep you feeling full throughout the morning.
What we'll be making is an open sandwich (just one slice of bread rather than two) but you could easily make it a full sandwich if you wanted. In general, I try to keep bread consumption to a minimum due to my genetic makeup. Bread and other grains that are heavy on carbs are the quickest way for me to put on weight and that's definitely not something I'm seeking at this point.
Ingredients
All quantities are for one serving.
1/2 pack of smoked salmon
1/2 an avocado
Olive oil
German bread (or any wholemeal substitute of your choice)
Pepper
Directions
Drizzle olive oil over each sandwich and use a knife to spread it evenly. Chop the avocado into small pieces and spread them over the bread. Finally, add the salmon slices and top that off with some pepper for added flavor.
A very nice variation to this dish is to add scrambled eggs and freshly cut herbs (chives work well). You can also try skipping the olive oil and using fresh lemon juice squeezed over the sandwich as the last step.
Toasting the bread is also a great variation especially in the colder months.