Update 2022: I've started my own community and am no longer a member of any other groups beyond the NFT communities I'm in.
You might still find the communities below useful so I'll leave this article up anyway.
Entrepreneurship can be an exciting but lonely experience. You start off with nothing and most likely with your peers thinking you're chasing an impossible dream, or worse, doing nothing of worth. If you manage to prove your worth and build a successful business, you'll also lose touch with those same peers because your concerns are quite different from theirs, and they most likely start to regard you as the lucky guy.
They say it's lonely at the top, and that certainly applies to successful entrepreneurs. You don't need to achieve great wealth or success to start to feel that. Even the mere fact of owning a business and being fully responsible for your and your family's financial future (not to mention that of the employees who depend on your company)
Baby Bathwater Insititute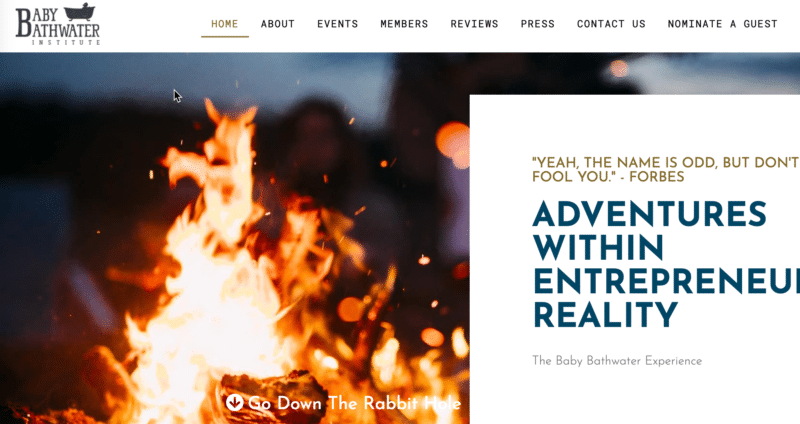 Baby Bathwater is a collective of entrepreneurs, founders, thinkers, pioneers, and good-hearted, open-minded humans.
I've heard great reviews of these events from friends and look forward to attending at some point.
Entrepreneurs' Organization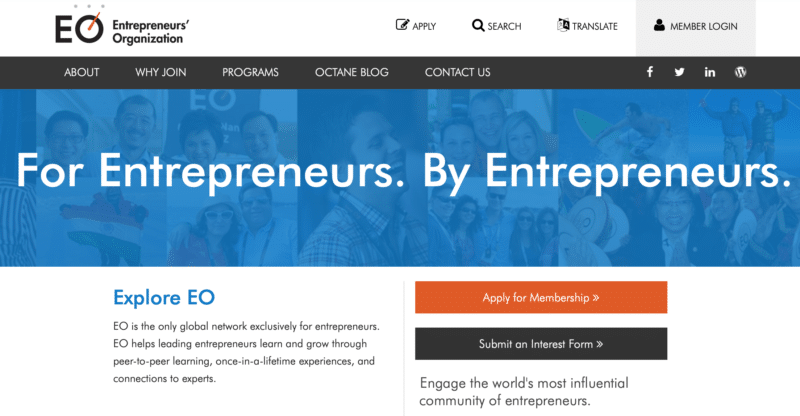 EO is a global network exclusively for entrepreneurs. EO helps leading entrepreneurs learn and grow through peer-to-peer learning, once-in-a-lifetime experiences, and connections to experts.
Entrance to the EO requires you to have a business that generates more than a million dollars in revenue per year, and costs around $6000 to join. It's aimed at entrepreneurs who are experienced and successful and certainly not at those just starting off on their journey,
Although it might seem a bit elitist, I think the requirements and high fees make sense. The success of the organization depends on its members sharing many of the same concerns and dilemmas, as well as providing useful contacts and advice to each other. It's safe to say that a beginner entrepreneur will not have the same concerns and capacity to help others that a seasoned entrepreneur at the helm of a $1m and multiple-employee business will.
There are several events throughout the year, and you get subsidized rates to first-class hotels and tours as part of your membership. You'll find entrepreneurs of all ages and industries in the EO, which means you will also widen your field of knowledge and be able to learn from other sectors that you were previously unfamiliar with or even unaware of.
An important feature of the EO is the local chapter that meets in your city. Big cities like Barcelona even have several chapters. Each local chapter consists of around 8 members who meet for half a day on a monthly basis to discuss their personal and business lives as well as network between themselves. This peer group support addresses the problem I described at the beginning of this article directly, and many EO members vouch that these meetings are the most important benefit of being in the EO.
Dynamite Circle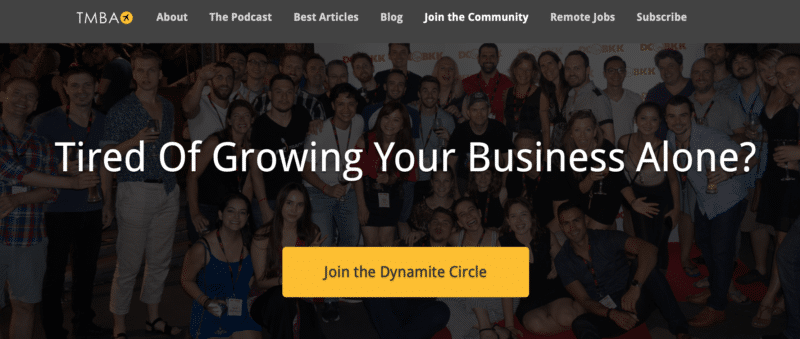 The Dynamite Circle was created by Tropical MBA founders Dan & Ian, and has grown over the years to become the number one network for young entrepreneurs that work online in some form or fashion. It's not limited to online business owners, however, the majority of people in it have remote teams and online businesses.
That's to be expected given that the Tropical MBA was originally all about becoming location-independent, and one of the forces that gave rise to the digital nomad movement. Nowadays both founders have given up the digital nomad days and are based in their own respective cities, although they retain the freedom to move if they wish to. This is a path that has been followed by many others including myself. Constantly traveling from one place to another eventually gets tired, and you're bound to fall in love with one place more than all the others and want to base yourself there. In my case, that place is Barcelona.
The Dynamite Circle holds big meetups in several cities every year, with the biggest events of the year being DC Austin in April and DC Bangkok in October. You will also find smaller groups that meet up informally in most major cities.
An online forum is also an integral part of the DC, and you will all other DC members on the forum ready to help and give advice to your dilemmas. If you wish to, there is also the possibility to be placed into a mastermind group that meets every so often online and discusses things in further depth.
I've been a member of the DC for a number of years and found a ton of good information in the online forums, so I'd say that the value of the advice and content there has already covered the cost of joining.  I've also realised that many of the online business entrepreneurs I followed online have been in the Dynamite Circle themselves for quite a while.
A question was recently asked on how DC members would describe businesses and people within the Dynamite Circle. Here are some replies I felt were really good:
DC businesses are optimized for profit and lifestyle vs trying to impress people.
It's popular in the business world to think that the point of starting businesses is simply to make money. Not here in the DC. We believe our businesses can be so much more– a path to personal freedom, legacy, a secure foundation for a family or community, or as a means forfinding deeper meaning and abundance.
Low overhead / lean, founder operated, online, positive cashflow, bootstrapped.
Online-first, location independent businesses between 6-8 figures a year.
To be honest I should probably have joined the group back in 2012 when I lived in Chiang Mai and everybody was talking about it. Unfortunately, I had attended one of their meetups then and I didn't particularly click with the people present there, so I wasn't that enthusiastic about joining.
Looking back at the forum postings though I can see that I could have picked up on certain things earlier than I eventually did. For example, there was talk of Bitcoin and crypto back in 2014, when I started reading up on crypto seriously only in 2016. That's just one of the many benefits of being part of a circle of driven and highly informed people. You get to know about opportunities years before anyone else does, and thus have a headstart in capitalizing on them.
Do you know of any other networks worth joining? Let me know in the comments section.