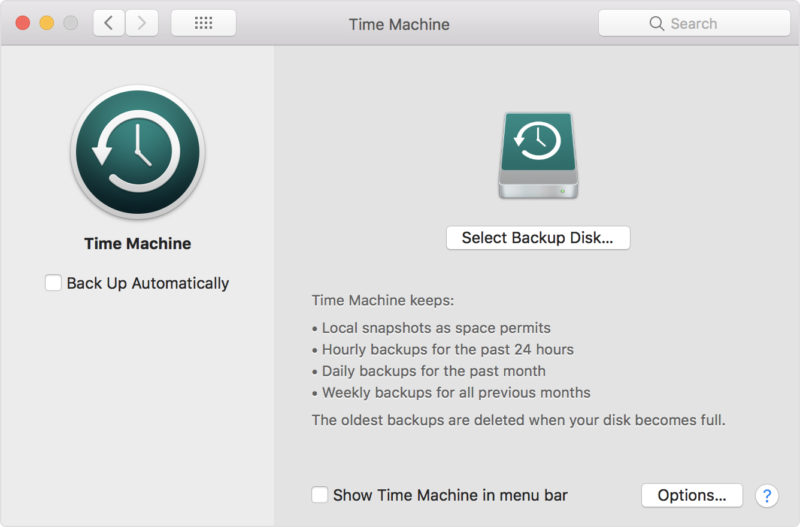 It's important that before you start you understand the concept of volumes on Synology Diskstations, because that's the first thing you will need to set up before you set up Time Machine backups.
Volumes on the Synology Diskstation
You can use the Synology RAID calculator to help determine how you want to set up volumes. That being said, in this case you want to just make one, and then create shares to logically organize things.
The advantage to creating multiple volumes comes when you are using different size drives, want different levels of redundancy, or have significantly different uses .Let's take an example a NAS with 4 x 6TBb drives. The only advantage you would gain would be less loss of data if an array fails, but at the cost of a higher risk of array failure.
If you have one volume in SHR2:
One pool of 12TB usable space
Two drives need to fail before there is a risk of data loss
Performance penalty from SHR2
Slight performance penalty in situations where there is significant use from two sources
If you have two volumes in SHR1:
Two pools of 6TB
One drive needs to fail before there is a risk of data loss
Less performance penalty from SHR
No penalty from simultaneous use as long as each use is on a different volume
Thus, I suggest setting up one volume. You may consider setting it up with SHR1 and a hot spare. No performance penalty from the second redundant drive and you still have protection; the trade-off is you get a big performance penalty when the hot spare is activated (while it rebuilds) and there's still a risk of the array failing if a second drive fails while the array is rebuilding.
Setting it Up
Part 1 – Create a share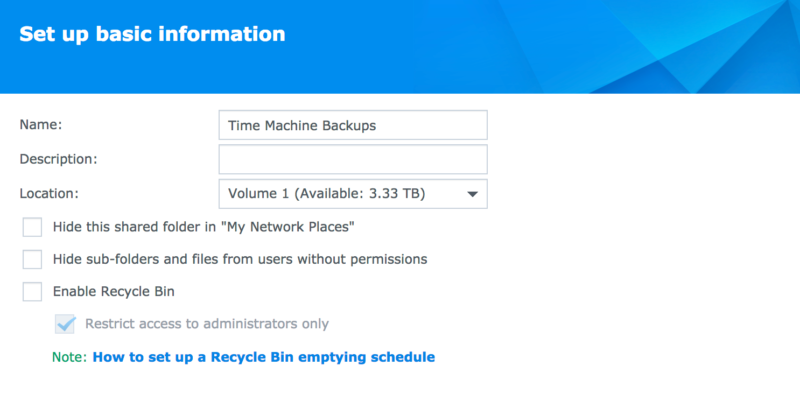 Open Control Panel.
Go to File Share.
Click the [ Create ] button.
Name the share something like Time Machine Backups (spaces are okay).
Uncheck "Enable Recycle Bin" (you're never going to need to fish your backups out of the trash, since you'll not be accessing the files directly yourself, so this feature would waste space).
Uncheck "Encrypt this shared folder". Here we are using the general principle of using the vendor supplied feature where possible. In the event of problems you are more like to find someone who knows Time Machine rather than Synology encryption. An argument could also be made in favor of having the DiskStation do the encryption which will save resources on your Mac. If you encrypt the target shared folder on the NAS the share must be mounted (unencrypted) in order for the Time Machine backups to run. You will need to do this each time you wish to run the backup. If the share is unmounted you will be unable to gain access to it until it is mounted in the DSM.
Uncheck "Enable data checksum for advanced data integrity". Time Machine will take care of checking the health of your backups and fixing them if necessary.
Click the [ Apply ] button.
Next you need to create a user to access the share.
Part 2 – Create a user
In Control Panel go to User.
Click [ Create ].
Make a user named something like TM_iMac (we will create a user for each machine we will be backing up).
Click [ Next ]
Make sure the user is in the "users" group and click [ Next ].
Check the box to give the user Read/Write access to your Time Machine Backups share (or whatever you named it).
Click [ Next ].
Set the quota to about 3 times the size of the drive you're going to back up. You must set the quota to something other than "0" or "Unlimited" or Time Machine will keep backing up forever and will eventually fill your entire filesystem.
Click [ Next ].
Ignore the Application Permissions and click [ Next ].
Ignore the Speed Settings and click [ Next ] (setting a speed limit will slow down your backups)
Click [ Apply ].
I would use the add new user accounts designed specifically for each Mac computer that is going to be backing up via Time Machine (Main Menu>Control Panel>User>Create).  Have the accounts named after the device, ex: iMacTM, MacBookAirTM, MacMiniTM, etc.  This allows you to glance at your connection log file and easily see which Macs have recently backed up.
If you only used your admin account to give each mac access it will be hard to figure out which macs are actually doing their backups and which ones haven't done one recently.
Next you have to change the AFP protocol settings because they are broken by default.
Part 3 – Fix AFP settings to work with Time Machine
In Control Panel go to File Services
If "Enable SMB Service" is not checked, check it.
If "Enable AFP Service" is not checked, check it.
Click [ Advanced Settings ] in the AFP section.
Check the box "Release resources immediately after disconnect" — if you do not check this you will get an error from Time Machine of "the volume is already in use" at the end of your backup and Time Machine will stick on "waiting to complete first backup" forever
Follow the link to "Enable to Bonjour service discovery at Service Directory"
Check the boxes "Enable Bonjour service discovery" and "Enable Bonjour Time Machine broadcast via AFP" and "Enable Bonjour Time Machine broadcast via SMB".
Click [ Apply ].
Part 4 – Configure Time Machine on your Mac
Go to Time Machine in your menu bar or Preferences
Click Select Disk
Select the DiskStation share (whatever you named it in part 1)
Save your settings.
Possible Issues
You might possibly run into issues since the Synology NAS is not a native Apple device, but it mostly plays well. If you're getting issues with backups needing to be recreated from scratch, check this article.