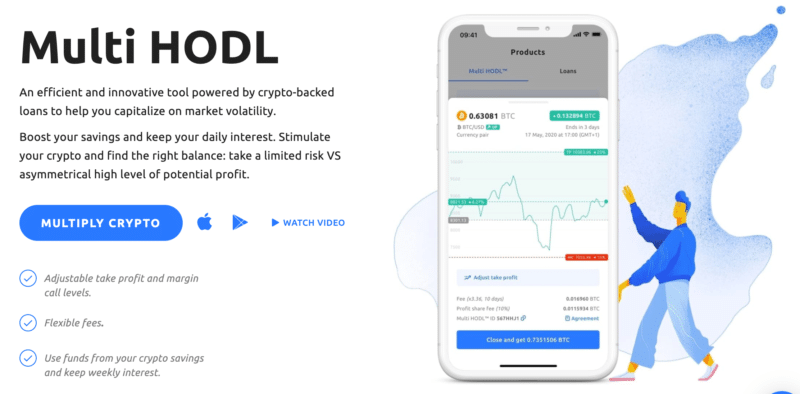 Recently, I've been discussing the Europe-based FinTech platform YouHodler a lot on here. For readers of those articles, you probably noticed as strange new terms appear frequently.
One of those terms is "Multi HODL" and at first glance, it may not mean much to you but as we peel back the layers behind this tool, you'll begin to understand why automated margin trading should have a place in every crypto trader's trading strategy.
So let's get started, but first, the basics.
What is Multi HODL and is it really margin trading?
In the crypto market, margin trading has enjoyed immense popularity over the past couple of years. In 2019, Bitcoin margin trading accounted for $100 billion. That being said, there must be something to this technique that keeps people coming back. It may seem confusing to the beginner but in reality, trading on margin is a very simple concept.
Essentially, margin crypto trading just gives traders access to more capital and hence, more buying power, via loans. Therefore, traders can now open much larger positions than they were able to before the loan. To give you an example, let's say a trader has $250 and wants more buying power with that $250. He could open a margin trade with leverage of 1:4 and turn that $250 into a full $1000, unlocking a whole new world of possibilities in the process.
Now, each platform has its own different version of margin trading but more or less, the concept is the same. The trader uses cryptocurrency as collateral to borrow more capital and then uses that to either buy or sell the market (also known as longing or shorting the market). There are a variety of crypto exchanges offering these tools but sometimes, it requires advanced knowledge. That's where YouHodler's Multi HODL comes in.
Multi HODL makes margin trading easier
Margin trading using YouHodler's Multi HODL tool is a 100% automated process. Users simply need to choose which funds they want to multiply (e.g. TUSD), then choose a direction (up or down) to either long or short the crypto asset of their choice (e.g. BTC). From there, it's just a matter of watching your position react to your prediction, which is quite an exciting experience. There are also a few different management tools to help make your Multi HODL positions more flexible. We'll get into that a bit later but first, let's take a step-by-step look at opening a Multi HODL deal.
How to open a Multi HODL deal
Step 1: Click the "Multi HODL" button on the left side of your dashboard and click "start new Multi HODL."
Step 2: Choose which crypto market you want to multiply via and then choose a direction (up or down).
Step 3: Choose a source of funds, the amount you wish to multiply and the multiplier amount (x2 – x20 in this particular case).
Step 4: Set your "Take Profit" and "Margin Call" levels
Step 5: Click "Start" and watch your Multi HODL go!
Manage your position and find the perfect balance between risk and profit
As the old saying goes, "no risk it, no biscuit." In other words, you cannot profit greatly without some sort of risk. However, you don't have to go "all in" on every trade you make. It's possible to manage risk so you protect yourself against loss.
We discussed this in the Barbell Strategy article earlier which is a great way to use safe, stable savings accounts in tandem with the riskier but more profitable Multi HODL tool. Within the tool itself, you can also manage your risk via the sliding "multiplier" bar and Take Profit and Margin Call levels.
Setting these levels will help you exit the market at the exact time you want so there are no surprises. It also frees up a lot of time so you don't have to be glued to your phone watching the market 24/7.   For crypto traders who want to open multiple positions at once, this is a wonderful way to manage your exit strategy effectively.
Speaking of opening multiple positions at once, YouHodler is unlike any other margin trading platform in that you can open multiple positions simultaneously (also known as Lock Trading). This gives you a great chance of predicting the market movements and acting as a hedging mechanism in case things don't go your way.
Margin Trading on Multi HODL conclusion
If you're tired of just passively "HODLing" and being at the mercy of the crypto market, then it's time to take things into your own hands. Make the next step to becoming an "active HODLer" with Multi HODL. Using margin trading, you can unlock new levels of buying power that you once thought were only available to "whales."
Thankfully, YouHodler makes it very easy to start even for those new to the world of margin trading. So head on over there today to open up your first position and experience the excitement that is the new digital economy.