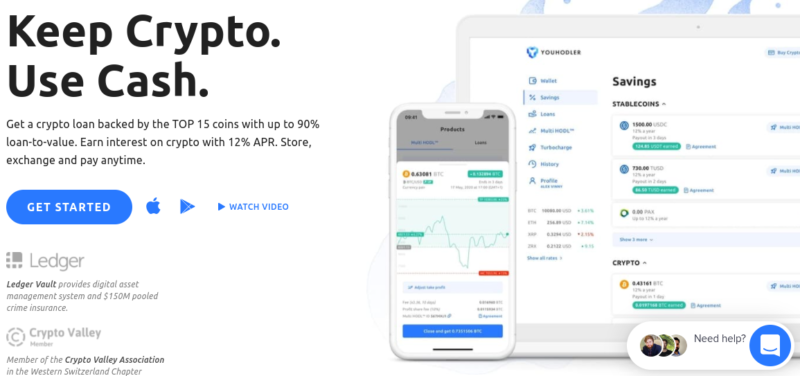 Taking into account the volatile nature of cryptocurrencies, investors are faced with an ongoing dilemma – exit the position or 'HODL'. For those investors in it for the long run, they will simply look to hold on their cryptocurrencies with the hope that in the near future they will be worth significantly more.
Until then, the coins remain idle in a private wallet – resulting in opportunity costs along the way. After all – and much like gold, Bitcoin does not yield any income.
With this in mind, YouHodler has created an online platform that allows you to earn interest by depositing your digital currencies. In turn, this will then be loaned out to those that wish to engage with crypto-loans.  Today, the company presents itself as a crypto-fiat finance service that offers half a dozen distinct features to meet the needs of both investors and borrowers.
In my YouHodler review, I explore the ins and outs of how the platform works. Not only does this include a breakdown of its interest-yielding service, but I also have a closer look at a number of other key features found at the platform.
YouHodler – The Multifaceted Financial Service
The Swiss-based company started out as a one-dimensional lending platform. In over two years, YouHodler has evolved into a full-fledged ecosystem with an extensive set of crypto-fiat financial services. In its essence, the platform intends to help investors take advantage of cryptocurrencies, without having to actively trade them.
So, if you are a digital currency evangelist who wants to 'HODL' – while at the same time earn a return on your investment, then YouHodler might just be what you are looking for.
At a glance, YouHodler offers the following features:
Integration with a growing list of cryptocurrencies and stablecoins
Support for cryptocurrency conversions with fiat
Availability of multiple fiat payment methods
Exchange fiat for cryptocurrency
Option to receive loans with cryptocurrency as collateral
High-yielding cryptocurrency savings account
Overall, YouHodler is an adept service packed with features that are flexible for every cryptocurrency investor.
Store Your Cryptocurrency in a YouHodler Wallet
For every cryptocurrency service, the priority is the safekeeping of the cryptocurrency assets. Compared to other financial instruments, cryptocurrencies are more susceptible to security breaches. YouHodler thus provides users with an exclusive cryptocurrency wallet that enables efficient and safe use of its services.
With unique designs for Bitcoin and 14 other popular altcoins, YouHodler makes it easy for you to manage your assets as well as access its services all from one place. From your wallet, you can now store, convert, or exchange your cryptocurrency to fiat.
Additionally, for those investing cryptocurrency with YouHodler (to earn interest), you will also receive your yield directly in the corresponding cryptocurrency wallet. Crucially, not only can the YouHolder wallet support digital currencies, but also fiat.
The YouHodler wallet service is also available on your mobile device through a proprietary application.
So that I have covered the basics of YouHodler – I am now going to look into the features that sets the platform apart.
How to Earn Interest on Your Cryptocurrencies
Irrespective of the underlying instrument, generating a regular return on the said asset is considered a healthy way to pursue financial stability.
When it comes to cryptocurrencies, the only options that you have at your disposal to increase the value of your investment is:
To actively trade it on a day trading or swing trading basis
To sit tight and hope that its value increases
Both options are somewhat problematic. Firstly, if you are looking to actively trade cryptocurrencies, you need to have a firm understanding of how online trading, technical analysis, chart reading, and everything else works. This isn't something that can be achieved overnight.
Secondly, if you are looking to 'HODL' your cryptocurrencies in the hope of a new bull market, there is no knowing when, or even if, this will happen. In the meantime, your cryptocurrency investment is sitting idly – and arguably, losing you money in the form of opportunity cost.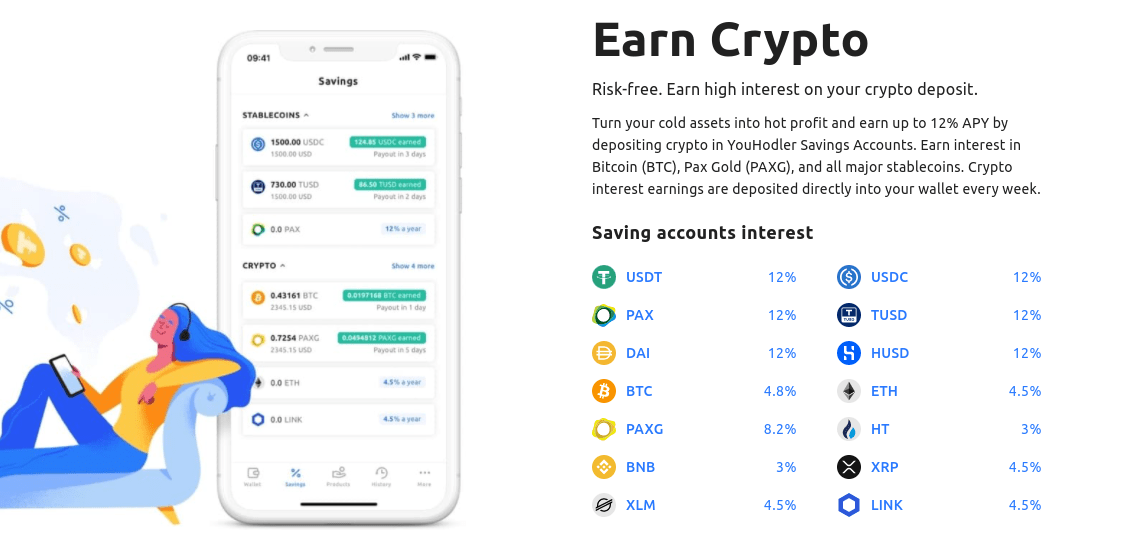 With this in mind, earning interest on your cryptocurrency is a relatively new concept. YouHodler is all about using your passive cryptocurrencies to generate active earnings. Instead of merely storing your cryptocurrencies and hoping for a market surge, YouHodler gives you the opportunity to earn interest on your digital coins, without you needing to sell them.
Here is the gist of how it works:
You have 2 BTC in a private wallet
You deposit the 2 BTC at YouHodler
You decide to loan the coins out for 30 days
You are paid an annualized interest rate of 4.8%
At the end of the 30 day period, your 2 BTC is returned to you, plus the interest you made
At YouHodler, compound interest is added every week. The platform offers some of the highest interest rates in the P2P crypto-lending space, which starts at 3% and goes as high as 12% – depending on the respective cryptocurrency. The highest interest rate of 12% not only applied to digital coins, but to fiat as well.
See also: What is carry trading and how to execute this strategy on YouHodler
In effect, you are treating your cryptocurrency holdings like you would with a traditional interest-bearing bank account. That is to say, you will be leaving your coins in the YouHodler savings account for as long as you wish, and be earning interest until you decide to make a withdrawal.
All you need to do is open a cryptocurrency savings account at YouHodler, deposit the funds, and that's it – you can start generating a yield.
Benefits of Opening a Savings Account with YouHodler
YouHodler savings accounts are a stress-free means to expand your earnings on idle cryptocurrencies.
Minimum deposits starting from $100, depending on the cryptocurrency you choose.
Being an online platform, you have access to your funds 24/7, with no extra steps required to check the status of a payment or make a withdrawal.
There are no additional fees for withdrawals
YouHodler, however, has set a few conditions for users to benefit from a savings account.
If you withdraw funds from your savings account prior to the end of the week, that week's interest will not be accounted for.
You can deposit additional cryptocurrencies to your savings account. However, this will be considered as interest-bearing only from the following week.
You can hold your interest payments in your savings account, and which subsequently allows you to earn compound interest. If not, you can withdraw the funds out.
Open a Crypto Savings Account Without Owning Cryptocurrencies
To benefit from the YouHodler platform, you do not need to own digital currencies at all. Instead, the platform will allow you to buy cryptocurrency in exchange for fiat. The simple process requires just two steps once you have gone through the initial process of opening an account.
Step 1: Deposit Fiat
Users can deposit their chosen fiat currency (USD or EUR) to their YouHodler wallet. The platform supports debit/credits card or a bank wire transfer. The card payment will be processed instantly, whereas wire deposits can take up to 24 hours.
You can transfer money to YouHodler from your N26 or Revolut accounts as well.
Step 2: Buy Cryptocurrency
Once you have sufficient fiat deposited in your wallet, you can proceed to convert it to any cryptocurrency available at YouHodler. However, keep in mind that there will be a 4% commission rate, which is extremely expensive. As I discussed in my eToro review a few weeks ago, you can buy and own up to 15 digital currencies without paying any commissions at all on other platforms like eToro, although spread applies.
Nevertheless, YouHodler has made it excessively easy for an investor to venture into the cryptocurrency trading space. Investors can then proceed to open a savings account to earn interest on their newly purchased cryptocurrency. However, you do need to take the 4% charge into account – meaning that some of the digital currency yields on offer won't be worthwhile.
Steps to Open a YouHodler Savings Account
Open the "Savings" section of your YouHodler account
Choose your preferred cryptocurrency and press "Add Funds." Depending on the cryptocurrency, here you can see the savings terms – including the interest rate, annual earnings, and more.
When the funds are added, you will start receiving weekly settlements
Click on the "Earned" page of the savings account to check your earnings.
Maximize your Profit with a YouHodler Savings Account
Regardless of how popular your chosen cryptocurrency is, the wider market is susceptible to high levels of volatility (at least in comparison to traditional asset classes). A YouHodler savings account offers a solution to this, as you stand the chance of earning a yield while at the same timer riding out the volatile crypto-market waves.
While the savings account comes with reasonable earning potential, YouHodler has also introduced a few other ways to maximize your profits. For instance, if you are earning interest on Bitcoin, you can use this interest as collateral to get a crypto-backed loan.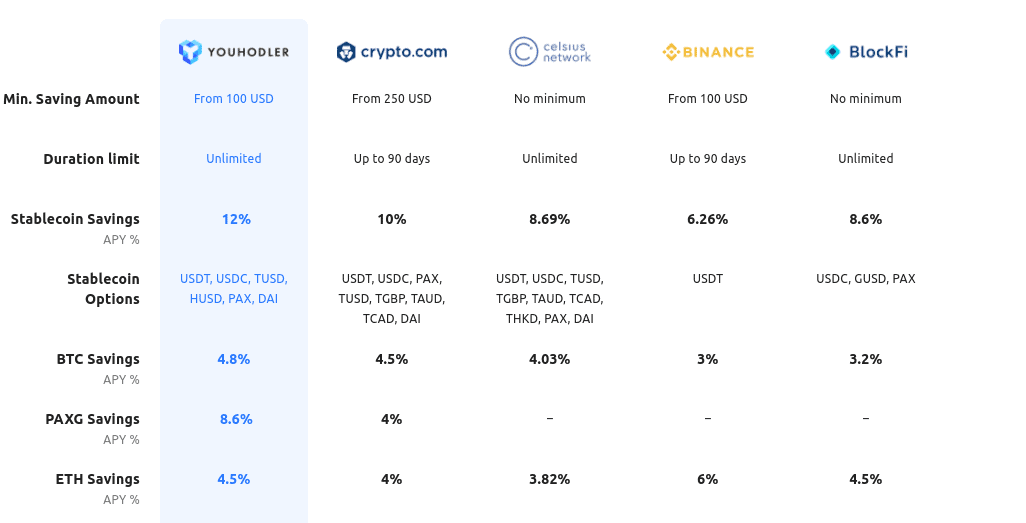 You can then use the funds to buy more cryptocurrencies which could be deposited in another savings account. Crucially, there are countless ways you can mix and match the different features at YouHodler to maximise your earning potential.
The more interest you earn, the more ways you have to expand your avenues in crypto-investing. To facilitate this, YouHodler has three features that are unique, and has different variances of risks.
Get a Crypto-backed Loan from YouHodler
One of the biggest pitfalls with a cryptocurrency investment is that traditionally – if you have a need to raise cash, you might be forced to exit your position by selling the coins.
You then have to factor in the cumbersome process of having to transfer the coins to a third-party platform, make the exchange, and then withdraw the fiat currency back to your bank account.
YouHodler lets you treat cryptocurrencies like any conventional asset class, and use the coins as leverage for a fiat loan. For an investor, crypt-backed loans are a convenient approach to hedging as an opportunity to enter the investment sector without facing the volatility of the market.
YouHodler dominates the cryptocurrency loan market with an impressive loan-to-value ratio of up to 90% and on a diverse array of 15 different crypto coins. Loans are available in the form of cash as well as cryptocurrency itself.
Even better, you can also leverage altcoins for a Bitcoin-loan and use this amount to invest in your savings account. The interest rates are usually dependent on the type of loan and its duration.
How do Crypto Loans Work at YouHodler?
Getting your loan approved at YouHodler is as quick as it can be. You can start with a request for a loan using your preferred collateral. This can be fiat or cryptocurrencies itself. The waiting time is only a few seconds, and upon its completion, the agreed credit amount will be added to your wallet.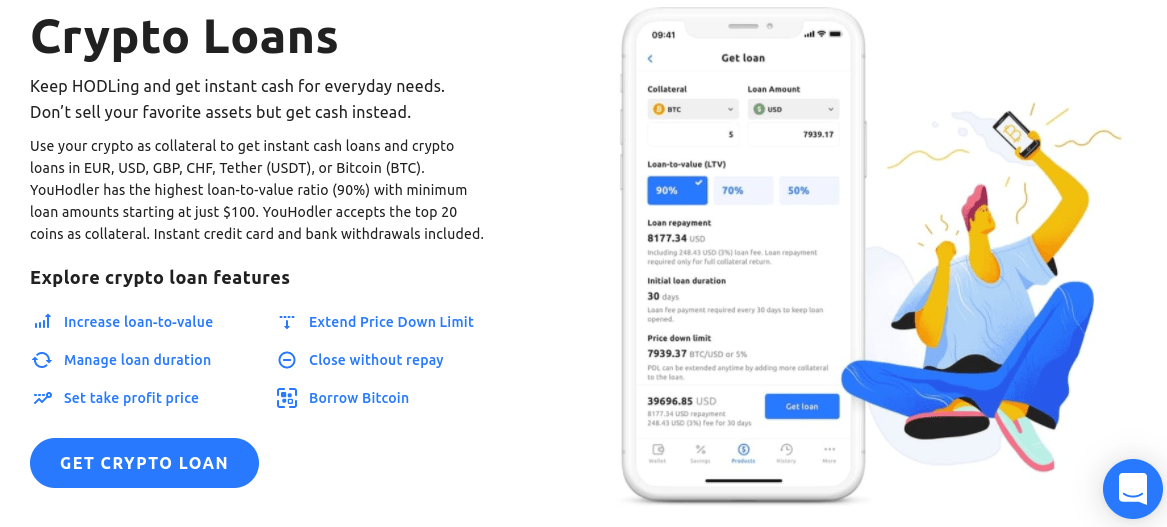 You can cash out the loan amount through a credit card withdrawal, or a bank wire transfer. If the loan is in cryptocurrency, users can proceed to use the exchange feature to convert it to other altcoins, stablecoin, or fiat itself. When you have completely repaid the loan, YouHodler will instantly give you the collateral back.
Where YouHodler excels in the loan department is how swift the whole process is. With a verified account, there are virtually no delays or any credit checks that are required to be completed.
Managing the Duration of Loan
YouHodler presents three types of loan packages. The parameters of each loan depend on its term.
Duration – 30 days. LTV – 90%
Duration – 60 days. LTV – 70%
Duration – 180 days. LTV – 50%
As you can see from the above, the longer the duration of the loan, the lower the LTV.
The one part where YouHodler sets itself apart is on its interest rates. Instead of calculating interest based on your collateral, it is determined by the type of your loan. The company charges the same interest to all of its users this way, regardless of how much credit they receive. YouHodler intends to reduce the interest rate along with its growth.
With this goal, YouHodler has also introduced an affiliate program to motivate its existing users to act as referrals for new cryptocurrency investors. Apart from providing individual bonuses, this program can also benefit the wider community if YouHodler is true to its work (by offering lower interest rates).
How to Set your Price Down Limit
Another parameter that plays a significant role in your cryptocurrency loan is the "Price Down Limit". It merely means that if the price of your crypto asset falls below this PDL, you are allowing YouHodler to sell the collateral and close the loan.
Each loan package also comes with a predefined PDL. However, you also have the option to extend your PDL once you have acquired the loan. YouHodler will immediately change the parameters of the loan accordingly. You might have to add more collateral, but it will allow you to set your PDL as per market conditions.
Closing your Loan
In the traditional loan space, the financing agreement comes to an end only when you repay the full amount. However, YouHodler has come up with three other exit strategies that users might want to consider.
Close without Repaying 
With the "Close Now" feature attached to your loan, you are not required to repay the entire amount to close your loan. Instead, YouHodler takes up a part of your collateral and uses it to repay any outstanding credit. You will receive what is left of your collateral back in your wallet.
Managing Loan Duration
In the case that you want to extend your loan period, you can simply proceed to reopen the loan. This is only possible if the loan term is near its expiration.
Users will then receive a notification, and a "Reopen" tab appears in the loan setting portal. The same parameters of your previous loan will apply here as well. Additionally, you will also be charged a small fee.
Walk Away
If you are choosing a loan to value of 90%, users can choose to walk away from the agreement. You can do this while keeping 85% of your asset value, and no other conditions to withhold. You can keep the credit amount, and YouHodler will close the account on your behalf.
How to Deal with the Cryptocurrency Price Changes?
One of the prime concerns for investors is how the loan parameters adapt to current market conditions. After all, every asset changes its value, even if it is in minor fractions. In the case of cryptocurrencies, the market is highly volatile, with double-digit daily increases or decreases still not uncommon.
In order to address this, YouHodler has two policies in place.
When the Cryptocurrency Value Increases
YouHodler has the "Take Profit" feature that allows you to set a profit target. If the collateral reaches the specified limit, YouHodler will sell it and pay back your loan. Any extra profit from the process will be transferred to your wallet. The "Set Close Price" option is available when you open the request for a loan.
When the Cryptocurrency Value Decreases
The value of your collateral going down does not mean that the loan amount you own will be reduced. Instead, you can define the "Price Down Limit," as we discussed earlier. With this limit in place, you are giving YouHodler the authority to execute the sale of your collateral. Any earnings from the operation will be used to close your loan.
Though all these steps are automated once you set the PDL, you will still be notified when the asset value is too close to the limit you set. This allows you to extend your PDL if you want to.
Gain Interest On your Crypto Loan
For those who are not concerned with the liquidity of your cryptocurrencies, then YouHodler encourages users to invest the credit amount in a savings account. This will further expand your profits by gaining your interest on your loan. This can be applied vice versa too.
For instance, if you have a savings account for your cryptocurrency, you earn interest on the digital coin itself. You can then proceed to use the interest as collateral for another crypto-backed loan, and reinvest it to purchase more cryptocurrency. Essentially, YouHodler offers you more ways to invest and build on your crypto asset in a myriad of ways.
If you are an investor willing to test the waters, then YouHodler has two higher-risk ventures at the platform.
Turbocharge Loans
The Turbocharge loan option aims to streamline the investment and subsequent re-investment process.
For example, when you take a crypto-based loan, YouHodler will use the borrowed fiat to purchase more cryptocurrency and reinvest it in another loan. The advantage here is that there are no commissions from the second loan onwards.
At the click of "Turbocharge," users will be asked to set the initial amount to be set aside as leverage and up to what limit you want to reinvest. From then onwards, YouHodler will automate the chain of loans until the requested number is reached.
See also: How to use YouHodler's "Turbo Loans"
You not only get the loans devoid of the commission, but also receive a reduction in the interest rates.
Increase Interest Rates using Turbocharge
If you already have a crypto savings account with YouHodler, then opening a Turbocharge loan will give you access to high-interest rates. Once you open the Turbocharge feature, you can reach out to the YouHodler team and request your interest rates on the savings account to be increased. You will only need to provide your loan ID to benefit from this.
Multi HODL to Multiply your Profits
Multi HODL allows you to apply multiple strategies to your cryptocurrency investment endeavours. In simple terms, YouHodler states that such an approach could earn you a profit up to 290%. With that being said, it still remains unclear how a yield this high can be achieved.
Nevertheless, the inspiration for this investment model comes from "The Barbell Strategy", where investors keep 90% of their assets safeguarded in a risk-free savings account. The remaining 10%, they invest in riskier yet potentially high-yielding endeavours.
If the value of the asset goes up, then the user receives exponential returns. If not, one can be glad that they saved 90%. It gives you a way to balance your risks, and manage your expectations.  YouHodler applies the same concept in MultiHODL. Here, they recommend keeping 80% of the assets invested in the savings account while applying the Turbocharge feature for the remaining 20%.
The platform currently offers the feature for twelve cryptocurrencies. Investors can also contain the risk level by adjusting the PDL to what they think is the best option for their finances. This way, you know exactly what risk matrix you are entering into.
The user has complete authority to determine what portion of the assets can be reinvested.
The steps are as follows.
You determine the amount of crypto or fiat to request for the initial loan
YouHodler utilizes the loan amount from the first loan as leverage to open the next loan
The procedure repeats itself from 5 to 20 times, based on the limit you set.
Now, users can determine whether they want to begin with fiat currencies or cryptocurrencies as the initial collateral. This is significant because the risks involved in MultiHODL will vary depending on the market.
In the UP option, you can use leverage cryptocurrency to receive fiat as the loan currency. In a bullish market, you will gain profit by profiting after closing the loan.
By choosing to go  DOWN, you are leveraging fiat to loan cryptocurrencies. Consequently, you want the cryptocurrency value to fall in order to merit from fiat.
How Safe is YouHodler?
Considering the services offered, YouHodler certainly comes with a set of risks. For one, every single option requires you to store your assets on the platform. Therefore, the security and confidentiality of YouHodler is the prime concern.
The company assures users that client funds are kept in cold storage. This keeps your assets off the internet and relatively safe from the hands of hackers. YouHodler has also partnered with reputable banks in Europe to safely store your fiat currencies. Furthermore, the site ensures the best practices of data protection and encryption to safeguard its clients' interests.
On the legal front, YouHodler conforms with EU rules and regulations concerning financial services. YouHodler also maintains an active role in the Blockchain Association of Financial Commission as well as the Crypto Valley Association.
All this aside, YouHodler might still come across as a new player in the cryptocurrency industry. Some investors might find the lack of a crypto-specific insurance provider highly discouraging. What the firm does have is an insurance provision of $1 million, which is nothing to write home about.
Comparing the Merits and Demerits of YouHodler
The company has addressed some notable concerns regarding opportunity costs when holding cryptocurrencies.
Below are some points where YouHodler stands out:
High interest rates on savings account
Integrated wallet for both cryptocurrency and fiat
Diverse investment choices
Access to liquid funds through loans
High LTV of 90%
Riskier investment choices such as TurboCharge for experienced investors
Reliable customer service
You should, however, remember that YouHodler is a centralized financial service. Additionally, YouHodler is not available to US citizens.
YouHodler Review: The Verdict
YouHodler has managed to make crypto-HODLing an active strategy. For investors, access to a crypto-exclusive savings account and interest-bearing loans are preferable ways to expand your portfolio.
This solves an instant issue with digital currencies – opportunity costs. That is to say, rather than leaving your digital coins sitting idle in a private wallet, YouHodler allows you to earn a yield on your holdings. At the same time, you get to keep hold of your investment and thus – you can cash out your coins whenever you see fit.
Just remember, your coins are never 100% safe when you use a third-party platform, so just make sure you understand the risks of injecting cryptocurrencies into YouHodler before taking the plunge.
Summary
Youhodler is an excellent tool for those who are holding Bitcoin and other cryptos for the long term, as well as those who need to borrow. This platform is right there at the forefront of the DeFi wave that is taking over the Fintech and Crypto spaces this year.
Pros
Good interest returns
Make use of your crypto
Many cryptos and stablecoins available
Cons
Not available to US citizens