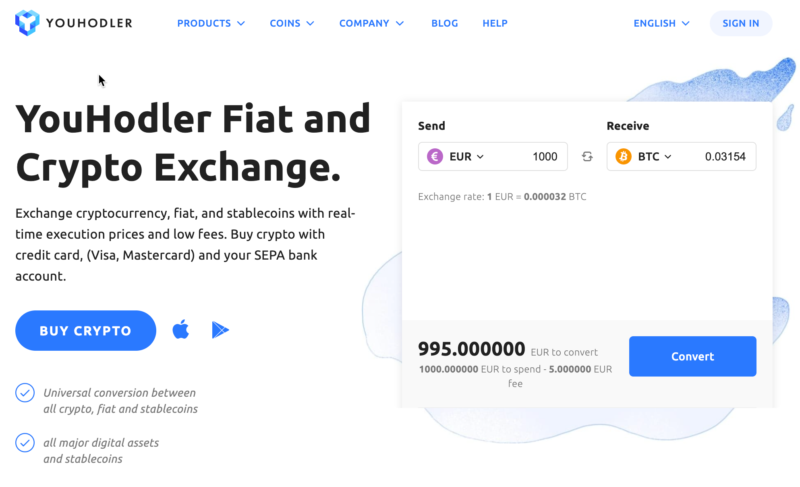 In the realm of financial technology (FinTech), YouHodler and Nexo are two highly competitive platforms offering a variety of crypto/fiat financial services. What really brought both platforms to international fame is their interest-earning accounts though. Crypto enthusiasts are constantly looking for the best platforms to safely store their crypto while simultaneously earning a passive income on it. These two platforms offer some of the best rates around in addition to a few other exciting tools to help "HODLers." But which one is the best?
In this competitive analysis, we'll do a deep dive into both companies to see which features set one apart from the rest.
What is YouHodler?
YouHodler is a FinTech platform that focuses mainly on crypto-backed lending with fiat (USD, EUR, CHF, GBP), crypto (BTC) and stablecoin loans (USDT, USDC, TUSD, PAX, PAXG, DAI, HUSD), crypto/fiat, and crypto/crypto conversions, as well as high-yield saving accounts. The platform supports BTC, BCH, BNB, ETH, LTC, XLM, XRP, DASH, HT, REP, and other popular cryptocurrencies and tokens. User's digital assets are safely guarded with Ledger Vault's advanced custody and security options.
YouHodler is an EU and Swiss-based company with two main offices in Cyprus and Switzerland.
YouHodler is an active member of the Blockchain Association of Financial Commission and the Crypto Valley Association. Customers are protected by the independent Financial Commission's efficient dispute resolution process.
YouHodler's team has strong and unique expertise in Commercial Finance and FX/CFD trading; the creation of e-commerce and e-learning platforms, Blockchain, and Distributed Ledger Technology. According to YouHodler, their  "team combines the wisdom and practices from the world of traditional finance with the start-up spirit of the Digital industry."
What is Nexo?
Nexo is a crypto-backed lending platform with savings accounts that lets users borrow currency and earn interest in crypto assets. While Nexo in its modern format has only been around since 2018, its team has worked on similar products for the past 13 years in various traditional finance industries.
According to Nexo, their mission is "committed to successfully solving inefficiencies in the lending markets by creating innovative, convenient, and sustainable solutions. By harnessing the potential behind blockchain technology, Nexo is pioneering a new digital financial system."
YouHodler vs Nexo: Core features
YouHodler core features:
Crypto-backed loans: Use the top 20 coins as collateral for an instant crypto-backed backed loan in USD, EUR, CHF, or GBP. Loan to value ratios goes as high as 90% with competitive interest rates and no credit checks. Instant withdrawals to bank cards are available in addition to bank wire.
Savings Accounts: Earn up to 12% on stablecoins (USDT, TUSD, USDC, HUSD, DAI, PAX, PAXG). Earn up to 4.8% on popular cryptocurrencies like Bitcoin, Ethereum, XRP, XLM, LINK, BNB, and more. Compounding interest with weekly payouts.
Crypto conversion: Instant universal conversion between crypto-crypto, crypto-fiat, fiat-crypto, fiat-stablecoin, stablecoin-fiat, stablecoin-crypto and crypto-stablecoin. With competitive conversion fees.
Multi HODL: An efficient and innovative tool powered by crypto-backed loans to help you capitalize on market volatility. Boost your savings and keep your daily interest. Stimulate your crypto and find the right balance: take a limited risk VS asymmetrical high level of potential profit. *Users can earn interest on their Multi HODL balance if the funds are taken from a saving account. 
Insurance – $150 million pooled crime insurance from Ledger Vault
Nexo core features:
Crypto-backed loans: Loans with the top 10 coins and stablecoins up to $2 million. No credit checks required. 50% loan to value ratio.
Savings Accounts: Earn up to 5% on cryptocurrency assets and 10% on stablecoins and fiat. Interest is compounding and payouts are daily.
Nexo card: a crypto credit card that lets you spend the value of your crypto without selling it at 40 million merchants worldwide. 
Insurance – $375 million insurance on custodial assets
NEXO token – a utility token that pays dividends. 
YouHodler vs Nexo: Pros and Cons
YouHodler Pros:
The low minimum amount on savings accounts and loans. Easily accessible to all people around the world.
Highest LTV on the market for crypto-backed loans (90%)
Highest interest on savings accounts on the market (12%)
24/7 support with real agents
A large and constantly growing list of collateral options and savings account options
Beautiful and user-friendly interface on the web, Android, and iOS applications.
Regular Webinars with the team
No need to stake a native token to receive higher interest rates
Creative portfolio multiplication tools like Multi HODL.
No hidden fees or rollover fees. Full transparency in all facets. $150 million pooled crime insurance from Ledger Vault
Members of the Crypto Valley Association and the Blockchain Association of the Financial Commission.
Regular giveaways and online contests
Compounding interest paid out weekly
Interesting loan management features like Increase LTV, Close Now, Take Profit, Adjust PDL that help users with loan flexibility.
Ability to earn interest on "limitless" amounts with Savings + Multi HODL
Nexo Pros:
No minimum repayments on loans and no hidden fees
13 years of online lending experience
BitGo Custody has $100 million USD insurance
$150 million pooled crime insurance from Ledger Vault
The ability to earn interest on fiat options (EUR, GBP, USD)
Get more credit from your collateral if it increases in value
Compound interest that is paid out daily
Nexo has a credit card so you can use your crypto without selling it
YouHodler Cons:
No credit card
Not available in the U.S.A
More expensive to convert funds than on an exchange
Higher fees for loans (but in turn, this also helps with higher interest rates on savings accounts)
Nexo Cons:
A High minimum amount on loans ($1,000)
Low-interest rates on savings accounts
Limited transparency and interaction with the team
Low loan to value ratio (50%)
Can only unlock higher interest rates if you choose to earn in NEXO token.
YouHodler vs Nexo: Safety and Security
YouHodler – According to the website, YouHodler offers 3FA and Youhodler follows all the industry best practices for IT security checks, data protection, access rights, and data encryption. We store fiat funds at reputable Bank accounts in Europe and Switzerland and partner with trusted fiat payment providers only.
YouHodler users Ledger Vaults industry-leading information technology infrastructure to securely control its crypto assets with a multi-authorization self-custody management solution and $150 million pooled crime insurance. All credit card operations are under PCI Security Standards, all crypto operations are in accordance with Cryptocurrency Security Standard (CCSS). YouHodler runs external security audits on a regular basis.
Nexo – Nexo's app offers 2FA and third-party custody from BitGo. BitGo investors include large names like Goldman Sachs and the platform is SOC 2 Type 2 certified.
Nexo also recently started using Ledger Vault's pooled crime insurance as well.
YouHodler vs Nexo: The Final Verdict
When it comes to crypto-backed loans, and savings accounts, YouHodler definitely has Nexo beat. With a 90% loan to value ratio and 12% interest on savings accounts, there are just more valuable opportunities for YouHodler users. Furthermore, YouHodler has much lower minimum loan amounts, making it the platform for the "everyday HODLer" where Nexo seems to cater to a more "high-class" audience.
Yes, Nexo has more collateral options but with only a 50% loan-to-value ratio on those collateral options, that does not give you the most value for your favorite crypto assets. Nexo's credit card is unique and that is one advantage over YouHodler but then again, in its absence, YouHodler has other unique features like Multi HODL and universal crypto conversion.
Multi HODL is a feature not found on any other platform and is a very creative way to use a crypto-lending powered engine to multiply crypto in both bull and bear markets. This seems to be a useful tool for "active HODLers' who want to put their crypto to work for them and earn more even if the market is not in the green.
When it comes down to safety, security, and insurance, the two are more or less tied here. They both use Ledger Vault and claim to operate under industry best practices in terms of platform security. Of course, when using either of these platforms, everyone should consider the risk of keeping crypto on an exchange where you don't hold the keys. These platforms are enhanced with the use of a hardware wallet for long-term storage.
Lastly, Nexo has a larger client-base and longer resume but in my opinion, YouHodler is the perfect mix of value, trustability, creativity, and convenience that people should look for when it comes to crypto/fiat financial services.