I was born with hypermobile joints, especially in my knees, ankles, elbows and shoulders.
Hypermobility is a connective tissue condition (usually inherited) in which the body's collagen is more elastic than the 'norm', leading to increased flexibility. For some people, notably musicians, gymnasts, dancers and sports people, this natural flexibility gives a very useful advantage, though it leaves them more prone to injuries such as sprains and dislocations. In others, it can cause clumsiness, lack of spatial awareness and joint pain.
If I'm not making any conscious effort to stand differently, my knees will hyperextend backward and my ankles will cave inwards.
It's very easy for me to twist my ankles outwards if I'm walking on uneven terrains or during certain sports like football, where the grass provides a cushioned and slightly unstable landing pad for the feet. I've been aware of this condition for many years, but during the last year or so I've been struggling with pain around the right ankle especially. The pain intensifies after I play padel or tennis, and can linger for months unless I stop playing for a month or two.
I've decided to see what I can do to deal with this condition, and in this post, I'll be documenting my journey. The start date is November 2020.
Note that if you have just injured your ankle, the best thing to do is to follow the RICE methodology and apply heat or ice as necessary, and see a specialist. You might eventually also use EMS to treat the injury.
The first thing I did was to have an MRI scan and then consult a specialist, who told me that the clicking noises in my right ankle are from an old injury and are not of any special interest or concern to him.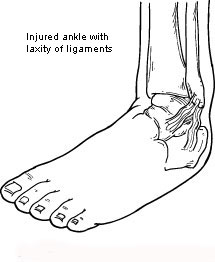 In evaluating and diagnosing your condition, the foot and ankle surgeon will ask you about any previous ankle injuries and instability. Then s/he will examine your ankle to check for tender areas, signs of swelling and instability of your ankle as shown in the illustration. X-rays or other imaging studies may be helpful in further evaluating the ankle.
Nonsurgical Treatment
Treatment for chronic ankle instability is based on the results of the examination and tests, as well as on the patient's level of activity. Nonsurgical treatment may include:
Physical therapy. Physical therapy involves various treatments and exercises to strengthen the ankle, improve balance and range of motion and retrain your muscles. As you progress through rehabilitation, you may also receive training that relates specifically to your activities or sport.
Bracing. Some patients wear an ankle brace to gain support for the ankle and keep the ankle from turning. Bracing also helps prevent additional ankle sprains.
Medications. Nonsteroidal anti-inflammatory drugs (NSAIDs), such as ibuprofen, may be prescribed to reduce pain and inflammation.
When Is Surgery Needed?
In some cases, the foot and ankle surgeon will recommend surgery based on the degree of instability or lack of response to nonsurgical approaches. Surgery usually involves repair or reconstruction of the damaged ligament(s). The surgeon will select the surgical procedure best suited for your case based on the severity of the instability and your activity level. The length of the recovery period will vary, depending on the procedure or procedures performed.
In my case, the surgeon confirmed that the main issue I have is lax ligaments, and suggested a few exercises to improve the condition. Surgery was not recommended at this point.
Nor was the use of ankle braces, since they make the brain rely on them and reduce the body's own skill of balancing and strengthening the area. Special orthotics help position the foot properly when striking the ground and are fine, so I will continue using my orthotic insoles.
Exercises
I find these exercises to be pretty boring, so in order to get myself to do them I am trying to work them into my routine and to listen to an interesting podcast while doing them so I don't get impatient.
Ankle Pumps – A very easy exercise. Just pump your ankle forward and backward into plantarflexion and dorsiflexion movement. Perform 10-15 repetitions several times a day on both feet. This can also be done with a theraband for extra difficulty.
Ankle Alphabet – Move the foot and ankle only by pretending your big toe is a pen, and draw the alphabet using capital letters.  Perform 1-2 times a day.
Calf Stretching – Hold each stretch for at least 30 seconds, three times on each leg, 2-3 times a day. This stretch shouldn't cause more than a mild increase in pain or discomfort.
These ankle resistance exercises. More examples here.
Foam rolling before and after training to get the blood pumping and legs warmed up.
Hip strengthening exercises as shown in the video below
Mobility Drills
I also use an agility or sprint ladder for many different exercises in my routine, but these specifically improve the ankle's stability:
Side Stepping – Progress the speed as pain allows and if you're not experiencing the feeling of instability.
Karaoke or Grapevine – Walk or run sideways while alternating the placement of the foot either in front or behind the other.
I am also attending a postural fitness center that I luckily have nearby. The exercises we do there are a cross between ballet, functional training and yoga. The method incorporates a lot of work with the ankles, including balancing exercises, so it should be very useful.
General Analysis
I really like this video where the physical trainer describes how he would analyse a patient.
Note that he mentions possible problems in the glute muscles, which I also have and am currently working on.
The one-leg stance with eyes closed is almost impossible for me to do at the moment, even though I have above average balance with my eyes open. This is something I'll be working on in order to get to the minimum acceptable time of 20 seconds with eyes closed as described in this video.
The safest way to do this exercise is to stand in a doorway while using your fingers to keep reference and support with the door frame as you start to gain confidence and eventually go hands-free.
Ankle Braces
For many, playing sports with an ankle brace is a good solution. For example, if you have lax ligaments, ultimately you will always be susceptible to twisting and spraining your ankle or overstressing the muscles in the ankle area. So it's better to wear an ankle brace in addition to the aforementioned exercises.
Here are the top ones in use within the tennis and padel world:
DJO Aircast A60 ankle brace – worn by Andrew Murray
ASO ankle brace – worn by Marta Marrero
Kallassy ankle brace – worn by Michael Chang
Donjoy Stabilizing ankle brace (or their Velocity version)
Further Reading
Other things I might try
The Alexander Technique is useful for many conditions and also just for improving breathing and posture, and is something I want to try at some point.
I will also be monitoring my children's joints to see if they have the same condition and if so, start them exercising early and avoid any joint degeneration due to the condition.