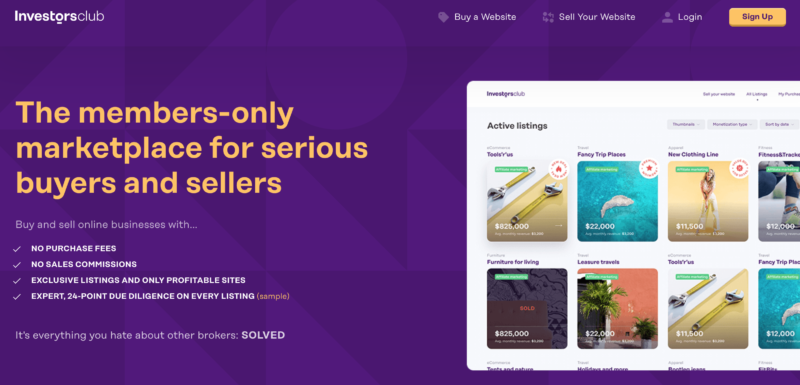 I've been involved in the web industry for around twenty years, and one thing that's always fascinated me is the possibility of buying and selling websites. I've touched on this in my guide to investing as well. While this has perhaps been the domain of technical people 10+ years ago, in the last few years we're seeing this type of investment hit the mainstream.
I've seen funds operating exclusively in this niche, whereby cash-rich investors would pour money into the fund, and the fund would then have its management team that would work on growing the portfolio of sites and then resell them for a profit, thus providing returns for investors.
The other option is to buy a website directly and either manage it yourself or build a team that can manage it for you. I'm seeing more and more people take the dive. As the web has become more user-friendly, non-technical people have built up the courage to learn the skills needed to manage a website and thus be able to switch industries or else build a profitable side income to supplement their day job.
I've written a post on the best places to buy and sell websites but I recently came across the new project of Andrej Ilisin: Investors Club.
So when I heard about his new project that aims to make buying and selling websites a more pleasant and safer experience, I reached out to him to see if he would be willing to share his knowledge on the topic.
So without further ado, here's Andrej's guide to website flipping and investing in digital assets. Both myself and Andrej look forward to reading and replying to your comments.
---
If you've never considered websites a serious investment opportunity or have never heard of website flipping at all, I don't blame you.
Buying and selling sites has silently become a multi-million dollar business over the last few years yet very few professional investors are taking advantage as compared to the traditional investment avenues like real estate or stocks.
And here lies the opportunity.
With the right guidance and preparation, you can find a high potential online business for as low as $10K to $15K and sell it off for 20x to 40x its monthly profits in around a year.
And that's beginner level stuff.
At Investors Club, we routinely facilitate website deals in the range of $50K to $500K+.
Sounds interesting?
Keep reading because, in this article, I'll tell you exactly how you can get started with website flipping and invest in highly profitable online businesses.
What Are Digital Assets?
Before I go into the details of this business model, let me quickly give you an introduction to digital assets.
A digital asset is any online platform, that you completely or partially own, which has a regular audience that can be monetized.
For example, domains and websites are the most popular digital assets where you can drive traffic and make money in lots of different ways.
Facebook Groups and Pages, YouTube Channels, and other social media profiles with lots of subscribers are also digital assets that you partially own.
An email subscriber base or a mobile app are other popular examples of digital assets.
All of them are traded online and people with the right skill set routinely profit by investing in them.
However, since this is a beginner's guide, we'll stay focused on websites – the most popular of all digital assets.
Website Flipping – How Investors Make Money 
So how exactly does website flipping or the business of buying and selling websites work?
Almost exactly the way investors flip real estate.
The whole business model consists of 4 main steps.
You identify and purchase sites that are making money but can be made much more profitable with a few technical improvements (this isn't as easy as it sounds, though).
You start making improvements to the site's content, branding, SEO, technical aspects, and anything else that can be improved so that the site's monthly earnings increase.
Once the site reaches new heights, you sell it off to another investor for a much higher price tag (or you can keep it for cash flow if that's what you prefer.)
The whole process takes anywhere between 6 months to 2 years depending on the condition of the site you acquire and your own goals.
There are countless examples of successful website investments.
For example, The New York Times acquired The Wirecutter, a famous product review site, for more than $30 million in 2016.
FreebiesFrenzy, a coupons and deals website sold for $145K on Flippa, is another example of a successful website acquisition.
Both these sites were started from scratch by their owners and were sold after they managed to build an audience and generate a sustainable income.
This usually takes several years.
Plus, starting a site yourself and growing it to this level requires several skills.
The faster route is to simply invest in a site that's already performing well and only needs to be improved a bit more to sell for a heavy price tag.
At least that's what I did in this case study.
This is where smart investors cash in.
But you should not purchase a site without consulting with an expert because identifying profitable sites is a complex task.
Let me quickly explain the three main steps of the business model in more detail.
Acquiring a Website
The most crucial step in this business is to identify and purchase the right website.
How do you know a site is right for investment?
Here are some key indicators:
The site is in a growing and evergreen industry where customers actively purchase products. For example, baby products & accessories, kitchen appliances, car accessories, or gaming keyboards, etc.
Sites that only target temporary trends (eg, fidget spinners, harry potter wand) or seasonal products (eg, new year discounts, Valentine's day gifts, etc.) should be avoided.
The site has been around for at least a year.
It is generating consistent revenue for the last 6-10 months.
It has a clean and authentic SEO profile that has never violated Google's search guidelines.
It attracts consistent traffic from search engines and other reliable sources.
It has a growing email subscriber base and a dedicated following on social media.
There's an opportunity to further diversify ad grow its monthly traffic.
There's room for further diversification and growth in revenue channels.
The site generates the majority of its income through passive sources and does not require a lot of time for maintenance.
You need to study each of these factors in detail. I can explain them in much more detail but that's not the objective right now.
Overall, if you find a site that meets these conditions, it's a good opportunity to invest your money.
Growing the Website
The objective of this stage is to improve the site from every aspect so that it can be sold for a much higher price.
Here are some of the main activities for this stage:
Improving the site's design, branding, and overall appearance.
Improving its technical performance areas like page load speed, mobile compatibility, user experience, etc.
Making the site more profitable by reducing expenses and streamlining the processes.
Adding new revenue channels to diversify the income portfolio, with a special focus on passive income sources.
Optimizing the conversion rate of the existing revenue channels
Optimizing the existing traffic channels
Adding new traffic sources.
Building and growing website assets like email subscriber base and social media profiles.
Automating, outsourcing, and streamlining as many of the website's operations as possible.
This duration of this stage depends on the condition in which you acquired the site.
It can be as short as 6 months and as long as a year or even 2 years. During this time, you'd have to bear the operational expenses of the site and invest more money in improving its overall performance.
But as you do that, the site's monthly income will gradually improve and might even completely pay off for its operations.
Once you grow the site to a level where it's generating a consistent income and generating regular traffic, it's time to cash out.
If you're not really into learning all the stuff I mentioned above, there are plenty of high-quality website operators out there who can do this for you. You can sit back and invest, and let the operators do the rest. 
Seling the Website
This is the stage where you find an investor who's looking to acquire a profitable site, just as you were in the first stage.
How much can you sell your site for?
There's no fixed rate but the general formula is to multiply a site's monthly profits by anywhere between 20 to 60 depending on several variables (site's age, traffic, niche, revenue sources, etc.)
For example, if you're selling a site that makes a profit of $5,000 per month by promoting Amazon products, you can sell it for around $120K minimum (24 times the monthly profits).
If the site's been around for more than 3 years or makes additional money from other sources like Adsense, eCommerce, dropshipping, or digital products, the selling price can go up drastically.
To know exactly what your site's worth, you can get a free valuation by going through the process we've outlined here.
So what exactly happens in this stage?
You start preparing for the sale at least 3 months in advance and try to maximize your traffic and monthly profits.
You list the site for sale with a brokerage firm like FE International, a private marketplace like Investors Club or a public marketplace like EmpireFlippers, etc. (here are a few more options)
You create a detailed sales listing for your site that highlights its strengths and the potential opportunities that the investors can benefit from.
You negotiate the deal with the interested parties and finalize everything.
Once the sale is made, both parties do the necessary legal documentation and paperwork.
The payment is made through Escrow.com or the website trading platform which holds it until you completely hand over the site to the new owner.
You collect the payment and disconnect from the site.
As a standard practice, you're required to offer at least 30 days of assistance to the new owners so that they can completely take charge of the site.
A lot happens in between these steps but I've kept it short just to give you an idea of the whole process.
Ways To Buy and Sell Websites
Whether you're looking to acquire an established site or sell your site to another investor, you can do it through the following channels.
Brokerage Firms
Private brokerage firms connect website buyers and sellers. Whether you want to buy a site or sell one, brokerage firms assist you from finding the right fit for closing the deal.
Closed Groups and Marketplaces
These are closed groups and communities of investors who buy and sell established online businesses.
Their listings are mostly exclusive and not available to outsiders.
They are ideal for serious professional investors who're looking for long-term investments and personalized support.
Investors Club is a prime example operates a private marketplace and a closed Facebook Group of 5K+ investors.
Public Marketplace Sites
These are publicly available website listings platforms where buyers and sellers interact and trade websites.
The advantage of marketplace platforms is the volume of traffic they attract. They're a good option for beginners with small budgets.
However, buyers and sellers need to be more cautious while purchasing sites from these platforms since the platform itself is not involved in the negotiations.
Flippa is the most popular public marketplace for website trading.
Direct Contact
This is the least popular method where you simply reach out to a site with an investment offer. Direct contacts work when you have a popular site or trade with someone you already know.
Otherwise, this option has several risks.
Reasons To Invest In a Profitable Website
There are dozens of reasons why website flipping is such a profitable business for investors. 
But I'll quickly highlight a few of them.
A Fast-Growing Market
According to Statista, global internet penetration is expected to touch 54% in 2021 up from 43% in 2014.
Hundreds of thousands of new people are getting access to the internet every day.
And this reflects in every niche.
These people are looking for information, tips, and resources on different websites.
In short, the demand for websites and online resources in increasing dramatically in every industry and you can take advantage by investing in them
Low Initial Investment
Website investments have a pretty low entry barrier as compared to real estate.
You can start with as low as $10,000 to acquire a profitable site.
In the $30K-$50 range, you can acquire a well-established site.
High Returns in a Short Time
If you acquire an established site, you can sell it off for 1.5x-3x the price in just under a year (if you manage to improve it.).
Where else can you get that kind of a return?
Multiple Monetization Options
Even while you're holding on to a site, there are dozens of ways you can monetize it to make extra money.
The more money you make and the more revenue channels you add, the more valuable your site becomes.
Easy To Cash Out
Profitable websites are hot cash.
If you've prepared well, you can sell your site within days of listing it.
The Skills You Need To Buy and Sell Websites for a Profit
Managing, growing, and selling websites requires certain skills.
If you're doing everything yourself, you need to have these skills. As an investor, however, you can outsource the management part to a team of skilled professionals as well.
Here are the key skills you need.
Search Engine Optimization (SEO)
You need SEO to drive organic traffic from Google Search and other search engines. Without SEO, it's almost impossible to establish a profitable online business that earns passive income.
Lead Generation
Attracting lead and prospects to your site is a separate skill that requires a mix of organic and paid marketing methods. 
Conversion Rate Optimization (CRO)
Converting your visitors into customers and getting more clicks on your affiliate links is the key to improving your site's profitability. 
Content Marketing
Building a loyal audience and establishing yourself as an industry expert by publishing high-quality content is one of the most valuable marketing skills today.
It's a long-term investment that pays off big time.
Should You Invest In the Website Flipping Business?
Website flipping is a huge money-making opportunity for professional investors and even beginners.
But it's not for everyone.
You should stay away from it if,
You can't invest at least $10K as an initial investment.
You can't hold onto a site for at least a year.
You don't have skills or the resources to run and grow a site (or hire professional help)
But you should definitely invest if you're,
Ready to seek professional guidance on website flipping.
Prepared to invest upfront and hold for at least a year.
Looking to grow an online empire by reinvesting your profits into more acquisitions.
As an investor myself, with a diversified investment portfolio, I truly consider website flipping as one of the most amazing investment opportunities right now.
If you want to learn more about it, I've published a MUCH bigger guide which goes into a LOT more details of this business. 
Or you could drop me an email and learn more about the potential opportunities we have for you.
Or just comment below and I'd love to respond.
Niches That I Like
Jean again; I hope you enjoyed this article from Andrej.
Below I'll list a few more good links if you're interested in this topic. As Andrej mentioned, please do leave your questions and comments below if you want to hear my thoughts or those of Andrej.