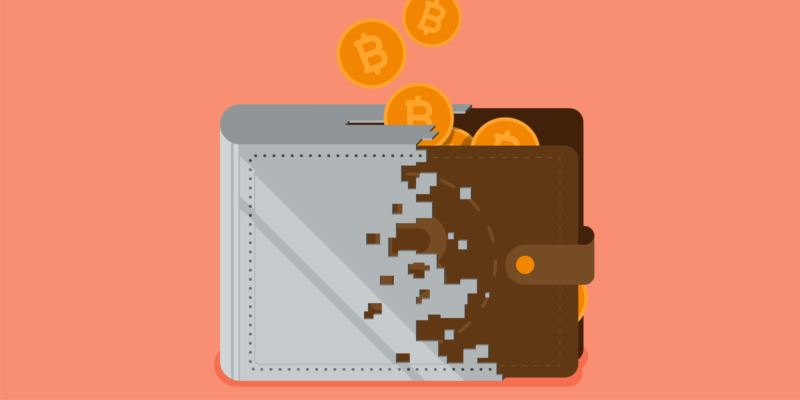 Crypto storage is an extremely important topic. There are countless options out there to consider but not every Bitcoin wallet is the same. Every Bitcoin wallet app comes with its own set of features and today, we're going to highlight a few of them you should consider. The following bitcoin wallets are not just great for safe storage, but they also feature unique tools that help you manage your crypto portfolio efficiently, effectively, and ideally, profitably.
First up on your list is YouHodler. YouHodler has crypto wallets of varieties but as for the Bitcoin wallet, it is quite unique in that it lets you earn interest, in addition to taking advantage of Bitcoin multiplication features.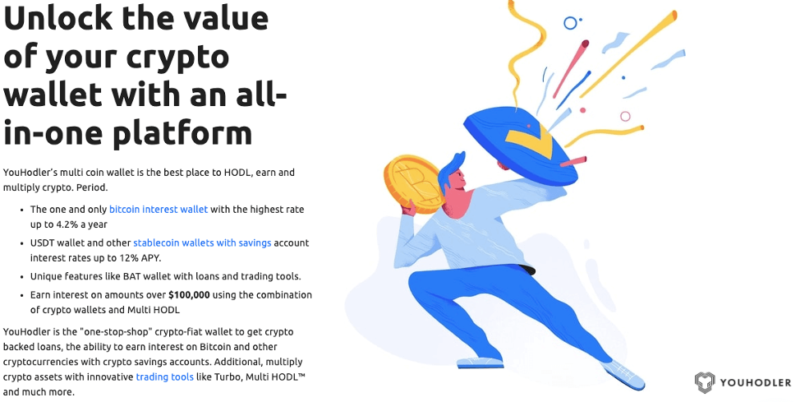 Earn Interest on Crypto
YouHodler is the only crypto wallet app that lets clients earn up to 12% APR + compounding interest on various stable coins and cryptocurrencies.
Users can earn interest in Bitcoin in addition to top cryptos like ETH, LINK, LTC, BCH, XRP, and more. Stablecoins featured on the platform are USDC, USDT, TUSD, PAXG, PAX, HUSD, BUSD, DAI, and EURS. Every Bitcoin wallet app needs to have good security and insurance and YouHodler has one of the best.
Insurance Via Ledger Vault
Clients of this wallet benefit from Ledger Vault's pooled crime insurance program. Crypto assets on the platform are insured up to $150 million which is led by the highly regarded Arch UK Lloyds of London syndicate. This insurance plan covers a variety of risks like employee theft, collusion, third party theft of master keys/private keys, and the event of a physical breach of hardware security.
Crypto Conversion and Multiplication
While most Bitcoin wallets are just for storing Bitcoin, YouHodler includes a few additional features as well. Using the platform's universal conversion tool, clients can buy Bitcoin and any other cryptocurrency in the app in addition to converting any other currency without limitations at competitive conversion rates. For the more advanced traders out there, YouHodler's wallet also has two tools called Turbocharge and Multi HODL.
Simply put, Turbocharge and Multi HODL let clients take loans as leverage to either long or short the crypto market. It's a great way to use small amounts of starting capital with the potential for larger profits.
As for withdrawal fees, YouHodler has no deposit or withdrawal fees for Bitcoin and other top cryptocurrencies. However, there are some small withdrawal fees for select stablecoins and cryptos. Regarding fiat deposit and withdrawal, that is an easy process with most Visa/Mastercard options and bank wire options available. Perhaps the best part is there is no minimum deposit amount for crypto on YouHodler, making this a great option for entry-level crypto enthusiasts and experts alike.
2. Ledger Nano X Bitcoin wallet and crypto wallet
There's an old saying in the crypto world "not your keys, not your crypto". The keys of course refer to private keys and the logic behind that is if you don't know your private keys, then really, the wallet is at high risk. As a result, "cold storage wallets" have really taken off in recent years and the Ledger Nano X is one of the best out there.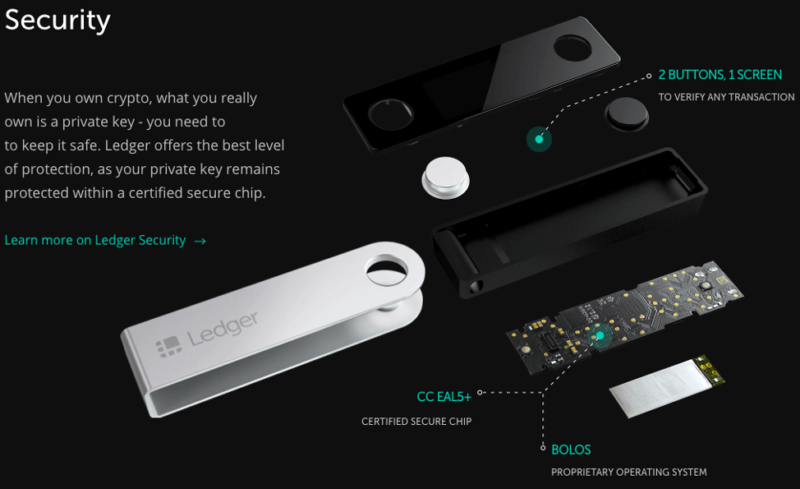 Compatibility and Price
The Ledger Nano X is more than just a bitcoin wallet. This wallet is compatible with over 1,500 different cryptocurrencies and can even sync up with hot wallets via Bluetooth technology or via good old fashioned USB. Surely, something this advanced must be expensive right? At $150, the Ledger Nano X is actually one of the more affordable cold storage bitcoin wallets out there.
Manage Portfolio with Ledger Live Software
Another great addition to this device is the software that comes with it. Just like with other bitcoin wallet apps, the Ledger Live app allows you to see your transaction in a visual format, even though it's a cold storage hardware device. You can buy Bitcoin and crypto with this software as well as manage your transactions, check portfolio growth, and send and receive crypto.
Typically, cold wallets are challenging to use but this one is great for all skill levels and above all, it's extremely safe. That being said, not even hardware wallets are 100% safe from fraudulent activity. As always, be careful of fake emails or text messages from the scammers claiming to be from Ledger asking you for your private keys or pin code. There have been reports of people losing their crypto from such phishing scams so always be cautious of anyone asking for private information regarding your funds.
3. Exodus
Moving on from hardware wallets and back to bitcoin wallet apps, we have Exodus. As mentioned earlier, there is a whole new wave of crypto users entering the market now and many are overwhelmed with the features of some bitcoin wallets out there. If this sounds like you or someone you know, then perhaps Exodus is the best bitcoin wallet for you. Exodus is well known as the easy to use wallet for beginners.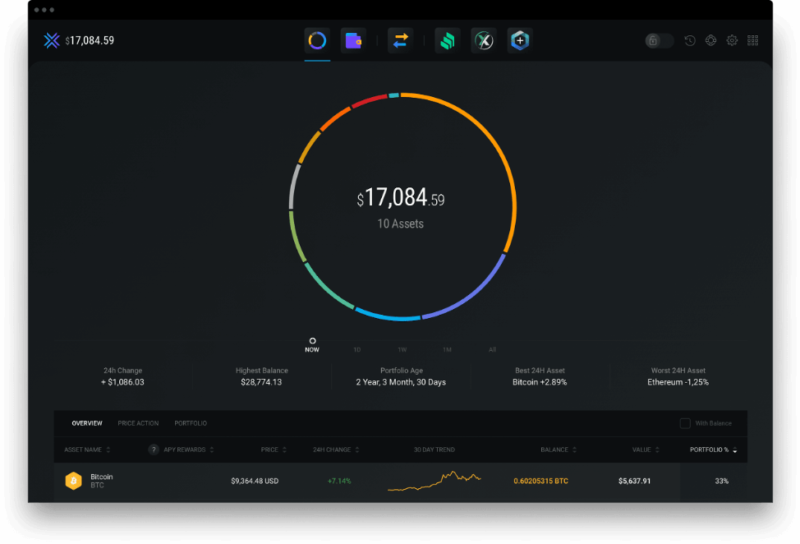 Interface
You can see the interface is extremely intuitive and easy to use. With a built-in exchange feature, buying Bitcoin and trading crypto is extremely easy and also, quite safe. Even though it is a hot wallet storage device, meaning the wallet is fully "online" Exodus remains a safe option and has not been hit with any major attacks.
Customer Support
In addition to having a great tech team on board, it seems Exodus has outstanding customer support as well. Again, this goes back to a key feature for beginners who are just learning the ins and outs of cryptocurrency. It's nice to have someone online to chat with about any questions (no matter how stupid they are) without judgment. Exodus has that and if you're looking to get a crash course on all things crypto, their customer support chat is a good place to start.
The Downside for Advanced Crypto Traders
While being simple and user-friendly is certainly a big plus for beginners,  the more advanced crypto users out there may see this as a downside. When it comes to advanced features, Exodus is severely lacking and since it is a closed source wallet, the code is not available for anyone and everyone to see. This is a security concern for some who prefer a more "hands-on approach" to their crypto. Beginners may be completely fine trusting the Exodus team with their crypto but this could be a minor red flag for tech-savvy blockchain enthusiasts out there.
All that being said, Exodus is clean and simple. Perfect for those just learning how to navigate the market.
In many ways, Exodus was a perfect segue into our next bitcoin wallet (which also starts with an "E"). Electrum is a bitcoin wallet that is the opposite of user friendly but extremely loaded with great features. For those that are more advanced crypto traders or long-term holders, then Electrum is the one for you. Electrum is fully open source, meaning since its creation in 2011, Electrum has been modified by various developers/clients. Now, you don't have to be a developer to use it. Anyone can, but it's nice to have this open-source feature for the techies out there.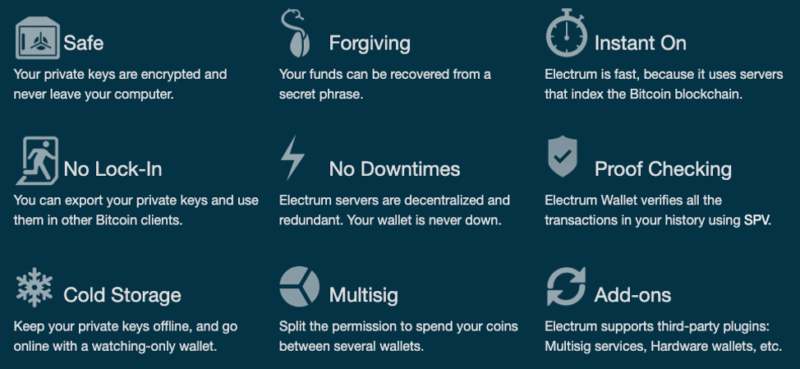 Up until recently, Electrum was only computer-based but has since added applications for Android. While that may be a tad inconvenient for iOS users, it is actually very secure. On the computer, private keys are encrypted and never leave your computer. Your Bitcoin wallet is only accessible through a secret seed phrase. All private keys are yours and are stored entirely offline. Furthermore, your private key is never shared with the server that connects the Bitcoin network to Electrum. The server doesn't store accounts and never asks for any personal information.
Lastly, remember Ledger, the hardware wallet we discussed earlier? Good news for Ledger fans here. Electrum was developed in such a way that supports hardware wallets like Ledger. Hence, your private keys can be stored safely offline on the hardware wallet while you can use Electrum's software to send and receive crypto whenever you wish if you prefer Electrum over the Ledger Live software.
Another downside to Electrum is the supported coins. Electrum only supports Bitcoin, making this the Bitcoin wallet for the true Bitcoin maximalists. That aside, Electrum is a very safe Bitcoin wallet that's fast and stable. The Bitcoin community has truly embraced this app as "their wallet" and as a result, they make sure to take great care of it.
Last but certainly not least, we have Kraken. Kraken is widely considered to be more of an exchange than a mere Bitcoin wallet but it makes this list for good reasons Actually, for several good reasons. Kraken is extremely secure and fully regulated, meaning you can trust them to keep your beloved crypto safe and secure. In addition, it's a very popular crypto exchange meaning that comes with very competitive fees and high liquidity. It's neither expensive nor difficult to trade crypto there. We could go deep into their advanced trading features if we want to but since this is an article on Bitcoin wallets, let's just focus on a few key points.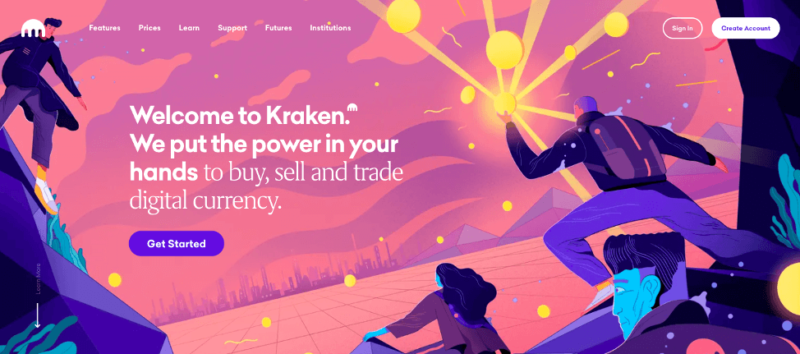 Like YouHodler and Exodus, Kraken was designed with user experience in mind. It's a very simple website that is easy to use for beginners but also has some advanced features for those more experienced investors as well. However, the signing up process is quick and very simple. Signing up, verifying your identity, and then depositing funds takes only a few minutes. If something goes wrong in the process, their customer support team is there to help.
Fiat and Crypto Options
Since Kraken is one of the most popular exchanges out there, users can enjoy a wide array of both fiat and digital currencies. USD, GBP, CAD, CHF, JPY, and AUD are all available to help you buy Bitcoin and other cryptocurrencies in addition to more than 50 unique crypto assets to trade with. Regarding safety, Kraken is one of the best out there, with no attacks since 2016.
Platform Security
Even back in 2016, the hack was extremely small, where only a minor amount of small accounts were compromised. Since then, the exchange hasn't had a single issue, which is no easy task in today's industry. Kraken states that 95% of client's assets are stored in offline, cold wallet facilities. If you're someone who likes an extremely secure Bitcoin wallet, then they have additional features like two-factor authentication to help minimize security risk even further.
Regulatory Participation
What makes Kraken unique compared to other bitcoin wallets is regulation. The company is regulated by several authorities around the world such as FCA (UK), FinCEN (USA), AUSTRAC (Australia), FSA (Japan), and FinTRAC (Canada). This means they are forced to comply with all regulatory and legal frameworks in those countries, adding a nice layer of personal comfort to what is already a super safe platform.
Bitcoin wallet roundup: Which one is the best?
We've covered five amazing Bitcoin wallets here today, each one bringing something unique to the table. As for which one is the best, that one is for you to decide. Just to review, YouHodler does seem like the most "complete" Bitcoin wallet as it allows users to get a crypto-backed loan, earn interest on crypto, convert crypto, securely store crypto and multiply crypto via innovative lending tools. However, it may be good to use that in tandem with a hardware wallet such as the Ledger Nano X as well. That way, you get the best of both worlds in terms of Bitcoin wallet functionality and security.
As for the other wallets on this list, they are certainly worth researching as well. Crypto is very much a self-service industry and the more you research on your own, the better your decisions will be. In the meantime, we hope this review was helpful to you, and stay tuned for many more like it!