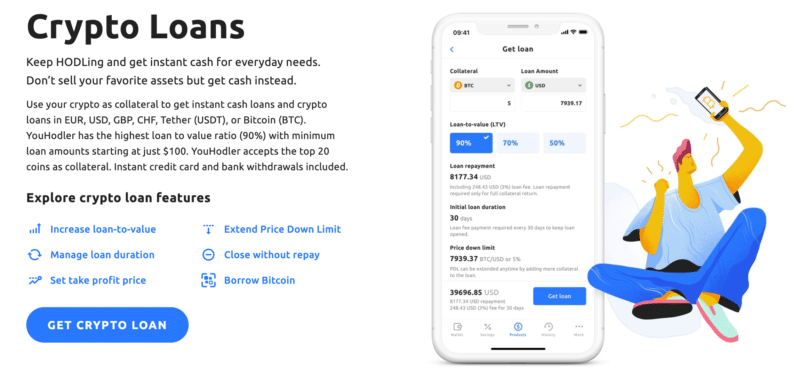 Earn interest on crypto
Did you know that you could earn interest on Bitcoin, Ethereum and other crypto-assets that you own?
Bitcoin has been criticized by certain people in the past for being an asset that does not yield any dividends, but this argument no longer holds any water.
Many crypto investors store their digital assets on exchanges like Kraken, Binance and Coinbase for long-term safekeeping. Doing so means they are assuming counterparty risk, however, so in my opinion, if you're going to opt for keeping your crypto with a third-party custodian, you might as well put it to work.
These are my favorite crypto lending platforms where you can earn interest on your crypto and also obtain loans by providing crypto as collateral.
Midas.Investments – higher interest rates on crypto
BlockFi – biggest and most established crypto lender
YouHodler – biggest number of cryptos supported, lowest fees
Ledn – specialized in Bitcoin borrowing and lending
Nexo – best all-rounder in terms of provided services
Nuri – earn interest in Bitcoin from a German bank
Alternatively, you can store your crypto in cold storage, but you won't be able to grow your wealth in that way unless your crypto asset prices appreciate over time.
In this post, I'll show you how you can earn 5% and upwards on your Bitcoin by using the interest accounts on the platforms featured here.
Most of the platforms I will describe help you earn interest on your crypto by implementing some form of lending. I have written extensively about my P2P lending experience and my favorite P2P lending platforms, but today we'll add the crypto factor into the mix – hence we will be talking about crypto-backed loans. In my opinion, as an investor, the addition of crypto as collateral marks a huge improvement over the traditional P2P lending platforms, which can lack transparency and that mostly work with no collateral.
Crypto lending is becoming a huge industry, and we can take a look at Google trends to verify this. Have a look at the chart showing a strong worldwide uptick in interest in crypto lending options over the past three years.

Let's take a look at the best platforms available. One of the important things to note before we start is that these platforms exclude fewer people than traditional P2P lending platforms. While the traditional platforms operate within very strict geographical limitations, with crypto lending platforms basically anyone who holds crypto can participate.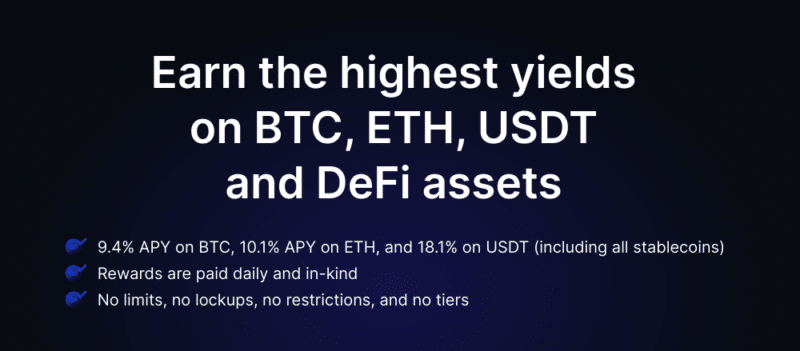 Midas.Investments is a custodial crypto-investment platform that aims to provide investors with unparalleled returns from the DeFi market.
The platform was founded in 2018, has 7K+ active investors earning daily yield and $200M+ TLV with over 20 assets available for yield.
Some headline-grabbing rates including Bitcoin at 9.4% APY, Ethereum at 10.1% APY and Tether (plus other stablecoins e.g. USDT and USDC) at 18.1% APY.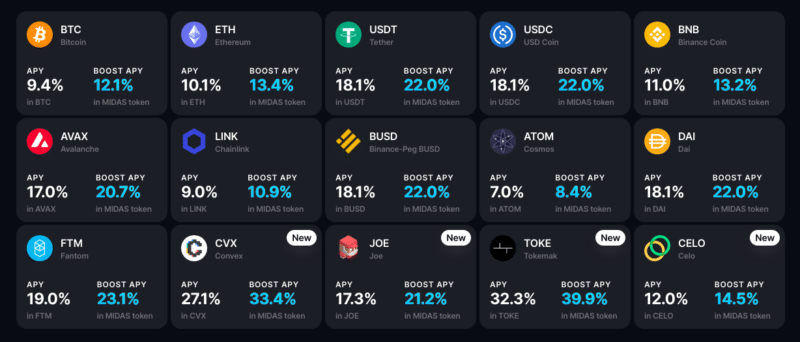 Yield is generated using different models of volatility prediction, correlation, strategies, collateral asset models, and hedging. The hedged strategies include the following investment instruments:
Concentrated liquidity provider on Uniswap V3
Providing concentrated liquidity for two assets in a chosen price range (eg. ±5%). The smaller the price range, the more fees that are earned. If the price goes beyond the custom range, the liquidity is swapped to the asset.
Borrowing for target asset's collateral to free liquidity
Used as a combination with another strategy and performs extremely well in terms of USD increase.
Hedged and leveraged token/liquidity farming
Combining assets with USDT or any other stable allows earning more assets during market pullbacks due to impermanent loss, which increases the asset amount.
DeFi Yield vaults
The product of decentralized hedge funds, such as YFI. These strategies are designed to maximize the return of assets to the vaults.
Asset+Stable liquidity provider to hedge from market pullbacks
Combining assets with USDT or any other stable allows earning more assets during market pullbacks due to impermanent loss. This increases the asset amount. Additionally, asset+stable liquidity pools are hardly incentivized by protocols since it is one of the most used trading pairs.
There's plenty of information available about the platform on the website, including the team profiles. You can also join the Telegram chat or Midas Discord.
I've gone through the blog and wiki which are very informative, and what I'd expect from such a platform. Since crypto and yield generation are new topics for many people, platforms like Midas have a very important role in educating their users and backing up their promises with clear information on how gains are achieved.
Midas.investments, in my opinion, is a good platform for those who feel comfortable with DeFi and its riskier profile. In exchange for the extra risks, you get significantly higher returns. It's worth mentioning that these yields are guaranteed, whereas on other platforms or DeFi dapps the yield rate is variable and what you see when you initially deposit your money can be very different from the return you ultimately achieve.
Earn interest with Midas.Investments
BlockFi – Overall Best Crypto Lending Platform

BlockFi offers two products to investors:
BlockFi Interest account
Crypto-backed loans
The BlockFi Interest Account (BIA) lets you put your crypto to work and earn monthly interest payments in the asset-type that you deposit with BlockFi.
BlockFi clients using the BIA earn compound interest in crypto, significantly increasing their Bitcoin, Ether, and Gemini Dollar (GUSD) balances over time.
Crypto-backed loans allow you to access liquidity without selling. By using your crypto as collateral, you can unlock up to 50% of the value of your assets in USD. You can obtain a loan within a day (in USD or stablecoins).
BlockFi clients use crypto-backed loans to do anything from paying off credit card debt to buying a home. Businesses turn to BlockFi to help them with payroll financing and business expansion. There are many advantages to borrowing instead of selling, including tax benefits.
With BlockFi you can earn up to 8.6% on your crypto. Note that this product is focused on USD, not on any other fiat currency, and while there is no big downside there, it's worth noting that if you are using a EUR or GBP based stablecoin you will need to convert those coins to a USD stablecoin like USDC or GUSD in order to start earning interest in a BlockFi interest account.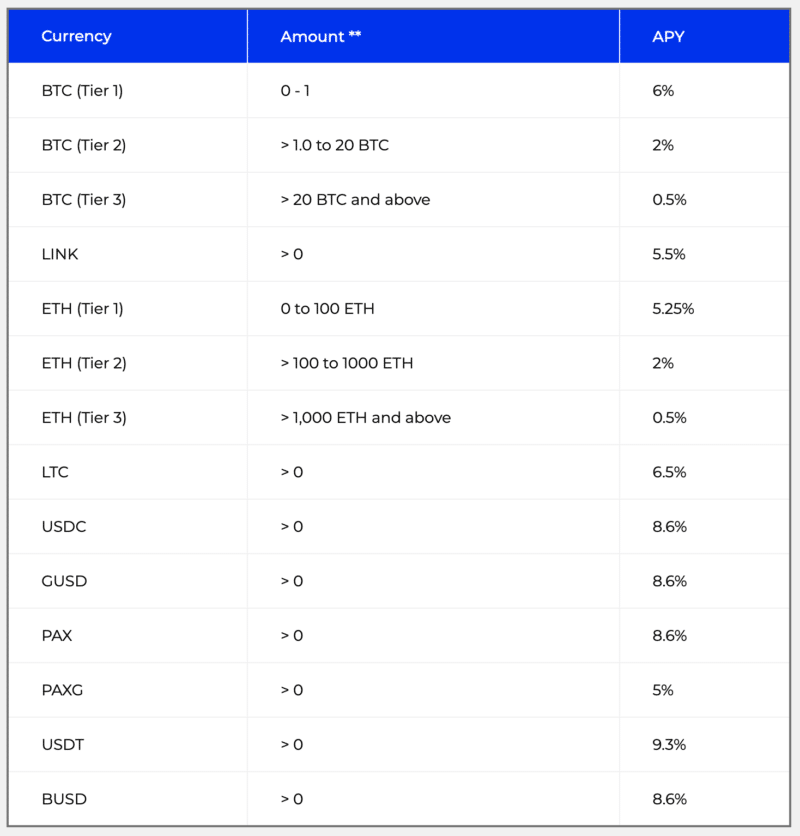 BlockFi offers a rate of up to 6% on Bitcoin, which is one of the highest rates I've seen. On the other hand, there are withdrawal fees that need to be kept in mind, which average around €35 per withdrawal.
You are given one free withdrawal per month, however, which should be sufficient for most long-term crypto holders who just want to place their money in secure custody and earn interest. They wouldn't be doing many withdrawals anyway.
BlockFi's crypto-backed loans allow you to access liquidity without selling, which has great tax benefits and lets you stay in the crypto game. By using your crypto as collateral, you can unlock up to 50% of the value of your assets in USD. BlockFi funds within the same day through wire transfer or stablecoin.
BlockFi clients use crypto-backed loans to do anything from paying off credit card debt to buying a home. Businesses turn to BlockFi to help them with payroll financing and business expansion. There are many advantages to borrowing instead of selling, including tax benefits.
With BlockFi you can earn up to 8.6% on your crypto. Note that this product is focused on USD, not on any other fiat currency, and while there is no big downside there, it's worth noting that if you are using a EUR or GBP based stablecoin you will need to convert those coins to a USD stablecoin like USDC or GUSD in order to start earning interest in a BlockFi interest account.
In 2020 alone, BlockFi distributed more than $50 million in monthly interest payments to their clients.
Read my in-depth BlockFi review or just hit this link to begin earning interest on your crypto or obtain a loan.
BlockFi also offer a Bitcoin Rewards Credit Card. Cardholders are able to earn 1.5% back in bitcoin on every transaction. It's an intuitive and easy way for people to access a new asset class, and it's going to fundamentally change the way credit card rewards work.
The newly redesigned BlockFi mobile app empowers clients to take the BlockFi platform with them everywhere they go. You can transfer funds using ACH and wire payments, and they've added support for a wide range of currencies, including Litecoin (LTC), USD Coin (USDC), Tether (USDT) (USDT is available to non-U.S. clients only), and PAX Gold (PAXG), the first cryptocurrency that lets you directly invest in gold.
I'm very excited about the next innovations that are coming from BlockFi, and I regard this platform as one of the very best ways to make money on crypto. If you're not a trader but you're happy to hold your cryptos long term, this is one of the best ways to make profits off your cryptos, especially in the case of cryptos like Bitcoin that do not inherently provide any kind of returns for holders.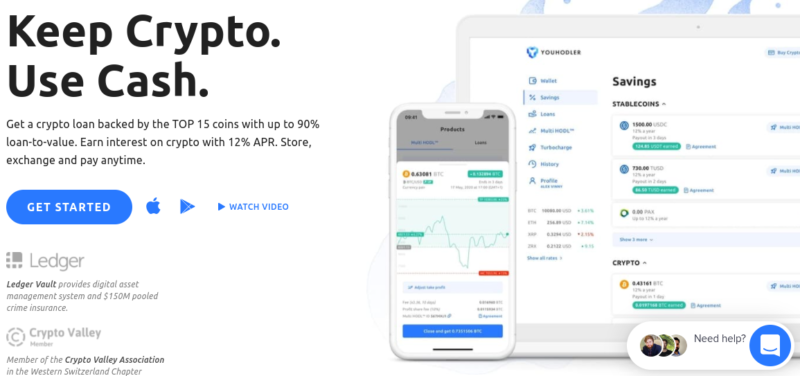 YouHodler offers an extensive set of crypto-fiat financial services. In its essence, the platform intends to help investors take advantage of cryptocurrencies, without having to actively trade them.
YouHodler has managed to make crypto-HODLing an active strategy. For investors, access to a crypto-exclusive savings account and interest-bearing loans are preferable ways to expand your portfolio.
This solves an instant issue with digital currencies – opportunity costs. That is to say, rather than leaving your digital coins sitting idle in a private wallet, YouHodler allows you to earn a yield on your holdings. At the same time, you get to keep hold of your investment and thus – you can cash out your coins whenever you see fit.
YouHodler implements some innovative strategies to boost your returns, so it is an ideal platform for those who like to tweak things and see what works best. The company is registered in Cyprus and is regulated in Europe, while client funds are stored securely within the Ledger Vault platform.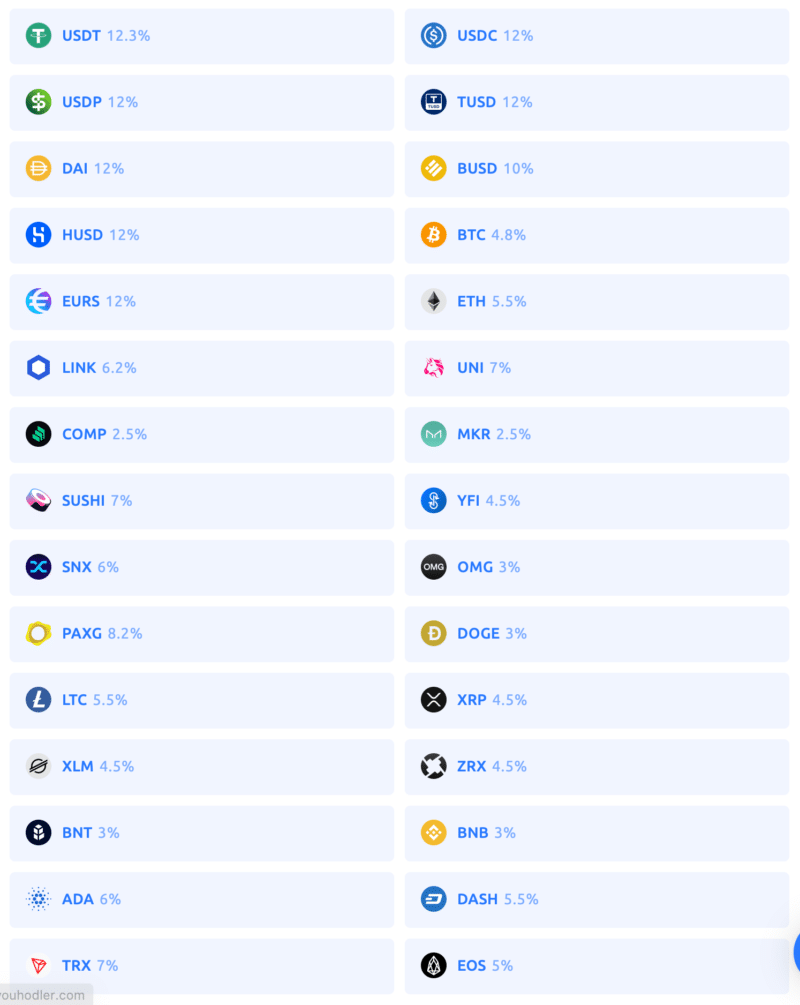 You can also use YouHodler as an exchange to trade cryptocurrencies. If you've already made some amazing profits on your Bitcoin, perhaps it's time to give yourself a break. For example, YouHodler savings accounts pay 12% annual interest on stablecoins. Hence, you could do a Bitcoin to fiat exchange with just a 2% fee right on our platform, and then convert fiat to your favorite stablecoin in orer to start earning interest.
You can read my full review of YouHodler if you want to learn more about this platform, or just click the link below to go to the Youhodler website directly and get started.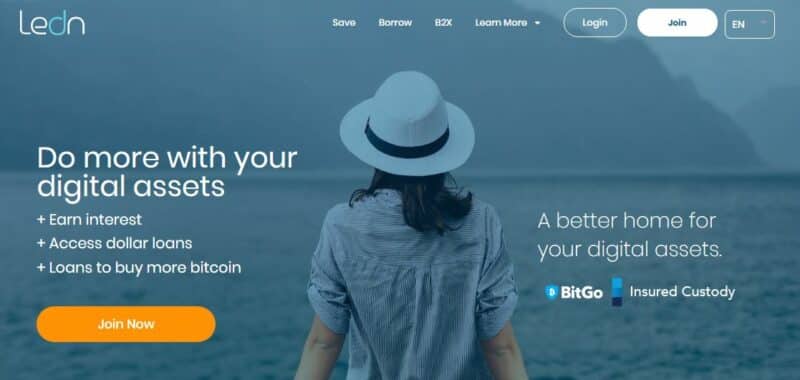 Canadian-based Ledn is a robust and secure platform where you can maximise your Bitcoin holdings, earn more Bitcoin or secure a loan against your Bitcoin without selling it.
Ledn is one of the best options for a Bitcoin-specific loan or savings account. They are committed to Bitcoin and do not offer other crypto offerings. While this can be a negative point to some, I appreciate the fact that they are not going after the shiny (but less secure) crypto flavors of the day and focusing on Bitcoin. This allows them to focus all their energies on securing one cryptocurrency, which makes sense to me.
They also implemented proof of reserves attestations as of January 2021, and that is a major factor in building confidence in the platform. Users can now know for sure that Ledn has the funds it says it has, unlike other providers where it is all based on trust.
You can check out my full review of Ledn or even listen to my podcast with Ledn cofounder Mauricio Di Bartolomeo on Mastermind.fm.
Ledn offers three main products:
Bitcoin-backed loans – for those who want to avoid creating a taxable event while unlocking liquidity from their bitcoin holdings.
Bitcoin & USDC Savings Accounts – an excellent place to park your bitcoin and USDC while earning up to 6.10% APY in Bitcoin or 11% APY in USDC totally passively.
B2X – a quick and simple way to double your bitcoin balance through a Bitcoin-backed loan and a bitcoin purchase.
One significant advantage of Ledn over BlockFi is their more generous yields on BTC. BlockFi only offer 6% on the 1st Bitcoin, while Ledn offer 6.10% on the first 2 Bitcoins held with them. If you have, say, 3 BTC to put on such platforms, you could split them between the two platforms and thus obtain a bit more than 6% on average on all your BTC.

Ledn use BitGo, one of the world's most respected crypto custodians, for storing their crypto in cold storage.
Note that their attractive B2X product is not available in certain jurisdictions, including the United States.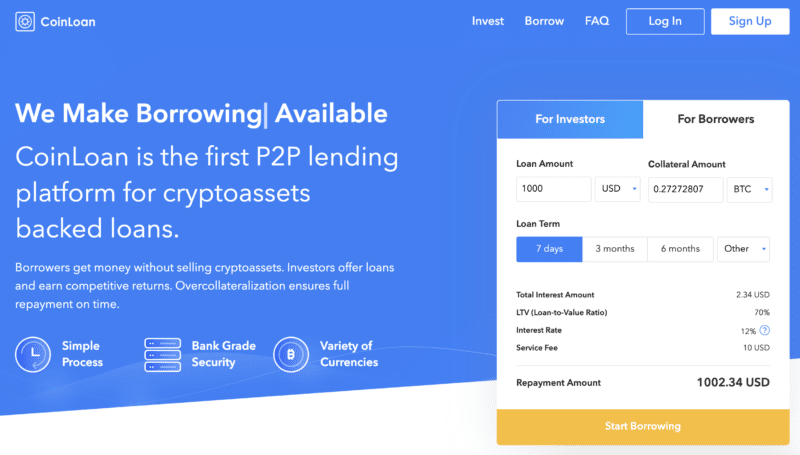 CoinLoan is a P2P lending platform for cryptoassets backed loans, based in Estonia.
Here's how it works.
As a lender you first deposit fiat funds or stablecoins. The borrower, on the other hand, deposits cryptoassets to secure a loan.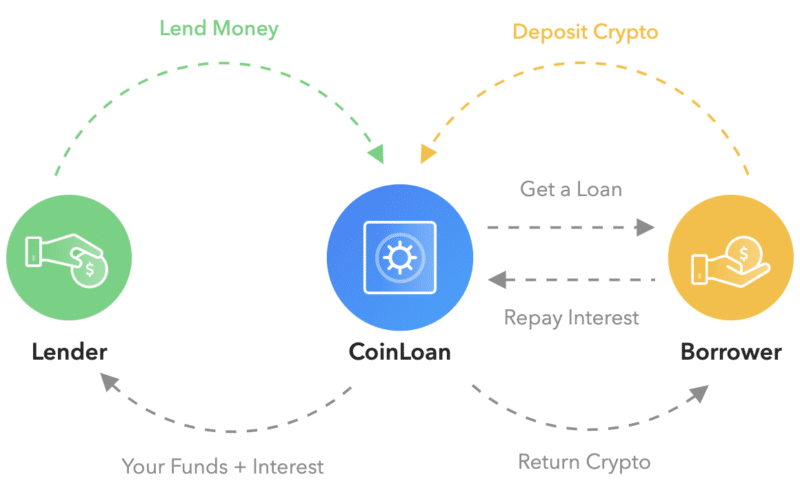 Once the lender and the borrower are matched, a smart contract is used to ensure the borrower pays on time, else he would risk his crypto collateral.
Once the loan is paid off, the lender gets his principal returned plus interests, while the crypto assets are returned to the borrower.
Read more: My in-depth review of Coinloan
Lenders have a significant benefit in thus having the ability to lend to people with verified collateral available. CoinLoan acts as the custodian for a safe and clear experience.
It's worth noting that CoinLoan is licensed in Europe and well regulated. The platform also implements an AML policy.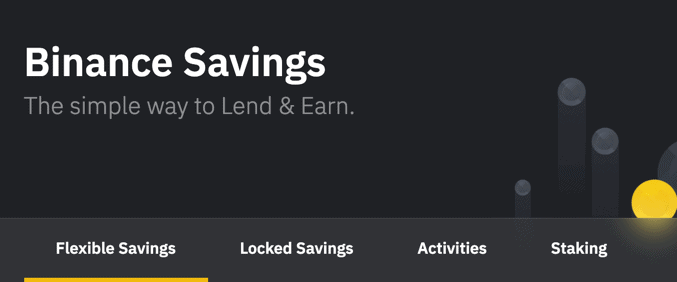 With Binance, you have several ways of earning money on your cryptos.
Flexible Savings
The easiest way is probably using their Flexible Savings product. Flexible Savings is your Crypto savings account. Subscribe your crypto to earn interest, with the flexibility to redeem your funds at any time.
To quote a few estimated annual yields available at the moment, we have:
BUSD at 2.44%
USDT at 2.11%
DASH at 1.83%
There are 24 coins you can use for the flexible savings account.
Locked Savings
For higher returns, you will want to opt for the Locked Savings product. By subscribing your crypto to locked savings periods you will in return get higher interest earnings. You can choose from several durations depending on the coin you are using, but it's typically one or more options from the following:
7 Days
14 Days
30 Days
90 Days
For example, with BUSD you get an annualized interest rate of 7.42% at the time of writing, while USDT gives you 6.79%. Both of these are stablecoins that can be easily bought from the Binance exchange itself.
See also: How to earn interest on crypto with Binance
The range of coins available for locked savings is more limited, we can only choose between 6 coins: BUSD, USDT, COCOS, ONE, EOS.
Staking
You might have heard of staking, which can be used for those coins that use a Proof-of-Stake mining mechanism. With Binance you can stake 24 different coins, with the returns varying significantly between one coin and another. Among the highest yielding are KAVA (14-16%), LOOM (10-12%) and ZIL (8-10%)
Earn money on crypto with Binance

Crypto.com is not your everyday exchange as it allows you to buy, sell and trade crypto and offer crypto-backed loans as well as debit cards.
A great additional feature of Crypto.com is the earning opportunity. Currently, you can earn up to 14% on stablecoins and 8.5% on traditional cryptocurrencies. The current token rewards rate depends on the type of coin, length of time, and CRO you can hold.
See also: YouHodler vs BlockFi vs Crypto.com
There are three holding term options available:
Flexible holding term
1-month fixed term
3-month fixed term
Once you stake CRO tokens for 180 days or longer, you become eligible to apply for a Crypto.com Visa Card. The Earn feature is available for everyone to use apart from Hong Kong SAR, Switzerland, or Malta citizens.
Read my in-depth Crypto.com review or start earning interest on your crypto immediately.
Nexo – The All-Round Financial Service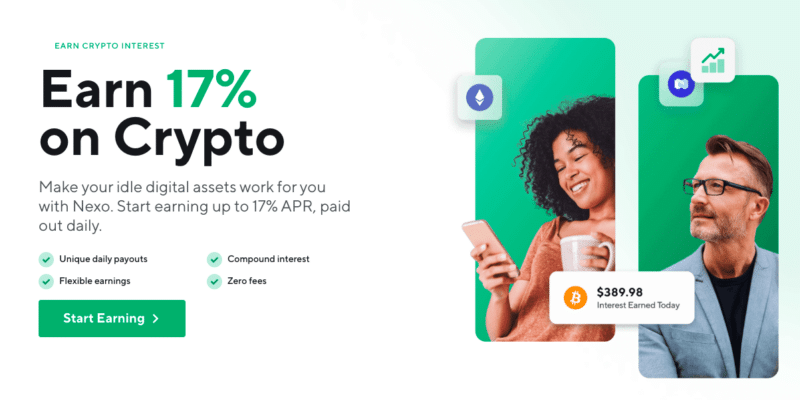 Nexo is an excellent platform for those investors seeking an active strategy for their crypto holdings by providing access to a crypto-exclusive savings account, interest-bearing loans, crypto exchange and a Nexo card which will give you access to fiat without needing to sell your crypto.
Once you top up and buy crypto you can start earning up to 17% annual interest immediately without further action being required from your side. Apart from earning interest on cryptocurrencies, you can also earn up to 12% APR on USDx, EURx and GBPx stablecoins. The actual APR is determined based on Loyalty Tiers depending on the ratio of Nexo Tokens against the balance of other assets in your portfolio.
Read my in-depth review of Nexo's plethora of services here.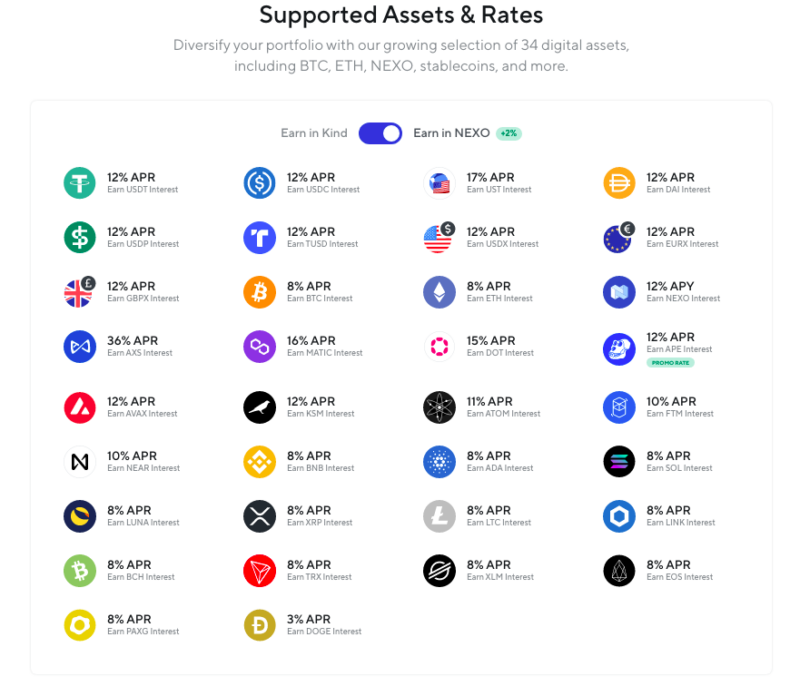 Nexo also offers crypto-backed loans where your digital assets act as collateral without any further need for a credit assessment. Put simply, Nexo gives you fiat or stablecoins, and you provide crypto as security for repayment. Apart from the tax benefit associated with not selling your crypto, Nexo provides you with the opportunity to access fiat funds at the touch of a button, something that with legacy banks is unimaginable.
Nuri – Earn interest in Bitcoin from a German bank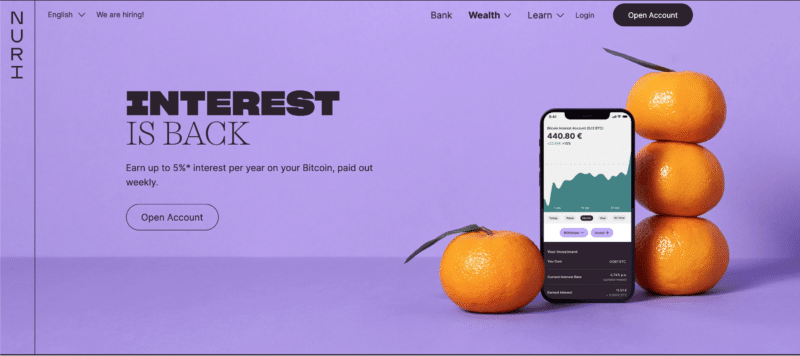 What makes Nuri unique is the opportunity to earn interest on BTC inside a regular bank account. Thanks to their partnership with Celsius, a network specializing in Defi loans, you can invest your crypto and get rewarded with interest.
The interest fluctuates weekly, but you can currently earn up to 3.95% once you deposit your BTC in your account.
You can start investing with as little as €10. Nuri calculates interest for as long as you hold the coins in your account. The reward payouts are on Mondays, and there is no minimum time that you need to wait to start earning. The only fee you incur is a small network fee, and you can cash out at any time. There is no penalty fee.
Read more: My detailed review of Nuri.
By creating your first savings plan through through this link and let it run for 3 consecutive months, you will receive a 30 EUR bonus. This applies to both Bitcoin and Ethereum holdings.
Sign up for a Nuri Interest Account
Concluding Thoughts
I've tried out all these platforms and found YouHodler, BlockFi, and Ledn to be the ones I liked most. The platforms mentioned in this post all work fine, but you'll need to find the one that has the best branding and user interface for your tastes. Some of them also reward you in their native tokens, but in general, I prefer going for Bitcoin rewards.
Read more: The Best Books about Bitcoin and Crypto
What do you think of P2P lending platforms that provide crypto-backed collateral? I think it's a nice upgrade on the traditional P2P lending platforms and as an investor, it gives me more security.