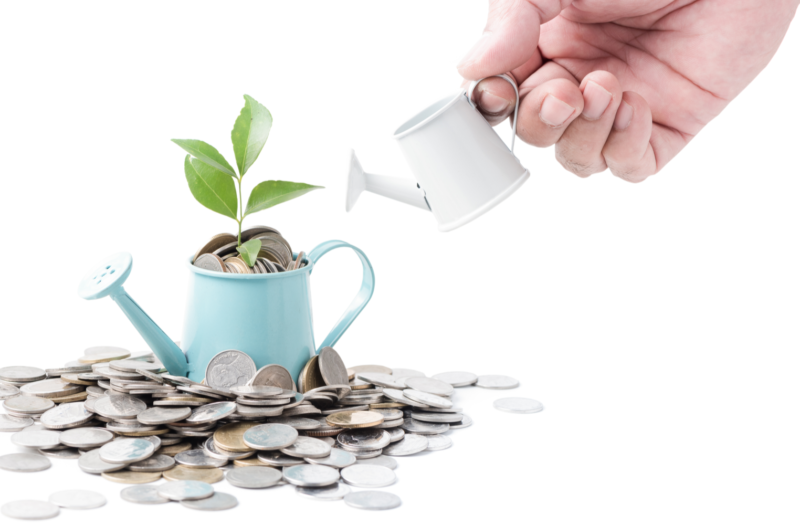 Did you know that you could earn interest on the Bitcoin (and possibly other cryptocurrencies) that you own?
Bitcoin has been criticised by certain people in the past for being an asset that does not yield any dividends, but this argument no longer holds any water.
Many crypto investors store their digital assets on exchanges for long-term safekeeping. Doing so means they are assuming counterparty risk, so in my opinion, if you're going to opt for keeping your crypto on an exchange, you might as well put it to work.
Alternatively, you can store your crypto in cold storage, but you won't be able to grow your wealth in that way unless your crypto grows in value.
In this post, I'll show you how you can earn from 8% onwards on your Bitcoin by using the interest accounts on the platforms featured here.
Most of the platforms I will describe help you earn interest on your crypto by implementing some form of P2P lending. I have already written extensively about my P2P lending experience and my favorite P2P lending platforms, but today we'll add the crypto factor into the mix – hence we will be talking about crypto-backed loans.
Crypto lending is becoming a huge industry, and we can take a look at Google trends to verify this. Have a look at the chart showing a strong uptick in interest in 2019.

Let's take a look at the best platforms available.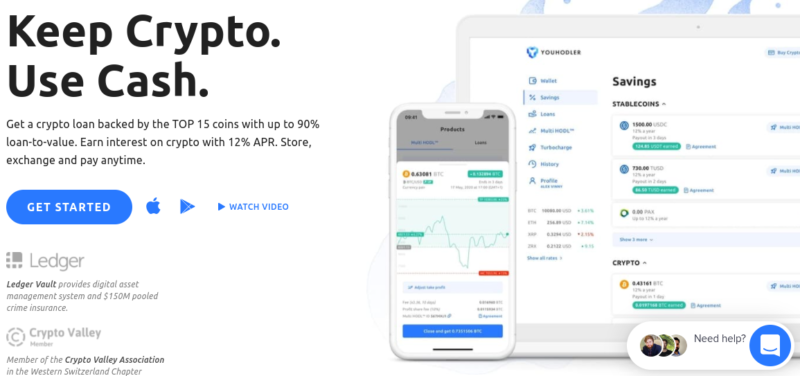 YouHodler offers an extensive set of crypto-fiat financial services. In its essence, the platform intends to help investors take advantage of cryptocurrencies, without having to actively trade them.
YouHodler has managed to make crypto-HODLing an active strategy. For investors, access to a crypto-exclusive savings account and interest-bearing loans are preferable ways to expand your portfolio.
This solves an instant issue with digital currencies – opportunity costs. That is to say, rather than leaving your digital coins sitting idle in a private wallet, YouHodler allows you to earn a yield on your holdings. At the same time, you get to keep hold of your investment and thus – you can cash out your coins whenever you see fit.
You can read my full review of Youhodler if you want to learn more about this platform, or just click the link below to go to the Youhodler website directly and get started.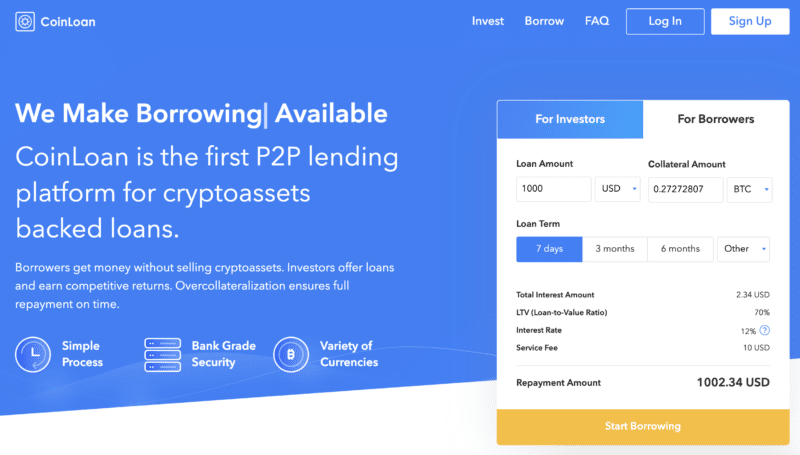 CoinLoan is a P2P lending platform for cryptoassets backed loans, based in Estonia.
Here's how it works.
As a lender you first deposit fiat funds or stablecoins. The borrower, on the other hand, deposits cryptoassets to secure a loan.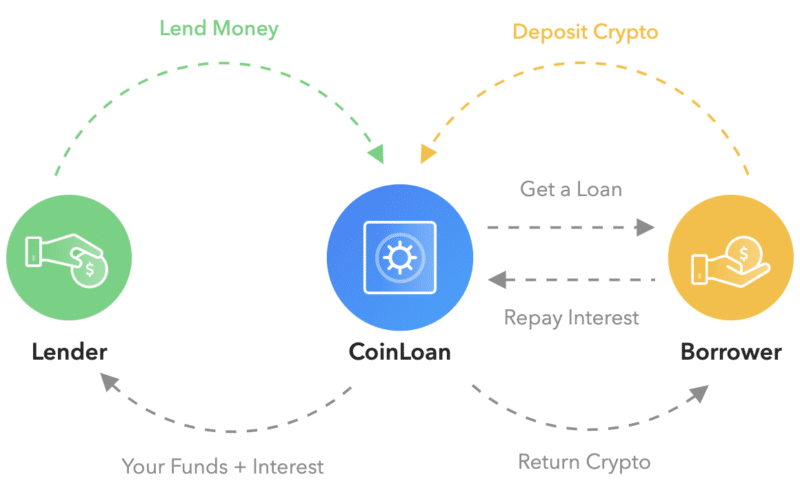 Once the lender and the borrower are matched, a smart contract is used to ensure the borrower pays on time, else he would risk his crypto collateral.
Once the loan is paid off, the lender gets his principal returned plus interests, while the crypto assets are returned to the borrower.
Lenders have a significant benefit in thus having the ability to lend to people with verified collateral available. CoinLoan acts as the custodian for a safe and clear experience.
It's worth noting that CoinLoan is licensed in Europe and well regulated. The platform also implements an AML policy.
Blockfi offers two products to investors:
BlockFi Interest account
Crypto-backed loans
The BlockFi Interest Account (BIA) lets you put your crypto to work and earn monthly interest payments in the asset-type that you deposit with BlockFi.
BlockFi clients using the BIA earn compound interest in crypto, significantly increasing their Bitcoin, Ether, and Gemini Dollar (GUSD) balances over time.
Crypto-backed loans allow you to access liquidity without selling. By using your crypto as collateral, you can unlock up to 50% of the value of your assets in USD. We fund same day through wire or stablecoin.
BlockFi clients use crypto-backed loans to do anything from paying off credit card debt to buying a home. Businesses turn to BlockFi to help them with payroll financing and business expansion. There are many advantages to borrowing instead of selling, including tax benefits.

With BlockFi you can earn up to 8.6% on your crypto. Note that this product is focused on USD not on any other fiat currency, and while there is no big downside there, it's worth noting that if you are using a EUR or GBP based stablecoin you will need to convert those coins to a USD stablecoin like USDC or GUSD in order to start earning interest in a BlockFi interest account.

Constant is a U.S.-based platform, but is open to investors worldwide. They have offices in Hong Kong, Vietnam and Malta as well. All your investments are fully secured and fully backed. The protection comes in the form of a combination of FDIC insurance, Ethereum smart contracts, and crypto collateral.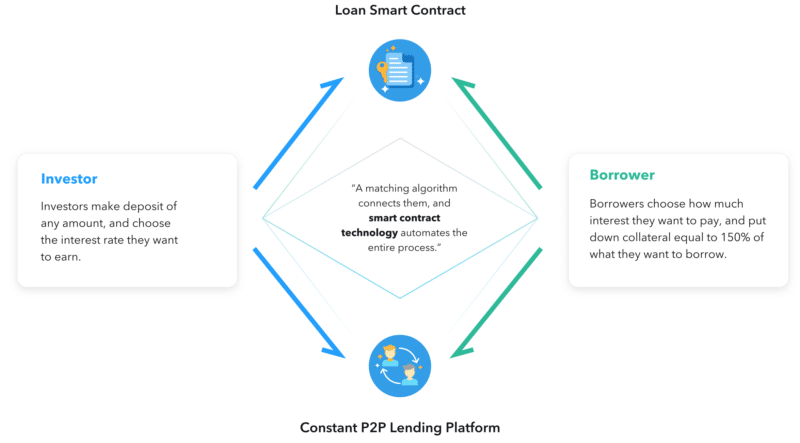 The Constant algorithm matches investors with borrowers glad to pay their rates. It then secures investor funds and borrower collateral in an unstoppable smart contract, and facilitates the entire transaction from beginning to end.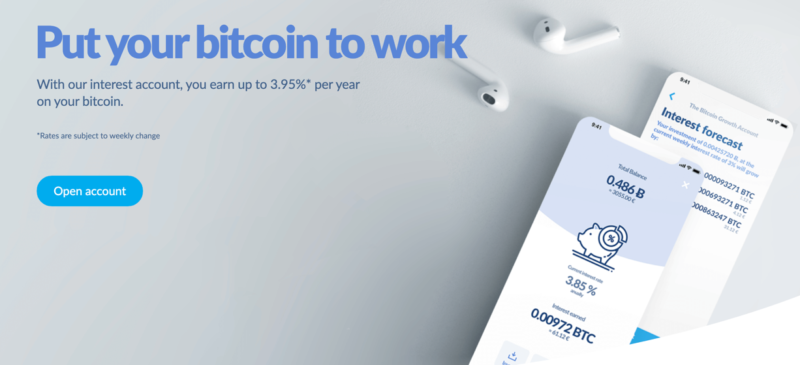 This is one-of-a-kind product: it allows you to earn interest on BTC inside a regular bank account.
The interest rate changes weekly, but at the moment, if you deposit your BTC in this account you stand to earn up to 3.95%.
Generating a passive income is automatic; every Monday, you'll receive interest payments on your bitcoin investment. There's no minimum investment period to start reaping your rewards and making withdrawals or deposits.
How does this work? Bitwala has partnered with Celsius, a network that specializes in Defi loans. Through this partnership, you can put your coins to work. Instead of holding your bitcoin in your wallet, you invest them for interest.
The Celsius Network was founded in 2017 with the mission to harness blockchain technology to provide unprecedented financial freedom, economic opportunity, and income equality for the 99%. They currently have more than $300M Assets under management from over 40,000 users.
Celsius lend out responsibly from their community's pool of assets. This means that Celsius only does collateralized loans, and your coins are never "locked up" and you can withdraw at any time.
Interest rates are based on market demand, if borrowing demand is high, Celsius are able to pay a higher rate on that coin. If demand is low, they will be paying a lower rate. Celsius are dynamically changing these rates according to supply and demand. All interest earned on Bitcoin is compounded and paid out weekly.
You can start investing with as little as €10 and you'll only need to cover the small network feel from the interest received. There are no other fees and you can cash out at any time.
You can withdraw from the BTC Interest Account any time you like, however, interest payments are made weekly on a Monday. Interest is calculated every second, and you will not receive any penalty for withdrawing early – you just will not earn any further interest on the amount you withdraw
All transfers from your Interest Account go directly to your non-custodial wallet – where you keep your private keys.
Sign up for a Bitwala Interest Account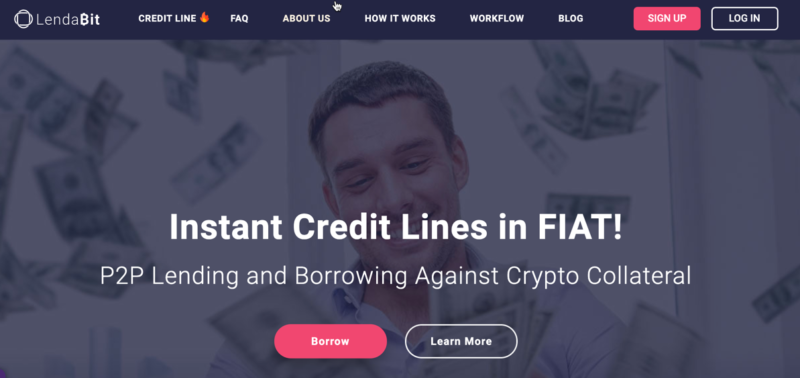 Lendabit is a platform that offers loans secured by crypto collateral provided by borrowers. The platform has been designed to remove all unnecessary steps from the lending process, thus more attractive terms and conditions to both lenders and borrowers. The customer interface and data processing behind it are structured so as to support prompt and secure transactions.
Interest is calculated based on the formula: Daily Interest = (Loan Amount × Interest Rate) / 360, where 360 is used for the number of days in the year no matter what the actual number (365 or 366) is.
Lendabit partnered with BitGo for secure custodianship of the crypto you deposit.
BitGo is an industry leader of multi-signature encryption technology and a qualified custodian with a primary focus on cryptocurrencies. BitGo eliminates risk and increases transparency in the crypto markets by providing the most secure and compliant custodial and liquidity solutions.
Earn interest on crypto with Lendabit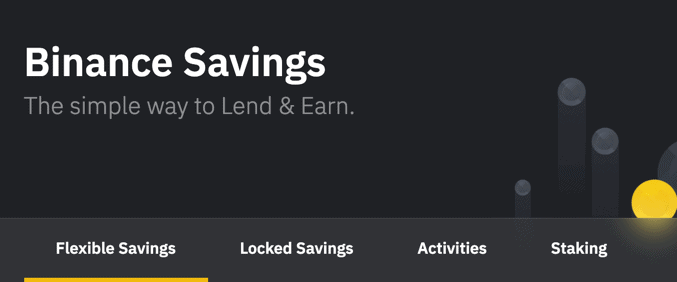 With Binance, you have several ways of earning money on your cryptos.
Flexible Savings
The easiest way is probably using their Flexible Savings product. Flexible Savings is your Crypto savings account. Subscribe your crypto to earn interest, with the flexibility to redeem your funds at any time.
To quote a few estimated annual yields available at the moment, we have:
BUSD at 2.44%
USDT at 2.11%
DASH at 1.83%
There are 24 coins you can use for the flexible savings account.
Locked Savings
For higher returns, you will want to opt for the Locked Savings product. By subscribing your crypto to locked savings periods you will in return get higher interest earnings. You can choose from several durations depending on the coin you are using, but it's typically one or more options from the following:
7 Days
14 Days
30 Days
90 Days
For example, with BUSD you get an annualized interest rate of 7.42% at the time of writing, while USDT gives you 6.79%. Both of these are stablecoins that can be easily bought from the Binance exchange itself.
The range of coins available for locked savings is more limited, we can only choose between 6 coins: BUSD, USDT, COCOS, ONE, EOS.
Staking
You might have heard of staking, which can be used for those coins that use a Proof-of-Stake mining mechanism. With Binance you can stake 24 different coins, with the returns varying significantly between one coin and another. Among the highest yielding are KAVA (14-16%), LOOM (10-12%) and ZIL (8-10%)
Earn money on crypto with Binance
What do you think of P2P lending platforms that provide crypto-backed collateral? I think it's a nice upgrade on the traditional P2P lending platforms and as an investor it gives me more security.