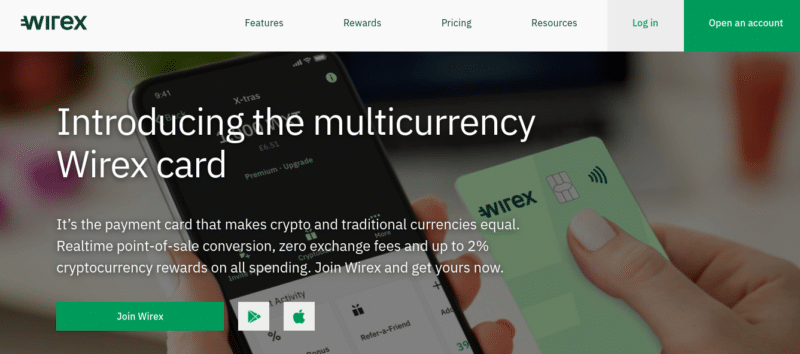 If you are a crypto holder or you'd like an easy way to earn more crypto, then crypto debit cards are probably the product you're looking for.
In my opinion, these are currently the best crypto debit cards for European residents right now:
Let's have a deeper look at each of these.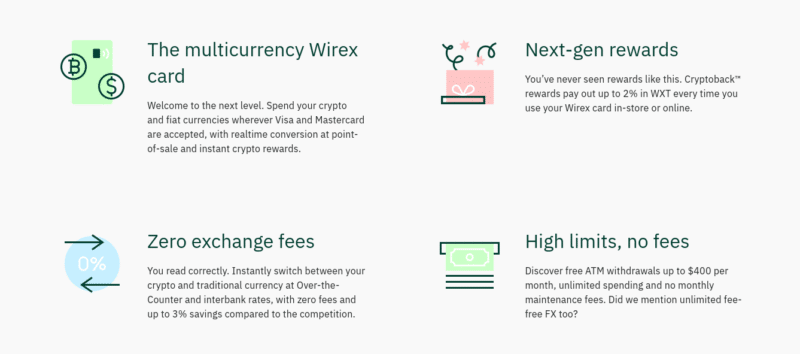 In its most basic form, Wirex is a fintech platform that offers physical debit cards linked to a cryptocurrency exchange. The company was founded in 2016 with its headquarters in London, with a vision to cater to the growing demands of the evolving crypto economy.
The Wirex crypto-fiat debit card functions just like any other – allowing you to spend your crypto and fiat currencies wherever debit card payments are accepted. This makes way for blockchain and crypto technologies to enter the mainstream marketplace and become more usable in day-to-day transactions.
Wirex can function as a payment method in three scenarios:
Everyday payments
International remittance
Machine-to-machine payments
The main goal of Wirex is to offer fast and secure means to move money – all through the convenience of a single innovative app.
As more and more people are becoming regular consumers of online banking features, there is already a significant shift towards fintech solutions that offer lower fees and better responsiveness. By combining this with an ever-growing interest in cryptocurrencies, Wirex has managed to offer an attractive alternative to the conventional form of banking.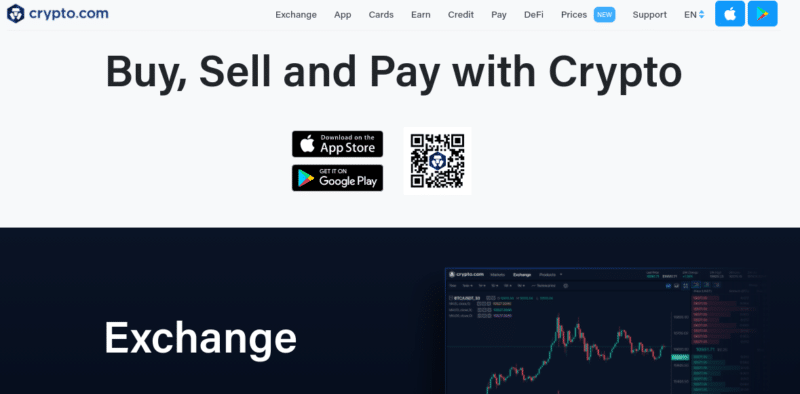 Crypto.com is a multi-functional cryptocurrency platform that offers a variety of services. At the forefront of this is its cryptocurrency exchange – which allows you to trade crypto pairs at the click of a button.
Read my in-depth review of Crypto.com to learn more about this exchange and debit card solution.
Additionally, the Crypto.com platform also allows you to buy cryptocurrencies in the traditional sense – with the provider noting that you can do this at 'true cost' with 'no fees' or 'markups'.
Outside of its core exchange services, Crypto.com also offers crypto-backed loans, debit cards, interest-earning opportunities and a gateway for merchants to accept digital currencies.

This is a one-of-a-kind product: it allows you to earn interest on BTC inside a regular bank account.
The interest rate changes weekly, but at the moment, if you deposit your BTC in this account you stand to earn up to 3.95%.
Generating a passive income is automatic; every Monday, you'll receive interest payments on your bitcoin investment. There's no minimum investment period to start reaping your rewards and making withdrawals or deposits.
How does this work? Nuri has partnered with Celsius, a network that specializes in Defi loans. Through this partnership, you can put your coins to work. Instead of holding your bitcoin in your wallet, you invest them for interest. You can start investing with as little as €10 and you'll only need to cover the small network fee from the interest received. There are no other fees and you can cash out at any time.
You can withdraw from the BTC Interest Account any time you like, however, interest payments are made weekly on a Monday. Interest is calculated every second, and you will not receive any penalty for withdrawing early – you just will not earn any further interest on the amount you withdraw
All transfers from your Interest Account go directly to your non-custodial wallet – where you keep your private keys.
By creating your first savings plan through through this link and let it run for 3 consecutive months, you will receive a 30 EUR bonus. This applies to both Bitcoin and Ethereum holdings.
Sign up for a Nuri Interest Account

Take your everyday payments to the next level. Exchange cryptocurrencies and spend with your Visa debit card in millions of shops around the world with the SpectroCoin debit card.
Convert Bitcoin, Ether and other cryptocurrencies and load your debit card instantly.
Use your card at 40+ million sites and physical shops worldwide.
Withdraw cash at more than 30+ million ATMs around the world.
Get your FREE SpectroCoin card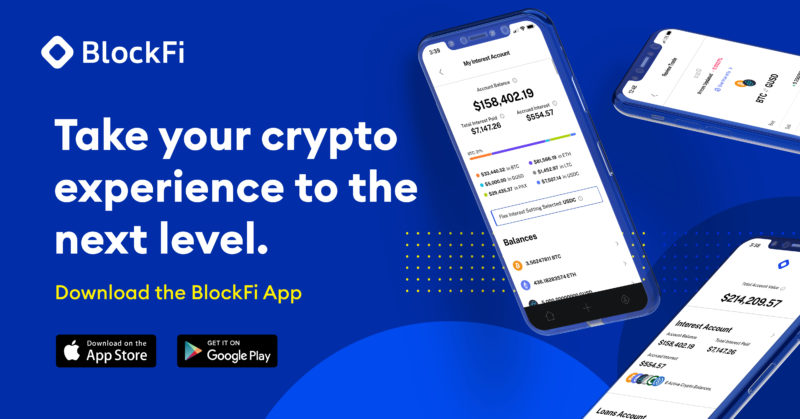 BlockFi is the world's leading crypto lending and borrowing platform, and they also provide a debit card that gives cashback in crypto.
Cardholders are able to earn 1.5% back in bitcoin on every transaction. It's an intuitive and easy way for people to access a new asset class, and it's going to fundamentally change the way credit card rewards work.
I've written an extensive review of BlockFi here so check that out as well as I think you'll be interested in more than just the debit card when it comes to BlockFi.
Which is your favorite crypto debit card? Other options that have been mentioned to me are Piixpay, Spendl, Moon.