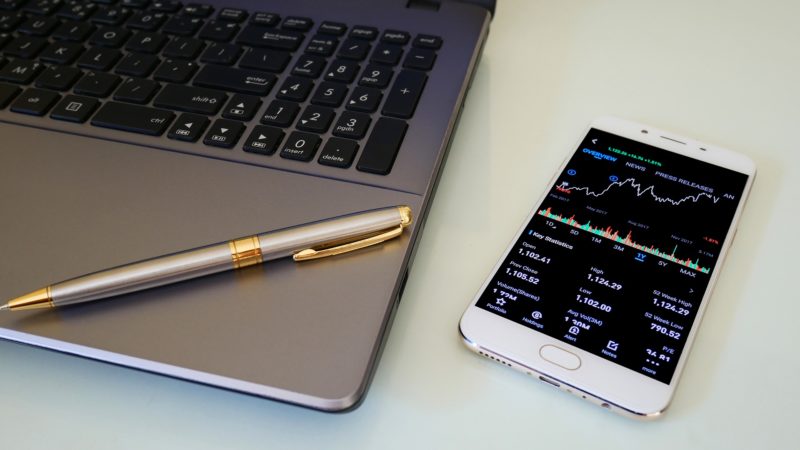 If you are looking to buy, sell, and trade cryptocurrencies on your mobile phone, you'll be pleased to know that there are heaps of options in the market. But, with so much choice, this can make it difficult to know which trading app to go with.
For example, are you looking to focus on an app that offers industry-leading fees, or are you more concerned about trading a specific pair? Either way, you need to perform in-depth research before taking the plunge.
To help point you in the right direction, here I discuss my top-rated cryptocurrency apps of 2020. On top of this, I also explain some of the key metrics that you need to look out for prior to selecting a provider.
Choosing a Suitable Platform
Before I delve into the best crypto trading apps of 2020, it is worth me quickly outlining what you need to look out when searching for a broker/exchange that meets your needs.
In my view, the most important metrics are as follows:
Ownership or CFDs?
First and foremost, you need to assess what your short or long-term objective is. For example, are you looking to buy leading cryptocurrencies such as Bitcoin or Ethereum, and then hold on to the coins for several months or years? If so, you might be better suited for a cryptocurrency broker that accepts everyday payment methods.
Alternatively, if you are looking to actively trade cryptocurrencies to make frequent profits from every-changing price movements, you might be more suited for a CFD trading platform. This is because CFD providers typically allow you to trade cryptocurrencies without paying any commissions. As such, it's only the spread that you need to take into account.
Note: CFDs (Contracts-for-Differences) track the market price of an asset. This allows you to speculate on cryptocurrencies without you owning the coins. Instead, you are speculating on the future price of the cryptocurrency. 
Regulation
Regulation is a bit of a grey area in the cryptocurrency trading space. If using a CFD provider, then it is all-but-certain that the platform will be heavily regulated.
For example, the likes of eToro, IG, and Plus500 all hold licenses with the UK's Financial Conduct Authority (FCA) and the Australian Securities and Investments Commission (ASIC). Other reputable license issuers include the Cyprus Securities and Exchange Commission (CySEC) and the Monetary Authority of Singapore (MAS).
At the other end of the spectrum, conventional cryptocurrency trading exchanges like Binance still operate largely unregulated. This is somewhat surprising when you consider the billions of dollars worth of trading activity that goes through its books each and every day.
However, I would argue that Binance is still worth considering, as it has industry-leading security practices.
Supported Pairs and Financial Instruments
The term 'Cryptocurrency Trading' is somewhat of a broad one, not least because it can refer to several financial products. For example, if you're looking to trade cryptocurrencies against the US dollar, you need to ensure your chosen app supports fiat-to-crypto pairs.
Alternatively, you might be looking to trade crypto-cross pairs. These are currency pairs that contain two digital assets. This might include BTC/ETH or XRP/ETH. If you're a seasoned crypto trader looking to take things to the next level, then you'll want to look out for things like margin trading, leverage, and short-selling facilities.
1. eToro – Best All-Round Crypto Trading App
So now that you know what factors you should be looking out for when selecting a crypto trading app, I am now going to discuss my number one pick – eToro. Launched in 2007, eToro is home to over 12 million traders around the world. You will have the option of trading via its main desktop site, or through a fully-fledged mobile app. The latter is available on iOS and Android devices.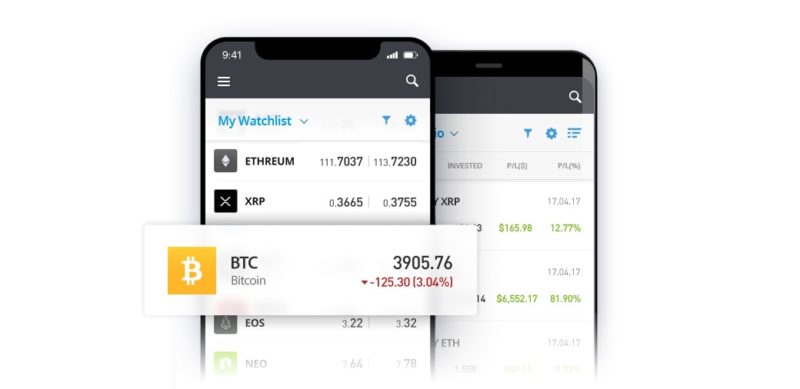 eToro offers traditional assets as well as CFDs, which gives you ample flexibility.
For example:
If you want to invest in cryptocurrencies, you can do this at eToro and retain 100% ownership. You can't, however, withdraw the coins to a private wallet. As such, they will remain on the eToro platform until you decide to cash them out.
If you want to apply leverage or short-sell cryptocurrencies, this is facilitated via CFDs.
If you want to trade crypto-cross pairs, this is facilitated via CFDs.
In total, eToro allows you to buy and sell 16 different cryptocurrencies in the traditional sense. This includes Bitcoin, Ethereum, Ripple, Bitcoin Cash, EOS, and more.

You can also trade cryptocurrency pairs – including both crypto-fiat and crypto-crypto. For example, you can trade cryptocurrencies against the USD, GBP, JPY, and EUR. You can also trade cross-pairs like EOS/XLM or BTC/EOS.
Fees and Commissions
On top of its vast offering of tradable cryptocurrency products, the eToro app stands out in the fee department.
Here's why:
Deposits: You can deposit funds with a traditional debit/credit card, e-wallet, or bank account without paying any fees. The only cost that is associated with financing your account is a 0.5% currency conversion charge for all non-USD deposits. In comparison to the likes of Coinbase – which charges 3.99% on debit card deposits, this is very competitive.
0% Commission: Whether you are buying cryptocurrencies or trading CFDs, you will not pay any commissions at eToro. You will, however, need to factor in overnight financing fees if trading CFDs. This is industry standard in the CFD space, and the charge will kick in for each day that you keep your position open past market hours.
Competitive Spreads: Although not industry-leading, the spreads at eToro can be competitive – especially if you are investing in the long-run. You should expect to pay a wider spread when trading less liquid cryptocurrency pairs.
Withdrawals: Getting your money out of the eToro crypto app and back onto your payment method is seamless. Best of all, the platform charges just $5 per withdrawal.
All in all, I think that eToro is very strong when it comes to trading fees and commissions.
Safety and Regulation
When it comes to the safety of your funds, eToro is regulated on three fronts. This includes the FCA, ASIC and CySEC. These three licensing bodies have an excellent reputation in the online brokerage space. They all have strict demands on the brokers and trading platforms that they regulate, such as:
Requiring platforms to keep client funds in segregated bank accounts
Performing regular auditors on the provider
Asking platforms to request ID from all traders
Clearly add warnings on the risks of trading financial instruments like cryptocurrencies
Other Notable Features
In addition to low fees and a strong regulatory standing, the eToro crypto trading app offers several other features that are worth a quick mention.
This includes:
Leverage
eToro allows you to trade crypto CFDs with leverage. As per the regulations installed by ESMA, UK and European residents will be capped at 1:2. This means that a $500 account balance would permit a crypto trade worth $1,000. The only exception here is if you are classed as a professional trader. If you are, you'll get significantly more.
If you are based outside of the UK/Europe, then it's likely that you will get much higher limits when trading crypto. The specific amount will likely depend on where you are based.
Copy Trading
The eToro app offers an innovative feature known as 'Copy Trading'. Put simply, this allows you to browse the eToro platform looking for a cryptocurrency trader that you like the look of. Then, once you find a suitable trader, you get to mirror their portfolio like-for-like.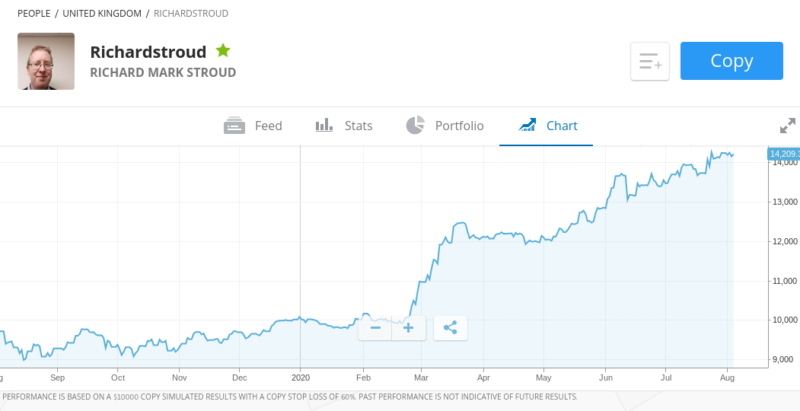 Not only this, but you can elect to copy all ongoing trades. As a result, you get to trade cryptocurrencies without lifting a finger. This is great if you have little to no experience of buying and selling digital currencies, or you simply don't have the time to actively trade.
Other Asset Classes
I should also note that the eToro app is suitable for those of you that wish to diversify into other asset classes. For example, you can invest in ETFs and over 800+ stocks while retaining full ownership.
If it's hard-core trading you're after, you will also have access to indices, forex, hard metals, energies, government bonds, and more. These all come in the form of CFDs, so leverage and short-selling facilities are available.
You can read my full eToro review to learn more about the platform.
2. Binance – Best Crypto Trading App for Tradable Pairs
Binance needs no introduction in the cryptocurrency exchange circle – not least because it is responsible for some of the largest trading volumes globally. For example, in the last 24 hours alone Binance has facilitated over $9 billion in trading volume (as per CoinMarketCap).
While most traders will buy and sell pairs through the main Binance website, the provider also offers a trading app. This is available to download free of charge, and it's compatible with iOS and Android devices. Much like in the case of eToro, you will have one central account that you can use across all devices.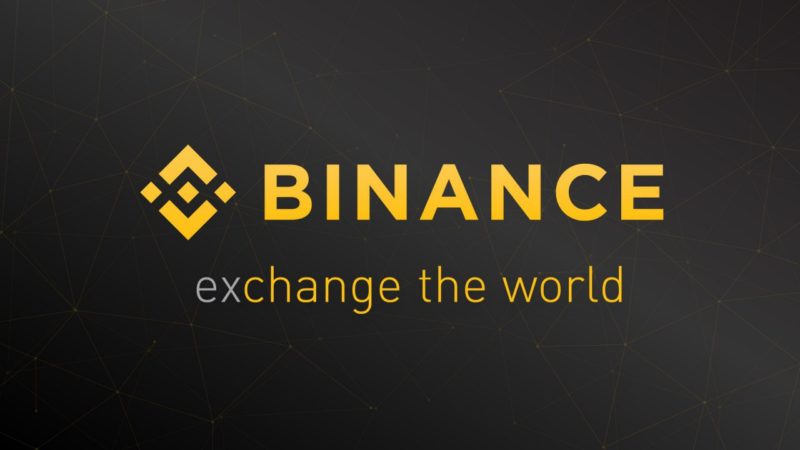 One of the stand-out features of Binance is that it offers a significant number of cryptocurrency pairs. In fact, this stands at well over 600 pairs at the time of writing.
This means that you will have access to cryptocurrencies of all shapes and sizes. For example, if you're looking to trade the likes of Bitcoin, Ethereum, or Bitcoin Cash – you will benefit from heaps of pairs at your fingertips. Alternatively, if you want to access less liquid projects like Troy, Polymath, or Status, Binance also has you covered.
Trading Structure
Binance does not offer CFD products. On the contrary, you will be buying and selling cryptocurrencies in the traditional sense. You will, however, still be trading pairs.
For example,
You wish to trade Bitcoin against Ethereum. As such, you will need to trade ETH/BTC.
We'll then say that the pair is priced at 0.0348. This means that for every 1 ETH, you get 0.0348 BTC.
Much like real-world currencies, the value of ETH/BTC will go up and down on a second-by-second basis.
You then need to stipulate whether you think the price of the pair will go up (buy order) or down (sell order).
Once you place an order via the Binance trading app, the position will remain open until you decide to close it. Once you do, your profit or loss will be determined by whether you speculated correctly, and by how much.
On top of spot trading pairs, the Binance app also gives you access to more sophisticated products. This includes the platform's Perpetual Futures Contracts, which allows you to apply leverage.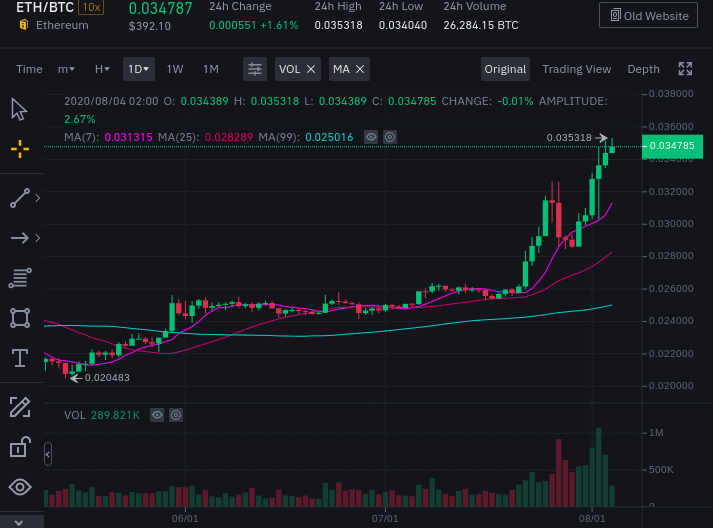 As the structure of the derivatives offered by Binance falls outside of traditional trading regulations, it is able to offer leverage of up to 1:125. This means that a $200 account balance would permit a maximum trade value of $25,000.
Fees and Commissions
In terms of trading fees at Binance, the platform is largely very competitive.
For example:
The highest trading commission charged by the Binance app is 0.1%. This is charged at both ends of the trade. For example, let's say that you trade $500 worth of BTC/XRP. This would cost you just $0.50 in commission. if you then sold the pair when it was valued at $550, you would pay $0.55 in commission. This is extremely competitive.
You can get your trading fees down to even lower percentage rates if you make use of the BNB Coin. This is Binance's native cryptocurrency token.
If you're keen to trade Perpetual Futures Contracts via the Binance app, this starts at just 0.02%.
With that being said, if you plan to deposit fiat currency into Binance with your credit card, this can be costly. This comes out at the higher of 3.5% per transaction or 10 USD.
On the other hand, if you are able to deposit funds with a cryptocurrency, then no fees are charged by Binance. In terms of withdrawing cryptocurrencies, you will pay a charge that is similar to the blockchain mining fee for the respective coin or token.
Safety and Regulation
Binance is not regulated by any single government entity or national regulator. This means that you can never be 100% sure just how safe your money is. On the flip side, Binance does have an excellent reputation in the space and crucially – is responsible for billions of dollars worth of trading volume each and every day.
Although it operates without a license, there are several safeguards in place to ensure your account remains secure. This includes everything from 2FA (Two-Factor Authentication), address whitelisting, cold storage, anti-phishing tools, and 'SAFU'.
The last safeguard is Binance's Secure Asset Fund for Users. This is a reserve pot that grows over time. If the unfortunate happens and Binance is hacked, the pot will be used to compensate victims.
You can read my full Binance review to learn more about this platform.
3. Coinbase – Best Crypto Trading App for Beginners
Although Coinbase won't be the right crypto trading app for some of you, it likely will be if you are an absolute beginner. The reason that I say this is that the app is one of the easiest to use. In fact, even if you have little to no experience of trading cryptocurrencies, you should be fine with Coinbase.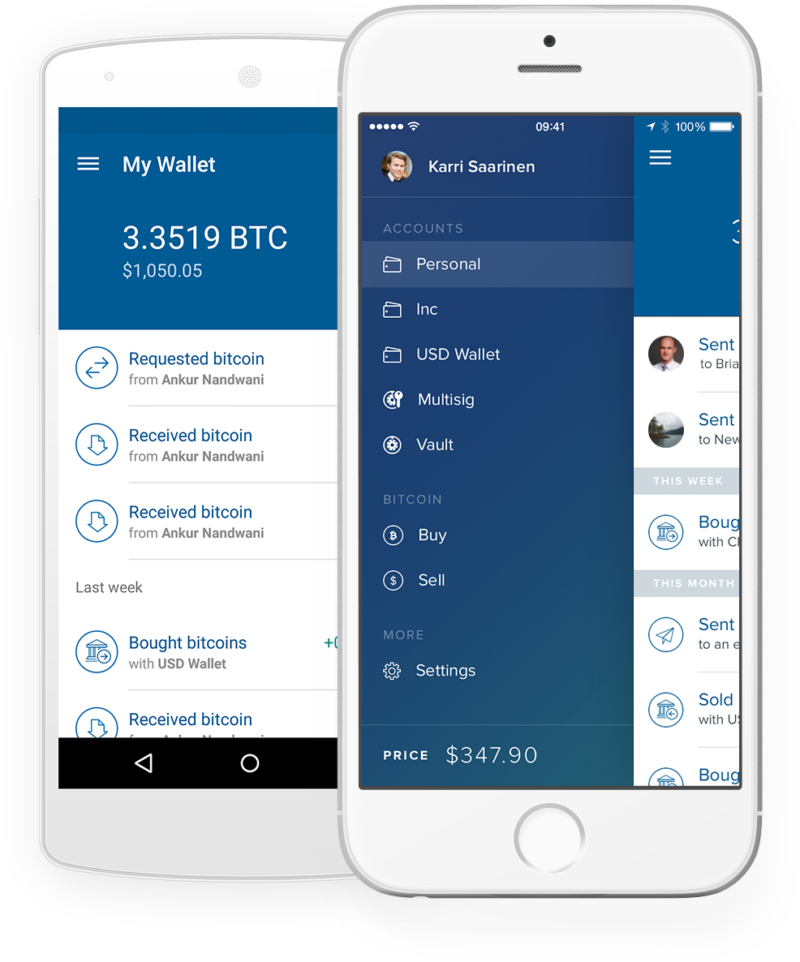 So, the main Coinbase application allows you to buy and sell 22 different cryptocurrencies.
This covers:
ATOM
BAT
BTC
BCH
BSV
DAI
DASH
EOS
ETH
ETC
KNC
LINK
LTC
OMG
OXT
REP
USDC
XLM
XRP
XTZ
ZEC
ZRX
All of the above digital currencies can be purchased in the traditional sense, meaning that you retain 100% ownership. Unlike eToro, however, the Coinbase trading app allows you to withdraw your cryptocurrencies out to your private wallet.
User-Friendliness
In terms of user-friendliness, it doesn't get much better than Coinbase. Once you have downloaded its mobile app, you will then be asked to create an account. This requires some personal information alongside your government-issued ID. Regarding the latter, you'll need to take a photo of your passport/driver's license. After that, you can easily deposit funds with fiat currency.

In fact, if you want to start trading straight away, you can deposit funds with a debit card. Unfortunately, this will cost 3.99%, which is even more than Binance. Alternatively, bank transfers are typically free, although this will depend on your location. You will also need to wait a few days for the bank transfer to settle.
Once you have a fully funded account, you can start buying and selling cryptocurrencies. You will be trading each cryptocurrency against the US dollar.
Trading Fees
When it comes to trading fees, Coinbase has a standard buy/sell rate of 1.5%.
If you bought $1,000 worth of Bitcoin, this would translate into a commission of $15
If you sold $10,000 worth of Bitcoin back to US dollars, you would pay $150
Admittedly, this isn't as competitive as the other crypto trading apps I have discussed thus far. As a result, if you're a complete newbie, you might need to trade in cost for convenience and user-friendliness.
Safety and Regulation
Coinbase has an excellent reputation with regulators in the US. It is registered with FinCEN as a Money Service Business, which means that it must comply with US regulations. At the forefront of this is the anti-money laundering laws surrounding KYC. Put simply, all Coinbase customers are required to identify themselves.
Coinbase is also in the processing of getting the green light from the SEC for a brokerage license. Outside of the US, Coinbase is also registered with the FCA. Internal security is also top-notch at Coinbase. For example, you'll benefit from 98%+ of client funds being held in cold storage, as well as 2FA.
US-dollar accounts also benefit from FDIC Insurance, meaning the first $250,000 is covered. The Vault is also a handy security feature that you will find on the app, which puts a 48-hour time lock on all withdrawal requests.
You can read my full Coinbase review here.
4. Plus500 – Best Crypto App for Trading With Demo Funds
Plus500 is an online trading platform that offers thousands of CFD instruments. On top of cryptocurrencies like Bitcoin, Ethereum, and NEO, you can also trade stocks, indices, commodities, bonds, and more.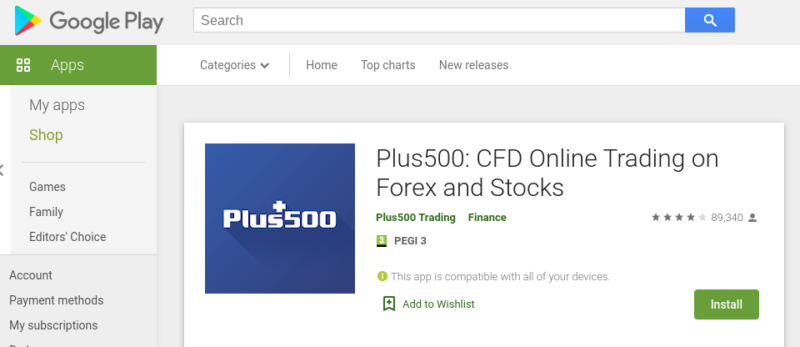 You can access Plus500 via its main desktop website or through a dedicated mobile app. This is available via iOS and Android, and allows you to access all of the features found on the main browser-based version of the platform.
All of the cryptocurrencies available at Plus500 can be traded against the US dollar. The platform also offers a 'Crypto Index', which allows you to trade 10 of the largest coins by market capitalization. The Index is weighted, so you will be gaining exposure to the wider cryptocurrency arena.
Demo Account
Mame no mistake about – trading cryptocurrencies on a regular basis and making money is a feat achieved by very few. As a result, if you have virtually no experience of how the cryptocurrency markets work, it is well worth opting for a trading app that offers a demo account facility. This is exactly what Plus500 offers to all of its clients.
You simply need to download the app and open an account, and then you will have access to the cryptocurrency trading scene via demo funds. Crucially, the demo account at Plus500 mirrors that of live trading conditions. This allows you to:
Trade cryptocurrencies without risking any of your own money
Get used to the likes of market, limit, trialling, stop-loss and take-profit orders
Understand how to use leverage
Gain an insight into how cryptocurrency trends work
Discover which trading strategy works for you
Learn the ins and outs of risk management
The above learning curves will ensure that you are able to approach the real-world cryptocurrency trading markets in the most effective way possible.
Real-Money Trading
Once you have practised your cryptocurrency trading endeavours via the Plus500 demo facility, you might then consider upgrading to a real-money account.

Here's what you need to know about the provider's crypto trading application:
Regardless of what cryptocurrency you plan to trade, Plus500 does not charge any trading commissions
All of its cryptocurrency products come in the form of CFDs.
You have the option of going long or short on all cryptocurrencies.
Although they will vary throughout the trading day, cryptocurrency spreads are typically competitive
Plus500 offers leverage facilities. Once again, UK and European residents are capped at 1:2 on crypto trades (unless you're a professional-client). You can get up to 1:300 in order regions.
In terms of getting started with a real-money trading account at Plus500, the platform requires a minimum deposit of $100. This can be facilitated via the mobile app through debit/credit cards, bank transfers, or Paypal.
Safety and Regulation
You should have no concerns regarding safety when using the Plus500 app to trade cryptocurrencies. Firstly, the platform is regulated by several tier-one licensing bodies. This includes the FCA, ASIC, MAS, and CySEC.
This means that all client funds all held in segregated bank accounts, and the provider complies with all laws surrounding anti-money laundering. The parent company of Plus500 is also listed on the London Stock Exchange with a current market capitalization of £1.25 billion.
I should also note that you do not need to worry about the platform being hacked, as you will be trading CFDs. In simple terms, this means that the cryptocurrency does not exist. Rather, the CFD is simply tasked with tracking its real-world price.
The Verdict
In summary, there are many crypto trading apps to choose from. No-two apps are the same, so you need to spend some time exploring what you are looking to prioritize. As I have discussed in this article, certain crypto trading apps are suited for certain requirements.
For example, if you're looking for an app that hosts hundreds of crypto trading pairs, then you might be best suited for Binance. On the other hand, if you're more concerned with user-friendliness, eToro or Coinbase might be more up your street.