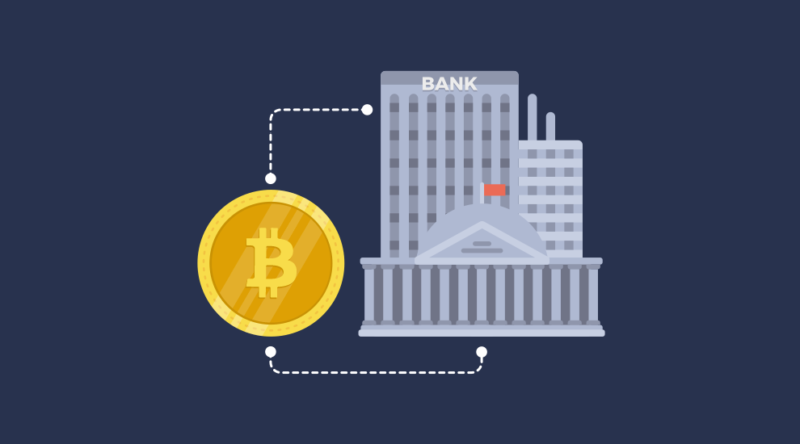 Converting from fiat to crypto and vice versa remains one of the big issues for Bitcoin and other crypto adoption, especially in certain countries.
Traditional banks, due to various reasons including government pressure, have been slow to adapt to the new realities of digital assets like Bitcoin and other cryptocurrencies.
Read now: The best crypto debit cards in Europe
I suspect a significant fear of having to cover all their bases for KYC/AML requirements as one of the other reasons that they have been quite wary of their customers transacting with crypto exchanges over the past years.

Unfortunately, this makes it hard for private or corporate crypto investors to find good onramps and offramps to deal with crypto if their banks put up significant obstacles to doing so.
Further reading: The Best Crypto Exchanges in Europe
The United States is currently the place where it's easiest for citizens to buy and sell Bitcoin and other cryptocurrencies. Not only does it have a long tradition of tech innovation, but it's the home base of many crypto entrepreneurs, educators and crypto companies.
If you live in the US, you will find that many banks understand crypto and allow you to transfer money to and from exchanges, but things are different in many European countries.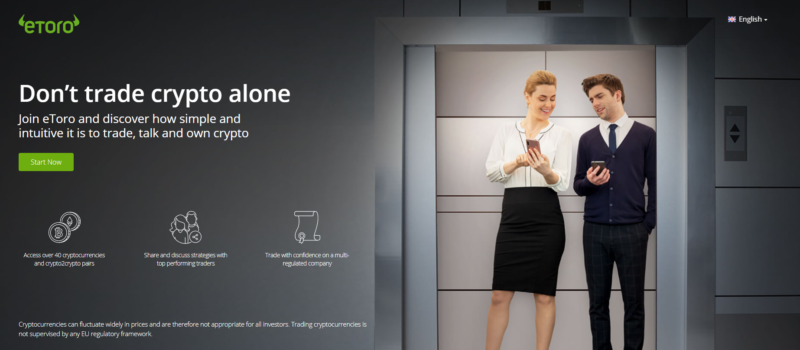 For example, in Malta, the self-proclaimed "blockchain island", it has become almost impossible to buy any crypto using a local bank account, as most of the limited number of banks available there block transactions to exchanges or threaten to close your account if you did any transfers in the past that they were not able to block.
Not only that, but pretty much all bank employees there seem to have exactly zero knowledge of crypto, including the higher management. All they know is that they don't work with crypto – it's basically a mantra based on fear of the unknown.
This is obviously not conducive to Bitcoin adoption by retail investors, let alone the relocation or starting of crypto companies there. We can therefore conclude that the whole "blockchain island" thing was entirely made up.
In other bigger countries, things are better, but it's still common to see retail investors having problems with their banks when dealing with crypto-related transactions.
It's also worth keeping in mind that the big digital banks like N26 and Wise all explicitly specify that they disallow transfers to exchanges. Withdrawals are generally accepted.
Wise, for example, has recently softened its stance and now accepts withdrawals from certain exchanges to the Wise Borderless accounts:
"you can send money to your balances with bank details from a platform that deals with Bitcoin or another cryptocurrency — as long as the platform is regulated and/or supervised in the EU or UK."
Effectively, that means that they will accept transfers from at least the following top exchanges:
This new development from Wise is a good indication of things to come. Banks will start to soften their stances by accepting withdrawals from reputable exchanges, and will ask you for your transaction history. If all you've done was simply transfer to such an exchange, make trades over the years and then sell and withdraw, you'll be good.
Revolut customer support also mentions that they accept up to €50k per day in withdrawals from exchanges, but I don't know anyone who has tried that yet – it seems a bit optimistic.
So what's the solution if your bank is currently taking a negative stance towards Bitcoin?
One solution is to use a site like LocalBitcoins to buy Bitcoin, thus avoiding exchanges altogether.
However, if you need a solid banking solution, things get a bit more complicated.
I've done some investigation into the current situation and found that there are several crypto-friendly banks that are designed from the ground up to handle the needs of clients that need to buy and sell cryptocurrencies. Several of them offer their own crypto facilities, while others act as normal banks, but don't block transactions to exchanges.
The List of Crypto-Friendly Banks in Europe
Here are some banking solutions that I've found as viable options in Europe, together with some comments where applicable:
There is one more option in which you will not have any problem but this is not a bank account. You can create a custody account in Etana (they can deposit and withdraw from Kraken instantly). That way your bank account sends funds to Etana account and then Etana will send the funds to Kraken. With that option you don't have any problem with your bank because you do not send funds to crypto exchange directly, but to Etana which is a custody service and not an exchange. Etana has flat deposit and withdrawal fees of $35 USD or foreign equivalent, and if you're a Kraken client, that deposit fee is always waived. There are never fees transferring funds between your Etana account and the exchanges.

Etana VS PSPs
Etana is a Financial Custodian: a specialized financial institution whose purpose is the safe keeping of a client's assets. The client's assets are always held under the client's own name, protecting the assets in the event of the custodian or financial institution failing.
Etana uses FDIC-insured banks. Fiat assets are federally insured.
Digital funds are insured from the moment they are custodied to the moment they reach their destination wallet with the Counterparty. Digital wallets are insured up to USD $50m, but you can purchase additional insurance.
You will find several PSPs that profess that they work with crypto, however, these are the lowest rung of financial institutions and I wouldn't trust serious money with them.
Etana will make you go through tough KYC and AML checks when you sign up, which might look more onerous than those of the PSPs or even exchanges.
While payment service providers (PSPs) take a fee to transfer your money directly to an exchange's bank account, Etana's custody services keep your money in insured, trusted, third-party financial institutions. Etana's global network of banks ensure the safety of your money by minimizing the risk of exchange hijacking or the exchange going out of business, losing the assets it's managing. Deposits are also insured by the government of the financial institution; for example the FDIC for US-held deposits. Additionally, Etana can receive deposits and hold them in 11 currencies meaning you will not be looking at expensive foreign exchange conversion fees.
The Future of Crypto Banking
In the United States, the Office of the Comptroller of the Currency has already proposed a rule that would forbid banks to blacklist legal industries including crypto firms.
One of my favorite crypto exchanges, Kraken, already has a banking license in the United States, and it's only a matter of time before they will get one in Europe. After all, this is the biggest bottleneck they face in attracting new customers and having their own bank could make a huge difference to their bottom line.
The same movements seem to be happening elsewhere in the world.
I believe that the landscape will look a lot different next year and even better the year after, until it becomes commonplace for banks to understand and cater to crypto holders, be it businesses or physical persons.
At the end of the day, banks will face stiff competition from other companies that are encroaching on what was traditionally their territory (current accounts, savings accounts, loans, etc) and unless they change course and adapt to the new realities they will become obsolete.
Consumers will soon define a "full service" bank as one that offers financial services in both crypto and fiat. The time to start acquiring the necessary tools of the crypto banking trade is right now. Banks need to start adapting or get left behind.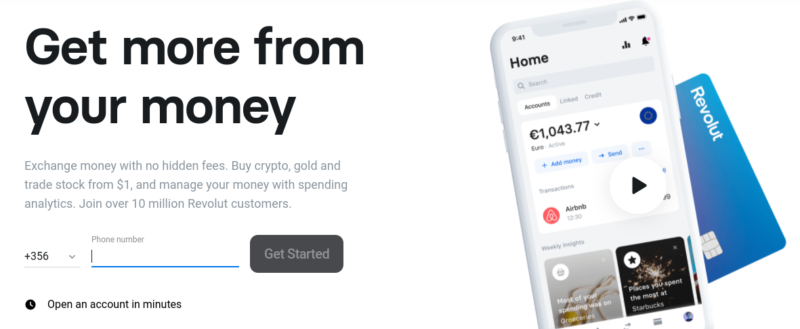 A special note about this digital bank. If you're having trouble getting money from your bank to an exchange, Revolut could save the day. This digital bank allows the purchase and sale of cryptos directly from your account, however, it cannot be used to transfer money to and from exchanges.
Keep in mind, however, that you will not be able to withdraw the Bitcoin. You will have to assume the custodial risk and trust that Revolut really has the Bitcoin that it is selling to you.
What has your experience been with crypto and banks? Would you recommend any other banks in Europe? Let me know in the comments section.
An Alternative to Banks
Stablecoins are the alternative to using banks. If you're stuck looking for a fiat offramp after selling a cryptoasset, the next best thing might be to hold your Euros, Dollars or GBP in a stablecoin. The biggest stablecoins are denominated in USD and EUR, and you can literally store millions of dollars on your own hardware device, thus negating the need for a bank.
By using a stablecoin, you are removing any volatility risk, and you can thus store your fiat currency securely until you find a bank that accepts your business. Alternatively, you can just spend the stablecoin directly at an online merchant that accepts crypto for payment.
You can purchase stablecoins from any of the top exchanges in Europe like Binance, Bitpanda and Kraken.
An Example of Unbelievable Bank Behavior
Many people I speak to seem to be unaware of how backward banks are nowadays. For example, people typically don't expect HSBC, one of the world's most well-known banks, to send letters like the one below to their customers.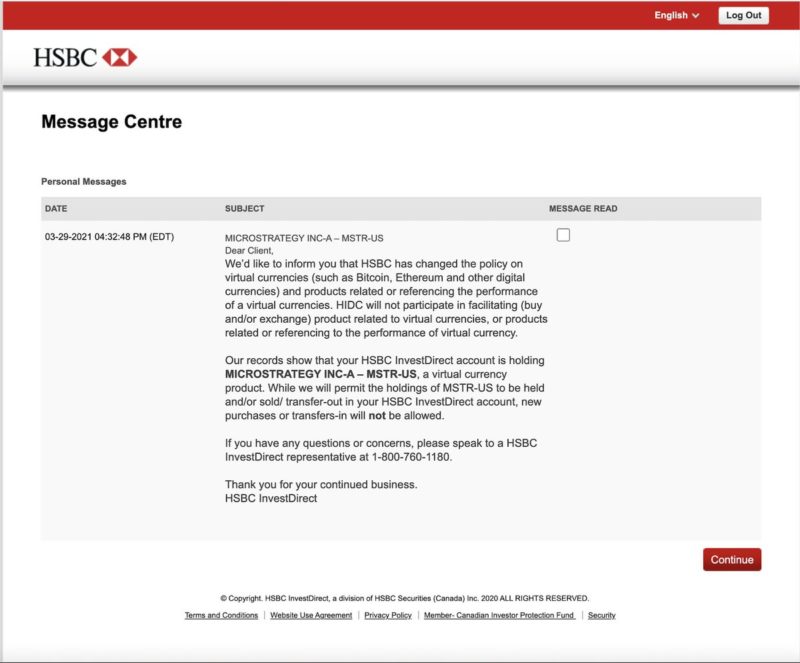 So they're not only saying that they will not allow transfers to and from crypto exchanges, but they are even prohibiting customers from buying shares of Microstrategy, a publicly listed company on the NASDAQ US exchange. The reason? Microstrategy owns a good chunk of Bitcoin. Simple as that.
Make you want to rethink your relationship with your bank doesn't it?