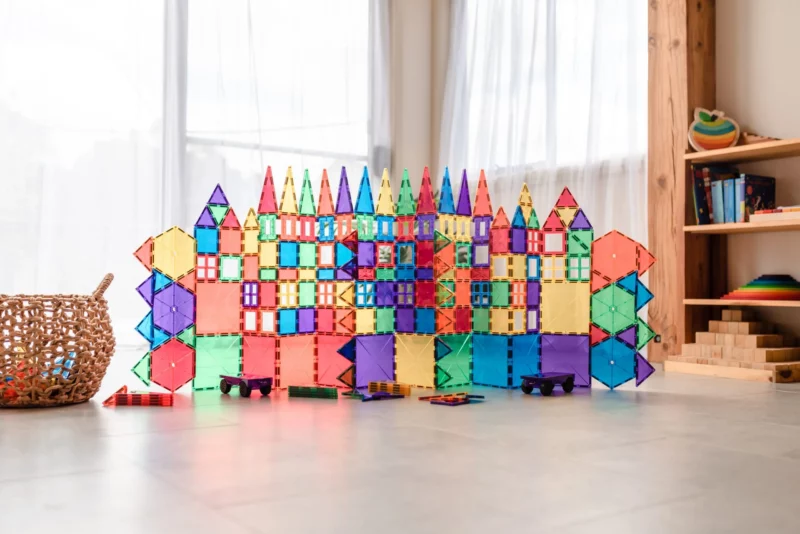 When choosing toys for your kids, it's important to consider their interests, abilities, and developmental stage. Look for toys that are age-appropriate, safe, and durable. Avoid toys with small parts that could be choking hazards for younger children, and be sure to read the labels and instructions to ensure that the toy is suitable for your child.
Here are the toys that my kids enjoyed the most:
Newborn to 2 Years
For the early years we were very inspired by the Montessori method of teaching, which also incorporates a certain style of toys. In this method toys are mostly made of wood, are educational and tend to have pleasant colors rather than the garish colors seen on some plastic toys.
While we opted to keep our children home for the first 3 years of their childhood, we opted for hiring a qualified tutor who would come home every day to educate them and thus guide them in their early education and play. Hiring the tutor was one of the best decisions we've made with our kids, especially after I saw how many cheaper nannies treated the kids when out and about in Barcelona.
I personally dislike the cheap sounds many Chinese toy sets make and have therefore stayed away from them. Both kids were never really big fans of soft toys, and we ended up being gifted a bunch of those that just lay about unused.
Baby Einstein Drums
Mattel Mega Blocks
Woom 1 bike (see notes further below)
Various Lego Duplo sets
Play Doh
Janod City and Jungle puzzles
Pretend Doctor Kit
Small metal cars (no brand, made in China)
Trash Truck (son was in love with them)
CAT Dump Truck
Various kinds of flash cards (Russian and English)
Play tive junior activity cube
Tegu Vehicle wooden magnet blocks
Montessori busy board
Kitchen cutting board and vegetable set
Woomax Xylophone
Vtech baby laptop (not used much)
We put a strong emphasis on art and physical dexterity as well, so I bought a collection of different balls for them to play with, which they used extensively. For the art aspect, we bought a multitude of coloring books, plain drawing paper, and various painting media such as watercolors, crayons, pencils, chalk etc.
2 Years Onwards
From around 2 years of age onwards, I started to really enjoy building with my son. I found this really enjoyable as I rekindled my lost love for building things with my hands and experimenting with electronics. I was a huge Lego fan as a child, but later on I shifted entirely to playing computer games and forgot all about building physical objects.
Some of the sets in the list are recommended for much older kids, but I have found that if you have the time to play with kids, you can do some really advanced things. You'll just need to find the most appropriate way to get them involved, and more importantly, make sure that they are not harmed by incorrect usage of the toys (e.g. swallowing small parts, or injuries due to unsupervised play with electronic parts like motors, batteries etc).
Woom 2, 3 onwards
Learning Resources

Scrambles the Fox
Botley 2.0
Construction Kit

Connetix (better than Magnatiles)
Snap Circuits full set
Meccano Sets

Tractor set
Buggy with friction motor
Police car with R/C

Lego Technic Sets

Buggy 42124
Rally Top Gear 42109
4X4 X-treme Off-Roader 42099
MINDSTORMS Robot Builder 51515

Addo Play Wooden clock
Play tive cash register
Wooden abacus
You also need to take into consideration the differences in character and interests between kids. My son displayed an amazing capacity to concentrate for longer periods right from a very young age, whereas my daughter had more of a wild streak so it was easier to do more physical play with her rather than tasks requiring a lot of sitting down and thinking. This diversity was also great for me as I got to explore more activities rather than simply repeating the same things with both kids.
While as a parent it's a good thing to strive for a sense of equality between kids, for most people it is simply natural to be more interested in doing things the first time around, hence the first child has an advantage. On the other hand, parents tend to experience a sensation of being much wiser in their behavior around the second kid onwards, and may also have gotten rid of that over-protection instinct or unhealthy fear of the child getting hurt in some way or another. This usually works to the advantage of the younger siblings as they get a bit more freedom. All this to say that each kid's experience and your interaction with them as parents will necessarily be different.
The Montessori Method
Montessori is an educational approach that was developed by Italian physician and educator Maria Montessori in the early 20th century. It is based on the belief that children are naturally curious and capable learners who are driven to explore and discover their environment.
In a Montessori classroom, children are given the freedom to choose their own activities and work at their own pace. The environment is carefully prepared to allow children to learn through hands-on exploration and discovery. Materials are designed to be self-correcting, so that children can learn through trial and error without the need for explicit instruction.
The Montessori approach emphasizes the importance of developing a child's independence, self-discipline, and self-motivation. It also places a strong emphasis on respect for the child's individual interests and learning style.
Why We Chose Balance Bikes
Balance bikes are a type of bicycle that are designed to help young children learn how to ride a bike without the use of pedals. Instead of pedaling, children propel themselves forward by pushing off the ground with their feet.
Balance bikes are often used as a stepping stone for children who are learning to ride a bike, as they can help children develop balance, coordination, and confidence on two wheels. Because balance bikes do not have pedals, children are able to focus on developing their balance and steering skills, which are essential for riding a bike.
There are several benefits to using a balance bike to learn how to ride a bike. Some of these benefits include:
Early start: Children as young as 18 months can begin learning to ride on a balance bike, which can give them a head start in developing their biking skills.
No fear of falling: Balance bikes are low to the ground and have a wide, stable base, which can make children feel more comfortable and confident as they learn to ride.
Improved balance and coordination: Balance bikes can help children develop balance and coordination, which are essential skills for riding a bike.
Easy to use: Balance bikes are simple to use and do not require any special skills or knowledge to ride.
Fun: Children often find balance bikes to be fun and enjoyable, which can encourage them to want to ride more and continue practicing their skills.
Donating Toys
Donating old toys to a worthy cause is a great idea. There are many organizations that accept toy donations, such as toy drives run by schools or local charities. These donations can help bring joy to children who may not have many toys of their own. Additionally, donating old toys is a great way to declutter your home and make space for new items. It's also an environmentally friendly way to dispose of items that you no longer need. Overall, donating old toys is a kind and generous act that can make a big difference in the lives of others.
In Barcelona, I recommend donating to Ilusions Solidaries.