The United Kingdom is one of the most economically advanced and stable countries in Europe, with a strong legal system and one of the most important capital cities in the world. This and many other factors make it an ideal location for real estate investment.
In a separate article, I've listed the best European-wide real estate crowdfunding platforms, but in this article, I'll only talk about UK platforms.
The best UK real estate platforms are Property Partner and CrowdProperty. No other competitor comes close to these two platforms. I've invested in both and they are very professional.
I believe that property should form a part of everyone's investment portfolio, which is why I have made it an important part of my investment strategy over the past few years. By investing in a variety of properties instead of one, you can diversify your portfolio, reduce your level of risk and increase your returns over time.
Between 1997 and 2016, UK property prices have grown by 11.65% per year on average. This is compared to the FTSE All-Share index which has delivered 3.03% p.a. on average over the last 20 years to the end of 2016.
Even after Brexit, the UK remains a good place to invest in real estate:
250,000: The number of properties that need to be built each year in the UK to meet demand
170,000: The average number of properties being built each year – 32% behind target
80,000: The current shortfall of housing each year
While most people only think of London when it comes to investing in the UK property market, good investment goes further than just where the city is, it also comes down to the area the development is located in. The more popular the area is to live in, the more demand there will be from potential tenants.
Markers of a good location:
A population that outweighs the supply of housing
Potential for future capital appreciation
A young population
Migration of big business
Previous institutional investment
With that said, let's take a closer look at my favorite platforms.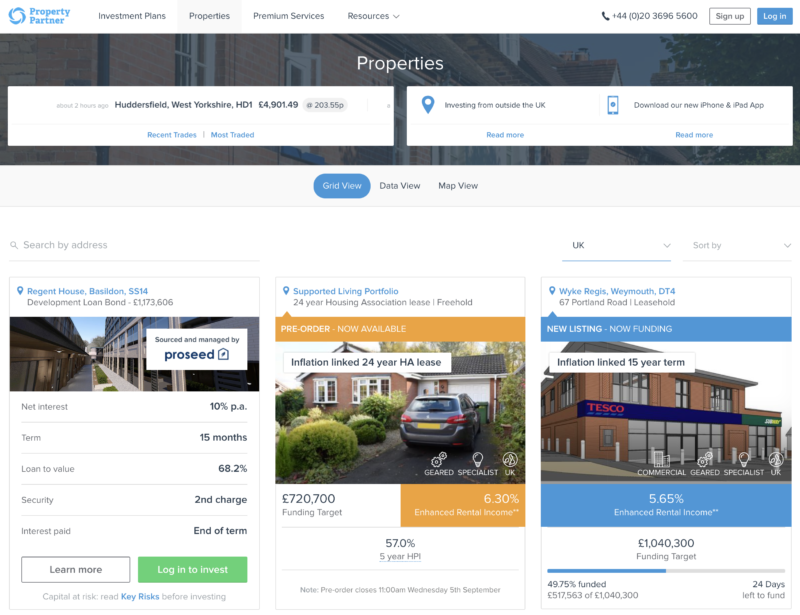 Property Partner offers us, investors, the opportunity to invest in properties directly or else into development loan bonds (recently introduced). A company is created for each property purchased, and investors buy shares in that company.
Most of the properties are geared. Property Partner only lists properties at 50-60% loan-to-value (LTV) of the purchase price. They buy multiple units at a discount compared to purchasing the units individually –adding further downside protection. Reducing risk further, they only gear multiple-unit properties as these have a more stable rental income stream to service the mortgage.
Read more: My review of Property Partner
You can manually choose which investment opportunities you want to pursue, or else select one of the three investment plans and have the platform auto-invest for you.
Income plan (6.5%+)
Balanced plan (7.5%+)
Growth plan (8.5%+)
The investment plans are ideal for those who have an amount less than €50,000 to invest, because at those levels it doesn't make sense to spend a lot of time researching each opportunity and making manual investments.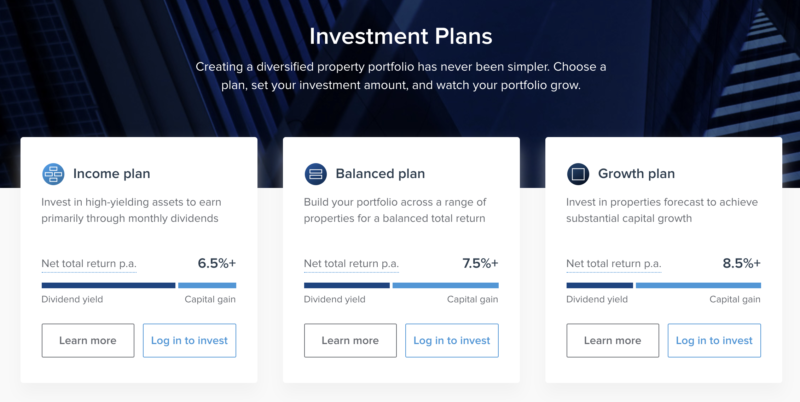 The fees relate to services that Property Partner provides:
Sourcing and performing due diligence on investment-grade property deals, often with significant discounts, by an in-house team of property professionals and analysts.
Ensuring that properties are let, managed and maintained to a high standard, and distributing monthly or quarterly dividends to investors.
Delivering an end-to-end managed investment, including sourcing and arranging mortgages, corporate structuring through SPVs, financial statement preparation, corporate tax compliance, and adhering to regulatory requirements.
Providing a technology platform that facilitates online investment management and reporting, on an FCA-regulated trading exchange allowing investors to trade their investments 24 hours a day, 365 days a year.
Investors pay:
A one-off 2% transaction fee on invested funds.
A sourcing fee of up to 2% + VAT of the purchase price; this is disclosed in the 'Financials' section of each property.
There is no charge to sell your shares
Transaction fees are rounded up to the nearest pence and the minimum fee per transaction shall be £0.01. For all Resale Market investments, there is an additional 0.5% Stamp Duty Reserve Tax payable when buying shares.

CrowdProperty is a fintech/proptech online-lending innovator, exceptionally efficiently matching the demand (quality property professionals undertaking quality property projects) and supply (retail/institutional investors) of capital for value-creating property projects, delivering a better deal for all – borrowers, lenders, the under-supplied UK housing environment and spend in the UK economy.
CrowdProperty has lent £120,000,000, funding the development of over 1,200 homes worth over £220m since 2014, carefully curated from over £4.5bn of applications.
Read more: My review of CrowdProperty
CrowdProperty became the first and only property P2P lender to become Brismo Verified, independently validating CrowdProperty's market-leading performance, showing significant outperformance of Brismo's UK P2P Index. CrowdProperty was recognised in the Deloitte Fast 50 list 2020 as one of the 50 fastest-growing tech businesses in the UK (#41) and the #1 fastest growing tech businesses in the Midlands.
Actual property development and investment experience lies at the heart of the business meaning hands-on, expertise-led due diligence and loan monitoring.
Sourced Capital is the largest property investment platform in the UK. On their website, they have a lot of useful materials to guide newbie investors into the world of real estate investment.
With regards to being the biggest investment platform, this is centred around the Sourced group not just the peer-to-peer lending platform.
The P2P arm of the Sourced business is relativity new as the majority of their projects where originally done offline. It was only when they saw an increased demand for a platform and smaller investment transactions such as £1,000-£10,000 that they decided to develop the online platform.
Sourced currently has 50 Sourced offline franchisees, which is the largest franchise for property investment in the UK. They also have a development arm that operates our largest GDV projects done by Sourced ourselves, namely their flagship £144mn development in Manchester – Regent Plaza.
All this means that this is no newbie platform that has appeared out of the blue. They've been operating for many years and the online platform is their latest product.
You can earn up to 12% per annum and they have several live projects you can currently invest in.
The way it works is that you can choose a property that you like and invest in a loan to the developer of that property. There are no fees for investors.
If you're a UK resident, you can also invest in a Sourced Innovative Finance ISA and with some SIPP and SASS pensions you can invest them into projects on the Sourced platform – making your money work better for you.
There is no secondary market at the moment, however, I expect it will be an addition in the future. The average loan term is 6-18 months, which is not too long a period to have your money tied up in an investment.
Have you invested in UK property through one of these platforms? What is your experience?
Make sure you also check out my list of best European real estate crowdfunding platforms for many more options for real estate investment. I like to diversify my investments geographically, and in Europe it really makes sense to do so as we can find many solid markets (like Germany and France) as well as trending markets that can generate outsized returns, like the Baltics.