Bitfinex is one of the most established digital asset platforms currently active in the crypto space. It offers a wide spectrum of state-of-the-art services dedicated to cryptocurrency investors and traders alike.
Established in 2012, Bitfinex has been able to accommodate the evolving interest of crypto enthusiasts. Over the years, the platform has cemented its position in the industry as one of the go-to platforms for all your cryptocurrency needs.
In this review, I will walk you through the different aspects of Bitfinex and examine whether it can be a trusted source for your cryptocurrency investments.
Bitfinex – An Overview
Bitfinex was first launched as a peer-to-peer margin lending service. At the time, not so surprisingly, the platform offered support only for Bitcoin. Over the years, it has since added hundreds of other cryptocurrencies and digital tokens to its list of supported markets.
Today, Bitfinex has upgraded itself to become a full-fledged tool for cryptocurrency traders and liquidity providers.
In a nutshell, Bitfinex offers six core products on its trading platform:
Exchange trading
Margin trading
Margin funding
Over-The-Counter (OTC) market
Derivatives
Paper trading
Apart from this, Bitfinex also has an entire section exclusively dedicated to cryptocurrency lenders. This will allow you to gain access to products such as:
Staking
Lending products
Borrowing
Apart from the aforementioned, Bitfinex also has several other interesting features to make your trading and investing easier. For instance, the platform has developed Honey Framework, which you can use to create custom order types and automate your trading strategies.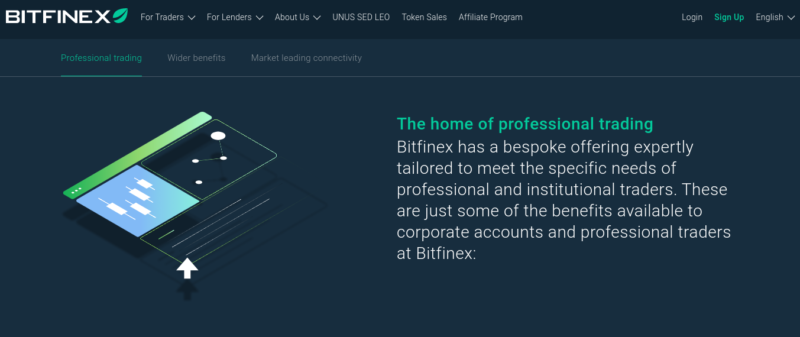 In addition, Bitfinex can also give you regular access to market updates, analysis tools, and allow you to download reports of your prior trades and investments. If you are keen to avail of the platform's features on the go, you can also do so using the Bitfinex mobile app.
Bitfinex Professional Trading
Bitfinex caters to both individual and institutional traders. However, the platform was built in a way to keep up with the requirements of seasoned professionals.
For instance:
Experienced traders and institutional accounts can gain direct access to Bitfinex's digital asset gateway with the fastest trading speeds. The platform has partnered with Market Synergy to provide high-grade connectivity to all professional users.
Bitfinex gives professional traders the option to create sub-accounts. This will allow you to group together trade volume for fee tiers and give separate permissions for deposits and withdrawals.
Professional users can also benefit from an expedited verification process while maintaining the standardized compliance rules of KYC, AML, and CTF.
In addition, Bitfinex has also created a dedicated customer support team to handle the queries for professional and corporate traders around the clock.
Bitfinex Trading Features
Bitfinex has created a clean and advanced interface that gives you access to hundreds of cryptocurrencies along with high liquidity.
Exchange Trading
Bitfinex has the reputation of offering one of the most liquid order books for spot trading in the cryptocurrency space. As high volume often ensures a low spread – this can be favorable for traders looking for minimal trading fees. The service has built an advanced trading platform with a customizable interface and support for over 50 trading pairs.
You can also trade derivatives such as Bitcoin and USDT futures. Furthermore, Bitfinex also boasts a wide selection of trading orders – including limit, market, stop-limit, trailing stop, fill/kill, and scaled orders. There is also an integrated charting functionality that can be tremendously helpful for crafting custom trading strategies.
Derivatives
As I briefly touched upon earlier, verified users on Bitfinex can also gain access to derivatives trading. This feature is provided in partnership with iFinex Financial Technologies Limited.Most importantly, Bitfinex also offers maximum leverage of up to 100x on derivative products.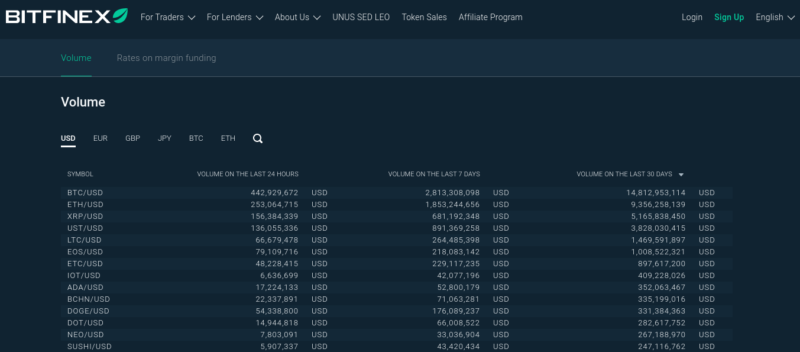 However, if you want to trade with leverage, you should have Tether tokens (USDT) in your derivatives wallet. The required collateral will depend on the trading pair as well as the amount of leverage you apply.
Margin Trading
In many ways, margin trading is similar to applying leverage for your positions. For instance, say you have $1,000 in your trading account. Using leverage of 2x, you will be able to trade with $2,000 (2 x $1,000). Typically, when you are accessing leverage, you will be borrowing the additional funds from the broker or exchange in question.
Bitfinex allows maximum leverage of 10x for its users. However, this means that you will be borrowing funds from the p2P funding platform of Bitfinex. As such, when you are margin trading – you might also have to pay interest rates on the fund you borrow.
Read more: The best crypto borrowing and lending platforms
This interest rate is determined by the P2P lending platform and will vary depending on current market demand. That said, you will not have to search for suitable margin loans yourself.
When you open a leveraged position, Bitfinex will automatically borrow the required liquidity at the best available rate. On the other hand, if you would rather prefer to bid on the P2P lending platform yourself – this is also possible.
Margin Funding
Margin funding is primarily targeted at cryptocurrency investors that want a simpler investment route compared to speculative trading. Bitfinex offers a P2P financing market – allowing you to earn interest on your digital assets. As we mentioned earlier, you will be lending your funds to other Bitfinex users who want to trade with leverage.
This way, you will be earning passive income while not having to subject yourself to the unpredictable risks of active trading.
Bitfinex also gives you complete control over defining the terms of funding.
You will be able to set the wanted return rate, duration of the loan, and the amount. The funds you want to lend will be stored in the 'Funding Wallet'.
Once a margin trader on Bitfinex takes your offer, the amount in your Funding Wallet will be accessible to them to open a position. When the respective position is closed, you will receive the funds along with the accrued interest.
Bitfinex also has a dedicated platform to help you with the lending process, called 'Lending Pro'. This highly customizable tool gives you access to advanced and automated features to manage the lending process based on market conditions and predefined specifications.
Paper Trading
Bitfinex also offers a paper trading function that allows you to test and experiment with your trading strategy in a simulated market setting. The demo account comes funded with tokens that you can use to open new trades.
The paper trading functionality also extends to margin trading, derivative trading, and margin funding. It also has an OTC trading desk in case you want to try placing large orders by bypassing the public order books.
Bitfinex Payment Card
Bitfinex also allows you to purchase cryptocurrencies instantly using your credit or debit card on the platform. The minimum amount for such purchases is set at $25 – making this option affordable for investors with low budgets.
Bitfinex Staking Rewards Program
With cryptocurrency platforms developing their own digital tokens, Bitfinex gives you an opportunity to capitalize on this growing interest.
The platform's staking program allows you to earn rewards in exchange for holding certain digital tokens on the site. In return, you will receive weekly rewards. More importantly, you will still be allowed to trade and offer out coins or tokens for margin funding without having to give up on the respective incentive.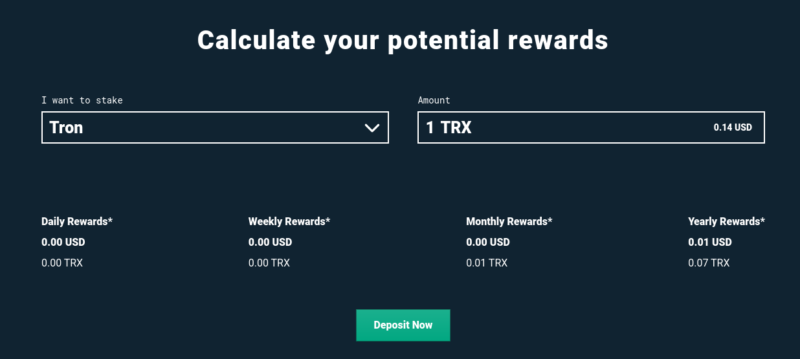 Currently, Bitfinex offers the staking feature for nine digital tokens – namely:
TRON
EOS
Tezos
Cosmos
Algorand
Cardano
Polkadot
ETH2
KSM
There is no minimum amount of tokens required to start taking on Bitfinex. However, the platform has set a minimum reward policy to reduce the stress on the system.In other words, you will have to collect a minimum amount of rewards to start receiving them.
However, there is no additional fee involved in staking. On the other hand, Bitfinex benefits by collecting a small portion of the reward before depositing the rest into your account.
Note: It is important to mention that staking rewards are calculated and distributed by the token network, which Bitfinex, in turn, pays out to its users. As such, Bitfinex has made it a point to note that there is no guarantee that you will receive the stated returns.
Bitfinex Borrow
Bitfinex Borrow is the platform's P2P lending feature that allows you to borrow funds from other users by using your assets as collateral. You can get loans for both your crypto assets as well as fiat currencies. Bitfinex offers its borrowing option only for a limited number of cryptocurrencies – including BTC, KTC, ETG, DOT, XRP, EOS, LEO, UNI, ADA, LINK, XTZ, IOTA, and ATOM.
The amount you are eligible to borrow will differ depending on the collateral and the currency you wish to receive. Additionally, the loan available to you will also vary based on the liquidity of the asset on the platform.  As a borrower, you are also expected to pay interest on your loans.
You will have the option to choose between a fixed or a variable rate basis based on your requirements. If you choose a variable rate, your loan duration will be calculated only from the time you withdraw funds from your margin wallet. On the other hand, if you are borrowing on a fixed interest rate, your loan will start the moment you accept the offer.
UNUS SED LEO
If you have been following the cryptocurrency markets, you might already be aware that many platforms are launching their own native tokens. These digital assets are designed to add more value to the respective communities as well as offer utility to its users.
With that in mind, UNUS SED LEO (LEO) is the native token of the Bitfinex platform. Holders of this token can expect to receive several incentives on the Bitfinex ecosystem.
For instance:
UNUS SED LEO holders will get a 15% discount o taker fees of all crypto-to-crypto pairs.
UNUS SED LEO holders can also benefit from a maximum reduction of 5% on the lending fee.
Holding UNUS SED LEO tokens will also allow you to receive up to a 25% discount on deposits and withdrawals on the platform.
Bitfinex Fees
Bitfinex follows a progressive make-taker fee model based on the 30-day trading volume of a user. In addition, as I discussed above – if you hold any UNUS SED LEO tokens, it will also have an impact on the fees you are liable to pay on the platform.
Maker and Taker Fees
Maker fees are paid when you provide liquidity to the platform. On the contrary, taker fees are applicable when you withdraw liquidity from the order book.
On Bitfinex, the maker and taker fees range from 0.000% and 0.055% to 0.100% to 0.200%, respectively.
If you are trading derivatives, the maker and taker fees are much lower in comparison – with the highest being 0.0200% and 0.0750%, respectively.
LEO Token holders can get a discount of 25% on taker fees on regular trade executions and up to 2 basis points on derivatives.
Bitfinex Borrow
Borrowers on the Bitfinex platform will have to pay the maker fee twice – once while depositing collateral and then again when returning the borrowed funds. This is charged as the order execution fees based on the respective trading volume.
Bitfinex lenders are also required to pay a fee of 15%, which can go up to 18% if you are sending a hidden offer.
Margin Funding
Margin funding providers also have to pay a similar fee to that of Bitfinex Borrow – set at 15% and 18% depending on the type of offer.
Deposit and Withdrawal Fees
Deposits are for free on Bitfinex – unless processed through a bank wire transfer.
However, withdrawing funds might require you to pay a small fraction as fees depending on the type of asset.
Bitfinex Security
Bitfinex has stressed the importance of security measures on the platform for the safeguarding of users' assets and funds. Approximately 99.5% of customer funds are stored in cold wallets. Additionally, the platform also stresses the need for two-factor authentication (2FA)  and email encryption for IP withdrawals.
That said, back in 2016 – Bitfinex was the victim of a security breach that resulted in a loss of $72 million worth of Bitcoin. However, the platform has been able to compensate all affected customers by repaying them through tokens – which they bought back at the price of Bitcoin over time.

In fact, Bitfinex managed to repurchase all of the aforementioned tokens in less than a year – demonstrating its liquidity and dedication to customer satisfaction. Since then, the platform has integrated tighter security measures to make sure that such incidents do not reoccur.
Bitfinex Customer Support
Bitfinex has set up a Help Center that combines extensive articles on all of the features on the platform. There are also tutorials, articles, and guides offering step-by-step instructions about how to use the different functionalities and explaining the different concepts.
If you need clarifications, you can also reach out to the team through email directly from the Bitfinex website.
Bitfinex has been a leading provider in the cryptocurrency trading market for nearly a decade. This itself is a testimony of the platform's ever-growing popularity and dedication to meeting the changing requirements of crypto investors. Bitfinex has been quick to add new products and services – expanding its functionalities constantly.
That said, I would suggest that the platform is best reserved for advanced traders. Beginners might find the interface somewhat complex. For a professional trader, Bitfinex offers a full suite of flexible products that can be tweaked to your specific needs.
It is true that Bitfinex has encountered some security issues in the past. However, it has come a long way since then – learning from its errors, thus making the platform even more secure and stronger.