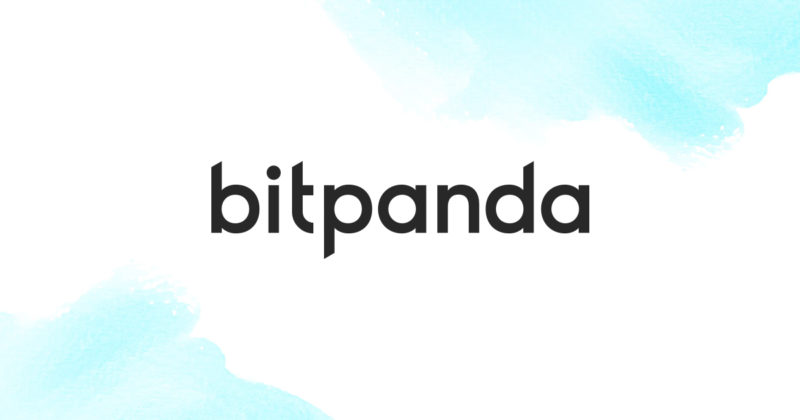 Bitpanda was created to offer a simple way to buy and sell cryptocurrencies. The Austria-based fintech platform has since garnered a notable reputation in this space, with the provider claiming to be behind more than 1 million active traders.
In this review, I dive into the many features of Bitpanda and how it measures up against the other cryptocurrency trading platforms in the market. In particular, I look at supported markets, fees and commissions, user-friendliness, and safety.
What is Bitpanda?
Bitpanda began its journey under the name Coinimal in October 2014. The platform gained attention with its simplicity – making it easier for both experts and novice traders to step on to the cryptocurrency trading scene.
Today, the platform has evolved to provide an array of digital assets – including 46 cryptocurrencies, four metal tokens, and three different Bitpanda crypto indices.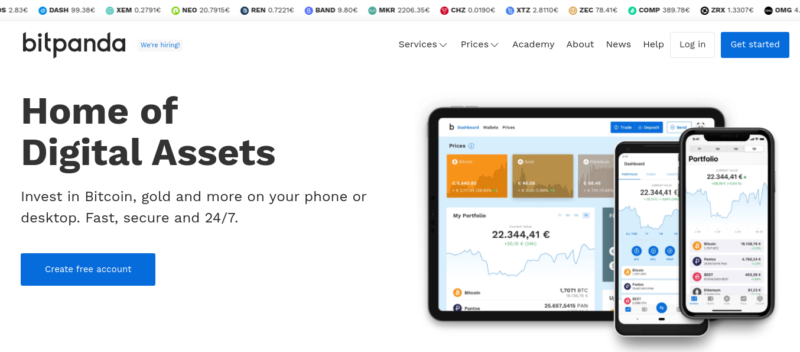 In addition, the team at Btpand has also introduced several other financial management tools that aid in the process of online trading.
Here is an overview of the key features found at Bitpanda:
Buy and sell digital assets and tokens directly – 24 hours a day, seven days a week
More than ten options to pay for digital assets – with bank cards, e-wallets, and SEPA bank transfers
Fast and convenient transactions with fully-automated order systems
Create price alerts for supported digital assets
Set up a personal savings account to automatically buy digital assets
Unlock trading discounts with the Bitpanda Ecosystem Token
Gain access to competent and reliable support
Bitpanda was designed specifically for newbie traders who want an easy to use interface to access cryptocurrency. That said, the platform has also expanded to accommodate the needs of professional traders.
More specifically, Bitpanda Pro was created for seasoned traders and businesses that demand more advanced tools, as well as integrate the platform with trading bots.
All in all, Bitpanda strikes as a well-rounded platform for traders of all shapes and sizes. You can also access all its features through a native mobile application, which offers a smooth transition between different devices, and allows you to access your assets from anywhere, anytime.
Features of Bitpanda
Here's a break down of the main features offered by Bitpanda.
Main Bitpanda Platform
The primary function of Bitpanda is to facilitate simple cryptocurrency purchases. In order to make this happen, the platform has partnered with different payment providers that allow for smooth and swift processing of your transactions.
Bitpanda supports deposits in the following fiat currencies:
Euro
US dollars
British pounds
Swiss francs
Turkish lira
Once you have funded your fiat wallet, you can buy cryptocurrencies and store them in your Bitpanda wallet or withdraw the coins to an external wallet of your choosing.
If you want to sell your digital currency, you can use the coins you have in your Bitpanda wallet or deposit crypto from an external wallet. When ready, you can sell the assets for a fiat currency, and the amount will be deposited in your chosen Bitpand fiat wallet.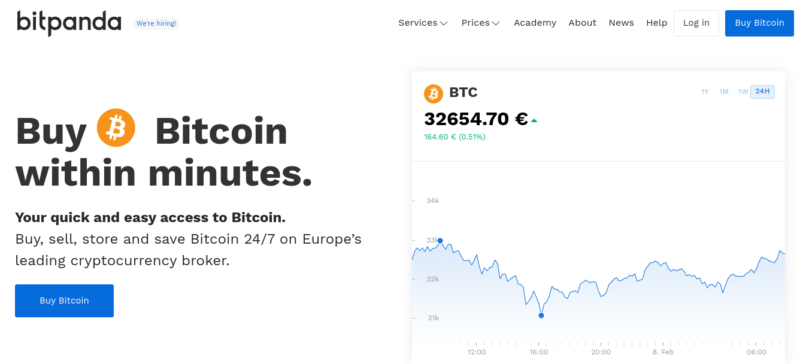 Most notably, Bitpanda supports several types of deposit options to pay for your digital assets. You can deposit funds money through credit cards, debit cards, SEPA, bank wire, and popular e-wallets such as Sofort, Neteller, Skrill, and GiroPay.
Bitpanda To Go
In accordance with its goal to make cryptocurrency accessible to everyone. Bitpanda has partnered with the Austrian postal office to create Bitpanda To Go vouchers. If you are in Austria, you can directly go to one of the 1,750 partnered postal branches and get a voucher with cash or any other accepted payment method.
You can then proceed to redeem the voucher codes on your verified Bitpanda account, and the coins will be directly deposited in your wallet.
Furthermore, there is also a significant reduction in the premium you pay when you buy cryptocurrencies through Bitpanda To Go.
Bitpanda Swap
Aside from buying and selling digital assets, you can also exchange cryptocurrencies on the Bitpanda platform. For instance, let's say you currently hold Ethereum (ETH) in your wallet, and you want to swap it for EOS. You can define the amount of digital assets you want to exchange at the click of a button.
Bitpanda Savings
Bitpanda Savings is a way for you to set up recurring purchases of digital assets without having to execute the process manually every single time. In other words, you can automate the buying of digital assets by setting the time, date, and currency – and Bitpanda will do the rest for you.
You can create multiple savings plans at a time with different predefined conditions. For instance, you can choose to buy IOTA (MIOTA) every Tuesday at 2:00 pm or purchase Bitcoin (BTC) once a month on an ongoing basis.
Bitpanda Metals
As I mentioned earlier, Bitpanda has recently extended its collection of supported digital assets. Bitpanda Metals is one such endeavor – that offers the same convenience of trading cryptocurrencies on the platform.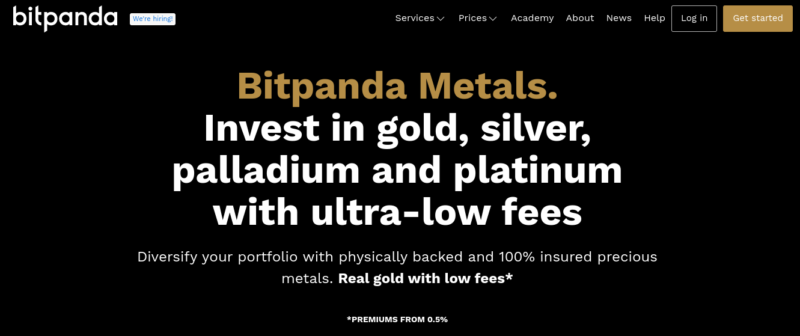 Although you will be buying and selling metal tokens – these are backed by the physical form of the asset. As such, when you buy a token, this represents the corresponding amount of metal purchased in your name, stored and insured in Switzerland by partners of Bitpanda. The value of one token is equal to one gram of the respective metal.
At the moment, Bitpanda supports tokens for gold, silver, palladium, and platinum. This way, you get to own the metal but do not have to concern yourself about physical storage or transportation.
Much like cryptocurrencies, you can swap the metals and set up savings accounts for recurring purchases on Bitpanda.
Bitpanda Crypto Index
The Bitpanda Crypto Index allows you to invest in a cryptocurrency portfolio curated by the team behind the platform. The Index is regularly reviewed and 'readjusted' to react to evolving market conditions on a monthly basis. This way, Bitpanda assures that the portfolio's exposure is mitigated.
Like individual digital assets on Bitpanda, you can buy, sell or swap the Index with ease.
Crucially, the main benefit of the Index is that you don't need to invest individually in each coin. On the contrary, the Bitpanda Crypto Index allows you to create a diversified portfolio.
Currently, Bitpanda offers three different indices for you to pick from – based on market capitalization and liquidity.
Bitpanda Crypto Index 5 with the top 5 coins
Bitpanda Crypto Index 10 with the top 10 coins
Bitpanda Crypto Index 25 with the top 25 coins
All you need to get started with a Bitpanda Crypto Index is a verified account on the platform.
BEST – The Bitpanda EcoSystem Token
BEST is the native token of Bitpanda, designed to maximize the benefits of trading on the platform. As you can guess, BEST holders gain access to several exclusive rewards and perks in terms of access to features as well as trading fees.
Moreover, BEST can also be traded against BTC and Ethereum on Bitpanda Pro.
Here is a quick look at what benefits BEST tokens can get you in the Bitpanda ecosystem:
Up to 20% reduction in trading premiums and fees when using BEST to pay for transactions.
Priority access to new features
A rewards loyalty program to increase your BEST holdings by up to 12.68% annually.
Participate in BEST VIP votes
Higher review share on affiliate programs.
Access to dedicated VIP customer care support
At the moment, the benefits for BEST holders are classified by three different levels.
Level 1 BEST VIP- accounts holding a minimum of 5,000 BEST coins
Level 2 BEST VIP- accounts holding a minimum of 50,000 BEST coins
Level 3 BEST VIP- accounts holding a minimum of 500,000 BEST coins
The perks vary from one level to another, depending on how many coins you hold in your Bitpanda wallet.
Bitpanda Card
To further increase its ever-growing fintech solutions, Bitpanda has also launched an exclusive card that allows you to spend your crypto-assets online. You can fund this with all supported digital assets – including cryptocurrencies, and metals, as well as Euros, to pay for your daily purchases.
At the moment, the Bitpanda card is accessible only to residents of the Eurozone area. Whenever you make a payment, your digital assets will be instantly traded to Euros to execute the transaction.
This allows you to spend your crypto holdings just like how you would with fiat currency.
While you can order the Bitpanda card for free, you need to own at least 100 Euro worth of assets in your account. You can control the card and manage payments right through Bitpanda's mobile app.
Bitpanda Plus
The Bitpanda Plus program is an exclusive service designed for users who engage in high volume trades, typically above the Bitpanda default limits.
Moreover, Bitpanda Plus users also get access to:
Exclusive support from account managers
Higher limits on deposits and withdrawals
Personalized updates about new features and products
Discounted trading fees, and premiums
Ability to block specific deposit and payment methods.
While the prospect of signing up for Bitpanda Plus is pretty appealing, you also have to meet rigorous requirements. This includes factors such as having an annual income of at least 150,000 Euros or have 500,000 Euros in savings.
In addition, you also have to be a top tier BEST VIP user.
BitPanda Verification
Bitpanda works seamlessly across its web platform as well as on the mobile app. You can choose to open your account through either of these options.
The platform used to provide two types of verification categories for its users – Light Verification and Full Verification. The light verification allowed you to trade without having to submit any ID. However, you could only deposit and withdraw money through bank transfer.
However, as per AML5 EU regulations, all new users are required to completely verify their account by providing a valid government-issued ID alongside an automated video call. On the flip side, this gives you access to all functionalities offered by Bitpanda.
Note: Those that initially registered via the Light Verification Level are recommended to get their accounts verified as quickly as possible to avoid limitation.  
Minimum Deposit
There is no specific account minimum to get started. However, your deposits will be limited to 2,500 Euros for online payments through SOFORT or EPS/GIROPAY.
If you want to extend this limit, you will need to deposit an amount between 25 and 2,500 euros through SEPA or bank wire.
Bitpanda Fees
Like all cryptocurrency platforms, Bitpanda is in the business of making money. Below I list the main fees that you need to consider before opening an account.
Trading Premiums
Bitpanda's trading fees are not the most competitive in the market. The platform charges 1.49% flat fees on cryptocurrencies, which mirrors that of Coinbase.
These premium fees are already built into the market price of supported digital assets and are continuously updated in real-time. In other words, you will not have to pay any additional trading fees on the cryptocurrencies you see.

As I mentioned earlier, you can reduce the trading premiums by up to 20% if you hold any BEST tokens and use them to pay your fees.
Bitpanda Pro Fees
Bitpanda Pro is geared towards professional trading solutions that wish to benefit from fully-automated processes. If you choose to trade through this sophisticated platform, you will have to pay a 0.1% maker fee and 0.15% taker fee.
This could reduce further based on your 30-day trading volumes.
Fees and Premiums on Metals
When it comes to trading precious metals, Bitpanda charges you a storage fee in addition to the trading premiums mentioned above. The specific rates depend on the metals you are trading.
Gold 
A trading premium of 0.5% when you buy and 1% when you sell.
Storage fee is waived for the first 20g of gold, and after that – you have to pay 0.0125% per week.
Silver
A trading premium of 2.5% for buying and 2% for selling
No storage fees for the first 200g of silver, beyond which you have to pay a 0.025% storage fee per week
Platinum 
A trading premium of 2.5% for buying and 2% for selling
No storage fees for the first 200g of the metal and 0.025% storage fee per week after that.
Palladium 
A trading premium of 2.2% for buying and 1.8% for selling
0.025% storage fee per week after buying the first 20g of palladium
The storage fees are calculated on a weekly basis and will be deducted from your wallet.
In addition to these fees, you might also be liable to pay any deposit or withdrawal fees charged by your chosen third-party e-wallet or bank.
How Safe is Bitpanda?
Bitpanda is a legitimate trading platform licensed as a PSD2 payment service provider with the Austrian Financial Market Authority. The company emphasizes on safety in all aspects of its functionality.
The platform employs SSL encryption, two-factor authentication, and multi signatures to add further security to your wallet. In its seven years of operation, the platform has thus far safeguarded its users from any security threats or hacks. In other words, Bitpanda gets top marks in terms of security.
Bitpanda Customer Service and Support
If you need help while using the platform, Bitpanda has a dedicated Helpdesk with an extensive selection of explanatory guides. You can also reach out to the team through a contact form or engage with fellow users through the Telegram community.
Bitpanda also has a dedicated Academy that offers lessons for beginner and intermediate traders. Resources for expert traders will also be introduced soon.
That said, you will notice that there is no means to receive real-time support, neither through phone nor through live-chat.
To give you a quick summary, here is a list of the platform's benefits and drawbacks.
Pros 
Wide range of digital currencies
Easy navigation and beginner-friendly interface
Plenty of financial services
Nearly a dozen different payment methods
Access to exclusive support and lowered trading fee with BEST
Cons 
Fees are not transparent as they are included in market prices
Several features limited only to European residents
Verification takes time
Bitpanda Review – The Verdict?
Whether you are a novice crypto investor or a seasoned pro, you will find that Bitpanda can easily adapt to your requirements. At the forefront of this is that the platform offers one of the most convenient ways to buy and sell digital assets at the click of a button.
You can choose a payment method that most appeals to you and switch to Bitpanda Pro when you are ready to take on higher trading volumes and short-term term strategies.
In terms of safety – the platform has a great reputation in the crypto trading space. Its interface is well-designed, catering to the expectations of all traders. You can instantly process payments, automate your purchases, and even use your crypto investments to pay for your daily expenses.
Ultimately, the main downside is that Bitpanda isn't overly competitive. At an entry-level trading commission of 1.49%, there are certainly cheaper options in the market – such as eToro and Kraken.