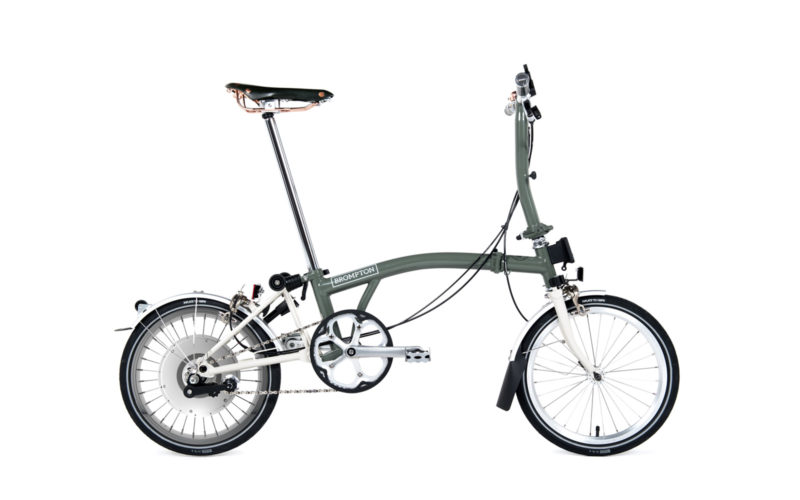 I love riding my Brompton in Barcelona and other places when we travel. In fact, I've taken it with me all over Europe since it's so easy to travel with it, whether it's by plane, train or car.
It's a great means of transport, but it's also true that if you live in hilly regions it can be a challenge to use it on a daily basis as a means of transport. The same thing applies if you're not that young anymore and don't have the same energy and stamina as before.
Enter electric bikes. They're not a new concept but recent advances in battery size and capacity, as well as electric motors, have really made possible and driven the market for electric bikes.
The official electric Brompton is now a reality and has been selling like hot cakes. There are however several alternatives that don't require you to buy a new bike but just convert your existing one.
In this post, I'll summarize the options available, and continue updating it with new developments as they happen.
I own several Bromptons, and have also bought the official electric version which I love.

So without further ado, here are the current options. I'd love to hear from others who have already purchased such kits or the official electric Brompton and hear about their experience.
Official Brompton Electric Bike
In 2017, an Official Brompton Electric bike was finally released. In my opinion, this is a bit of a disappointing effort, especially given all the years it's been in development and the hype about it being co-developed with Williams F1.
User reviews are good, and it's true that works fine and makes certain rides possible that previously were not even contemplated with a manual Brompton.
However there are certain things that could have been done better. I find the price a bit exaggerated, considering it's around €2,000 more expensive than the manual version. I picked up mine on the second-hand market at a huge discount and it had barely been used.
The electric Brompton is not compatible with the Bobike Mini One child seat that I like to have mounted on my bike. Since getting some help when riding up hills with my son is one of the main use cases for an electric Brompton in my case, this reduces its usefulness. On the other hand, when my son is older he can ride on another seating version, so it's a temporary problem.
I don't like the fact that you can't use the standard Brompton bags either, although the new bags that also carry the battery are pretty nice. I have both versions of the bag and use them both.
On wet days going uphill it can easily spin the front wheel especially if its set on maximum assistance. The fact that you can't switch the level of assistance comfortably from the handlebars is also an annoyance.
Having said all that, I still love my electric Brompton and use it on almost a daily basis for my office commute. I also like to use it for touring when I'm leaving from my home to go and explore some faraway place. I turn down the assistance but it gives me the peace of mind that if I get too far and need to get back home quickly or I get insanely tired, I can always turn up the assistance and get home in half the time.
So I've talked about my gripes and the fact that I still love my electric Brompton, but there are alternatives to electrify your Brompton. Let's have a look at them.
Swytch Conversion Kit
This started out as a Kickstarter project for regular bikes, but it is now available for many types of bikes including the Brompton. The Swytch Brompton Electric conversion kit probably the most affordable one available at the moment and you can also install it yourself if you have some know-how.
This company is strong on marketing, and ultimately the kit works in a similar way to the Brompton official electric bike. However, you can fit a child seat at the front which makes it a better solution for me. It also looks neater in my opinion. The disadvantage is that it usually out of stock and that it uses a front-wheel driving mechanism, which can get a bit tricky to manage in wet conditions.
ARCC Innovations Brompton Retro Fit kit
The ARCC e2-pod Intelligent Power System is available for the iconic British manufactured Brompton folding bike and can be fitted to all current and older Brompton folding bicycles.
The system allows the bike to be used with and without the currently available Brompton bag systems. The bag can be easily removed leaving the pod attached to the bike.
The ARCC Intelligent Power System has been designed by ARCC Innovations to provide unique intelligent bike power. It combines variable power levels with automatic hill/gradient compensation and launch control. This allows commuting cyclists to choose the amount of effort both they and the motor provides; automatically compensates for hills and gradients; and provides 'launch control', for safety when moving away from traffic lights and crossings in heavy traffic.
The Brompton equipped with the ARCC e2-pod Intelligent Power System is ideal for commuting or fast on road riding, delivering a well-tuned, responsive ride everywhere you go.
The big disadvantage here is that this company only ships to the UK.
Brompton retrofit price from £1799
Pendix Electric Assist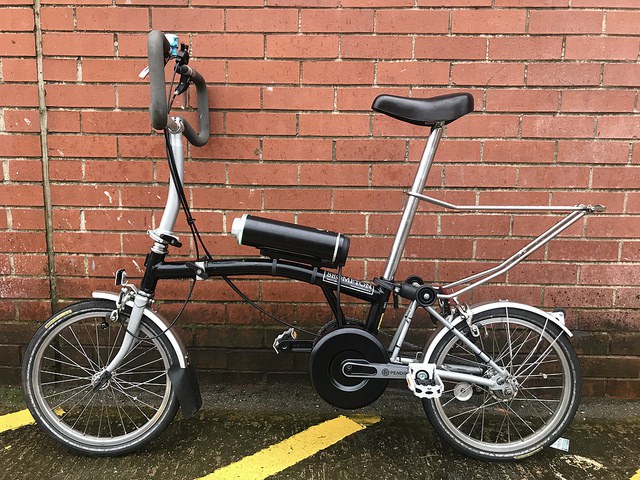 The Pendix electric assist kit is a neat German-made system – it's a crank drive kit, but unlike most crank drives, it can be fitted to conventional frames with no modification. The battery fits to a holder that fits to the bottle bosses or other convenient mounting points. A simple control knob on the battery sets the power output, and that's it – it's beautifully simple.
Because of this, it's perfectly suited to bikes with hub gears, recumbents or any bikes where a hub motor won't fit.
Since it is a crank drive, it will work on any Brompton – no need to change brakes, wheels or gearing, no frame modifications are needed. This makes it pretty convenient.
I've tried a Pendix mounted Brompton and the power delivery was quite natural and probably better than the systems mounted on the front wheel. However, it adds a lot of bulk to the crank and frankly it felt like the Brompton was no longer a Brompton but a Frankenstein bike. The battery also rattled around which added to that feeling of Brompton's elegance being completely lost.
Note that one big disadvantage of electric Bromptons is that you can't take them on a plane due to airline restrictions with bigger batteries.
What are your thoughts on the electric Brompton? Would you buy an electric conversion kit for your Brompton?