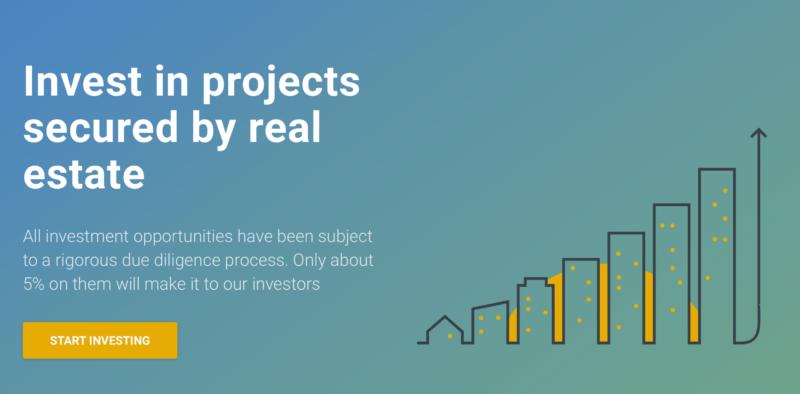 Founded in 2014, Crowdestate is one of the oldest real estate crowdfunding platforms in Europe with a 16.87% annual return rate, 48360 active users from 123 countries and 249 investment opportunities completed.
Here are some benefits for investors:
Pre-vetted investments only
No investment fees
No trading fees
Private and business accounts
EUR 100 minimum investment
How does Crowdestate Work?

As described, Crowdestate is a real estate crowdfunding platform.
The platform's relationships with experienced real estate developers gives it access to a large number of off-market real estate investments.
According to Crowdestate, only the best opportunities surviving in the rigorous due diligence process are published for investing. Extensive background information, business plans, and financial models combined with a low 100 euro minimum investment are making investing quick and easy.
Crowdestate makes it clear on their website that they are open for business to both investors and those seeking funding.
I'm only interested in the investing side of things, so the way it works is quite straightforward and similar to other platforms in this niche. Once you sign up, you can view the latest opportunities and all their details, then invest from €100 upwards into every project.
Although the platform specialises in real estate loans, there are also some other investments available, such as working capital for existing businesses.
I suggest you diversify across several projects rather than put all your money into one project. These are risky investments so your loans might get delayed or even go bad, meaning you never get the money back. Since they are backed by real-estate, the chances of that happening are low, but it can always happen, so better if you diversify.
The information provided on every project is quite comprehensive and well explained.
Around two-thirds of the project applications are rejected by Crowdestate due to not meeting the due diligence requirements.
Apart from development loans, Crowdestate also takes part in equity investments in projects when it makes more sense.
There are no buyback guarantees because it doesn't really make sense to offer a buyback guarantee in real estate loans, unlike consumer loans where the margins are huge for the loan originators.
I would recommend staying away from Italian loans as Italy practices a withholding tax which will affect your returns. Crowdestate will deduct the tax due on interest paid from your Italian loans, and you will again have to pay interest on that return in your country of residence, effectively taxing you twice. Crowdestate asks for a tax residency certificate in order to avoid the withholding taxes, however they weirdly require this certificate from company accounts as well, which in my opinion does not make sense since a company is not mobile in the way that an individual is.
Support
Support is offered via email and live chat in Estonian, English or Italian. I have corresponded with Crowdestate in English and had no problems. All questions were answered clearly. I was not always able to get an instant reply via chat, but they followed up on the questions I left in chat the next day over email, so it's not a huge deal.
Transparency and Profitability
The platform has been profitable from day one and according to the founder it is very well capitalised, holding around 1.5 million euros in a bank account, meaning that if there are no investments in the pipeline the platform can still operate without any problem.
If you take a look at the statistics for the platform, things are looking pretty healthy. 

There are more statistics on the dedicated statistics page.
It is very good to see that they have been publishing their annual reports since 2014, although only the 2018 one (most recent) is offered in English. You can also download CSV and XLS files showing the completed loan books, monthly funded amounts and overdue projects.
Overall I think Crowdestate is a very transparent platform.
Secondary Market
If you're concerned about liquidity, you'll be pleased to hear that Crowdestate features a secondary market where you sell off your loans or supplement your investment in new opportunities with the purchase of loans from other investors.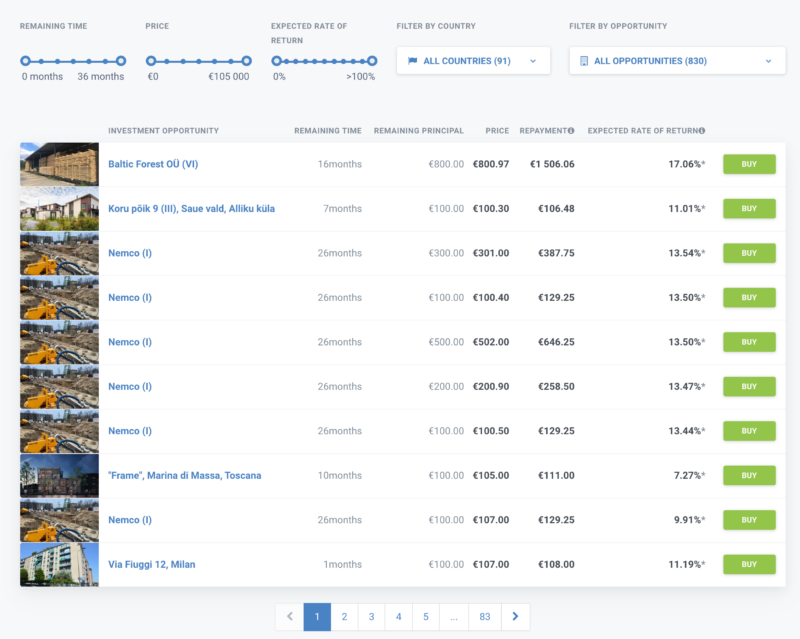 The market works very well, no problems here whatsoever. For all funded investment opportunities, you will see a note saying how many offers there are on the market for that investment.

That makes it even easier for new and existing investors to get involved in the secondary market if they wish to invest and get diversified.
Crowdestate Team
Crowdestate's team is composed of an Estonian core with other nationalities also on board to help with business development.
Founder Loit Linnupõld has considerable experience in the finance and management field according to his Linkedin profile. Interestingly, in one of his interviews, he suggested that a good portfolio could include up to 40% real estate and the rest allocated to stocks. It's an interesting thought, most importantly he is saying that real estate investment is not better than other types of investment but is complimentary.
All other members of the team have links to their Linkedin profiles so anyone can check their credentials.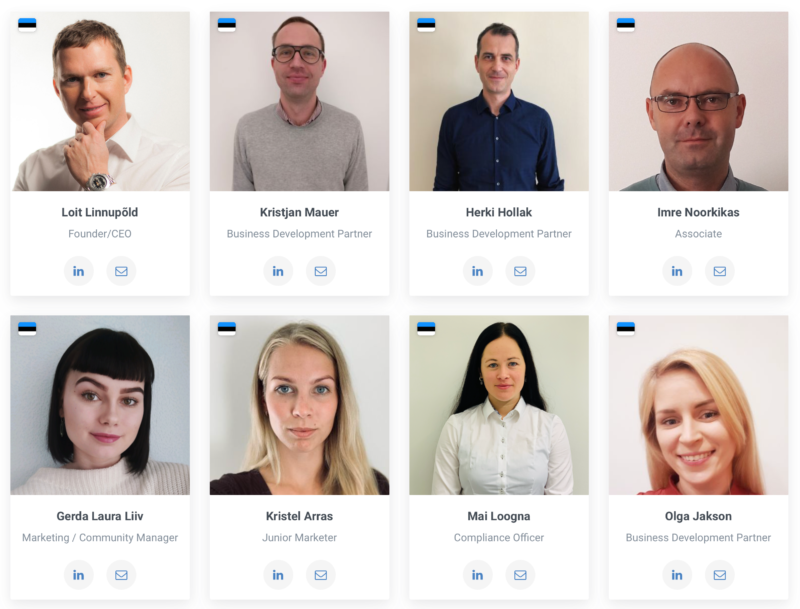 Having clear information about the team including photos and Linkedin profiles is a very positive sign in an industry that is unfortunately still overrun by a lack of transparency.
On the About page you can also check out Crowdestate's timeline, starting off as Estonia's first real estate crowdfunding platform in 2014 up till today, where it has recently opened branches in Georgia, Romania and the Czech Republic to further continue its expansion across Europe.
My Results – 13.28% Return
I have managed to achieve a very good 13.28% return on the first projects I invested in, as you can see in the screenshot below. There were no problems with the repayments of those loans.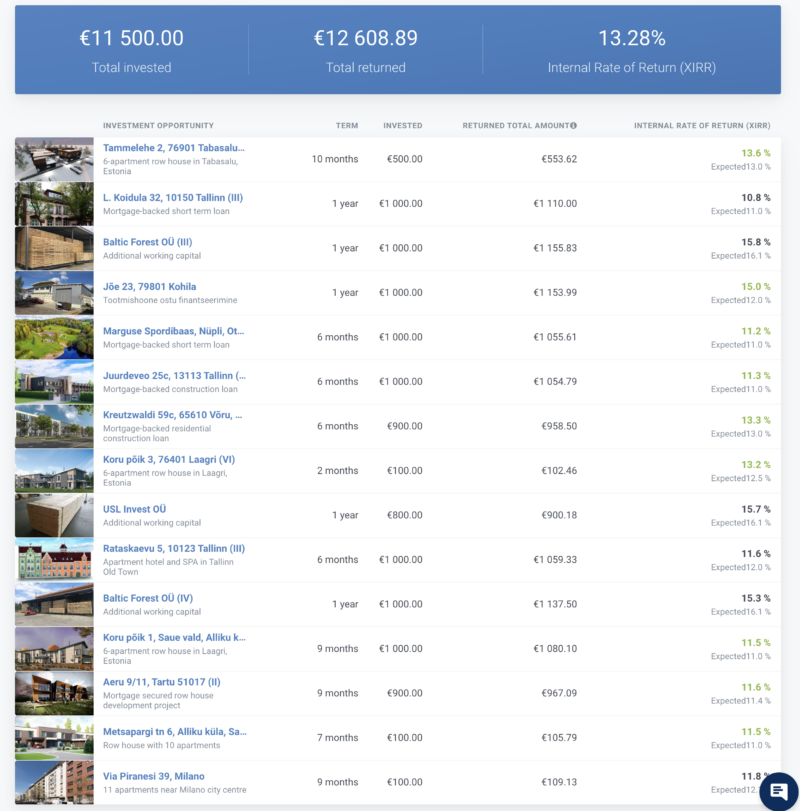 As of February 2020, things have taken a bit of a negative turn. I have four projects which are facing difficulties in making their loan repayments:
Global Nord Timber (V)
Kreutzwaldi 59c, 65610 Võru (VIII)
Viru Halud OÜ (II)
H.M. Seafood OÜ (II)
The loans are either a few days late or else we investors have received upfront notification that the sponsor is facing some difficulties and will likely not be able to make the repayments on the stipulated date.
Communication and updates have been of a very good standard. None of the incomprehensible English and sparse updates that I've seen on several other platforms. Crowdestate's updates are professional with clear planned next steps described wherever there are any potential problems in loan repayments.
At the end of the day, with returns this high, it is expected that these loans would carry considerable risk, so for now, I'm not too worried about things. I have already experienced many completed projects on the platform, so a few delicate situations on my active loans won't really deter me from continuing to invest here, although I'll be keeping a close eye on how the situations on those problematic projects evolve over the next months.
Alternatives to CrowdEstate
Although CrowdEstate is well managed and has a decent track record, I believe that there are better platforms out there now. I would therefore recommend Rendity, Reinvest24 or EstateGuru over Crowdestate as of 2022.
What I Think About Crowdestate
I like this platform, from a technical standpoint it is well-built and designed, and I've had a considerable number of successfully completed projects.
Crowdestate is not a young platform as it has been in operation since 2014, which makes it one of the older platforms in the space. I tend to give more value to the older players as it gives me more peace of mind.
I think the management is solid, but it is also true that I have several projects that have run into trouble, and I expect the recovery process to take a long time, and possibly I will never recover the money. It looks likely that I will break even on the total investment, but I don't think I will turn a profit.
If you're looking for more alternatives, take a look at my list of best European real estate crowdfunding platforms. You should also have a look at P2P lending platforms in my list of best European P2P lending platforms.
Summary
Crowdestate has been around since 2014 and is one of the top players in the European real estate crowdfunding space.
Pros
Great team
Very transparent
Consistent pipeline of projects
Excellent platform
Active since 2014
Cons
Some projects are currently delayed