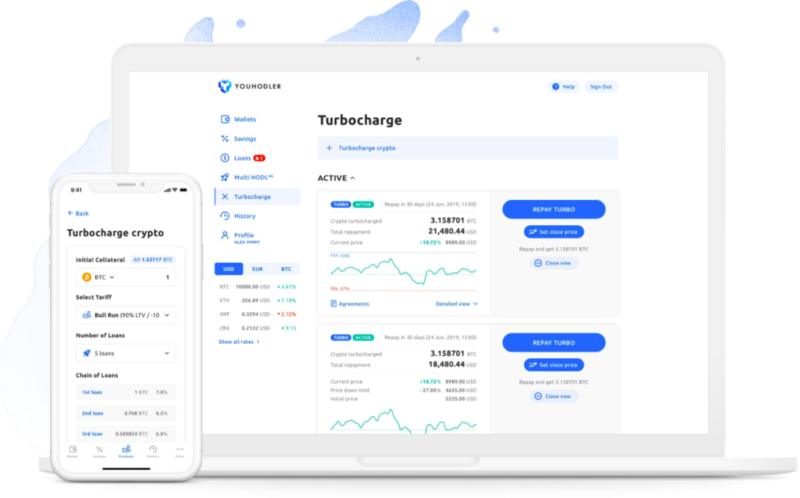 In this article, I'll take a look at Turbo Loans, which are a feature of one of my favorite crypto lending platforms – YouHodler.
If you haven't heard of YouHodler yet, make sure you check out my YouHodler in-depth review first before reading this article.
And by the way, I'm not saying you're a dummy. In fact, if you're reading this article right now it means you're quite intelligent. That being said, even veteran crypto enthusiasts are curious about what a Turbocharged Loan is (AKA Turbo Loan) from FinTech platform YouHodler.
Well, that's what we are going to address today. A simple, easy-to-understand guide for what Turbo Loans are and how they can help you multiply your portfolio during bullish cycles.
What is a Turbocharge Loan? 
At first glance, many people may think Turbo Loans are just another name for Flash Loans. That is not true and the two concepts are not related at all. Turbocharge is merely the name of a product YouHodler invented.
To put it simply, this product helps users multiply their crypto using just a small amount of starting capital.
No, it's not magic. It's down through a series of loans that YouHodler calls a "chain of loans. According to a report in CoinTelegraph, YouHodler's "Turbocharge service allows users to get a chain of loans. The platform uses borrowed fiat to purchase additional cryptocurrency without commission and then uses it as collateral for other loans in the chain."
Now let's go through the process step by step to better understand it.
The inner workings of a Turbo Loan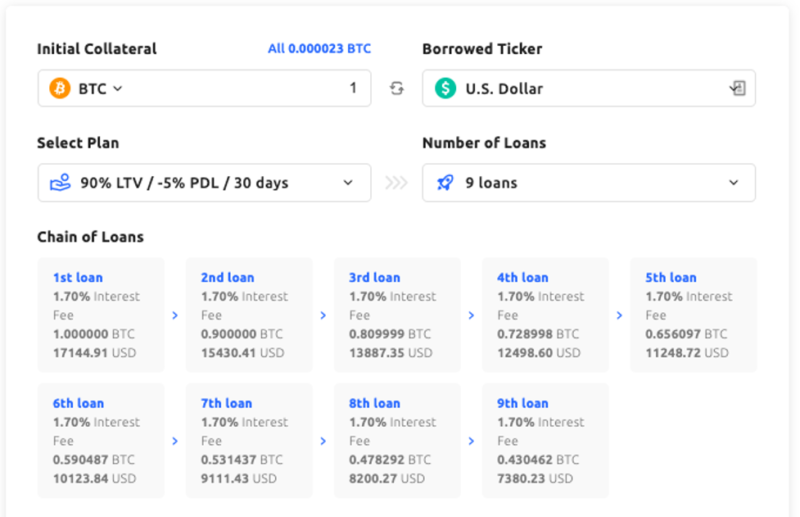 Once again, the main objective of Turbo Loans is to get more crypto. That's it. It's different than buying more crypto because you are not really buying it but instead, using crypto as collateral for a loan to help you buy more crypto. Here's how to do it.
Step 1: Deposit crypto to your YouHodler wallet
This amount will be used as collateral for the first loan in the "chain of loans."
Step 2: Choose how many loans you want in your chain
Users can choose from three loans to ten loans in their chain.
Step 3: Click the "Turbocharge" button
At this point, YouHodler's automated system initiates the chain of loans. You will see the multiplied amount of crypto in the Turbocharge dashboard.
Step 4: Repay the loan
To access this multiplied amount of crypto, the user must first pay back the loans
Why are Turbo Loans beneficial? 
Turbo Loans are beneficial because they help you obtain large amounts of crypto using small amounts of starting capital. Let's use an example. Say you bought 1 BTC when the price of BTC was $8,000. You then used that 1 BTC as collateral for a Turbocharged Loan that multiplied it to 6 BTC.
Yes, that's an expensive loan to pay off but when you do pay it off after 30 or 60 days (depending on which loan plan you choose from) then you have 6 BTC. Fast forward several months later. The price of BTC is now $16,000 and your 6 BTC is now valued at $96,000. All this came from just an $8,000 investment of 1 BTC back then. It's hard to argue with a 1,100% return on your investment.
Yes, it takes some patience to wait for the market to turn bullish but when it does, users are rewarded greatly.
Turbo Loans advanced features (not for dummies) 
Another great attribute of Turbo Loans is the advanced features. These are for people who have grown a little more comfortable with the feature and want to make it more manageable for them. For example:
Take Profit – Sometimes a bull run happens too fast to take action manually. Hence, YouHodler was kind enough to add a Take Profit feature so when the value of your collateral hits the Take Profit price, the platform automatically uses the collateral to repay the loan and you get whatever is left ver.
Close Now – Close Now feature works similar to Take Profit but it is a manual action done by the user. If the user cannot pay the loan and prefers to use the value of their collateral to do so, then they can click 'Close Now' to initiate the automatic sale of the collateral, using the profit to cover the loan expenses. Any leftover currency is returned to the user's wallet.
These are two great risk management tools to help advanced Turbocharge users get more control over their chain of loans.
Head to YouHodler and try Turbocharge today 
Congratulations. You've all graduated Turbocharge University for the day. So whether you want to multiply your crypto using a small starting capital, hedge your altcoins or simply experiment with a chain of loans, head over to YouHodler today and give it a try. YouHodler has a website, Android app and iOS app so there is no excuse not to use them.
They also have several other features I've mentioned on this blog before so take a look around there and see what works for you.