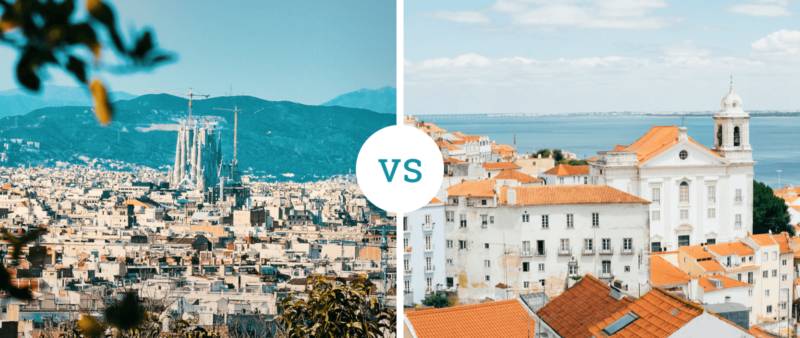 This is going to be a highly opinionated post about my thoughts on Lisbon and Barcelona. It's written from the viewpoint of an entrepreneur/investor who appreciates the good things in life and is also planning the future of his kids.
I've lived in Barcelona for several years and visited Lisbon many times, most recently in May 2021. I have friends who are entrepreneurs and investors who live in both cities. Right from the outset, it is obvious that I can't probably draw an accurate or scientific comparison between the two cities as I've never lived in Lisbon, but I have to do my best with the knowledge I've got till now. The whole point of the article is to sort out my thoughts and possibly decide to live long-term in one of these cities.
I'm absolutely in love with Barcelona (and Spain in general), despite its many problems, and for many years have considered it the best place for living in the world. However, while Barcelona's attractiveness has been declining over the past few years due to several reasons, Lisbon has been gaining a lot of traction. Given that 5 years ago I would have told you that Barcelona is clearly my favorite and that Lisbon would definitely come in at second place, I am forced to revisit the question to see whether the choice is not that clear anymore.
In a wider context, this can also be taken as a Spain VS Portugal article, but I feel that focusing on Lisbon and Barcelona, in particular, is more important, as those two cities have a very different feel to the rest of the cities in each country. While they benefit from country-wide benefits (such as tax incentives in Portugal) as well as problems (Lisbon does not save itself from the red tape and bureaucracy that Portugal is known for), there are many more things that are quite specific to each of these two cities.
Business-friendliness
In Barcelona, it is quite frequent, and it was especially so in 2020 with the pandemic crisis, to see newspaper articles asking whether there are enough help programs for entrepreneurs and businesses.
This led me to realize how the local government has got it all wrong. The question to ask is the following:
Are there too many obstacles to entrepreneurship?
In Barcelona's case, in my opinion, the answer to that question is absolutely non-debatable. It's a resounding yes. Anyone who embarks on an entrepreneurship journey in this city is doubly a hero in my view. First to go against the grain and take the big risks that all entrepreneurship necessitates, and secondly for having the patience and grit to deal with all the bullshit one has to go through to legally start a business and maintain it. Not to mention that if they are eventually lucky and good enough to turn that business into a huge success, the government will be the first in line to heavily tax the business and the entrepreneur as if it had some huge part to play in that success.
Spain manages to attract many wealthy expats and entrepreneurs due to the climate, beauty and history of the country, but then discourages them from taking an active part in the economy with high taxes, complicated procedures for operating businesses, as well as the language barriers.
Portugal, on the other hand, is wide open for business. Lisbon has been attracting many expats over the past years, in no small part due to the NHR scheme which I've described in a separate article on taxation in Europe.
Taxation
Arguably the biggest reason for the influx of expats to Portugal in recent years has been the NHR scheme which permits retirees, investors and entrepreneurs to receive their incomes tax-free in Portugal for a period of 10 years.
Spain, on the other hand, burdens you with many forms of taxation, including the modelo 720 report which is pure evil.
It's no surprise that tons of Spanish and expat entrepreneurs, high-income earners and investors are moving to other jurisdictions like Andorra and Portugal. Others who have been considering their options for moving from their home country skip the Spain option altogether. Catalonia, the region within which Barcelona resides, has the worst tax oppression in Spain.
Hoy justo me ha llegado a mi un mail de un cliente, nuevo, que se acaba de trasladar a Portugal desde España. Quiere que le ayude si/cuando la AEAT lo requiera. https://t.co/6jSpi85Rd9

— Cris Carrascosa ⚡️ (@CarrascosaCris_) January 19, 2021
Portugal does not require any such reporting nor does it levy wealth tax, which is a big relief given that these two things are what most expats feel most burdened by in Spain. If not on the NHR programme, however, taxes are in the same region as those in Spain. Barcelona has higher income taxes compared to Lisbon though.
On the other hand, it is also a valid point to think that the NHR is a kind of trap to lure you in with the promise of no taxation, knowing that once you settle in the country it will be hard to leave once the ten years are up, and will compensate for the lost taxation in early years by spending another 20-40 years paying high taxes in Portugal.
Language
A much higher percentage of Lisbonites speak English when compared to the Barcelona natives. You will find signs in English, contracts can be in both Portuguese and English, and you will have no problem navigating the daily needs if you only speak English. This has made Portugal a hotspot for native English speakers like Americans and British, who are less likely to speak other languages. For Europeans who are used to learning and speaking multiple languages, the barrier is usually lower in Spain, but in Barcelona, you also need to deal with the fact that a lot of the official documentation is in Catalan, including signage. Many times a Spanish version is not available either. For those who are struggling to even learn Spanish, also having to deal with Catalan can be a deal-breaker.
I'm a big fan of learning langauges and have studied both Spanish and Catalan. I've found the process very enriching and enjoy my conversations with the locals and being able to communicate easily for my daily needs, but it's undeniably harder to do things in Barcelona if you don't speak Spanish or Catalan versus Lisbon if you don't speak Portuguese.
If you're moving to one of these countries and learning a new language is one of your highest priorities, then maybe Barcelona would be the winner in this area as Spanish is arguably a much more useful language than Portuguese on a worldwide basis. Ultimately though, once you learn any of these three languages, it's pretty straightforward to learn the other two as they are very similar in my opinion.
Education
While I would probably send my children to a private school in either of the two cities, I see it as something of an absolute must in Barcelona. Public schools use Catalan as their primary language, giving it preference over Spanish. English comes in a far-off third place. Realistically speaking, unless public school students take private tuition, they will not be able to speak English when they leave school. This is a total fuckup in my opinion. I've shared my thoughts on the Catalan independence debate already, so I won't get into that again here, but it's a well-known fact that there is at least some indoctrination going on in public schools in order to produce youngsters that are pro-independence. That's another thing that is unacceptable to me.
Turning our eyes to private schools, both cities offer a good selection of options where native English speakers are in charge of teaching most subjects, and where there is a reasonable expectation of a good percentage of students to be international rather than local.
Lisbon wins here, although education is not just about the school experience. I'd say kids and youngsters have more opportunities in Barcelona, especially if they excel in sports and want to take that seriously.
Accommodation
Due to the ignorant leadership of the Catalan government, in Barcelona, there has been little new development in recent years. What I would consider a basic and decently furnished apartment in Barcelona would be promoted as "luxury living" by the local estate agents, with the corresponding price tag.
The same problem exists in Lisbon but from the opposite side of the spectrum. The Portuguese market was hampered by rent controls for many years so buildings were practically abandoned by owners since there was no incentive to refurbish and maintain them. Now that the market has been liberalized things are moving once again, but it will take a few years till there is a steady supply of modern properties on the rental market. The "new" properties that are currently marketed are typically 20 years old.
Properties marketed as "luxury" are barely decent by my standards, same as in Barcelona.
Check out the following portals for finding property in Lisbon and surrounding areas:
While the prices are also on the high side, I think if you're looking at the premium market in both cities, you'll find more opportunities in Lisbon. I believe that it is better to buy than rent right now in Lisbon given the dearth of good apartments on the rental market. However you will have more luck finding furnished apartments in Barcelona compared to Lisbon.
Keep in mind that it is easier to find heating in Barcelona apartments than it is in Lisbon. If you're stuck with a non-heated apartment, be prepared for a very cold few winter months. Those coming from cold countries think this is a joke until they go through their first winter without good heating. Then they learn the lesson. I would not live in any apartment that is not well insulated and preferably have central heating.
Cost of Living
The cost of accommodation in Barcelona and Lisbon is around the same, but most other things are cheaper in Lisbon. That leaves out online shopping though (more expensive and more of a hassle in Lisbon), so it might be a tie if we factor that in.
Energy costs are more expensive in Portugal. There are also many toll roads, and fuel is more expensive too.
Purchasing a vehicle is more expensive in Portugal. Although people say that eating out is cheaper in Lisbon, on my most recent trip I found that eating at good restaurants costs just the same as in Barcelona, if not more.
Air Pollution
Barcelona is the 6th worse city in Europe when it comes to air pollution according to this study. The Spanish capital Madrid is number one while Lisbon is ranked 116th. Therefore Lisbon clearly wins in this aspect.
Weather
Barcelona has better weather than Lisbon for my tastes. I like sunny, dry days with no wind. That's what Barcelona provides for most of the year. Lisbon, on the other hand, gets windy and wet especially in the winter months. You will need to layer up as the temperature changes rapidly during the day. It's definitely one of the bigger dfferences. If it's sun you're looking for, then both cities provide a lot of it.
Transport
Moving around within the city is hands-down easier in Barcelona than it is in Lisbon, not least because of the hilly terrain that Lisbon is famous for. I love cycling around Barcelona on my Bromptons and it's not much fun to do the same in Lisbon. The cobblestone streets don't help either. Barcelona has a multitude of transport options available. I can think of an amazing seven convenient transport options off-hand for getting into the center from the outskirts of the city. Transport is one of the things that I've never had a problem with, and it's only gotten better over the years.
One of the few good things that the local government has done is to continue adding bike lines throughout the city, so it's really easy to move around by bike. Electric scooters had taken over these lanes for a while, but I hear they're banning them from using the bike lanes in 2021.
Nightlife
I have limited experience of the nightlife in both cities, all I can say is that whenever I went out in these cities I had a great time. It's important to note that drinking alcohol on the street is not illegal in Portugal, so you will find lots of that in the city's parks. I grew up in a similar environment and while I understand the negative consequences of allowing this, I never really experienced any significant mishaps myself. Ultimately, banning street drinking just resulted in people crowding into bars and having to spend more money there. I would therefore prefer the Portuguese way of doing things.
Friendliness of locals
This is another nuanced topic. I understand that if you don't speak Spanish or Catalan in Barcelona you're going to face an uphill struggle due to the low level of English literacy. You might meet people who get flustered if spoken to in English, although it's mostly frustration about not being able to communicate rather than unfriendliness. In Lisbon, on the other hand, it's much easier to find English-speaking locals and that might make it seem a friendlier place.
I can't complain about the friendliness of people in either location. I have nothing but praise for the people in Barcelona, and I haven't had enough experience to comment in a deep way about the people in Lisbon. I have noticed a certain resentment by the Portuguese locals towards expats, mostly due to the typically big wage gap and the fact that the government seems to be doing its best to attract foreigners while perhaps giving the locals a raw deal. This resentment is visible especially if you read articles about Lisbon written by foreigners. You'll always find some Portuguese who write negative comments related to what I just explained. On the other hand, other Portuguese are just as typically quick to jump in and slam their compatriots' comments and apologize on their behalf, further lending credibility to the idea of overall friendliness of the locals in Lisbon.
One observation that will be of interest to any male single readers is that you will probably find a bigger dating pool in Barcelona than in Lisbon. In Barcelona, you'll see many beautiful local women, and that's not as much the case in Lisbon. I'm sure it has some impact psychologically on men whether consciously or subconsciously, so I thought I'd mention it as well.
Diversity
Both Lisbon and Barcelona are cosmopolitan cities, however, I would have to say that Barcelona is hands-down the winner in this regard. It is a bigger city that has managed to draw in a very big percentage of expats from all over the world. Lisbon, on the other hand, historically has drawn in immigrants from Portuguese-speaking territories (the biggest being by far Brazil) and the rest of the nationalities are a much more recent phenomenon. Portugal feels a bit more distant from mainland Europe, not least because of its geographic location and smaller size compared to Spain.
Safety
Lisbon wins this one without any doubt. Portugal is ranked as one of the safest countries in the world, with Spain being quite a way off in the rankings.
I would still consider Barcelona to be generally safe, but there are some important problems that have not been dealt with by the authorities and are becoming bigger and tarnishing the city's reputation internationally. Pickpockets are everywhere, and I've yet to meet anyone who has spent any time in the city and not been a victim at some point. Violent robbery, while almost unheard of just a few years back, is now also a significant problem especially in the center of Barcelona.
We then have the problem of home break-ins and occupation, which is the terror of any tenant and owner. You can read this article if you want to learn more about this topic. It's a huge problem and the blame for this lies squarely on the authorities for not taking action and in some cases even encouraging occupation (as in the case of Barcelona's mayor).
Startups and Coworking spaces
Barcelona is a bigger city with a strong startup history, and it remains one of the leading cities for startups in Europe. There is no contest here, Barcelona wins by a wide margin. It seems that everyone wants to move to Barcelona, so attracting talent is not a problem. This ease of attracting talent, moderate wages and the fantastic weather and city serve to attract companies to relocate to Barcelona or startup there. On the other hand, Lisbon is still doing pretty well and improving every year. 365 million euros were invested in Portuguese startups in 2020. Check out the Portugal Startup Scene | 2020 Yearly Report. Also check out the Lisbon entrepreneurs' community.
Coworking spaces have flourished over the past 4 years in Barcelona, and the city is now blessed by a multitude of big and comfortable spaces where you can focus on work while being served healthy food and even have the opportunity to train within the same complex. I haven't seen anything that comes close to the Barcelona spaces over in Lisbon, but that can easily change in the future.
Online Shopping
The obvious winner here is Spain. Amazon is a big player in Spain and has driven everyone else to up their game in a significant way over the past ten years. It's an online shopper's paradise, with same-day delivery, free returns, etc. It's really super easy to get stuff delivered and shop online for all kinds of stuff, including groceries and take-out meals. This benefit was especially apparent during the COVID-19 epidemic in 2020, when many shops and restaurants were forced to close or citizens' mobility was restricted.
Connections
I was thinking about sea and air connections when I came to this point, where Barcelona is the hands-down winner. However, it goes beyond that really. There are certain cities that make you feel like you're in a buzzing place where things are happening and where people want to live. It's hard to explain, but I've felt it in places like New York, London, and Berlin. Barcelona also gives me that feeling, in fact, I can't imagine any other place that makes me feel so alive, and I've traveled a fair bit.
COVID Situation
As of May 2021, I found Lisbon to be way more relaxed about the whole COVID thing versus Barcelona. It is very common to see people not wearing masks outside, while inside everyone does wear them.
Your Thoughts?
What are your thoughts? As I said, my article merely reflects my current opinions based on my experience of the two cities so far, and this might very well change completely in the near future.
Barcelona and Lisbon are my two favorite cities in Europe, and I love them both. Lisbon seems to be on an uptrend while Barcelona, on the other hand, is passing through a rough patch and I'm not sure whether the near future will be any better.
Spain, in general, has been following a misguided tax policy that results in most entrepreneurs, investors and higher net worth individuals feeling persecuted, even if they have spent their whole lives following the tax code to the letter and paying very high taxes for the privilege of living in Spain. This has resulted in a drain of the country's most talented local and expat people to other countries that treat them better. I am seeing this trend accelerate dramatically in the past two years. This leaves little doubt in my mind that Spain's time is over, and Portugal is where the action will be in the coming years.
Lisbon seems to be attracting many American and British expats in particular. No doubt they're attracted by the fact that they can speak English in a foreign country rather than having to learn Portuguese. Lots of people from the UAE are also making the move, given that it offers similar tax advantages but arguably a much nicer social environment, better geographical location in Europe and better weather.
I'd love to hear, especially, from people who have lived in both cities, or have moved from one to the other due to specific reasons (whether I mentioned those reasons here or otherwise).
In the meantime, I'll update my article if I can think of anything else.