Profitus is a Lithuanian real estate crowdfunding and investments platform. It acts as an intermediary between investors, who are looking to employ their free money and those who want to receive funding for business ideas and real estate projects.
When I asked them what their main goal is, they said:
Our main goal is to make investment available to everyone. Even those who doesn't know a lot about investing.
That's a typical story with such platforms, nothing new here.
How does Profitus work?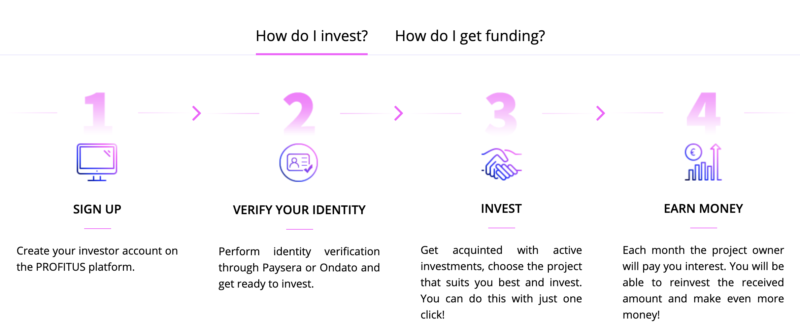 So let's take a deeper dive.
Investments start at 100 euros. Investments are secured by pledging real estate, as well as by other collaterals (e.g., indemnity or warranty). Different projects have different security tools that users can access in self-service for each project.
Profitus opened for business on the 8th of August 2018, so this is a fairly new platform.
The platform has funded €9.1 million and helped raise money for 52 real estate projects. There are more than 4500 investors registered as of February 2020.
Some stats from Profitus:
Investors earned an average annual interest of 10.65%.
All investments in the Profitus platform are secured by pledging a first-rank mortgage.
Average investment at Profitus platform is 10,371 €
19 projects have already successfully repaid their investments and earned interest from investors.
Maximum platform LTV (loan-to-value) 70%.
Average LTV in 2019 – 51%
Average loan term (month) in 2019 – 11,34 months
Profitus platform is regulated and supervised by the Bank of Lithuania.
Profits accepts investors from all EU.
Note that LTV stands for loan-to-value ratio. It shows the percentage of loan in the pledged property. So if the borrower seeks to raise EUR 70,000, its pledged real estate to investors must be at least EUR 100,000, in which case LTV will be 70%.
The lower the LTV percentage, the better, as it means more real estate is pledged to investors. However, it should be borne in mind that the mortgaged property is a primary mortgage.

The website also details the process that property developers go through when applying for loans. It promises an assessment report within 2 days, which makes me very skeptical on the due diligence applied on these applications.
Check out step number 4. I found the final phrase quite funny and sad at the same time:
P.S. The obligations to investors should not be forgotten either!
There seems to currently be a problem with sourcing new projects, as the Invest page shows no available projects. It's never a good sign to me when I see such situations, as it leads to cash drag.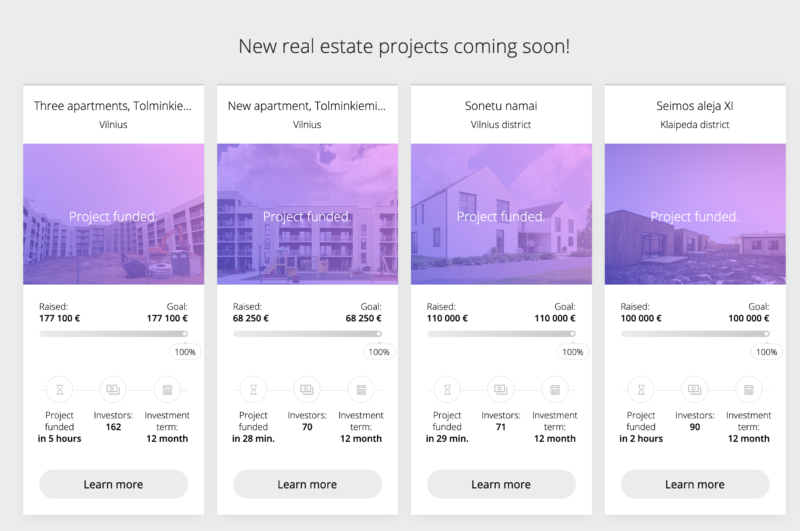 Team Behind Profitus

According to Profitus, founder Viktorija Vanage is actively involved in educating and sharing her knowledge on crowdfunding, real estate, business and financial technology. Viktorija is also a co-founder of asset management company Victory Funds and real estate development company CITUS. She is currently studying for her MBA at the ISM University of Management and Economics in Vilnius.
The about page on the Profitus website shows a good-sized team with a short description about each person and a link to their Linkedin profile. Strangely enough, the team is listed in alphabetical order, so it is unnecessarily hard to find out who the top people in the company are.
How did Profitus do in 2019?
I've obtained some information about Profitus' performance over the past year that I'd like to share with you.
The amount of money raised through Profitus increased 5 times in 2019.
It is estimated that since its launch on the 8th of August 2018 the platform crowdfunded 9.3 million euros and funded 54 projects in total. It is because of these achievements that eu-startup.com has named Profitus as one of the ten most promising startups in Lithuania to be followed in 2020.
Profitus investors have already earned more than 334,000 euros through the platform and investors are offered to employ money through the platform at an average annual rate of 10.65 %.
Currently, Profitus has more than 5,000 registered investors, with a loan-to-value (LTV) ratio averaging only 51 %.
In 2019, the platform funded only projects in Lithuania, but it also accepts investments from across the European Union. Although Profitus offers an investment starting from 100 euros, the average investor portfolio currently stands at 10,374 euros and the average investment is 2,437 euros.
In 2019, the average investment maturity was 11.34 months, and projects were funded on average within 6 days.
In 2019, Profitus received a total of 113 applications for 42 million euros, however, only part of them were selected and funded.
Withholding taxes
Profitus practices a 15% tax retention that is deducted from investors' profits, which is a deal-breaker for me. The vast majority of other platforms don't take this cut, so it's an unnecessary reduction of profits that doesn't make sense given how many alternatives to Profitus there are.
I asked Profitus to explain why they withold taxes on profits and here's what they had to say:
According to Income Tax Law of the Republic of Lithuania, Profitus is responsible for the collection and payment of income tax for non-residents. The income tax rate is 15 percent and it is deducted from earned interest. The platform automatically deducts it every time when loan installment is received.

If you are a non-resident of Lithuania and you are living in a country which has valid Double Taxation Avoidance Treaty with Lithuania, you can apply for the reduced personal income tax rate.

After application for withholding tax deduction, Profitus will apply a reduced PIT rate to the investor, with a deduction of 10%, or in case of Latvia or the United Arab Emirates – 0%.
I understand that this is one reason why other platforms opted to base their company in Estonia, and I believe Profitus should do the same if they want to compete on a level playing field with other platforms.
My Opinion on Profitus
Unfortunately, in my initial conversations with these platforms, I noticed that the staff I communicated with had a substandard command of English. This is a recurring theme with these types of platforms, but I expect better from a communications manager. I also spotted several spelling mistakes on the website as well as the use of childish phrases.
For now, until there are some improvements to this platform, I won't be investing. I consider it a good option for Lithuanian-based investors since they will not be hit by the tax retentions, and they can read the website in Lithuanian as well as communicate with the team in their native language. It's also a good option for UAE residents since they pay no withholding tax due to the DTA treaty between Lithuania and the UAE. For the rest of us, I think suffering a withholding tax cut of 10% is a big disincentive to invest on this platform. Structuring your investments in an intelligent way tax-wise is one of the most important pillars of investing.
On the plus side, I will also note that a representative from the platform contacted me after reading this review and commented in a very positive way, stating:
Your comments are greatly appreciated and we will take them into consideration so we could improve our platform and our communication.
It's a small but important sign that the platform listens to investors and takes their needs into consideration. While you might think this is a default response, there are several other platforms which absolutely don't listen to any criticism and keep on trumpeting their own horn, some of them in denial even while their platform was going out of business, as we've seen in the Kuetzal and Envestio cases.
So I have good hopes for Profitus, and look forward to seeing improvements in the coming year. I will be updating the review if I see any big improvements that address my concerns above.
Have you invested in Profitus? What are your thoughts and experiences?
Summary
A real estate investment platform based in Lithuania. Ideal for Lithuanian residents but better alternatives exist for the rest of us.
Pros
Invest in Lithuanian property
Cons
15% tax retention
Spelling mistakes and poor English in communication
Few projects available