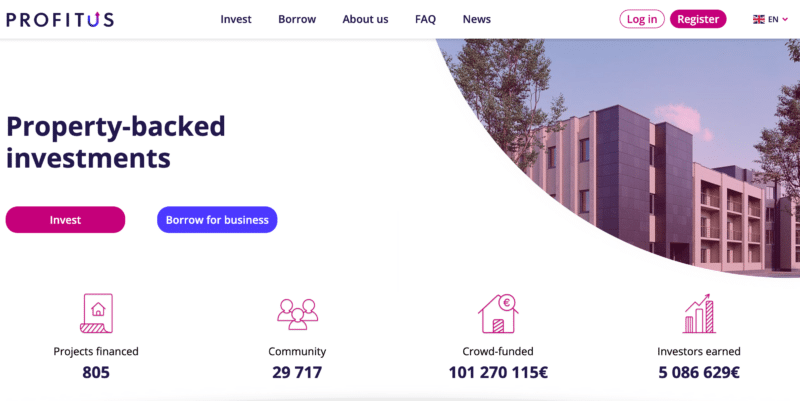 Profitus is a Lithuanian real estate crowdfunding and investments platform. It acts as an intermediary between investors, who are looking to employ their free money and those who want to receive funding for business ideas and real estate projects.
When I asked them what their main goal is, they said:
Our main goal is to make investment available to everyone. Even those who doesn't know a lot about investing.
That's a typical story with such platforms, nothing new here.
How does Profitus work?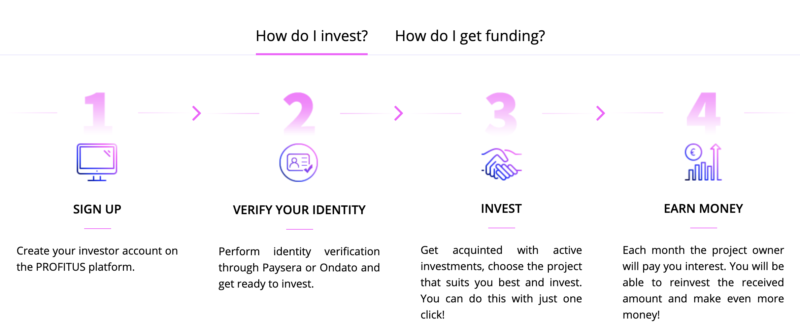 So let's take a deeper dive.
Investments start at 100 euros. Investments are secured by pledging real estate, as well as by other collaterals (e.g., indemnity or warranty). Different projects have different security tools that users can access in self-service for each project.
Profitus opened for business on the 8th of August 2018, so it's already been in operation for a few years now, and any platform that survives 5 years plus typically is getting things right.
The platform has funded more than €100 million and helped raise money for 805 real estate projects. There are more than 29,000 investors registered as of March 2023.
Some stats from Profitus:
Investors earned an average annual interest of 10.65%.
All investments in the Profitus platform are secured by pledging a first-rank mortgage.
Average investment at Profitus platform is 10,371 €
477 projects have already successfully repaid their investments and earned interest from investors.
Maximum platform LTV (loan-to-value) 70%.
Average LTV in 2023 – 56%
Average loan term (month) – 11,34 months
Profitus platform is regulated and supervised by the Bank of Lithuania.
Profits accepts investors from all EU.
Note that LTV stands for loan-to-value ratio. It shows the percentage of loan in the pledged property. So if the borrower seeks to raise EUR 70,000, its pledged real estate to investors must be at least EUR 100,000, in which case LTV will be 70%.
The lower the LTV percentage, the better, as it means more real estate is pledged to investors. However, it should be borne in mind that the mortgaged property is a primary mortgage.
What Opportunities Are Available?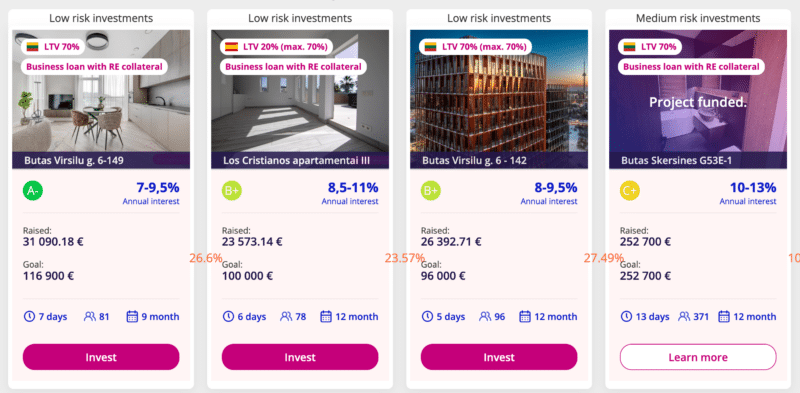 By investing through Profitus, individuals can gain exposure to different types of real estate investments, which can be broadly categorized as follows:
Residential property investments: Investors can invest in residential properties such as apartments, houses, and townhouses. These investments can generate income through rental payments from tenants or potential capital gains when the property's value increases over time. Residential projects listed on Profitus may include new constructions, renovations, or refinancing of existing properties.
Commercial property investments: Profitus provides opportunities to invest in commercial real estate, including office buildings, retail spaces, warehouses, and other business-related properties. Investors can earn income from these investments through rental payments from businesses occupying the properties or potential capital gains if the property value appreciates.
Property development investments: Investors can participate in funding property development projects, such as new construction, renovations, or expansions of existing properties. These investments typically involve providing loans to property developers, which are then repaid with interest once the project is completed and sold, or refinanced through traditional financing methods.
Real estate-backed loans: On Profitus, investors can also invest in loans secured by real estate assets. These loans are typically provided to property developers or borrowers who require funds for various property-related projects. The loans are backed by collateral, usually in the form of real estate, which provides a level of security for investors. Investors can earn returns on these investments through interest payments made by the borrowers.
The vast majority of projects are based in Lithuania, which is great if you want exposure to the economy of this country.
How to Borrow Money Through Profitus
The website also details the process that property developers go through when applying for loans.
They previously promised a reply in 2 days, which is on the optimistic side and could suggest a lack of serious due diligence. This is no longer promised on the site, but I still have some concerns about their due diligence procedures given how many projects they published on the platform since their inception.
If we take the optimistic stance, they might just have a great team that is very efficient at processing applications and doing due diligence, and also a great pipeline for new projects.
Team Behind Profitus

The founder of Profitus is Viktorija Cijunskyte. Viktorija is also a co-founder of asset management company Victory Funds and real estate development company CITUS.
The about page on the Profitus website shows a good-sized team with a short description about each person and a link to their Linkedin profile.
They seem to be a young team, with limited experience being the number one factor that I would think about when I look at their profiles. But that alone is not enough reason not to trust the platform.
How does Profitus handle risk?
RE evaluation and business analytics experts on the team evaluate each funded project individually to set a risk rating ranging from A+ to F.​
Profitus have also developed a unique risk assessment algorithm to determine the rating of the project. This algorithm consists of a wide range of individual indicators and evaluations which focus on funding requirements and an appraisal of the property by an independent appraiser, the project owner, and the final beneficiary, their financial indicators, credit rating, experience, and reputation. Profitus also evaluate the project, its potential and concept, business plans presented by the project owner, and the pessimistic scenario plans, which incorporate possible market developments and the risks that could affect the project. 
How does the project vetting process work?
I've asked Profitus for more details about their project vetting process. Here's what I learned:
In the first stage, the application is evaluated by the Project Manager, who, after asking questions and collecting the necessary documents for the inspection (Financial statements, business plan, company composition and JA register data, valuation of the mortgaged property from a third party) – decides whether the project is suitable and has the potential for financing.
Then the project manager forms a financing protocol. The protocol data is collected from local registers: the company's credit history and shareholders with a larger than 20% package, property registration, and existing property restrictions and pledges are checked. The completed report is submitted to the credit committee for evaluation.
The credit committee's business, real estate, and financial analysts evaluate all project information using a unique risk assessment algorithm that determines the risk rating and offers a financing price. In addition, real estate analysts perform a cross-check to determine the property's value using a comparative method with similar transactions that took place on the market and previous transactions for the purchase and sale of the mortgaged property.

The credit committee makes the decision to finance or not by presenting the terms of the proposal.
Withholding taxes
Profitus practices a 15% tax retention that is deducted from investors' profits, which is a deal-breaker for me. The vast majority of other platforms don't take this cut, so it's an unnecessary reduction of profits that doesn't make sense given how many alternatives to Profitus there are.
I asked Profitus to explain why they withold taxes on profits and here's what they had to say:
According to Income Tax Law of the Republic of Lithuania, Profitus is responsible for the collection and payment of income tax for non-residents. The income tax rate is 15 percent and it is deducted from earned interest. The platform automatically deducts it every time when loan installment is received.

If you are a non-resident of Lithuania and you are living in a country which has valid Double Taxation Avoidance Treaty with Lithuania, you can apply for the reduced personal income tax rate.

After application for withholding tax deduction, Profitus will apply a reduced PIT rate to the investor, with a deduction of 10%, or in case of Latvia or the United Arab Emirates – 0%.
I understand that this is one reason why other platforms opted to base their company in Estonia, and I believe Profitus should do the same if they want to compete on a level playing field with other platforms.
Moreover, this fact is not clearly mentioned on the website, and I know that several investors have been very disappointed to learn about the fact only when they went to withdraw their earnings.
Alternatives to Profitus
There are several alternative platforms to Profitus that cater to investors interested in real estate crowdfunding.
One notable example is EstateGuru, which operates across multiple European countries and offers short-term, property-backed loans to borrowers.
Similarly, CrowdProperty focuses on the UK market, specializing in financing small-to-medium-sized property development projects.
Another option is Reinvest24, a platform providing investors the opportunity to invest in various types of properties, including residential and commercial, across Europe.
These platforms, like Profitus, offer an opportunity for investors to diversify their portfolios, access various real estate markets, and potentially earn passive income through interest payments or rental income.
My Opinion on Profitus
The best thing about Profitus is that it allows us to invest in Lithuanian real estate. I'm very bullish on Lithuania as a country and have several friends there who report about things improving very rapidly in the economy, the startup culture and real estate.
I definitely consider Profitus to be a good option for Lithuanian-based investors since they will not be hit by the tax retentions, and they can read the website in Lithuanian as well as communicate with the team in their native language. It's also a good option for UAE residents since they pay no withholding tax due to the DTA treaty between Lithuania and the UAE.
For the rest of us, I think suffering a withholding tax cut of 15% is a significant disincentive to invest on this platform. Structuring your investments in an intelligent way tax-wise is one of the most important pillars of investing.
However, if you want to invest in Lithuanian real estate specifically, then Profitus is one of the best options around.
Have you invested in Profitus? What are your thoughts and experiences?
Summary
Profitus offers an accessible and user-friendly platform for investors looking to diversify their portfolios with real estate investments. However, it is essential to consider the illiquidity, market risks, and potential platform risks associated with this type of investment.
The biggest attraction is the quantity of Lithuanian real estate projects offered. Ideal for Lithuanian residents, but for the rest, the 15% withholding tax is a bit problematic. Great platform if you want to specifically invest in Lithuania.
Pros
Good market: Lithuania is a rising star in Europe.
Diversification: Profitus allows investors to diversify their investment portfolio by investing in different types of real estate projects, reducing overall investment risk.
Accessibility: The platform offers a low minimum investment amount, making it accessible to a wide range of investors.
Passive income: Investors can earn passive income through rental income or interest payments from property developers.
Expertise: Profitus conducts due diligence on the projects, ensuring that they meet certain criteria before being listed on the platform. This can provide a level of assurance for investors.
User-friendly platform: Profitus has an easy-to-use interface, which makes it simple for users to navigate and manage their investments.
Cons
Withholding tax: 15% tax retention
Illiquidity: Real estate investments tend to be illiquid, meaning that it can be challenging to sell or withdraw your investment quickly, especially in the case of economic downturns or project delays.
Market risk: Real estate markets can be volatile, and the value of the properties in the portfolio may fluctuate, impacting the returns on investments.
Limited secondary market: Profitus currently does not have a well-established secondary market, which means that investors may have difficulty selling their investments before the end of the investment term.
Platform risk: As with any crowdfunding platform, there is a risk that Profitus may face financial difficulties, operational issues, or even closure, which could impact the management of investors' funds.
No guarantee on returns: The returns on real estate investments are not guaranteed, and investors may not receive the expected returns due to factors such as market conditions or project delays.