In a world that is becoming more and more digitalized, banking has never been easier. Not only can you now open an account with a mobile-only bank without ever needing to visit a branch, but you transfer funds both domestically and internationally at the click of a button. One of the latest entrants to this ever-growing market is Wise, formerly TransferWise.
Through its borderless account, you can gain access to a number of local bank accounts in three major currencies:
This then enables you to accept and send funds in the respective currency, subsequently allowing you to avoid unnecessary conversion fees. Most importantly, the Wise, formerly TransferWise borderless account comes with a fully-fledged debit card. Backed by MasterCard, this then allows you to buy products and services online and in-person, as well as take out cash from an ATM.
With that said, Wise, formerly TransferWise is not alone in the mobile-only banking space, with heaps of competitors like Revolut and Monzo now home to millions of customers. As such, I have compiled a comprehensive review that outlines my thoughts on whether or not the borderless account is worth considering. I've included everything from how the account works, what it allows you to do, fees, safety, and more.
What is Wise, formerly TransferWise?
Before I delve into the specifics of what the borderless account is and how it works, it's important to take a quick step back and assess what Wise, formerly TransferWise actually is. For those unaware, TransferWise is a UK-based company that was founded in 2010. The firm initially specialized exclusively in online money transfers. In fact, TranserWise is now one of the go-to platforms to send money overseas, not least because it offers super-low fees and ultra-fast transfer times.
It does so by offering a completely different money transfer business model to that of traditional banks. Ordinarily, when you send money overseas via your local bank, the institution will use SWIFT. This is a third-party currency network that is not only slow, but hugely expensive. This is because the SWIFT network is merely a middleman between banks, meaning that the transfer needs to go through multiple parties before it reaches its final destination.
On the contrary, TransferWise personally has bank accounts in each of the countries that it operates in. This paves the way for a super-efficient money transfer process. Check out the example below to see how a TransferWise transaction operates. This is important, as one of the main attractions of opening a borderless account is having the capacity to send and receive international payments.
You are based in the UK and wish to send money to Australia
By using the TransferWise website to facilitate the transaction, you'll need to transfer the funds in GBP to the UK bank account that is controlled by the company.
This means that transferring the funds to TransferWise is free and instant, as it's a local transfer.
As soon as TransferWise receives the funds, they will then send instructions to their bank in Australia.
The bank in Australia will then perform a local transfer to the receiver's Australian bank account.
As you can see from the above, there was no need to utilize the SWIFT system, as everything was performed via local bank transfers. The above example would likely have resulted in a same-day transfer, as well as a transaction cost of just a couple of dollars.
When it comes to the regulatory standing of TransferWise, the company is authorized by the UK's Financial Conduct Authority (FCA) as an Electronic Money Institution. However – and as I cover in greater detail further down, TransferWise does not hold a banking license, so your funds are not protected by a deposit protection scheme. I'll explore how this might impact you later.
What is the TransferWise Borderless Account?
Although TransferWise made its name as a fast and cost-effective money transfer service, it recently entered the mobile banking space. The term 'mobile banking' is somewhat of a broad one, so it's important that we explore exactly what you get from the account, as well as what it can do.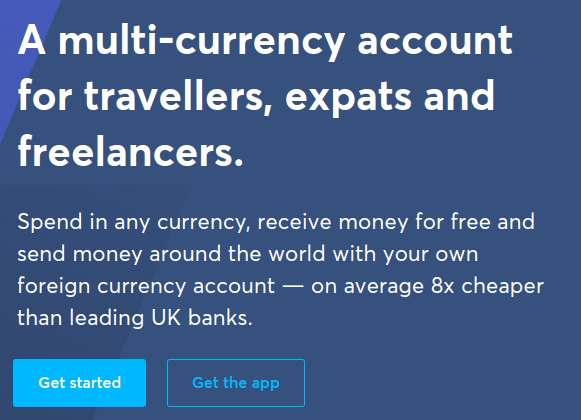 Local Bank Accounts
First and foremost, the overarching service that the TransferWise borderless account provides is that of a traditional bank account. By this, we mean that you will be able to receive funds, as well as make transfers. At the time of writing, TransferWise allows you to obtain unique bank account details with the following countries/region.
Australia
Europe
New Zealand
UK
USA
For example, if you wanted a US bank account, you would have possession of a unique account number, ACH routing number, and a wire number. Similarly, an EU account would get you a unique IBAN number, and a UK account would consist of an account number and sort code.
With that being said, it is important to note that although your borderless account resembles that of an actual bank account, they are merely addresses that allow you to send and receive money. As stipulated by TransferWise itself:
"Although your bank details are unique, they don't represent real bank accounts, but simply "addresses" for your electronic money account. You can still use them to receive payments though, like a real bank account"
Although this shouldn't hinder your ability to send and receive funds to your respective local account, this is an important consideration to make.
Non-Resident Accounts
Continuing on from the above section, I think that one of the most attractive features offered by the borderless account is the capacity to open an account as a non-resident. For example, let's say that you're a resident of the UK and you wish to open a US bank account.
Ordinarily, it would be extremely difficult to open an account as a non-resident, not least because you would not have access to a social security number and US home address. Although you could get around this by incorporating a business in the US, this can be a long, cumbersome and hugely expensive process.
This is where TransferWise excels. By opening an account with the provider – which rarely takes more than a few minutes, you'll have access to local bank accounts in all of the above countries – even if you're a non-resident.
Sending and Receiving Money
As you would expect from any bank account offering, the TransferWise borderless account allows you to send and receive money – both domestically and internationally. You can do this by opening your TransferWise app, setting up the receiver as a payee, specifying the transfer amount, and that's it.
In terms of the transfer process, this will depend on which account you are sending the money from, as well as whether the transfer is domestic or international. For example, if you're sending money from your EU bank account – and the receiver is based in an EU country, then the transfer will go via SEPA.
Everything else would go via SWIFT. This is somewhat surprising, not least because TransferWise was initially set-up to challenge SWIFT. As such, you should expect non-SEPA transfers to take a few days before they reach their final destination.
Similarly, US accounts at TransferWise will give you the option of sending and receiving funds via the ACH network or as a conventional wire. Once again, if the transfer is to a non-US account, it must go through SWIFT. Interestingly, fellow banking-app counterpart Monzo has a TransferWise integration built into it. This means that all non-local transfers go via the low-cost and fast TransferWise network, and not SWIFT.
Debit Card
All TransferWise borderless account customers will have the option of applying for a prepaid debit card. I say option, as you need to apply for this separately. This shouldn't be an issue for you though, as it literally takes a couple of minutes to order a card. Once you do, you can then link it to your borderless account.
The card is backed by MasterCard, so its as good as any debit card that you'll get your hands on. As such, this allows you to:
Withdraw cash from millions of ATMs globally
Purchase goods and services online in your chosen currency
Pay for things in-person by entering your 4-digit PIN
Currency Exchange
A common feature offered by challenger banks like Revolut and Monzo is the ability to benefit from industry-leading currency exchange rates. Ordinarily, traditional banks are known to charge excessive fees when you use your card overseas, or in a currency other than your own. For example, you'll likely pay 2-3% above the wholesale rate, which is the exchange rate that large banks are able to get.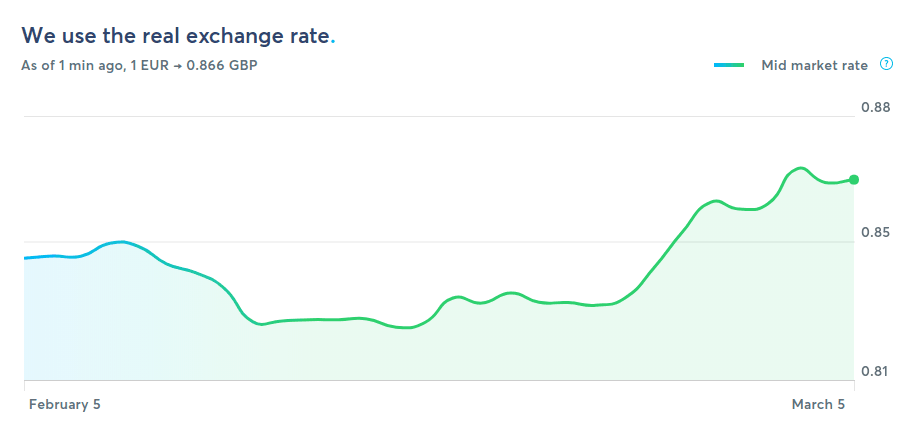 This is in stark contrast to what the borderless account offers. Not only can you store more than 50 currencies in your account balance, but you will get the same wholesale rate that TransferWise gets. However, it is important to note that you will still need to pay a fee to exchange one currency for another. The specific fee will vary depending on the currency being used, although it's typically very competitive.
For example:
If you wanted to transfer £1000 worth of GBP into Euros, you would pay a fee of 4.08 EUR. This amounts to a variable rate of just 0.48%. Don't forget, you'll be getting the wholesale rate too, so this is essentially an 'all-in' fee.
In a second example, let's say that you wanted to transfer $1,000 worth of USD in Indian Rupees. In total, you would pay just $5.96 USD in fees, which amounts to a super-competitive variable fee of 0.60%.
The above examples illustrate that the currency exchange service offered by the TransferWise borderless account is right up there with its main market rivals.
You can also get better rates than the standard ones if you are making larger conversions. TransferWise charge 0.1% less on the amount that's over the threshold, and the threshold varies by currency, but as an example, for Euros it is €115,000.
Where is the money stored?
Your Wise borderless account is an Electronic Money account. It's important to note how it differs from a bank account because:
You won't be able to get an overdraft or loan
Although your bank details are unique, they don't represent real bank accounts, but simply 'addresses' for your Electronic Money account, meaning you can receive payments much like a real bank account
Your money is protected and safeguarded, but not guaranteed by the Financial Services Compensation Scheme (FSCS) that you may get with a bank account.
The great thing about your Wise borderless account is that you can use it just like a bank account in many cases, like making payments with your TransferWise debit card (currently available for those in EEA). You can also send payments to other accounts and receive payments from your clients or employer using the bank details attached to your borderless accounts.
The main benefit of using your Wise borderless account over traditional accounts is that you won't be charged international transaction fees or outrageous exchange rates.
Your Wise borderless account is an Electronic Money account. You can send, receive and convert currencies all in one account. You'll always get the real exchange rate and the lowest possible fees.
Will Wise report transfers to the tax authorities?
TransferWise Limited is a UK company authorized by the Financial Conduct Authority as an Electronic Money Institution. They are still evaluating the impact of the Common Reporting Standards, including FATCA, to our business and how we will adopt the new requirements. At this time they are not reporting this information to HMRC or any other tax authority.
Earning Interest with a Wise Account
Wise now offers an exciting feature that allows users to earn interest on their account balance. By partnering with selected banks and financial institutions, Wise has introduced interest-earning capabilities within their platform, providing users with an opportunity to grow their funds while enjoying the convenience of Wise's services.
With Wise's interest-earning feature, users can potentially generate passive income on their account balance. The interest rates offered may vary depending on factors such as the currency, account type, and partnership agreements in place. Wise strives to provide competitive rates to ensure that users can maximize their earnings.
One notable aspect of Wise's interest-earning feature is its transparency. Users can expect clear information about the interest rates, applicable fees (if any), and any associated risks. This allows individuals to make informed decisions about where to allocate their funds and optimize their earnings accordingly.
Wise's interest-earning feature not only provides an opportunity to grow one's savings but also maintains the ease and efficiency that customers have come to expect from the platform. Users can continue to enjoy the benefits of Wise's low-cost international money transfers, multi-currency accounts, and other services while simultaneously earning interest on their idle funds.
What you Won't get With a Wise Borderless Account
There can be no denying that new-age banking applications offer heaps of benefits over traditional financial institutions. This includes an account opening process that takes minutes, access to multiple local bank accounts, and everyday banking features that can be performed at the click of a button.
However, it is also important to recognize that the borderless account does fall short in certain areas. These shortages are not only based on traditional banks, but other banking apps available in the market.
Savings Accounts: You won't be offered a savings account of any sort. For example, you will only have one account per location, so everything needs to be kept in the same account. With that being said, it wouldn't be wise to use Wise for this purpose anyway, as the provider does not pay interest on deposits.
Credit Facilities: Although TransferWise allows you to perform a range of everyday banking tasks, the borderless account does not offer any credit facilities. Even the likes of Monzo offer overdrafts, and Revolut is looking to enter the loan space in the near future.
Instant Transaction Categorization: It is also surprising that TransferWise has opted against instant transaction notifications, as this is a hugely popular feature offered by other app-banks in the space. For those unaware, other providers offer instant notifications in real-time whenever you use your debit card.
Each transaction is also categorized, which allows you to keep tabs of where your money is going. For example, if you purchase cinema tickets, this would fall within the 'entertainment' category. Unfortunately, none of these features are available with the borderless account, meaning you'll need to manually review your transactions.
Direct Debits: Direct debits have been introduced in January 2020 and you can now set them up for any company in Europe with your GBP and EUR accounts.
Budgets and Savings Goals: What I really like about some of the app-only banks currently in the market is that you can set up budgets and savings goals at the click of a button. For example, if you want to save a certain amount at the end of each month, the likes of Monzo and Revolut will give you daily updates, subsequently letting you know if you're likely to hit your target based on current spending. Unfortunately, this isn't offered by the TransferWise borderless account.
Firstly, there is only one account type offered by Wise, so there is no need to make any considerations regarding plans and prices. Instead, there is a uniform pricing structure based on your primary currency.
Here is an overview of what fees and charges you need to consider before opening a TransferWise borderless account.
Opening and Maintaining the Account
There are no fees to open a borderless account with TransferWise, nor will you need to pay a monthly maintenance fee.
Receiving Money
There are no fees to receive money into your borderless accounts. This means that incoming payments to your Australian, European, New Zealand, UK, or US accounts are free – as long as they are sent in the respective currency. If they aren't, the fees will vary – so you are best advised to check the TransferWise website.
Sending Money
Sending money to another TransferWise borderless account – both in your name or somebody else, is free. However, sending money to a non-TransferWise account (eg. an external bank account) will always come at a cost – even if the transfer is domestic. Once again, the fees will vary depending on the payment system being used (for example ACH, wire, SEPA, SWIFT, etc.) and the currency(s) involved in the transaction.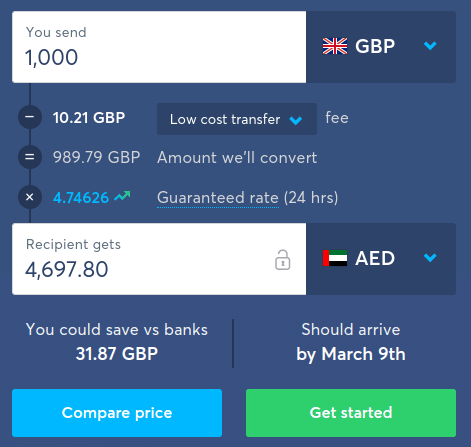 To give you a rough idea, a US-to-US transfer via ACH would cost $1.40, and a GBP-to-GBP domestic transfer could cost £0.60. In fairness, the costs are super-low, but in reality, domestic transfers should be free if this is usually the case. For example, all domestic transfers in the UK go through the FasterPayments Netowork, meaning that they are both free and near-instant. As such, it's somewhat frustrating that TransferWise charges £0.60 here.
Using Your Debit Card
It doesn't cost anything to order your debit card from Wise nor to link it to your borderless account. However, the platform notes that you will likely be asked to add a minimum deposit before the card is distributed. This stands at 20 USD/EUR/GBP or 30 NZD. The funds are added to your card nonetheless, so it's not a fee per-say.
All online/in-person purchases with your borderless account debit card are free – as long as you hold the respective currency in your account. For example, if you've got enough EUR in your account and you make a purchase in Euros, it will cost you nothing.
If you make the purchase without having enough funds in the respective currency, you will pay a fee of between 0.24 –3.69%. Again, the specific fee depends on the currency being used.
When it comes to withdrawals, TransferWise will not charge you for the first 200 GBP/250 USD/350 AUD/350 NZD/350 SGD – per month – as long as you have the required currency balance to cover the withdrawal.
After your monthly allowance is consumed, you will then pay a 2% fee. For example, let's say that you withdraw $750 this month. Although the first $250 comes at no cost, you'll pay a 2% fee on the remaining $500, which amounts to $10.
If you attempt to withdraw money in a currency that you are not currency holding in your borderless account, you will need to pay an exchange conversion fee. You can scroll up to the section further up on 'Currency Exchange' to find out more about the charges on this. Take note, this will still be charged even if you are utilizing your free monthly withdrawal allocation.
Customer Support at Wise
If you need to speak with a member of the Wise customer support team, the platform offers a number of contact channels.
This includes:
Live Chat
Email
Telephone Support (multiple local toll numbers available)
Support does not operate on a 24/7 basis.
Wise Borderless as a PayPal Alternative
Wise Borderless can be a good alternative to using PayPal in some cases. For more information about that, read post about PayPal vs Wise Borderless.
Is my Money Safe in the Wise Borderless Account?
One of the most important metrics that you need to consider when opening an account with a non-traditional institution is whether or not your money is safe. In the case of TransferWise, the company does not hold a banking license. As a result, it cannot offer you the same deposit protection schemes that mainstream banks offer.
With that said, the likes of Monzo and Starling in the UK are protected by the Financial Services Compensation Scheme (FSCS) – which protects your cash up to the first £85,000 in the event of a collapse. Then you have N26, which benefits from the European Deposit Protection Fund (EDPF), meaning that the first €100,000 is safeguarded.
Ultimately, it's a real shame that no such safeguards exist at Wise.
Nevertheless, the company is authorized and regulated by the FCA, so this ensures that Wise must operate segregated bank accounts. It does so with Tier-One bank Barclays, so in theory, if Wise did go under, it is hoped that your deposits would be safe. However, without the presence of a deposit protection scheme like the FSCS or EDPF, you can never be 100% certain that this will be the case.
How do I get Started With a Wise Borderless Account?
If you've read my review up to this point, then I hope that you now have a firm understanding of whether or not the Wise borderless account is right for you. I've covered the ins and outs of what the banking app offers, ensuring that the most important points have been covered.
As a result, if you like the sound of what the borderless account offers for your personal banking needs, I have outlined a step-by-step guide so that you can get an account open today.
Step 1: Open a Borderless Account With Wise
Your first port of call will be to head over to the Wise website – select the borderless account button at the top of the screen, and proceed to open an account. You can also do this by downloading the app.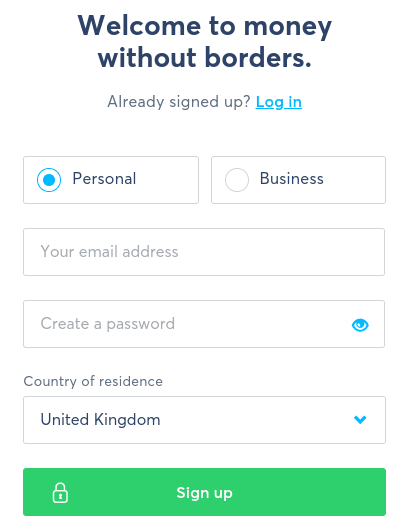 You will need to enter a range of personal details, such as your:
First and Last Name
Home Address
Nationality
Date of Birth
Contact Details
Step 2: Verify Your Identity
Once you've opened your borderless account, you'll be asked to verify your identity. This is to ensure that TransferWise complies with AML (anti-money laundering) laws.
To do this, you'll need to:
Upload a clear copy of your government-issued ID (passport or driver's license)
Proof of address (recent copy of a bank statement, utility bill, etc.)
Photo of you holding your government-issued ID next to your face
Take note, TransferWise can take up to 2 working days to verify your documents.
Step 3: Deposit Funds
In order to fund your Wise borderless account, you will need to perform a bank transfer. The easiest way to do this is to use a local bank account. For example, if you're based in Germany, then deposit funds via SEPA directly into your EU borderless account.
Step 4: Order Your Debit Card
If you're looking to get the most out of your borderless account, then it's likely that you will want to order a MasterCard debit card. You need to do this manually, although TransferWise will guide you through the process once your account has been verified.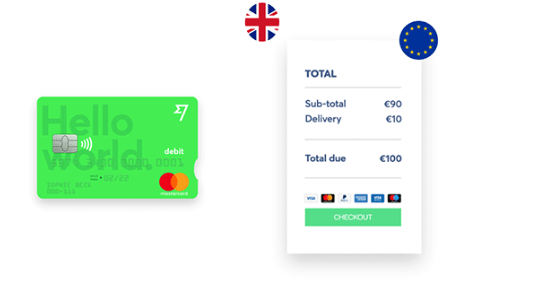 It can take just a few days for the card to arrive, although some locations will need longer. Either way,  there is no charge to order the card, albeit, you might be asked to deposit some funds before it is released. If you've already got money in your account at this point, then you can transfer funds from your balance on to your debit card. If not, revert to step 3.
Step 5: Activate Your Debit Card
Once your debit card arrives in the post, you will need to activate it. You will find instructions on how to do this in the letter that the card came in. As soon as you've activated it, your TransferWise borderless account should now be fully operational.
Wise Borderless Account: The Verdict?
If you've read my review all of the way through, you should now have a full understanding of the pros and cons of the Wise borderless account. On the one hand, I really like the fact that you can open an account in minutes, and that everything can be facilitated via your mobile phone. I also like the super-competitive exchange rates offered by the provider, and the ability to open a local bank account as a non-resident.
You can also use it as an alternative to PayPal, depending on how you are using PayPal at the moment.
However, it is also important to note that Wise does fall short in a number of areas – especially in comparison to some of its main market rivals. For example, there is no option to set up direct debits, and neither instant notifications or budget reports are offered. There isn't an option to set up a savings account either, nor are there any credit facilities.
Moreover, and perhaps most importantly, the Wise borderless account does not benefit from any deposit protection schemes. As such, although the platform is regulated by the FCA and thus – is required to keep your money at tier-one institutions, your cash is never 100% safe in the event of a collapse. All in all, Wise is likely to be suitable for some of you, but certainly not all of you.
Open a Wise Borderless account
Summary
TransferWise Borderless is an essential product for all those of us who deal with clients and payments from all over the world, as it allows us to optimize the receipt and sending of multiple currencies. Moreover, having the convenience of a debit card that can be used all over the world while guaranteeing low fees is super handy if you travel a lot.
Pros
Great mobile app
Low conversion fees
Can be used to avoid using PayPal
Good email support
Cons
No option to set up direct debits