If you're looking for an exchange to buy, sell, or trade digital currencies – you might be considering Bitstamp. After all, the platform is home to some of the largest daily trading volumes in the cryptocurrency scene.
With that said, Bitsamp isn't as extensive as other leading exchanges in the space – at least in terms of supported pairs. It does, however, allow you to access crypto-to-fiat markets that include the US dollar, euro, and British pound.
Nevertheless, in this Bitstamp review, I cover the exchange from top to bottom. I explore tradable markets, supported payment methods, fees and commissions, safety, and more.
What is Bitstamp?
Launched in 2011, Bitstamp is one of the most established online cryptocurrency exchanges in the space. The platform regularly averages a daily trading volume of over $1 billion – most of which is derived from BTC/USD. In terms of what cryptocurrencies you can trade, Bitstamp offers a modest number of supported coins.
This mainly centers on major projects with large market capitalizations – such as Ethereum, Polkadot, Solana, and of course – Bitcoin.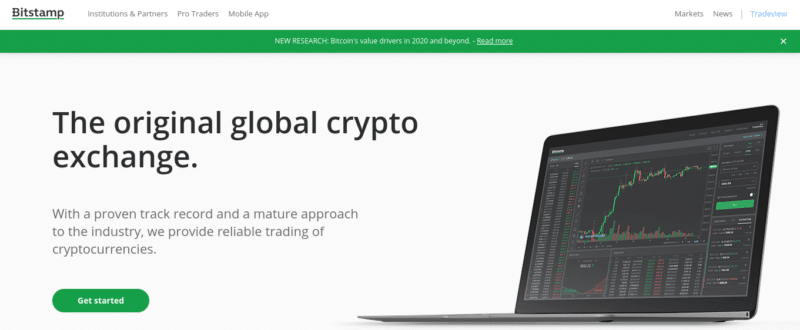 Perhaps one of the biggest attractions of Bitstamp is that the exchange accepts fiat currency deposits. Not only does this include bank transfers but debit and credit cards, too. In terms of trading fees, Bitstamp isn't the most cost-effective cryptocurrency exchange in the sector.
On the contrary, you'll pay a trading fee of 0.5% – which is much more than the likes of Kraken, eToro, and Binance. Plus, you'll be hit with a huge debit/credit card fee of 5% – should you decide to perform a direct purchase at Bitstamp.
What Cryptocurrencies Does Bitstamp Support?
As noted just a moment ago, Bitstamp offers a modest number of digital currencies on its platform.
This includes:
The good news is that Bitstamp offers several pairs from each of the above cryptocurrencies. For example, you can trade most of the aforementioned coins against the US dollar, euro, and British pound. Additionally, Bitstamp also offers a selection of crypto-to-crypto pairs.

This means that you will be trading the future value of an exchange rate between two competing digital currencies. For example, at Bitstamp you can trade ETH/BTC, BTC/USDC, and ETH/USDC.
What Fees Does Bitstamp Support?
There are several fees that you are likely to come across when using Bitstamp. I break these fees down in more detail in the sections below.
Bitstamp Trading Commission
The main fee that you need to be aware of at Bitstamp is that of its trading commission. Like a lot of exchanges in the space, Bitstamp operates a pricing structure that gets more competitive as your monthly trading volumes increase.
With that said, if you trade less than $10,000 worth of cryptocurrencies in a 30-day period, you will pay a commission of 0.5%. This needs to be paid when you open a position and again when you close it.
For example, let's suppose that you stake $1,500 on a BTC/USD buy order.
At 0.5%, This would result in a commission of $7.50
When you get around to cashing out your BTC/USD trade at Bitstamp, the value of your position has grown to $2,000
You once again pay a 0.5% commission, so that's $10
So how does this compare to other popular cryptocurrency exchanges in the space? Well, Kraken charges an entry-level commission of 0.26%, while Binance charges 0.1%. Over at eToro one needs to take the applicable spread into consideration.
On the flip side, Bitstamp does offer lower fees if you are able to trade more than $10,000 per month. This is instantly halved to 0.25% when you breach this figure. In order to get your commission down to 0% at Bitstamp, you would need to achieve monthly trading volumes of over $10 million!
Bitstamp Deposit and Withdrawal Fees

You will, of course, need to deposit some funds at Bitstamp if you wish to trade. Whether or not the respective deposit fee is competitive depends on your chosen payment method.
For example:
If you deposit funds with a cryptocurrency, then there is no deposit fee.
If you are based in the UK and perform a Faster Payments bank transfer, there is also no deposit fee.
Fee-free bank transfers are also available for Europeans using SEPA and Americans using ACH.
So far, so good. However, if you are planning to fund your account with a debit or credit card, Bitstamp will charge you a whopping 5%. There are definitely cheaper options in the market if this is your preferred payment method.
For example, Coinbase charges 3.99% – which is still expensive. You then have Binance, which charges 2%.
It is notable that Bitstamp allows you to deposit funds via cryptocurrency or a bank transfer free of charge, which is great.
In terms of withdrawal fees, this depends on the payment method:
SEPA: 3 EUR
UK Faster Payments: 2 GBP
ACH: Free of Charge
International Wire 0.1% (Minimum Fee is 25 USD/EUR/GBP)
So now that I have covered fees, in the next section of my Bitstamp review I am going to explore the trading platform itself.
Bitstamp Trading Platform
At first glance, it appears that the Bitstamp trading platform is potentially more suited for experienced traders. This is because it comes jam-packed with advanced tools and features, that for the untrained eye – might seem somewhat intimidating.
Nevertheless, below I list the main aspects of what you will get with the Bitstamp trading platform.
Order Types
It goes without saying that the Bitstamp trading platform comes with a great range of order types. This starts with the basics – such as buy and sell orders, as well as limit and market orders.
In terms of risk management, Bitstamp also offers stop-loss orders. This allows you to automatically exit a position when it goes against you by a certain amount. For example, you might be trading BTC/EUR at Bitstamp and decide that you do not want to risk more than 2% of your stake. If so, you simply need to indicate in your stop-loss order price.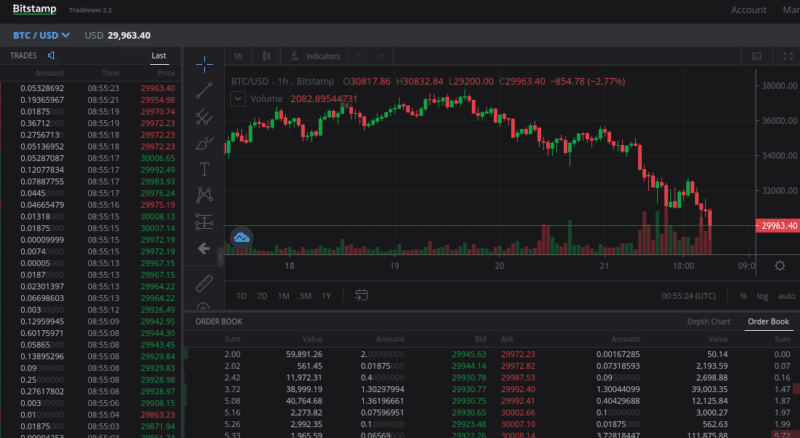 I also like the 'trailing' stop-loss order that Bitstamp supports. This allows you to protect your gains but at the same time – keep the position open for as long as it continues to move in your favor. For example, you might be in the green by 10% on your Bitstamp trade and then set up a trailing stop-loss at 2%.
If your trade goes down by 2%, the position will be closed. However, if the position continues to rise, the trailing stop-loss will adjust the exit price. In other words, your position will remain open until it makes a continuous decline of 2%.
Technical Analysis
If you're a seasoned cryptocurrency trader then you'll likely have a firm grasp of how technical analysis works. If so, then Bitstamp really stands out in this department. Through the main trading dashboard, you'll have access to an abundance of technical indicators.
This includes everything from MACD and Majority Rule to the MA Cross and Accumulative Swing Index. With that said, Bitstamp takes things to a whole new level by also offering heaps of advanced chart drawing tools.
Once again, if you are a trading newbie, you will likely find these tools and features somewhat intimidating. If so, you might be more suited for a user-friendly trading platform like eToro or Coinbase.
Bitstamp is also integrated with popular online platform TradingView. For those unaware, TradingView allows traders to discuss and share market insights on a full range of different asset classes. For example, a TradingView user might share their technical analysis findings on ETH/BTC, which then allows other members to discuss the findings further.
Is Bitstamp Safe?
When choosing a cryptocurrency exchange, your first priority should be to explore whether or not it offers sufficient levels of security on your trading funds.
Before I get to that, it is important to note that Bitstamp encountered a major hacking event in 2015. The perpetrators got away with more than 19,000 Bitcoin. In today's money, that amounts to hundreds of dollars worth of digital currency.

Taking this into account, this should be a stark reminder that your money is never 100% safe when using a cryptocurrency exchange like Bistamp. On the other hand, Bitstamp has since acquired a payment institution license from Luxembourg, meaning that it has the legal remit to accept fiat currency deposits.
In terms of internal security controls, Bitstamp notes that 98% of client assets are stored safely offline. It also offers address whitelisting and transaction notifications.
Bitstamp App
If you're the type of trader that likes to buy and sell assets on the move, you might want to check out the Bitstamp app. Available on both iOS and Android devices, the app has excellent reviews on its respective store.
This includes a 4.5/5 rating on Google Play across more than 8,000 reviews. Over on iOS, the Bitstamp app carries a rating of 4.8/5 over more than 3,600 reviews. In terms of what the app permits, this covers all of the features as found on the main website.

Once logged in – which you can do via fingerprint or face ID – you can instantly view your portfolio. You can also place buy and sell orders at the click of a button – meaning that you can trade no matter where you are located. The Bitstamp app also doubles-up as a digital currency wallet, making it ideal to store your coins in a safe and convenient manner.
Bitstamp Customer Support
If you need to contact the Bitstamp support team, you have two options at your disposal. If your query or concern isn't urgent, you can email the support team at [email protected].
Additionally, you can also call Bitstamp directly. The three phone numbers on offer are:
+44 20 3868 9628
+1 646 568 9784
+352 20 88 10 96
How to Get Started at Bitstamp
If Bitstamp is the right exchange for you and you want to get started today – follow the step-by-step process outlined below.
To get the ball rolling, visit the Bitstamp website online or via your mobile phone. Then, click on the 'Register' button, which you'll find at the top-right hand corner of the homepage.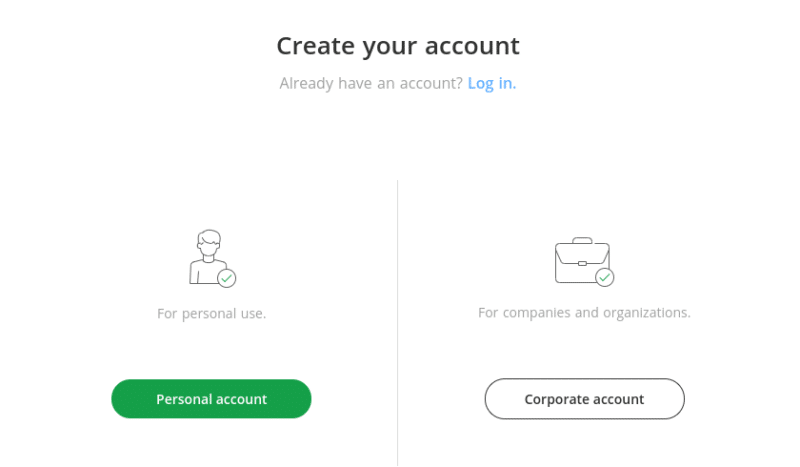 Assuming you are not looking to open a corporate account, select 'Personal Account'. You will then need to provide your first and last name, email address, and read and accept the terms and conditions.
Step 2: KYC
Now that you have opened an account at Bitstamp, you will need to verify your identity. You can do this by clicking on the 'Personal Account Verification' button from within your account dashboard. Here, you will need to upload two documents – as per anti-money laundering rules.
This includes your government-issued ID, which can be a passport, driver's license, and in some cases – a national identity card. Additionally, Bitstamp also needs a document that proves your residency status. This can be the likes of a bank account statement or utility bill.
Once submitted, you will need to wait for your documents to be validated by Bitstamp. How long this takes remains to be seen – as it can really vary depending on how busy the verification team is.
Step 3: Deposit Funds
Once you have had your ID and proof of address validated, you can then process to make a deposit.
Supported payment methods include:
Debit cards
Credit cards
UK Faster Payments bank transfer
ACH
SEPA
International wire
For information on transaction charges, scroll up to my section on 'Bitstamp Deposit and Withdrawal Fees'.
Step 4: Start Trading
As soon as you have funded your Bitstamp account, you can start trading cryptocurrencies. All you need to do is head over to the main trading platform and search for your chosen pair.
Then, it's just a case of setting up some orders. At a minimum, you'll need to place a buy or sell order – which tells Bitstamp which way you think the respective market will go.
To trade in a risk-averse manner, it is also wise to deploy limit, stop-loss, and take-profit orders.
Bitstamp Review: The Verdict?
In summary, Bitstamp is one of the most established cryptocurrency exchanges in the space, with daily trading volumes that often surpass $1 billion. Although it offers a modest number of supported cryptocurrencies, it is popular with traders that seek pairs that are denominated in fiat currencies like the US dollar and euro.
I found that the Bitstamp trading platform itself is arguably more suited for experienced traders, and fees are not the most competitive in this sector. For example, you'll pay an entry-level commission of 0.5% and a debit/credit card processing fee of 5%. For a better all-round platform I would suggest taking a look at Kraken.
Nevertheless, if you're seeking a cryptocurrency exchange that is home to heaps of liquidity and advanced order types and technical indicator, Bitstamp might be what you are looking for.