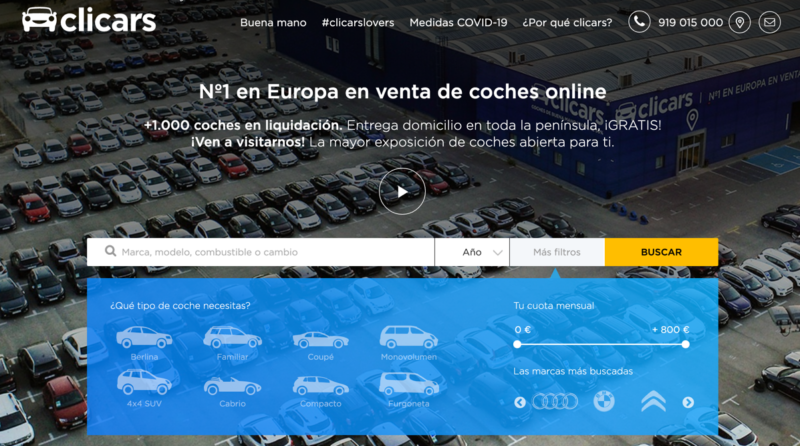 Thinking of buying a new car in Spain VS a used one? In many countries, you now have the option to buy officially reconditioned used cars that may be less than a year old and in superb condition, practically like new. In any case, the biggest con of buying a new car is the depreciation you will be hit with as soon as you walk out of the dealer with the car keys in your hand.
Let's take a look at some statistics on how cars depreciate. Keep in mind that some models and brands depreciate less than others. For example, Audi and Mercedes cars keep their value much more over the years than, say Opel and Citroen cars.
If you buy a new car, it will devalue around 17% in its first year of use. From then onwards, it depreciates around 10% a year during the first six years of its lifetime. Following this period, cars will depreciate at around 5% per year, and from the 9th year onwards the change in value is very little since the car would have already lost 84% of its value.
Some cars, especially luxury ones, tend to devalue more rapidly. The Volvo S80 will loses 32,6% of its value in the first year, while the Mini Cooper loses 29,3%.
If you want to retain the maximum value when buying a new car, you need to consider which cars are most popular, including colors, type of fuel used, extras etc. In Spain, the cars that used to retain value best were diesel compact cars. This has changed though as in the coming years as many European capital cities are implementing circulation restrictions on diesel cars and want to eliminate them completely in the near future.
Here's a depreciation schedule I have for the car I bought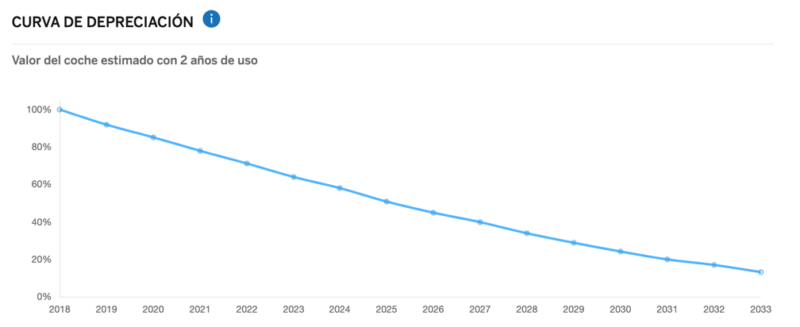 Basically, you should avoid diesel cars like the plague unless you have a very specific use case.
Apart from the fact that nobody wants diesel cars anymore and the value will drop significantly, these cars harm people and it's just not worth the harm to humans for saving some money. If you're not yet very familiar with how the public has been duped about "clean diesel" for many years, watch this documentary:
and this:
You can calculate the value of a used car in Spain using the Supertasador tool.
If you're looking to buy or sell a car in Spain, these are the best web portals to look at:
Keep in mind that certain towns also have a used cars market on a regular basis, and cities like Barcelona have a yearly used car fair. They are good occasions to try out many different cars and see which ones you like best. If you're just starting your search for a car and you're not sure which one you like best, this can be a huge time saver.
If you want an experience that comes very close to buying a new car, you can visit the major brands' used cars showrooms. These cars would have been given a thorough cleaning and sprucing up and are guaranteed by the manufacturer. They are typically cars that have been previously used by car rental companies or management and would have up to 20,000km on the clock. It is quite common to find the latest models on sale, so you're effectively getting the latest model at a significant discount. Keep in mind that car rental companies tend to stick to particular brands and models of cars, so while you will find lots of Audis, BMWs, and VWs, the offer for Mazdas will be scarce since they don't tend to be used by car rental companies.
Should You Even Buy a Car?
In the major Spanish cities like Barcelona, Madrid and Valencia, owning a car is not common, as people are realizing that it makes much more financial sense to use car-sharing services like Ubeeqo instead. I've written a separate article about carsharing services in Barcelona which I suggest you check out if you're not 100% sure that you need a car.
New standard car VS used premium car
Another consideration is whether to buy a new car VS a similar car in the premium category in a used state. Some examples could be a new Seat Ateca vs a used (20k on the odometer) BMW X1 or Audi Q5. When buying a new car you get the car in a perfect state, with a longer guarantee, and you can configure it exactly the way you want to. You will also probably have fewer maintenance costs and the latest technology.
On the other hand, you will be hit with strong depreciation and perhaps you won't impress that many people. With regards to a used luxury car, the points in favor are lower depreciation, better aesthetics, and less risk in the sense that the car has already been in the market for some time and kinks ironed out. You will also know if that particular model had a significant flaw or not. On the negative side, maintenance costs will be higher, technology will be older, worse fuel efficiency, and a shorter warranty period.
Car cost breakdown
Buying a car brings with it a yearly bill even if you don't use the car at all. Here's the typical breakdown of costs on a yearly basis for moderate to regular use, assuming a new or fairly new car:
Depreciation – 45%
Fuel – 28%
Maintenance and repairs – 13%
Insurance – 8%
Tyres – 6%
Most reliable cars
One of the most unexpected costs can be that of maintenance and repairs that have nothing to do with accidents but a lot to do with the construction quality of the car and its engine/accessories.
Here are the most reliable cars in each category, according to one of the most recent surveys:
Compacts – BMW Series 1
Medium – Volvo S60
Premium – Audi A6
SUV – Audi Q5
Sports – Audi TT
Guide to buying a used car in Spain
If you want to buy a used car in Spain, you have several options, and it's getting more convenient every year. You can go the traditional route and visit a used cars dealer or even buy from individuals. This is perhaps the preferred way of buying if you know how to haggle and know how to check a car properly. It's also the riskiest way of buying a car as many cars have their odometers tampered with and harbor hidden issues that the vendor won't tell you about.
Another option is to go to an authorized brand showroom. For example, you will find Audi dealers that sell both new and used cars. These dealers can't afford to ruin their reputation by tampering with the cars' odometers, and they also perform a standard refurbishing procedure.
Vehicles purchased from these dealers tend to come with more information, such as the previous use of the vehicle (typically rental or management personnel). They also don't sell vehicles which have been involved in accidents, as these are sent back directly to the manufacturer. The reason is of course that these cars are more likely to develop serious issues down the road and possibly harm the reputation of the dealer and the parent brand.
Note that going for this option of buying cars will be around 1,000 to 3,000 euro more expensive than buying the car from an individual. Of course, if you buy from an individual, you don't get any warranties nor the peace of mind that the car has been refurbished before being sold on to you.
The most modern option is to buy online. I know this might sound strange, but there are some new startups that are trying to change the way we buy used cars. By operating purely online and having no showroom and salespeople, they are able to pass on the cost savings to the customer, thus they can offer the best prices without the need for haggling. I personally hate the process of haggling with a salesperson, and always come out of such deals feeling that I made a bad deal. Thus I am more inclined to use one of these websites when buying a car.
The main two online used car sites in Spain are Clicars and Webycar. Both these sites also offer a very convenient way to sell your car. You only need to enter some details about your car and upload photos and these guys will send one of their people to your house to inspect the car and make you an offer. If you accept, they will come to your house and collect the car, which makes it an incredibly convenient service. They also take care of all paperwork involved. They buy cars that have a full service history, have not been involved in any serious accidents, are less than 10 years old and have less than 150,000km on their clocks. Of these two sites, Clicars is the most established and its growing very rapidly.
Clicars has a slightly different model than Webycar, and is by far the larger of the two. You will also find higher-end models on Clicars. If you buy a car from Clicars, they offer the service of taking in your old car and paying you for it (essentially discounting from your new purchase). You can visit Clicars offices without any appointment, and of course you can also view their selection online. Their Madrid showroom is the biggest in Spain (40km squared) with 1,000 cars available. They are very transparent as they put up high-res images on the site that show the car in its real state without trying to hide any scratches or light damage.
According to Clicars, more than 79% of their clients reserve the vehicle without having seen it in real life. That's why they need to be very transparent with their offer. They employ a rigorous check of 250 points and also have excellent customer support.
When buying a car from this website, you get a trial period of 15 days or 1000 kilometers, whichever comes first. If the client is not satisfied, Clicars will return all the money. That's an awesome offer and gives a lot of peace of mind when buying in this manner. Webycar offer similar conditions (10 days / 1000km).
If you prefer to view the car before buying, you can also visit Clicars in Madrid and check out some cars there. You only need to contact them beforehand to set up an appointment.
Clicars is clearly the leader in this kind of online car retail in Spain.
Idoneo, on the other hand, is another service that offers renting instead of outright purchasing of vehicles.
Types of Second Hand Cars on the market
In Spain you will find different types of second-hand cars, so here's a handy breakdown of these types.
KM 0: All car showrooms in Spain register a few vehicles which they then sell after a couple of months as "KM 0". Prices are advertised as a lot lower than brand new, but you should check just in case. Contrary to what their name suggests, KM 0 cars have actually been used, for example for test drives, but they tend to have a lower number of km on the clock than ex-rental cars. On the plus-side, these cars will still (normally) be covered by the manufacturer's warranty.
Ex-rental cars: These cars must pass the official vehicle inspection (ITV) 2 years after purchase instead of the usual 4 years for a new car. Many people don't know this and it can invalidate your insurance if you have to make a claim and the car hasn't passed the ITV. If the car is under two years old, it will have to pass the ITV for you to be able to put it in your name. This may also apply to KM 0 cars too, it depends on how they were originally registered.
Used cars offered by dealers must include, as a minimum, the following details:
Price and validity (must be valid for at least 10 days).
Owner's details.
Brand, model, cc, chassis number and license plate.
Age, km and last service details.
ITV (official vehicle inspection): date and test result. Also, any additional ITV tests if the vehicle has been involved in an accident or has been significantly modified/tuned.
Date vehicle purchased by the seller.
Warranty (legal and commercial – they may differ). The minimum warranty is 1 year.
Any outstanding debts or charges.
Buying from a dealer could mean you get a discount if you trade in your old car, also this is rarely a good deal and you're much better off selling the car yourself if you have the time for it. Also, keep in mind that many offers you see online assume you will be financing the car. The price for settling the bill without any financing tends to be around 1,000 to 2,000 euro higher.
How much can you save?
Let's consider an example of buying a premium used car that's almost new. The Audi A3 pictured below is being sold by a dealer for the price of 29,900 euro. If you configure the same car on the Audi website it costs around 36,000 euro, which implies a saving of around 6,000 euro when buying used. The car only has 1,000km on its odometer.
This particular car has been for sale since September, and I'm writing this post in January, so it's been at the showroom for at least 4 months. My guess is that since it's a premium class car, it's tougher to sell.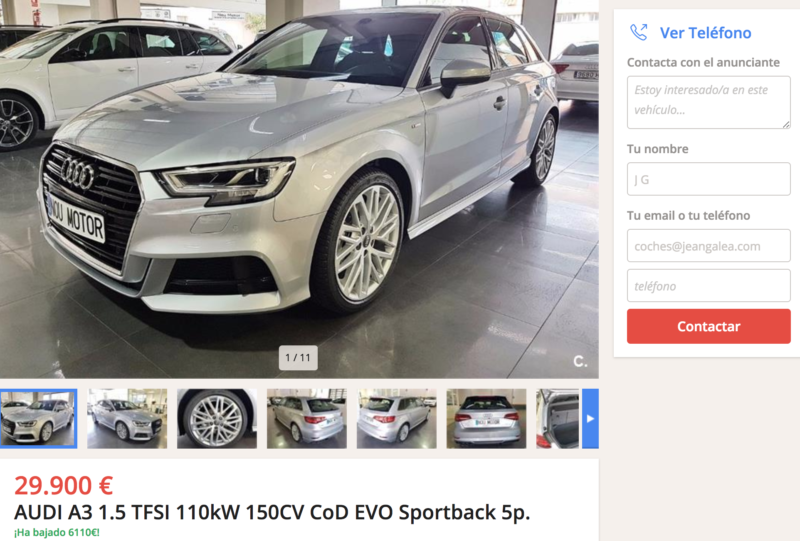 In my opinion, if this is the car you are looking for, it makes a lot of sense to buy used and save 17% of the cost of the car. It's the latest model of the Audi A3, so you're not even getting an older model. In my mind, it would be very hard for me to justify buying new when I'd have the opportunity to get this car.
The biggest issue I've found in my search is that most cars tend to be diesel and not petrol. This is due to the fact that the Spanish nation had been duped for many years into buying diesel, so, for now, there's nothing to be done about that. We have a big pool of older cars that their owners feel like replacing, so those go on the second-hand market, and they're mostly diesel. On top of that, dealers have realized that the public does not want diesel cars anymore, so they're trying their best to sell their new and demo car stock at significant discounts. They don't need to do that for petrol cars as they are in high demand.
In the coming years, I hope that this will start to change. Another issue is that there typically are only a few colors available. The most common colors are white and black, followed by silver, light grey, red and blue. The white and black cars are by far the most common though, so for every 100 cars, I would say 80 of them would be either black or white, with the other 20 cars being one of the other colors I mentioned.
Every car has a set of different trim levels. In this case, the Audi A3 is sold in four different trim levels in Spain. They're Standard, Design, Sport, S Line, and Black. I personally strongly prefer the S Line and Black trims, however, most of the cars available on the second-hand market are the standard model or come with the Design trim. So that's another limitation to consider when searching for a used car. You'll either have to wait until the model you like becomes available (if ever) or adapt your wants to what the market is offering.
Savings on a KM0 car, when compared to new, should be in the range of 17-25%, depending on the car and how many KM it has on the clock.
Paperwork and taxes
When buying a second-hand car in Spain from a dealer you'll have to pay sales tax (IVA – included in the price).
If buying from a private seller you'll have to pay the Impuesto de Transmisiones Patrimoniales. This tax will be calculated on the official value placed on the car (make, model, age) and NOT the selling price. Most regions in Spain have an online tax calculator, here's the one for Catalunya.
As for the paperwork, buying from a company means they'll deal with it directly. Otherwise, you'll be responsible for the paperwork for changing the vehicle over to your name.
When dealing with a private seller always draw up a contract, even if you're buying from a friend.
Keep all documents until you sell or scrap the car.
Driving Permits
Before you drive in Spain, make sure that you have the necessary permit to do so.
Driving licenses issued in any Member State of the European Union and European Economic Area (Iceland, Liechtenstein and Norway) are valid for driving in Spain while in force and have not been withdrawn for any reason, provided that the age required for driving corresponds to that required to obtain the equivalent Spanish driving license.
You could also exchange your country's permit for a Spanish one, register your permit in the Spanish record, renew your license if it is about to expire (you will get a Spanish one) or get a duplicate if you have lost, impaired or have it stolen.
I have been stopped once by a policeman who claimed that I should have a Spanish driving license instead of my Maltese one, since I've been living here for more than two years. This is incorrect due to what I said above. There are some cases where this is true (see conditions here) but in my case it wasn't. Beware of the fact that some traffic police don't actually know the laws properly and you might get fined unjustly.
Driving licenses that have been issued in countries with which there is agreement can be exchanged for equivalent Spanish license when a number of administrative requirements are met. In some cases it will be necessary to test additional ability to perform the swap.
If your permit has not been issued from the European Union, European Economic Area (Iceland, Liechtenstein and Norway) and does not appear in the special list of countries with which Spain has an agreement, you'll have to get a new permit.
There aren't many reasons to change your driving permit to a Spanish one if you're a European citizen. In my case, I opted to do so since I needed an international driving permit to drive in the United States and in Thailand. To get one I would have needed to apply for it in Malta, which was inconvenient and more expensive, so I opted to apply for it here. In order to do so, I had to change my driving permit to the Spanish one and only then be able to apply to the International Driving Permit here in Spain. You need to prepare some papers and get an appointment here.
A note on International Driving Permits: You may be thinking of getting an IDP for driving in Spain. These types of permits are issued by a select number of national authorities in each country, however there are many websites that claim to offer an IDP with a validity longer than one year, a plastic card and a digital version.
These are all scams, and while they can indeed work due to police or rental desk people not knowing the difference between a real and fake IDP, I would always recommend you get a real IDP from your country of residence. If you are caught in a fix and you're already in a foreign country and need to drive with an IDP, then you can take a risk and use one of these websites as they can deliver you the fake IDP in a question of minutes or hours, but again, it's not the option I would suggest.
Here are a few of these scammer websites:
Car Insurance in Spain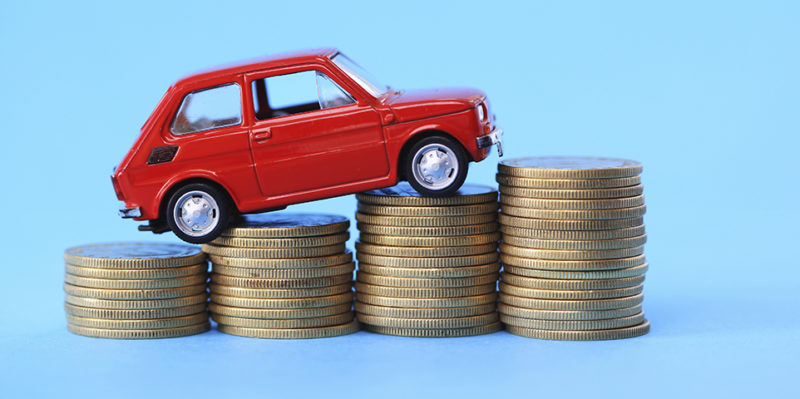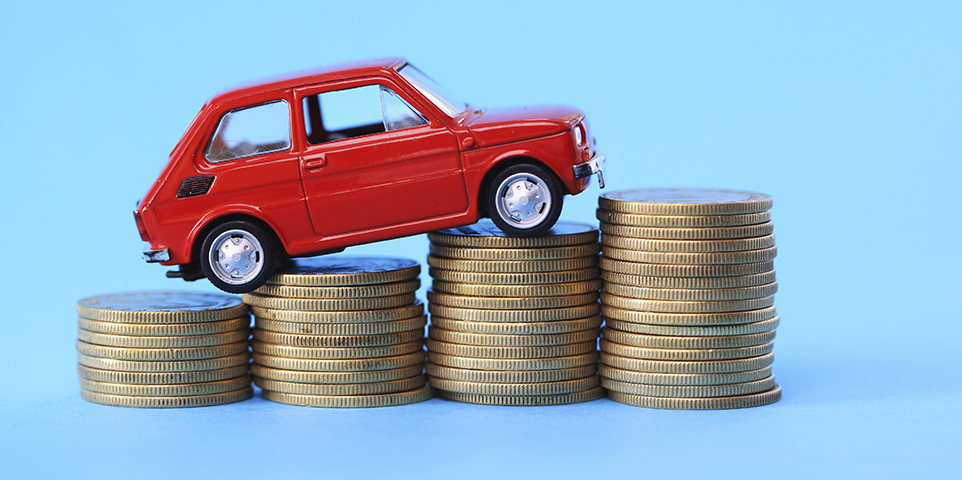 Full coverage is usually a good idea if your car is 5 years old or newer. This is especially true if it's an expensive car. The reason is that when a car is newer there are more chances of it getting robbed or it sustaining accidental damage that you will want to have repaired.
The more expensive the car the more expensive the repairs generally are. If you want to reduce the high premiums of full coverage insurance, you can opt for full coverage with an excess that you'd have to pay out of pocket in case you make a claim.
After 4-5 years cars would have lost almost half their value, and you might want to switch to third-party insurance only.
Some leading car insurance companies to check out
You can find the best deals on comparison sites such as Rastreator, Acierto or Rankia.
It's also worth checking with your dealer whether they can offer you an insurance policy, and compare it with the rest of the quotes you got yourself. Another good idea is to use an app like Coverfy to manage your insurance policies and ask for quotations. I personally use it to manage all the insurances I have in Spain and find it very convenient.
Gas Stations in Spain
The quality of fuel available at gas stations around Spain is known to vary depending on the additives that each company uses. There are also two types of petrol available: 95 and 98. The latter is more expensive and usually results in less engine clatter as well as better performance. People also report that fuel from different gas stations can affect the car's autonomy by up to 20km.
My favorite gas station is Repsol. You can use this tool to find the cheapest fuel nearby.
Diesel VS Petrol
The Spanish government, after promoting the sale of diesel vehicles for many years, has now decided to wage war on diesel. Unless you absolutely need it, I would highly discourage you from purchasing a diesel-powered vehicle.
Only purchase such vehicles if you're doing 80% of highway driving and doing more than 20-30 thousand kilometers per year. Even then, I would honestly think twice, since the price of diesel is almost as high as petrol and diesel vehicles are soon to be banned from the major European cities. Another reason for buying diesel would be if you need to tow something regularly (boat, caravan etc.) as that type of engine is more suitable for this work due to the torque it can generate.
Due to the impending issues with diesel, you can find some incredible deals for diesel vehicles, and you have much more leeway for negotiating with the salesmen.
Car Care
It's best to avoid automatic car washes as they mess up the paintwork. If you absolutely must use them, use the ones that have chamois leather rolls instead of the typical bristles. In Barcelona I found Hanna to be a good option. I use Auto Glym products for the exterior and interior cleaning of my car, as they are considered to be among the very best. You pay a premium price but you get peace of mind that you're using the best products on your car.
What to Do If You're Involved in a Car Accident in Spain

This is one of the topics that is not really a fun topic, but it's very important to know your rights and duties if you're driving in Spain.
First of all, you should know that you have the right to indemnification for both material and personal damage.
Material damages refer to the car you're in and other objects in it (laptops, phones etc) as well as economic damages such as foregone income in the case of taxi drivers.
Personal damages refer to physical injuries to the driver and passengers of the vehicle as well as any psychological issues caused by the accident. These damages are assessed by a medical expert after the accident.
If there are any injuries, you have the right to choose where you will receive free medical treatment and rehabilitation, be it public or private. You can check all the centers available by clicking on this link.
According to Spanish law (Real Decreto 1507/ 2008), and Ley 41/2002 the costs of medial attention received will be borne by the insurers of the car. This does not depend on whether the patient has a private health policy or whether he chose a private or public hospital to get treatment.
You also have the right to receive consultancy for diagnostics of any injuries. Note that both the driver and passengers are always covered in accidents, provided the cars are insured.
Procedures to Follow
Remember that the emergency number is 112.
There is also a free number you can call in Catalunya that provides support for victims of accidents and their family. They help with getting all the papers done and also to know what rights you have as well as receive any support and psychological attention you might need. The service is called SIAVT and the number is 900 100 268.
If you're involved in an accident that is not a serious one, you should always fill in the papers that you'll find in your car together with the other party. It's best if both parties can agree on how the accident occurred. Remember that both parties must sign the forms.
If an agreement cannot be reached or there is serious material or personal damage, you should call the national police or the Guardia Civil. In this case, when the police arrive on the scene they will take notes of the accident themselves. If the other driver is not collaborating you should take down his details just in case you need them further down the road when dealing with insurance and tribunals. You must inform your insurance that you were involved in an accident within the next 7 days.
If you will be asking for damages to objects damaged in the accident, make sure you keep the damaged objects and the original purchase receipts if possible. You also have the right to ask for a replacement car while yours is being fixed.
Further Reading
Car Repairs in Barcelona
If you're in Barcelona and need repairs for your car, especially after paintwork damage, I can recommend VTC.
Apps
I recommend using the ElParking app to save 50% on ITV as well as booking airport parking and finding electric charging points in your city.
Buying New
If you still want to buy a new car, I found the Carnovo site to be really useful. Instead of you having to visit various dealers and haggle with them until you get the best offer, you can do all that from the comfort of your living room.
Carnovo allows you to select and configure the car you want, then receive offers from various dealerships, who will generally give you a discount on the sticker price of between 7-15%. This is very much comparable to what you would get if you had to haggle with them at the showroom. For people like me who hate these kinds of silly negotiations, this is a perfect solution to this inconvenience when buying a new car.
Make sure you check out my post about how to negotiate the best price on a new car in Spain.
In conclusion, if I were looking for a family SUV I would definitely go for KM0 and buy a quality car such as the BMW X1. Buying KM0 means you're getting a practically new car so there are no issues of hidden defects and damages. You're just as safe as when buying a new car, and you don't have to think forever about which extras to choose because that choice is done already.
On the other hand, if I wanted a coupe or sports car I would most definitely buy a used model, perhaps around 10 years old. You can get a quality car such as an Audi TT at a great price when you follow this strategy. I would only buy an older car if it is a sports car, and the reason is that sports cars tend to be well cared for and always garaged, which means less wear and tear and damage. Manufacturers also invest a lot in the design and engines of their sports cars, meaning that they typically age much better than SUVs or your everyday family hatchback.
Having said the above, I ended up buying a new SUV, because there were no KM0 options for that particular model, even after waiting for several months. In the end, it's about buying a car that makes you happy every time you drive, and that feeling is priceless.
What do you think about buying a new or used car?