If you are staying in Barcelona for a few months, or have moved there permanently (great decision!), you probably know that transportation options abound. You have the metro, bicycles, buses and of course, you can always opt to walk around.
However, Barcelona is also the city with the biggest density of scooters in Europe. You'll hear and see them everywhere. They are definitely the fastest way to get around town, so I was really happy when scooter sharing apps started appearing recently. Moreover, there are now various ways to use a car without actually owning one.
In this post, I will share my experience with the two leading scooter sharing apps, as well as the car sharing platforms. Not everyone likes riding scooters, and sometimes it's just necessary to use a car (baby in tow anyone?).
Alright, let's start with the scooters. There are three major platforms you can use: Yego, Scoot and eCooltra.
YEGO

Yego is, in my opinion, the best scooter-sharing service in Barcelona. They are doing very well and the number of scooters is always on the increase. Their web and mobile interfaces are modern and easy to use. Many of my friends have switched to using Yego from eCooltra.
You are fully covered by the insurance for damages against third parties. For damages caused to the scooter, or theft of the scooter, the insurance reduces the amount to be paid to an excess – in a case of compliance with the rental agreement. There is also the possibility to get an excess reduction for your scooter insurance.
The insurance which is already included in the rental price covers third party damages. Additionally, it is also included road assistance inside specific radius outside the shop. The damages on the scooter or theft are covered with the excess of 500€. All the accessories (helmets, top case, GPS, gloves, lock etc.) are not covered by insurance and are paid apart in case of loss or damage. If you have an accident while driving, the insurance covers your hospitalization and that of the passenger, if need be.
Overall I like the service and wish that all scooters were electric. Barcelona is a very noisy city and non-electric scooters and motorcycles are a major noise pollutant.
Join me on YEGO and get 30 minutes for free!
Acciona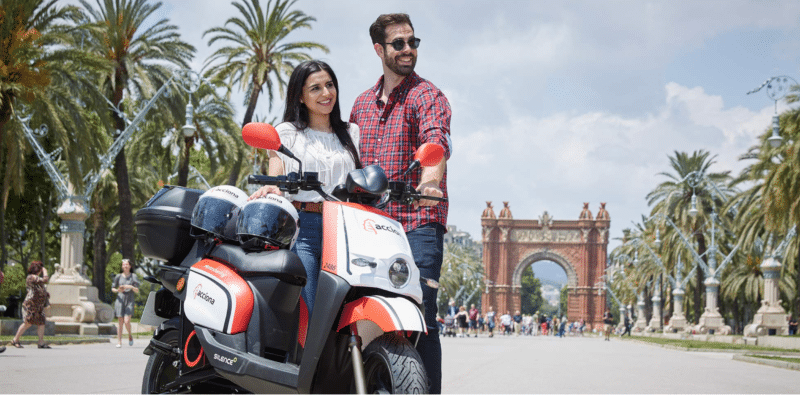 Acciona motosharing is not only available in Barcelona but also in other Spanish cities like Madrid, Valencia, Sevilla and Lisboa in Portugal. That means you can use your account in various cities without needing to sign up to another service, which is very hand if you travel to and from these cities.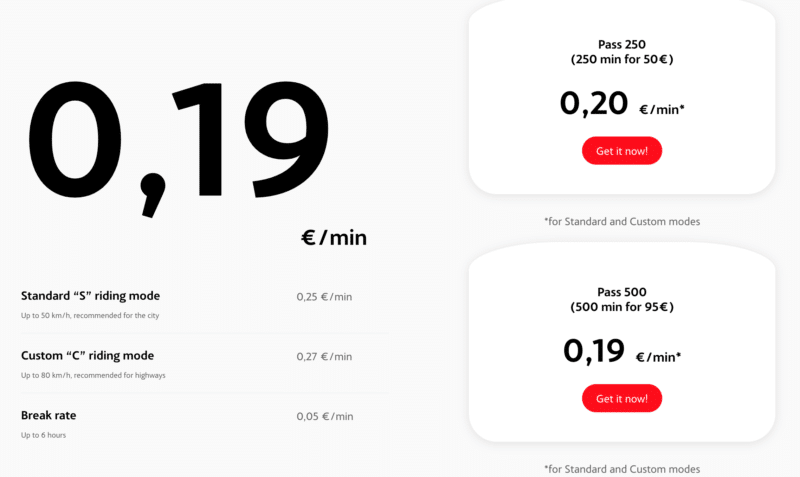 Acciona is the newest service to land in Barcelona and is definitely the best one at the moment.
What I love about it is that you have the custom "C" riding mode which allows speeds of 80km/h, making these scooters save to drive on the highways. Whenever I tried taking scooters from Yego, eCooltra or Scoot on the highway it always was a bad experience as you end up being slower than the rest of the traffic and makes things unnecessarily dangerous.
Thus I had been stuck to driving within the city even though sometimes it's much better traffic-wise to take one of the cities rondas to get to the other side of the city. This problem is now thankfully solved thanks to Acciona's scooters.
Sign up to Acciona Motosharing and gets 30 minutes free
Scoot

Scoot is the latest entry to scooter-sharing in Barcelona. It's a startup from San Francisco and they are looking to make a big splash in Barcelona. With the Scoot app, you can also rent bicycles.
You should definitely try this one out as well, they have really entered the market with a big bang and have one of the largest scooter and bike fleets in Barcelona
Get 1 hour free on Scoot with the coupon code "JEANGALEA"
eCooltra

eCooltra is an app with the largest fleet of electric scooters per minute in Europe, with more than 1000 scooters available. eCooltra was the first on the market and has the largest coverage of Barcelona. They have electric scooters which are absolutely silent and super easy to drive.
Pricing is 0.24€/minute with an insurance excess of 500€ or 0.29€ with an insurance excess of 99€. You can choose which tariff you want to use from your user account once logged in.
The downside is that they are quite underpowered, especially with two people on board and going uphill. I would say it borders on being dangerous as the acceleration is way too low, it makes it hard to keep the balance when doing a stop and go on an uphill road. Apart from this, it's a good service and I haven't had any problems using it. On each scooter you have 2 helmets, sizes M and L. It might be a good idea to keep a head cover of some sort so that your hair is not directly in touch with the helmet, which would have been used by thousands of others. It's not the most hygienic thing to do really, and that's another downside of using a scooter sharing service, unless you have your own helmet and don't mind carrying it around with you.
Get 30 minutes free on eCooltra with the coupon code "hdmkc"
Before we move onto car sharing, I would like to point out that the two biggest advantages, apart from price, of renting a scooter versus a car are:
Faster to get around town.
Can be left at your destination without a requirement to return them to their original location.
Moving on to car sharing, the two contenders are Ubeeqo and Avancar. See the offers below to get free credit when signing up.
Ubeeqo

Ubeeqo is a newer competitor to Avancar, they work in a very similar way. Ubeeqo's interface is way better than that of Avancar. Pricing is pretty similar. In this example, I searched for a car that I could use to go for a padel match in a part of Barcelona that is not very well connected for me to go by public transport. For a four-hour trip duration and 16km of driving distance, the calculated cost is 14.50 Euro.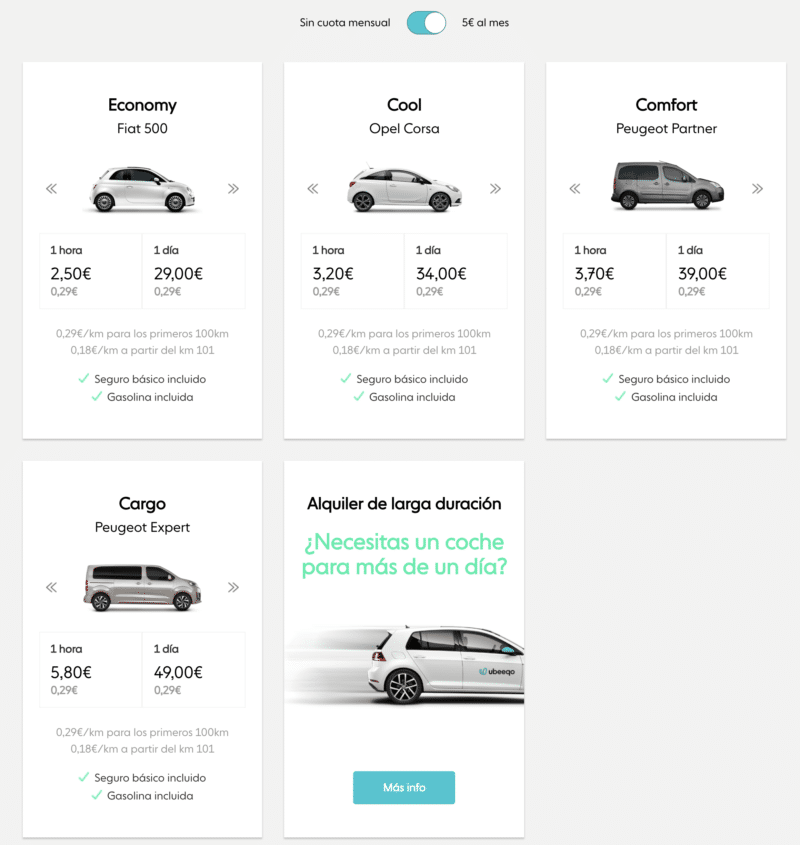 Ubeeqo has two types of memberships. The first is free and the second is 5 Euro per month (annual payment, 6.90 Euro if you do monthly payments). With the monthly payment, you get cheaper hourly and daily prices, and I would definitely recommend it if you are going to be using Ubeeqo a few times every month.
Sign up to Ubeeqo and get €15 free credit
Avancar
Note: As of February 2018 Avancar is no longer operating in Barcelona, but still available in many other cities.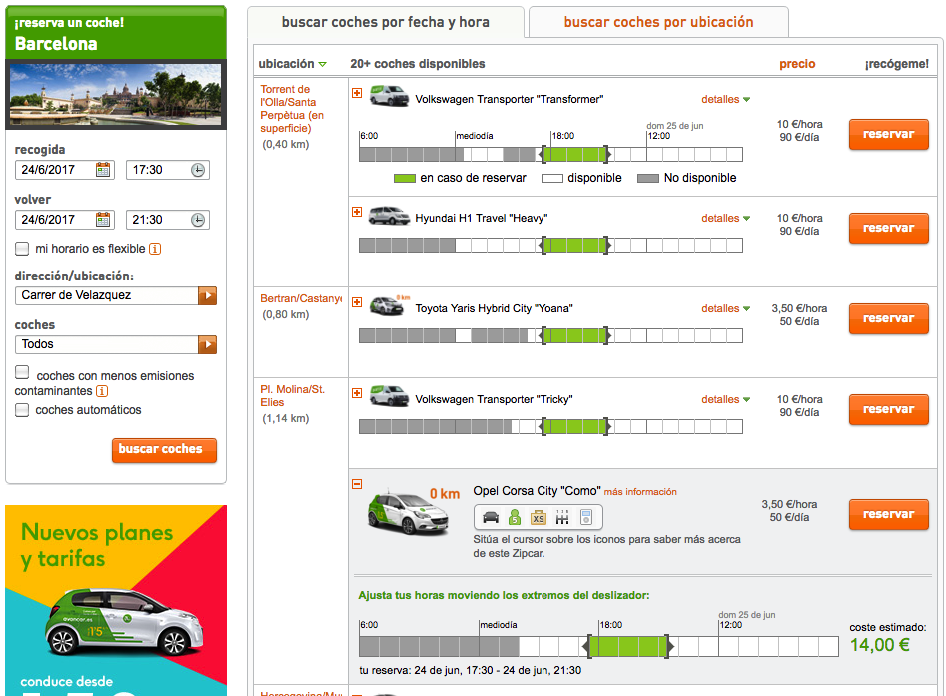 Avancar is a subsidiary of the worldwide car-sharing company Zipcar. IIts interface is looking very dated both on mobile and through the browser. They do have a large selection of vehicles including vans and electric cars. You will see them all over Barcelona as they were the first to open shop and are well established. Strangely and inconveniently, Avancar only allows you to make a time selection based on half-hour blocks. Therefore if I wanted a car at 17:15 I would either have to resort to 17:00 or 17:30 because Avancar does not allow me to select 17:15. This is not a problem with Ubeeqo.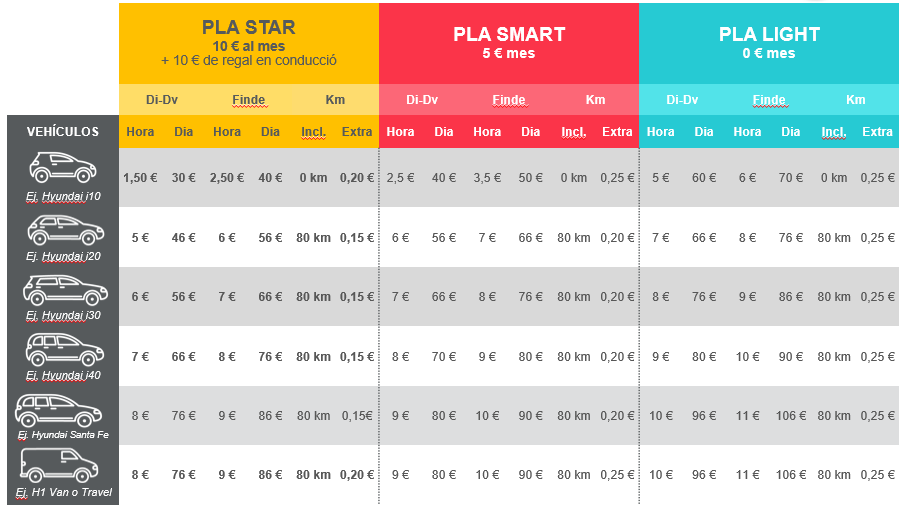 Avancar has three pricing plans that you need to choose from. The main criteria will be whether you will use Avancar very occasionally (choose Light) or whether you will use it a few times a month (Smart) or whether you will use Avancar very frequently (Star). The Star plan is ideal for example for people who need to move around the city for attending meetings. Avancar's cars come with 80km of driving distance included with each rental. Extra kilometers cost between 0.15 Euro and 0.25 Euro depending on which plan you're on and which vehicle you choose. The only exception is the smallest car (Hyundai i10 or similar) in which case you need to pay 0.20 Euro per kilometer. Avancar also has daily pricing, just like Ubeeqo.
My favorite car sharing system so far is Ubeeqo. On the scooter side, it's definitely Acciona followed closely by Scoot, due to Yego and eCooltra having less powerful scooters.
What are your thoughts and favorites?