If you are staying in Barcelona for a few months, or have moved there permanently (great decision!), you probably know that transportation options abound. You have the metro, bicycles, buses and of course, you can always opt to walk around.
However, Barcelona is also the city with the biggest density of scooters in Europe. You'll hear and see them everywhere. They are definitely the fastest way to get around town, so I was really happy when scooter sharing apps started appearing recently. Moreover, there are now various ways to use a car without actually owning one.
In this post, I will share my experience with the two leading scooter sharing apps, as well as the car sharing platforms. Not everyone likes riding scooters, and sometimes it's just necessary to use a car (baby in tow anyone?).
Alright, let's start with the scooters. There are three major platforms you can use: Yego, eCooltra and Acciona.
Acciona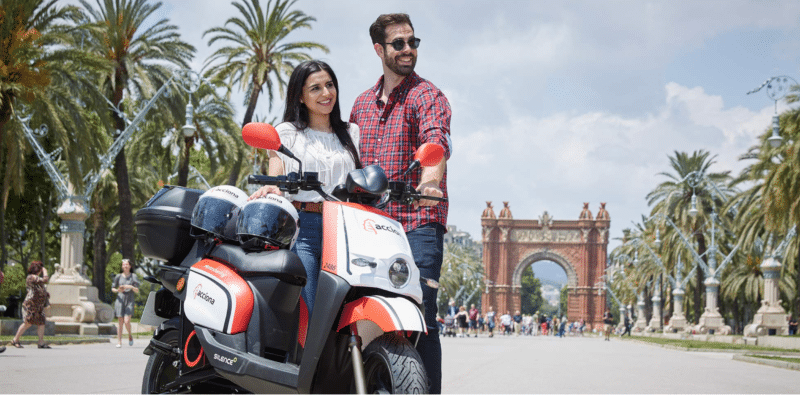 Acciona motosharing is not only available in Barcelona but also in other Spanish cities like Madrid, Valencia, Sevilla and Lisboa in Portugal. That means you can use your account in various cities without needing to sign up to another service, which is very hand if you travel to and from these cities.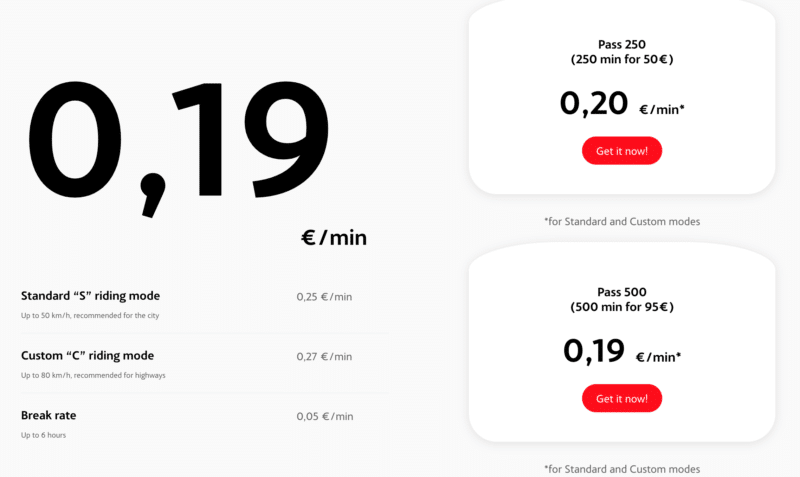 Acciona is the newest service to land in Barcelona and is definitely the best one at the moment.
They have started operating in 2019, and have the best technology overall, with a nice website and easy-to-use app that works perfectly.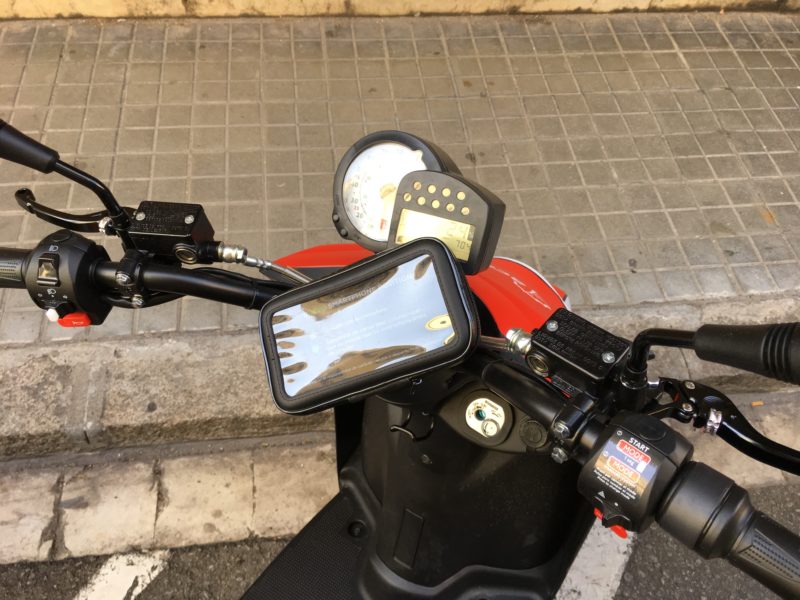 While having the advantage of driving the newest scooters in the city, you also benefit from features such as a mobile phone holder, so you can put in your phone and use Google Maps to get you to your destination, as well as a convenient packet of wet wipes in the helmet box that you can use to wipe the seat before you hop on.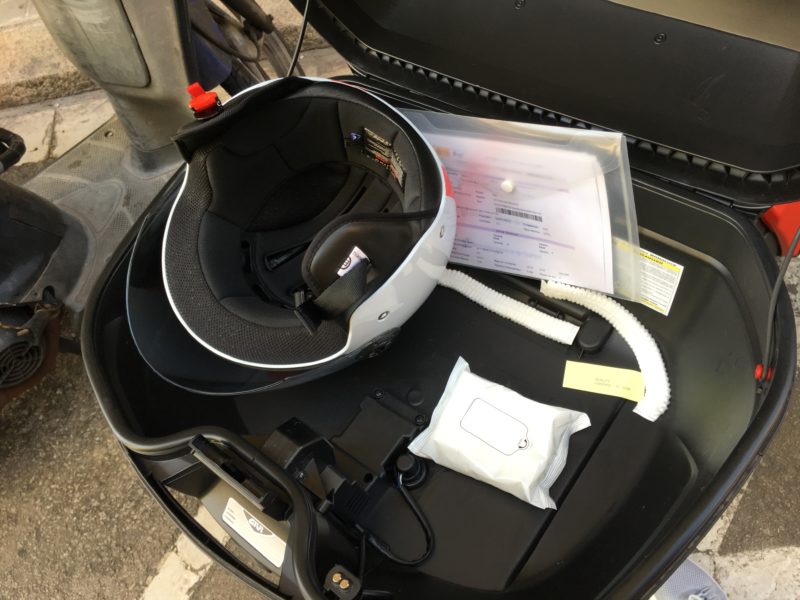 What I love about it is that you have the custom "C" riding mode which allows speeds of 80km/h, making these scooters save to drive on the highways. Whenever I tried taking scooters from Yego, eCooltra or Scoot on the highway it always was a bad experience as you end up being slower than the rest of the traffic and makes things unnecessarily dangerous.
Thus I had been stuck to driving within the city even though sometimes it's much better traffic-wise to take one of the cities rondas to get to the other side of the city. This problem is now thankfully solved thanks to Acciona's scooters.
Get 30 minutes free on Acciona with the code SUD67888
YEGO


Yego is one of the best scooter-sharing services in Barcelona. They are doing very well and the number of scooters is always on the increase. Their web and mobile interfaces are modern and easy to use. Many of my friends have switched to using Yego from eCooltra.
However, as of 2019, they are definitely being beaten by both Scoot and Acciona in terms of scooter quality.
You are fully covered by the insurance for damages against third parties. For damages caused to the scooter, or theft of the scooter, the insurance reduces the amount to be paid to an excess – in a case of compliance with the rental agreement. There is also the possibility to get an excess reduction for your scooter insurance.
The insurance which is already included in the rental price covers third party damages. Additionally, it is also included road assistance inside specific radius outside the shop. The damages on the scooter or theft are covered with the excess of 500€. All the accessories (helmets, top case, GPS, gloves, lock etc.) are not covered by insurance and are paid apart in case of loss or damage. If you have an accident while driving, the insurance covers your hospitalization and that of the passenger, if need be.
Overall I like the service and wish that all scooters were electric. Barcelona is a very noisy city and non-electric scooters and motorcycles are a major noise pollutant.
In 2019 Yego has also added very cool electric bikes to their offering.
Join me on YEGO and get 30 minutes for free!
eCooltra

eCooltra is an app with the largest fleet of electric scooters per minute in Europe, with more than 1000 scooters available. eCooltra was the first on the market and has the largest coverage of Barcelona. They have electric scooters which are absolutely silent and super easy to drive.
Pricing is 0.24€/minute with an insurance excess of 500€ or 0.29€ with an insurance excess of 99€. You can choose which tariff you want to use from your user account once logged in.
The downside is that they are quite underpowered, especially with two people on board and going uphill. I would say it borders on being dangerous as the acceleration is way too low, it makes it hard to keep the balance when doing a stop and go on an uphill road. Apart from this, it's a good service and I haven't had any problems using it. On each scooter you have 2 helmets, sizes M and L. It might be a good idea to keep a head cover of some sort so that your hair is not directly in touch with the helmet, which would have been used by thousands of others. It's not the most hygienic thing to do really, and that's another downside of using a scooter sharing service, unless you have your own helmet and don't mind carrying it around with you.
Get 30 minutes free on eCooltra with the coupon code "hdmkc"
Before we move onto car sharing, I would like to point out that the two biggest advantages, apart from price, of renting a scooter versus a car are:
Faster to get around town.
Can be left at your destination without a requirement to return them to their original location.
Moving on to car sharing, the big player in town is Ubeeqo. See the offers below to get free credit when signing up.
Ubeeqo

Ubeeqo's interface is very good. In this example, I searched for a car that I could use to go for a padel match in a part of Barcelona that is not very well connected for me to go by public transport. For a four-hour trip duration and 16km of driving distance, the calculated cost is 14.50 Euro.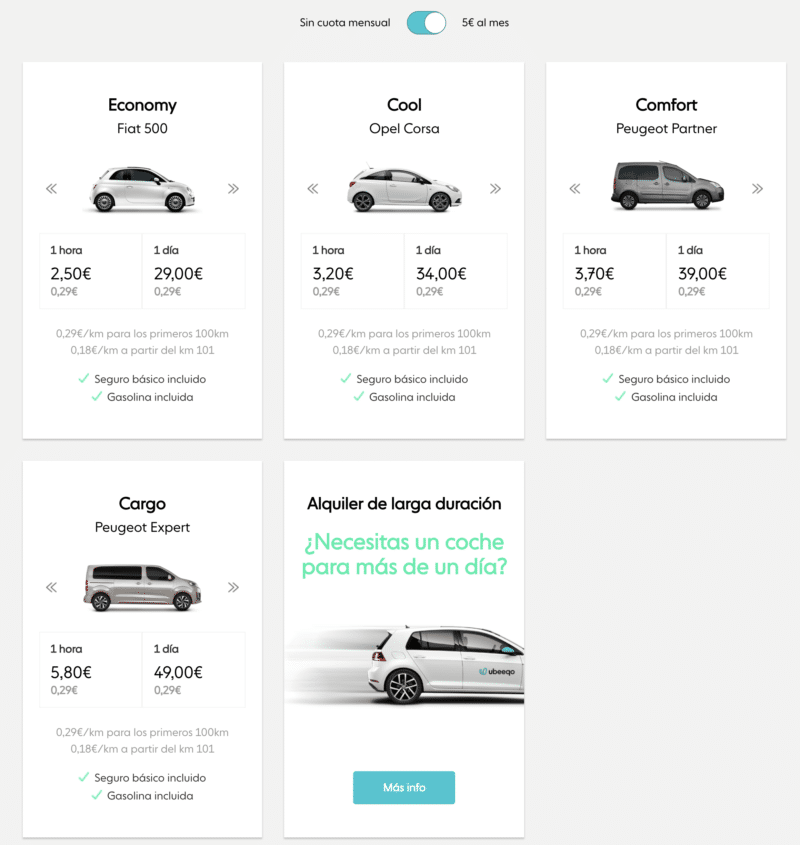 Ubeeqo has two types of memberships. The first is free and the second is 5 Euro per month (annual payment, 6.90 Euro if you do monthly payments). With the monthly payment, you get cheaper hourly and daily prices, and I would definitely recommend it if you are going to be using Ubeeqo a few times every month.
Sign up to Ubeeqo and get €15 free credit
Final Verdict – Best Scooter and Car sharing apps
My favorite car-sharing system so far is Ubeeqo.
On the scooter side, it's definitely Acciona due to Yego and eCooltra having less powerful scooters.
Where Can You Park Scooters in Barcelona?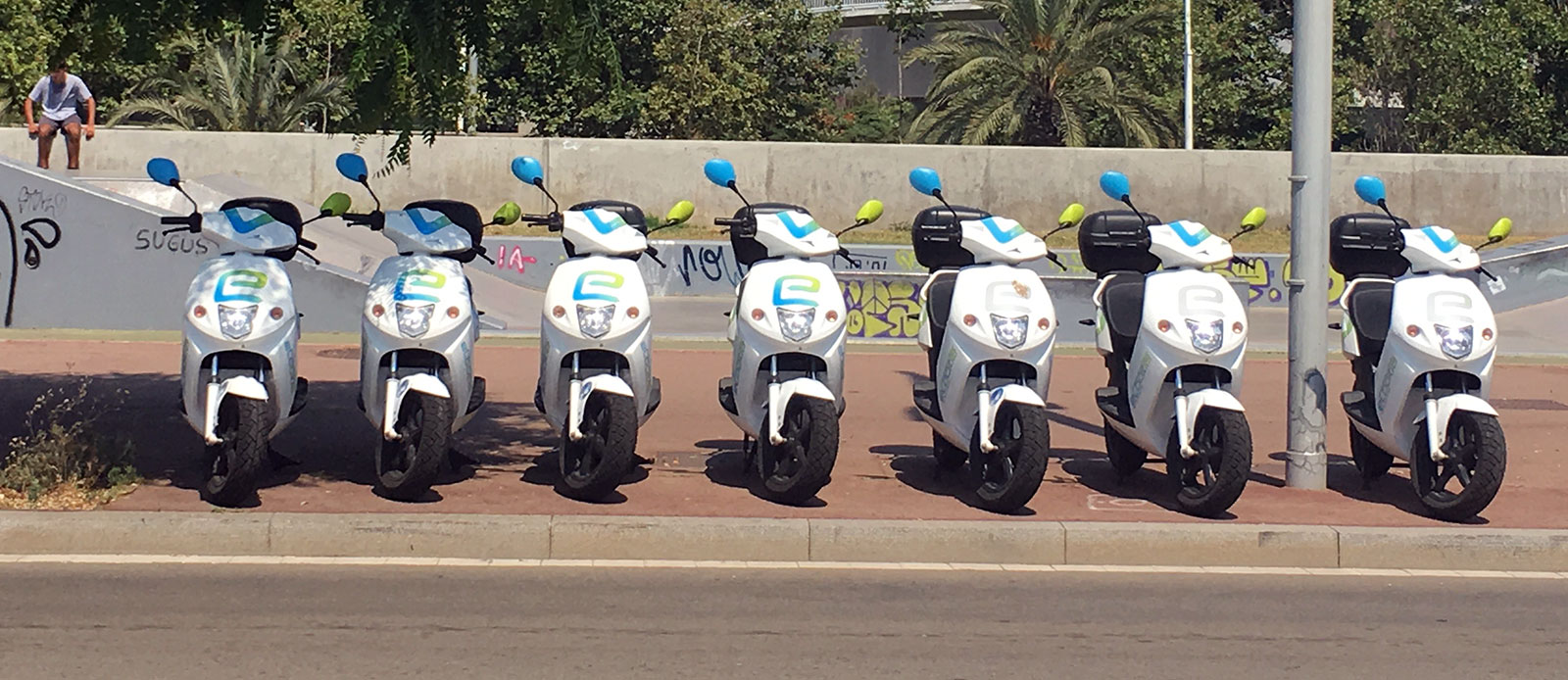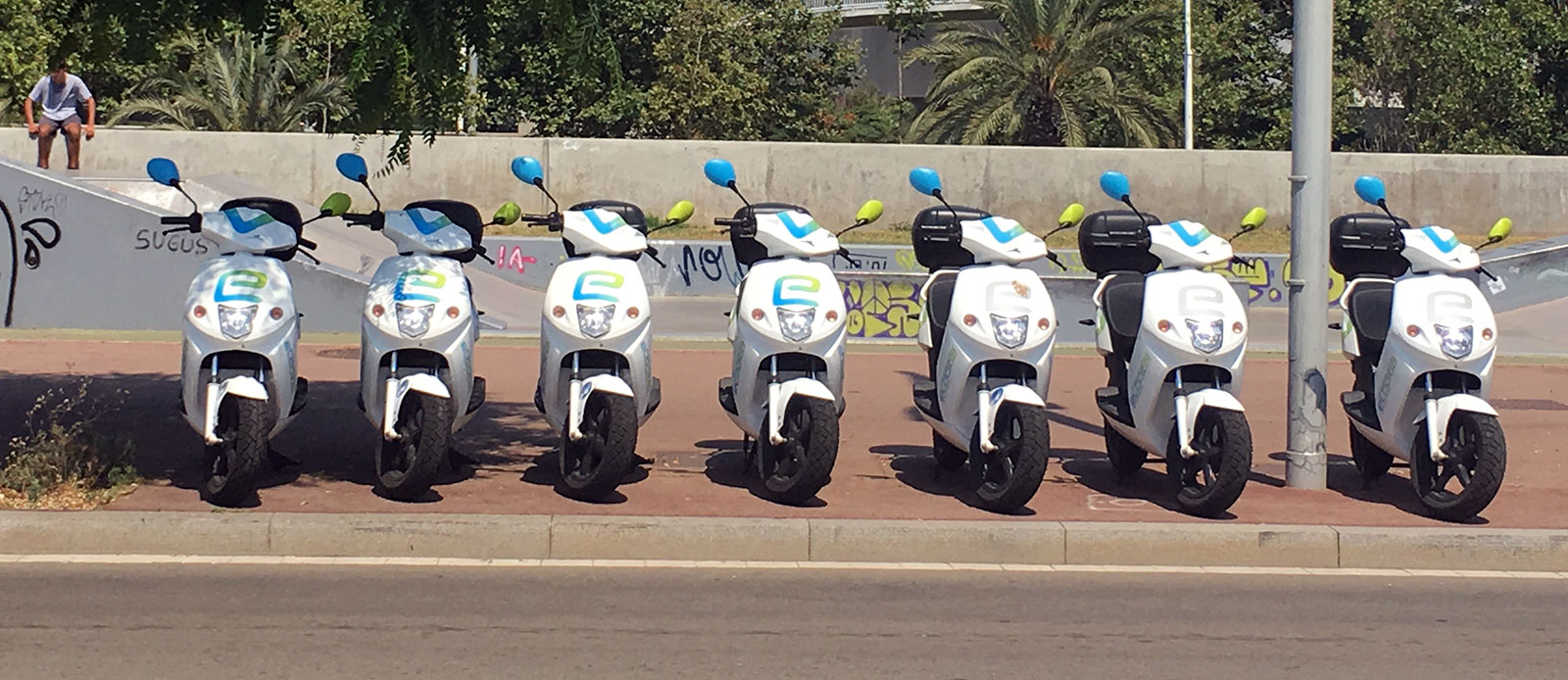 Almost 15% of the whole Spanish population commutes via a scooter or motorcycle, and the scooter density in Barcelona is the second highest in Europe after Rome.
Parking scooters in Spain can be tricky, as each city in Spain tends to have its own rules. Sometimes these rules are not even explicitly stated anywhere, but they are unwritten rules that the traffic police and scooter-riding community both are aware of.
In Barcelona, things are more or less clear.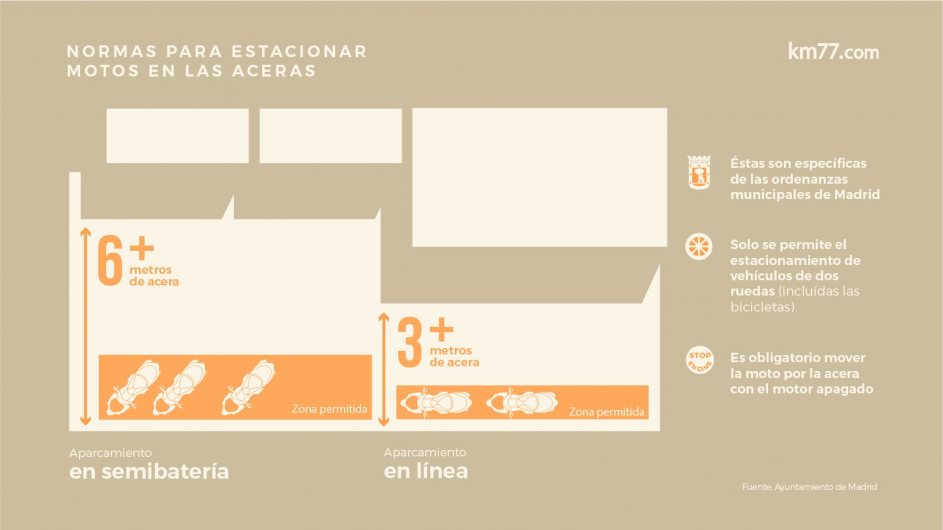 The law states clearly that scooters are to be parked in the parking spaces reserved for them. You will see these marked spaces all around the city. The problem is that the number of these spaces (more than 56,000) is tiny compared to the total number of motorcycles and scooters (300,000+) in the city. Hence, the need for riders to park in other places in addition to these marked spaces.
The most obvious other place to park is of course the sidewalk, and this is where things might get a bit confusing. To a visitor or new expat, it's not obvious what is allowed and what is not. I ended up getting a fine myself recently, and this prompted me to investigate further. Here's what I found out.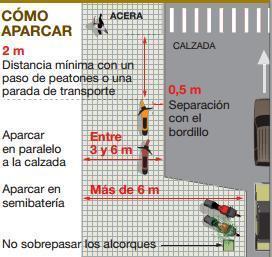 You can park on the sidewalk provided that there is enough space for pedestrians to walk. This is defined as two metres or more of free space on the sidewalk.
The scooter should be parked at a distance of 5o centimetres from the curb.
You can park between tree grates, being careful not to leave any part of the scooter over the grates.
Parking in parallel to the curb is allowed (using the center stand), providing the pavement has a width of of between 3 and 6 metres. When it is wider than 6 metres you can use the side stand to park.
You have to access the sidewalks with the motor switched off and yourself off the seat. This rule is unfortunately routinely broken by many motorists, and they give a bad reputation to the rest of motorcyclists who abide by the rules.
Another common mistake is to park scooters close to the walls of buildings. This is completely unacceptable as it is violating the space of pedestrians. For example, a blind person needs to be able to touch the walls with his walking stick to orient himself. Imagine if suddenly he finds a scooter in the way, and you get the picture of how unrespectful such parking is.
Other Spanish cities with similar rules as Barcelona are Sevilla, Madrid, Valencia and Zaragoza.
On the other hand, note that in the following Spanish cities parking on the sidewalks is expressly prohibited: Alicante, Badajoz, Bilbao, Gijón, Granada, Málaga, Oviedo, San Sebastián, Santander, Valladolid and Vigo.
Hope that helps clarify things, ride safely!
Best Mobile Apps for Getting Directions and Moving Around Cities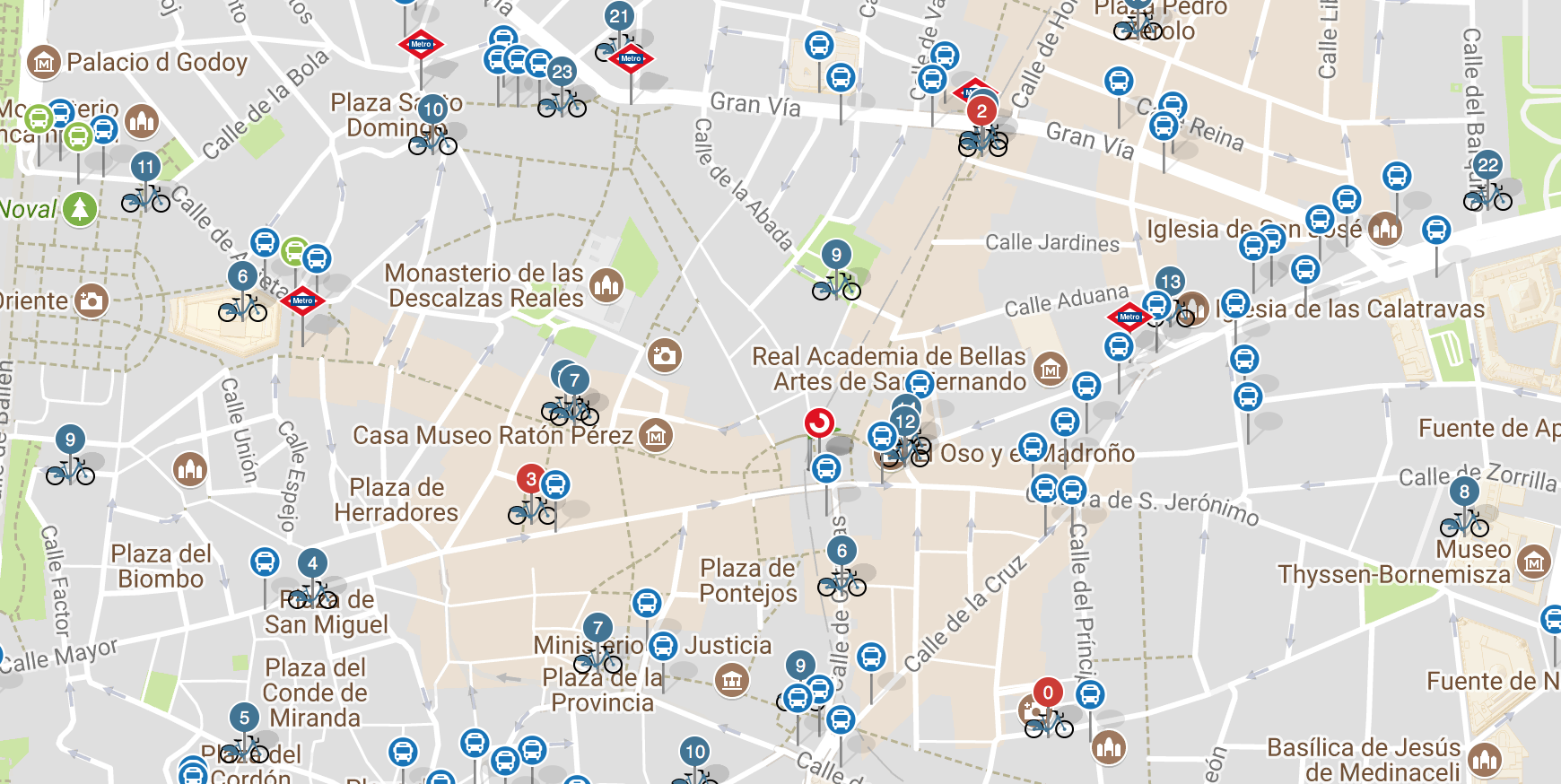 You might think that Google Maps is the one app to go to for all your navigation needs. After some research and trial and error, however, I discovered that there are some apps that are far superior for specific things.
The apps below will help you move around cities with great ease.
This is a great app if you're driving. It displays instructions in big and easy-to-read text so that you can just attach your phone to the car's dashboard and drive away. Need parking? Waze will show you where the nearest one is. Running low on fuel? Waze will show you all the gas stations on the way to your destination.
Waze is definitely better than Google Maps when using your own car/motorbike in a city or using a rental car or car sharing service. As expected, Waze comes with voice instructions as well, just like Google Maps.
This is the app I use when I'm using alternative modes of transport such as public transport or my foldable bike. It can also combine public transport and bike, for example. Google maps will only give you directions and time estimates for, say, bus/metro + walking. CityMapper can combine bus/metro + bicycle. The difference can be pretty significant at times so with CityMapper I can plan my trips more accurately.
Another awesome feature is that CityMapper taps into the bikesharing system here in Barcelona, so it will calculate the time needed to walk to the nearest bike station, then from the last bike station walking to the final destination. Before you plan a route, you will need to select whether you will choose your personal bike or the bikesharing service, and CityMapper will calculate accordingly.
I find Sygic super useful when I am running low on mobile data or am in a foreign country without a data connection.
When driving at night, I find Sygic's heads up display to be super cool. Basically, you put your phone flat on your dashboard and it will display directions, speed etc on the windscreen just in front of you. Don't worry it's not distracting at all and very easy on the eyes. At night I find it better than having to glance away from the road and into a bright phone screen to get navigational information.
Hope that was useful, if you have any other tips regarding using mobile apps to get around, let me know!