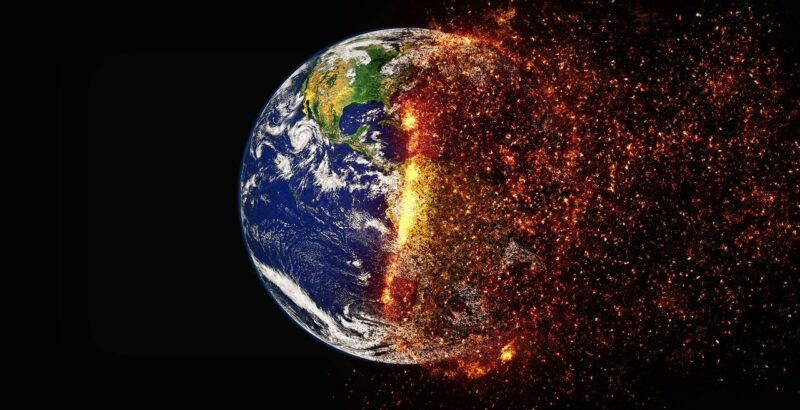 A few years ago I watched the documentary produced by Leonardo di Caprio: Before the Flood.
I was fully convinced by the movie that climate change is the biggest threat facing humanity today and saw it as a perfect showcase of the extent to which politics and greed have destroyed this planet.
Here's what I had written back then.
---
So what can we do about climate change? We can, of course, support politicians and groups that are working to stop this wanton destruction of our environment. Moreover, we can vote with our money. What I mean is that the purchases we make help influence the supply chain of products.
If we continue buying meat, for example, we will encourage the big industrial agriculture companies to continue to rear the animals that give us this meat.
Did you know that the global livestock industry produces more greenhouse gas emissions than all cars, planes, trains and ships combined?
It might sound strange because we tend to think of pollution and climate change as being caused by machinery and means of transport. While those are certainly causes of pollution, the livestock industry is a bigger cause of concern.
Appetite for meat is rocketing as the global population swells and becomes more able to afford meat. Meat consumption is on track to rise 75% by 2050, and dairy 65%, compared with 40% for cereals. By 2020, China alone is expected to be eating 20m tonnes more of meat and dairy a year.
These are crazy and unsustainable figures. To put things into perspective, take a look at the chart below showing land use, freshwater consumption and emissions from agriculture and production for plant-based vs animal-based foods.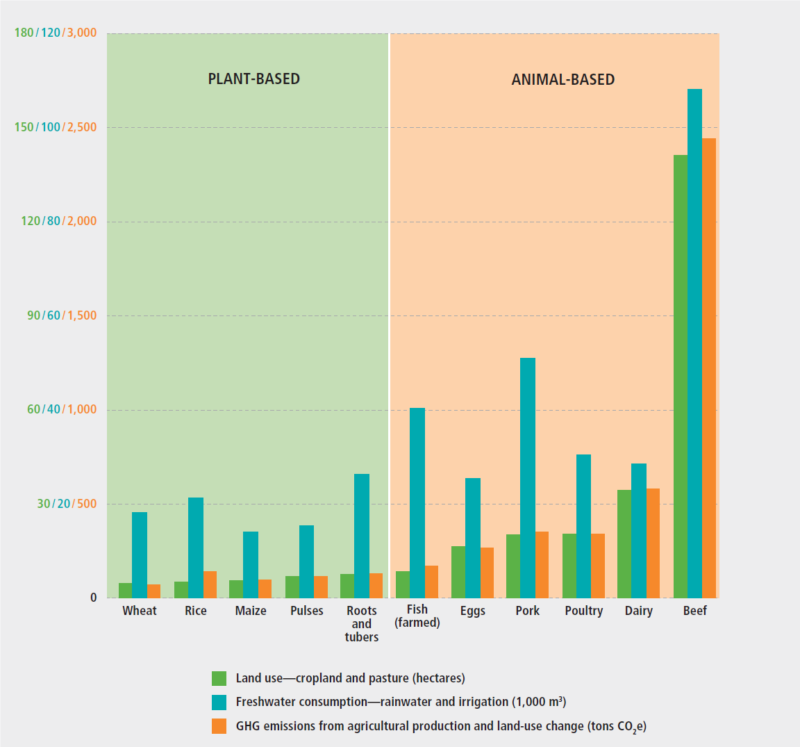 Diet shifts could have large benefits in terms of global warming, apart from being good for you.
I've always tried to stick to a healthy diet and lifestyle, but knowing the above I will now make further tweaks to my diet.
Entrepreneurs like Elon Musk are also working on the climate change problem. In this documentary, Di Caprio visits Musk's Gigafactory in the Nevadan desert. The Gigafactory is the latest project of Tesla founder Elon Musk. Once at full operation by 2020, the vast factory aims to be producing annually 500,000 electric vehicles and batteries/cells equal to 85 GWh/yr. A hundred of these factories would produce enough sustainable energy to power the entire world.
Bravo Elon Musk, I love what he is doing and we need more entrepreneurs with grand visions like his.
Coming back to the topic of food, which I believe is where our choices can have most impact, here's what action I'm taking.
I have decreased my consumption of beef; eating it at most once a week. I've also eliminated dairy completely apart from the occasional yoghurt.
I'll also be trying to eat locally-sourced foods as much as possible. In this global economy of ours, food is transported over thousands of miles to reach us. This causes pollution from the means of transport, and of course, also means that that food is not as fresh as locally sourced food.
It's good to see that change is happening, and I'm excited to be part of this change myself. If you love the documentary and want more material to dig into, I can suggest a great book that I've just finished reading myself: This Changes Everything by Naomi Klein.
---
I like to look back at how my beliefs change over time. I've been growing more and more skeptical about hyped public opinions over the years, and the COVID mask and vaccine-mandate bullshit really illustrated beyond any doubt that most people are sheep and most politicians have perverse objectives, so one needs to be very careful when examining big ideas like climate change.
While my consumption of beef has always remained fairly moderate, and my lack of dairy consumption these days has more to do with optimizing my diet than saving the planet, I've come to revisit my opinions on climate change, and honestly, I'm not that sure of things anymore.
There's one thing that stands out to me as being full of shit, and that's climate policies. Here's a podcast that addresses the issue. Another key things that springs to mind is that while there is a lot of talk about renewal energy, we are still ignoring our cleanest source of energy – nuclear. All this because people are scared of it and therefore politicians don't want to touch the subject because they know they will lose votes.
It seems evident to me that the subject of climate change is a deep and nuanced issue so you need to spend a lot of time researching to have a strong opinion on the topic. I look forward to reading more myself, so if anyone has any good links to books or other materials feel free to drop them here. I think everyone should be interested in the topic both from an investment angle and as a more general future of humanity one (in our lifetime and those of our children).
I'm also old enough to have been through several climate change scares and narratives. This post is basically what I would have written myself about the topic so I won't be repeating it. But as a reminder to myself, as a child we were indoctrinated to believe that:
a 1-degree Celsius rise in global temperature would irreversibly damage our global climate
a massive hole in the ozone layer is threatening our survival
we need to curb our usage of fossil fuels because we will run out of them shortly after the end of the millennium
forests were being depleted at an alarming rate
While all points had some element of truth, there was an alarmist attitude that I've grown to despise over the years. I love going into the weeds with any topic that I feel is relevant to my life (and the survival of our species would definitely count as one) but I don't like being preached at with exaggerated claims just to be coaxed into whatever action governments wants me to take. And that's my big issue with the climate change movement.
On the other hand, there is no question that the investment landscape has been affected by climate change policies, as highlighted in the podcast I mentioned earlier. On that front, I think one could find some juicy investment opportunities based on the policies that have been or will be implemented to prop up some industries and sectors. One could also be rightly incensed at the misinformed opinions about topics like Bitcoin mining, where climate change is unjustly used as a weapon to attack Bitcoin to further another agenda.
From a lifestyle and future perspective, it could inform our decision on where to live, also planning for our children's future life. We've already seen some climatic changes over our lifetime that have made some areas more dangerous/troublesome to live in, so it makes sense to think about that. And on a more long-term vision, I think we could also spend time thinking and researching about our transition to an inter-planetary species. Climate change or not, I think humankind is destined for this move and I hugely respect Elon Musk's thinking and vision in that area.
People who are very vocal about climate change will immediately point out that people like Mr Peiser in this podcast are climate change deniers. This is typical nonsense that you also hear as soon as someone expresses any concern about topics like vaccines. They are immediately labeled an anti-vaxxer. Peiser doesn't come across as a climate denier to me, although it is also true that he is not a scientist and therefore that's a valid perspective to keep in mind. He says as much in the podcast, but I also fished out an excerpt from a previous interview of his: "there is a general agreement on CO2 and greenhouse gas: that we are pumping CO2 into the atmosphere and that this will have a warming effect. This is agreed by everyone so that is not the real issue. Even the skeptics agree to that. So, this is a red herring, because no one denies the basic physics, no one denies the basic facts."
We are living in an increasingly polarised and short-sighted political environment where popular opinions trump skeptical and more nuanced views, and there is absolutely silencing of non-popular opinions as well as the extreme pushing of certain agendas that might not be wrong in themselves, but become problematic when politicians take control and start the brainwashing engines. So it pays to be an independent thinker and move towards being self-sovereign in as many ways as possible.
To reiterate, on this particular topic of climate change, I'm keen on learning more about all the relevant angles, so I welcome suggestions on how I can deepen my knowledge on the subject.