I've recently watched the documentary produced by Leonardo di Caprio: Before the Flood.
I'm fully convinced that climate change is the biggest threat facing humanity today. I recommend you watch this documentary, it's excellent and will show you the extent to which politics and greed have destroyed this planet.
So what can we do about climate change? We can, of course, support politicians and groups that are working to stop this wanton destruction of our environment. Moreover, we can vote with our money. What I mean is that the purchases we make help influence the supply chain of products.
If we continue buying meat, for example, we will encourage the big industrial agriculture companies to continue to rear the animals that give us this meat.
Did you know that the global livestock industry produces more greenhouse gas emissions than all cars, planes, trains and ships combined?
It might sound strange because we tend to think of pollution and climate change as being caused by machinery and means of transport. While those are certainly causes of pollution, the livestock industry is a bigger cause of concern.
Appetite for meat is rocketing as the global population swells and becomes more able to afford meat. Meat consumption is on track to rise 75% by 2050, and dairy 65%, compared with 40% for cereals. By 2020, China alone is expected to be eating 20m tonnes more of meat and dairy a year.
These are crazy and unsustainable figures. To put things into perspective, take a look at the chart below showing land use, freshwater consumption and emissions from agriculture and production for plant-based vs animal-based foods.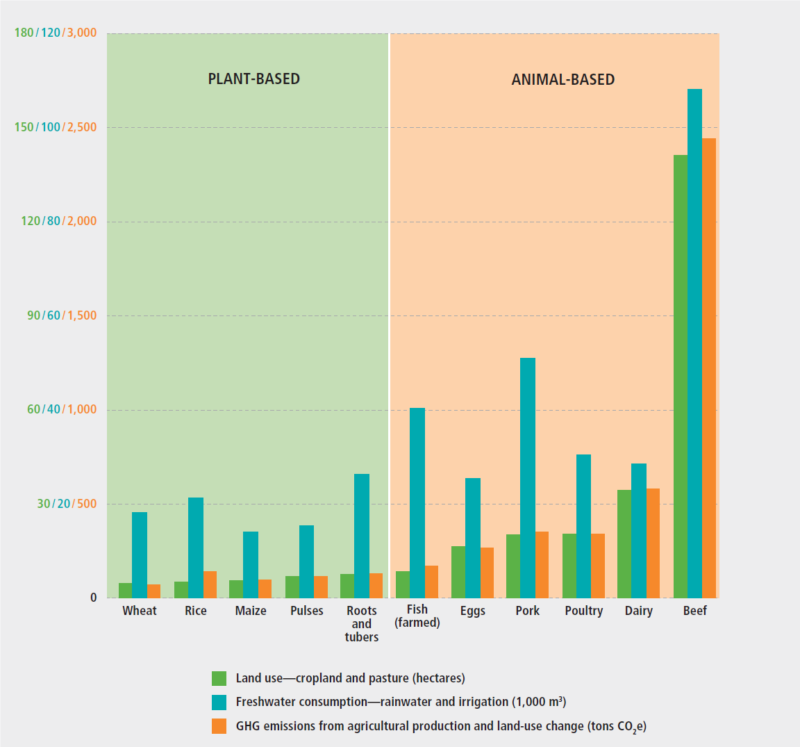 Diet shifts could have large benefits in terms of global warming, apart from being good for you.
I've always tried to stick to a healthy diet and lifestyle, but knowing the above I will now make further tweaks to my diet.
Entrepreneurs like Elon Musk are also working on the climate change problem. In this documentary, Di Caprio visits Musk's Gigafactory in the Nevadan desert. The Gigafactory is the latest project of Tesla founder Elon Musk. Once at full operation by 2020, the vast factory aims to be producing annually 500,000 electric vehicles and batteries/cells equal to 85 GWh/yr. A hundred of these factories would produce enough sustainable energy to power the entire world.
Bravo Elon Musk, I love what he is doing and we need more entrepreneurs with grand visions like his.
Coming back to the topic of food, which I believe is where our choices can have most impact, here's what action I'm taking.
I have decreased my consumption of beef; eating it at most once a week. I've also eliminated dairy completely apart from the occasional yoghurt.
I'll also be trying to eat locally-sourced foods as much as possible. In this global economy of ours, food is transported over thousands of miles to reach us. This causes pollution from the means of transport, and of course also means that that food is not as fresh as locally sourced food.
It's good to see that change is happening, and I'm excited to be part of this change myself. If you love the documentary and want more material to dig into, I can suggest a great book that I've just finished reading myself: This Changes Everything by Naomi Klein.