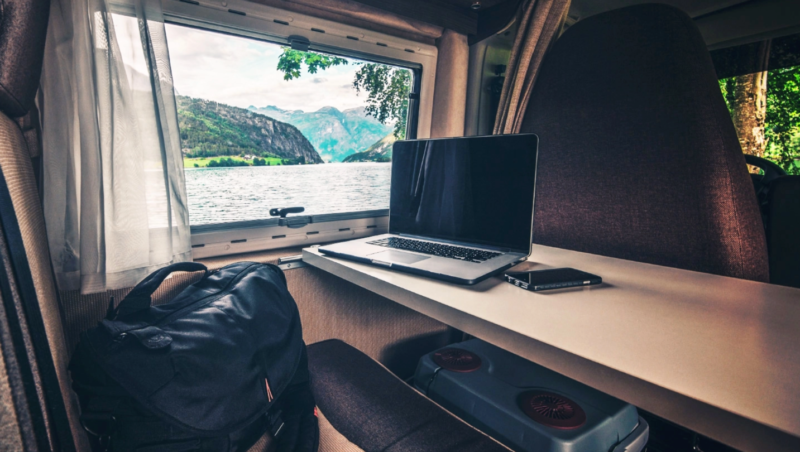 I spent a good part of my twenties traveling around the world during what was the start of the digital nomad movement.
A recurring theme that I used to hear about was the possibility of optimizing taxes by being a digital nomad.
Just walk in any co-working space in South-East Asia, and a 20 y.o. white guy from the EU or Canada will swear that flying circles in Thailand, Bali, and Vietnam for all year means that nobody has the right to tax his income.
At the time I had decided to keep things simple by just paying tax in my home country where I had always paid as a self-employed person.
When I started to hear all the strategies others were using, however, I started to feel a bit stupid for not having optimized things. So I embarked on a journey to learn as much as possible about all the options available for legal tax optimization.
It turns out that the strategy I had opted was actually one of the safest ways to act as a digital nomad. The "clever" tactics many others were using were grey area legal schemes at best but mostly just plain old tax evasion that would most likely lead them into trouble later.
To this day, as the digital nomad revolution has grown, I still hear many of these strategies bandied around, so I thought I'd have a go at outlining how I think a digital nomad should pay his/her taxes.
Read more: The best low tax structures in Europe
Let's start with the basic principles.
Personal tax is based on residency or rather tax residency and each country has its own rules for defining whether a person is tax resident or not.
If you're from the US, for example, you're tax resident by merit of your citizenship so you can't escape the tax net but you might be able to earn approx. $100k/year tax-free if you qualify for the foreign earned income exclusion provision in the tax law.
In other countries, like Canada, you can cease to be resident only if you become resident somewhere else (you aren't allowed to be resident nowhere), however, there is an exit tax to take note of.
Other countries allow their citizens to move out of the country and renounce their fiscal residency quite easily. Malta is one such country.
The general rule for tax residency is that if you spend 183 days or more in a country then you are personally fiscally resident in that country. There are many additional provisions that you need to consider, however.
Read more: How to hire remote workers legally
For example, if you're married with kids and you move away for a whole year to another country while your spouse and kids remain in your country of origin, then you are probably going to still be resident in that country as your main interests haven't moved. Along with this provision, there are several others, and that's why I say that the 183 days rule is just the basic rule to follow if no other provisions are triggered.
Strategy 1 – Not being liable for tax anywhere
So this leads us to the first digital nomad clever tax strategy. The idea goes that since the nomads are traveling most of the time and not spending more than 183 days in any one country, then they don't have to pay tax anywhere. This is fine in theory but is not so practical.
For example, if you run this strategy for a number of years then decide to settle somewhere, that country might require your previous tax returns and tax residency certificates to ascertain that you were not living there before you say that you started living there, and your previous country might also question whether you might have still been tax resident there all these years. It will be tough to prove your status as a nomad unless you keep a lot of documentation and are ready to go to court to prove things.
The easiest solution is to always be tax resident somewhere and have tax returns and tax residency certificates to prove it. That way, no country can complain and hassle you. In that case, it would be wise to pick a country with low taxes and an easy requirement for days spent in the country. Andorra and the UAE both have attractive tax laws in this respect.
Strategy 2 – Opening a company in a low tax jurisdiction
The general rule is that a company is a separate entity than its owner and is taxed separately. The logic then follows that while the owner might be resident in a high tax country, he can just open a company in a low tax jurisdiction and he would be all set.
Lately, I see a lot of digital nomads and expats using Estonia as a base for their company for this sole reason. Estonia only levies tax on the country when the owner withdraws dividends, and so you can keep growing your money within the Estonian company tax-free.
Again, there are provisions which in many cases invalidate this idea.
See, if you're a freelancer or consultant and your company is practically a one-man business, or even if you're very clearly the main asset of your business, then this setup will not necessarily work. Your country of residence might question why you opened up a company in Estonia when you are doing all the work elsewhere, and you are generating the revenue for that company. Given that there would be no other reason why you opened the company in Estonia, then your country of residence could decide to tax those revenues at the local rates and completely see-through your Estonian (or other similar jurisdiction) company.
The bottom line is that the tax residency of a company can be different from the place of incorporation. If you live in the UK and run your business through a Hong Kong company, then your Hong Kong company will be a UK tax resident and pay UK company taxes, unless you can prove that the HK company is set up there for a reason and has what's called economic substance.
You need to make sure that the company is managed and controlled in the country in which you want to be resident, in this case Hong Kong. In practice, this would mean having local directors, having all company meetings held there, a few local employees, offices, etc. There are even more things that need to be taken care of, but hopefully the aforementioned ones make it clear enough that as a freelancer or lone consultant cannot really make this work.
Coming back to the Estonian option, if you want to explore whether such a setup makes sense for you, you can check out the Xolo service, which is one of the easiest options to get started with transacting as a business through Estonia. They also offer the possibility to use them as a registered company, so you wouldn't even need to set up a business in Estonia in this case.
However, I should reiterate that I am really skeptical about this whole Estonian e-residency and tax scheme. The Estonian setup is usually marketed to solo freelancers when in many cases these types of workers would be liable to tax in their country of residence and can't just open a company in Estonia and shift all their profits there to avoid taxes back home. So do your homework before, and think about how your needs might change in the future if your business grows.
Strategy 3 – Actually live in a low-tax jurisdication
There are plenty of tax havens with zero or very low tax and you can actually move there in order to save on your tax bill.
You need to be careful though, because while having to pay no taxes is definitely a joy to behold, it is only one aspect of a good life. If that's the only reason to move to a country, then I would question your motives.
For example, I could easily move to Panama or Bulgaria and enjoy a much lower tax bill. But would I have the same quality of life that I have in Spain. The answer for me is definitely a big NO, so I don't consider making this move. If I did, I would be living as a tax exile. And my aim in life is to optimize my health, wealth and happiness not just my wealth. Another thing to consider is that in many higher tax countries you get a lot of hidden benefits, like the ability to meet many other top entrepreneurs and get inspired, or the ability to attend local conferences and get knowledge before anyone else, or even the convenience of having a good airport to travel from. When you add things up, you might be paying more tax but due to the extra opportunities you were also able to increase your bottom line, resulting in a net gain despite the higher taxes.
In any case, if this is a strategy you want to consider, here are some countries that are popular with the tax-minimizing expat:
Panama
Dubai
Thailand
Andorra
Portugal
Cyprus
Malta
Bulgaria
Paraguay
Out of all the above, I would only consider Portugal as a strong candidate for a long-term place for living.
So what's your take on my ideas? Do you agree?
The key thing to remember is that almost everybody in the world has a tax residency or tax domicile, even 99% of the nomads. Even if you "don't live anywhere".
Tax residency is absolutely crucial, since it determines where you need to pay your taxes. 
You are a tax resident in the country where you spend more than 183 days in a year. (This is a hard rule.)
If there's no such country your tax residency is in the country "you have the strongest ties to" (this is called tax domicile).
If you have no strong ties to any country your tax domicile will be the country of your passport — at least this is how most countries will interpret the rules.
So good luck escaping all three of those and living tax-free as a digital nomad. Hopefully, you can see why all those nomads who claim they left their country and are now free birds traveling the world have not really escaped their tax residence.
Most of these digital nomads will never get into big trouble simply because they never make much money while they are traveling anyway, and they eventually all settle somewhere within a year or two. Then there are hardcore vagabonds who might survive on little money in Asia paying no taxes anywhere but nobody is interested in going after them because it's not worth it. But if you happen to be successful you are very likely to run into a whole load of trouble unless you took the time to structure things properly from the very start, so I would highly recommend you take advice and do things properly.
Also, as in all cases where finances and taxes are involved, don't rely on the advice you get on the internet; neither mine nor anyone else's.
Make an effort to find the very best tax lawyers you can afford in the countries you're interested in and make sure they are able to analyse your particular case competently. If possible, get several opinions (3-4 is what I would recommend) and then make a decision based on that aggregate information.
If you need consultancy on digital nomad taxation, please contact me and I'll put you in touch with a good tax lawyer who can help you out.