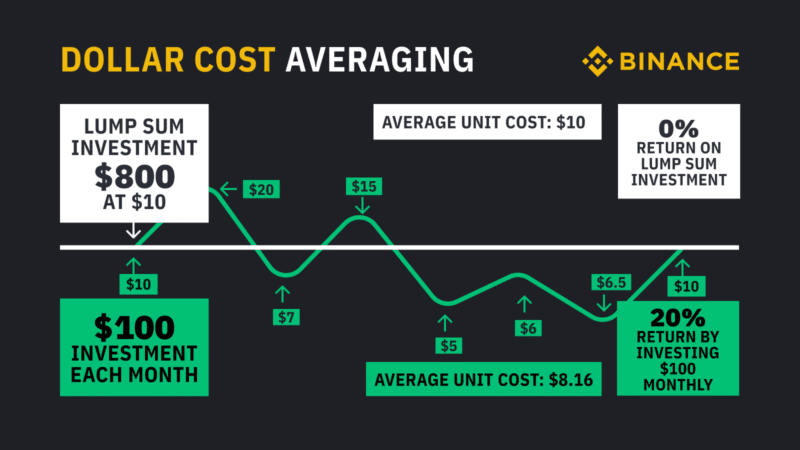 Let's start off the article by making sure everyone is on the same page. It's time to define this mysterious term and explain what DCA means.
DCA (or Dollar Cost Averaging) is a technique that's used to average your buying price or is used as the "Martingale technique", which you use when a position is in a deep loss.
The assumption is that a crypto price will rise eventually, so if you keep doubling your investment, your average buy price will be lower, and you will make a profit sooner when the price rises again. You do need deep pockets for this technique, as you will need to keep doubling down on your investment.
Beginners can also use DCA to invest over a longer period gradually. E.g., you invest $1,000 every 30 days for five months. If prices at the end of each month were $100, $90, $80, $70, and $95, your average asset price would be $85.5. If you invested the full amount initially, you would've paid $100 per coin.
Why Dollar Cost Average?
Over past years, one of my important realizations as an investor was that the best way for me to invest is to find an investment that I believe in, whether in crypto or in the stock market, and make a long-term bet on it. Once I believe in something with a long-term vision, the only remaining question is at what price to get into a position.
This question unfortunately leads many to never actually invest. This is especially the case if an asset goes on an upward trend before they invest. They might then think that they lost their moment, only to look back in a few years' time and wonder how they didn't go all-in at whatever price. There are thousands of stories of people who were ready to invest in the early days of Bitcoin, Ethereum, Amazon, Tesla, etc. but did not do so because of a myriad of reasons. Fear of making a bad deal price-wise tends to be a common reason.
And that's where DCA comes to the rescue. By investing small chunks periodically, you are spreading your price risk over time. You have to be ready to be diligent and continue investing if the price goes up, but on the flip side, you will also be happy if the price goes down, because again you will be investing, but this time you will get a bigger share in exchange for your fiat money.
Once a savings plan has been created, it automatically buys at the set time. You don't have to think about anymore and can buy Bitcoin, Ethereum, etc over a longer time period.
Dollar Cost Averaging is not a magical bullet, but it's a great way to rid yourself of the fear of buying at the wrong price. It is also a great option for those whose monthly income is very predictable e.g. those of you on salaries. By setting up an automatic DCA system, you can set aside part of your monthly income to be invested automatically, removing any temptation to take a break or even forgetting to invest.
Now that we know where and why to use DCA, it's time to learn which platforms allow us to do this in a convenient manner.
Best Platforms for Dollar Cost Averaging in Crypto
In this section, I'll be sharing with you my favorite platforms depending on the use case.
Swan Bitcoin – Best for U.S. Residents who want to DCA in Bitcoin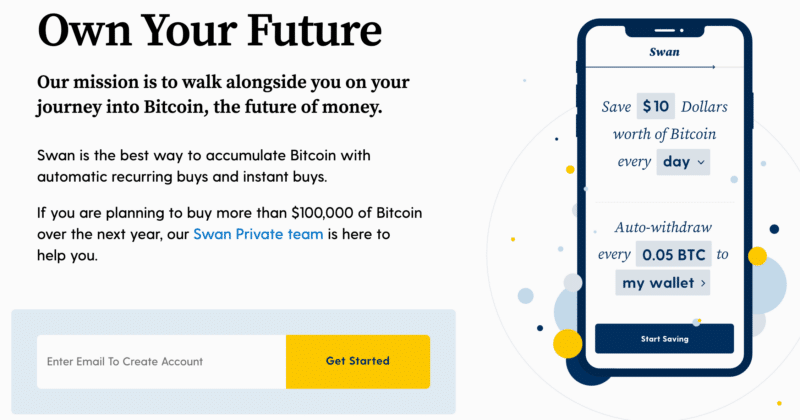 If you're a resident of the United States and you're only interested in Bitcoin, Swan Bitcoin is a great service that was expressly built with DCA in mind. I would highly recommend it if you have the option to use it.
Bitpanda – Best for Europeans who want to DCA in crypto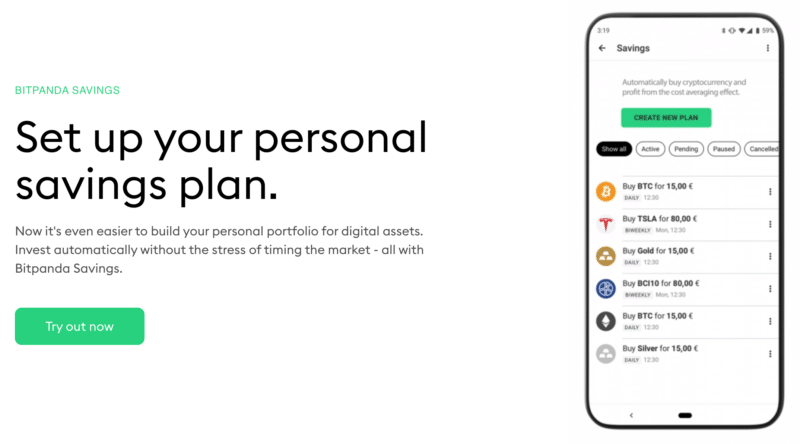 Bitpanda is a trusted platform and is very popular in Europe. It also offers an easy-t0-use interface for setting up a DCA strategy. You can DCA into Bitcoin or other cryptocurrencies.
How to set up a savings plan on Bitpanda:
Log in to your account and verify if you haven't done yet.
Click on "Savings plan" and select a wallet of the digital asset you want to buy.
Select the currency (EUR, USD, CHF, GBP, TRY) and choose a payment option.
Define the amount and frequency for your savings plan, and click on "Go to summary".
Great! After you've confirmed the payment at the payment provider, you're all set.
One thing I love about Bitpanda is that they also have crypto indices set up, so you can actually invest in the entire crypto market completely and in automatic fashion, and therefore build up a diversified crypto portfolio effortlessly.
You can set up a personal savings plan using Visa, MasterCard or SEPA Direct Debit. You don't have to think about it after your first buy, as the recurring buys will be executed automatically afterwards.
You can set up as many savings plans as you want and for any digital asset supported on Bitpanda. You can even set up multiple savings plans for the same asset.
Of course, Bitpanda also gives you the full flexibility and freedom of temporarily pausing and later resuming your savings plans. This is needed if something unexpected comes up, for example, and you need to channel all your income towards that problem.
I usually like to take big bets on particular cryptos, but I also want whole market exposure as a hedge and to also profit from the big moves of other projects that I might not be keeping a close eye on.
In crypto and other sectors that are in the early days, I believe that it is next to impossible to pick all the winners, so it's a good idea to own a basket of cryptos. Given that we're so early, there is a good chance that a lot of the projects will go up in fiat terms, although it is also probable that some will fail completely.
Kraken – A Great International Option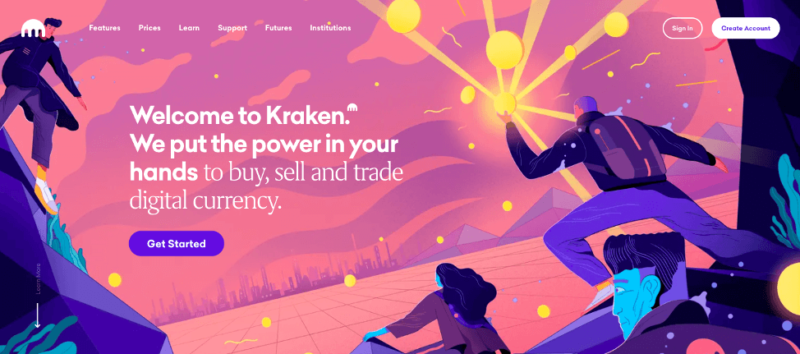 Kraken is one of my favorite exchanges, famous for its security and for being one of the early players in the crypto space. While Kraken does not offer a DCA mode to its users, you can use a crypto trading bot like 3Commas or TradeSanta to set the DCA system up.
Read my in-depth review of Kraken if you want to learn more about this exchange.
Binance – Dollar Cost Averaging with Many Cryptos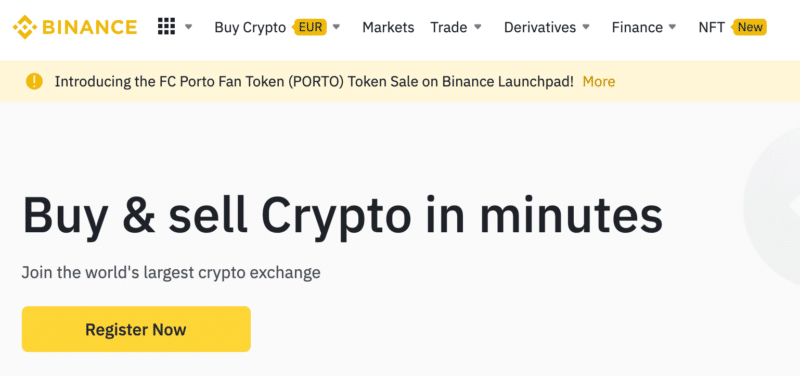 Due to the number of cryptos that Binance supports, I would consider it one of the best options for those who want to dollar cost average into many different cryptos. Again, since Binance does not offer a DCA interface within the app or website, you will need to pair it with a crypto bot that will actually do the DCA on your behalf.
Read my in-depth review of Kraken if you want to learn more about this exchange.
Wrapping Up
Have you used DCA? Have I missed out on any of your favorite platforms? Let me know in the comments section below.
Keep in mind that while Swan Bitcoin and Bitpanda offer a specific interface for dollar cost averaging, and are thus well suited for beginners who want to sign up to one platform and set it and forget it, there are also other options.
If you already use one of my favorite crypto trading apps, like Kraken, Binance, or eToro, you can still use DCA by using a crypto trading bot.