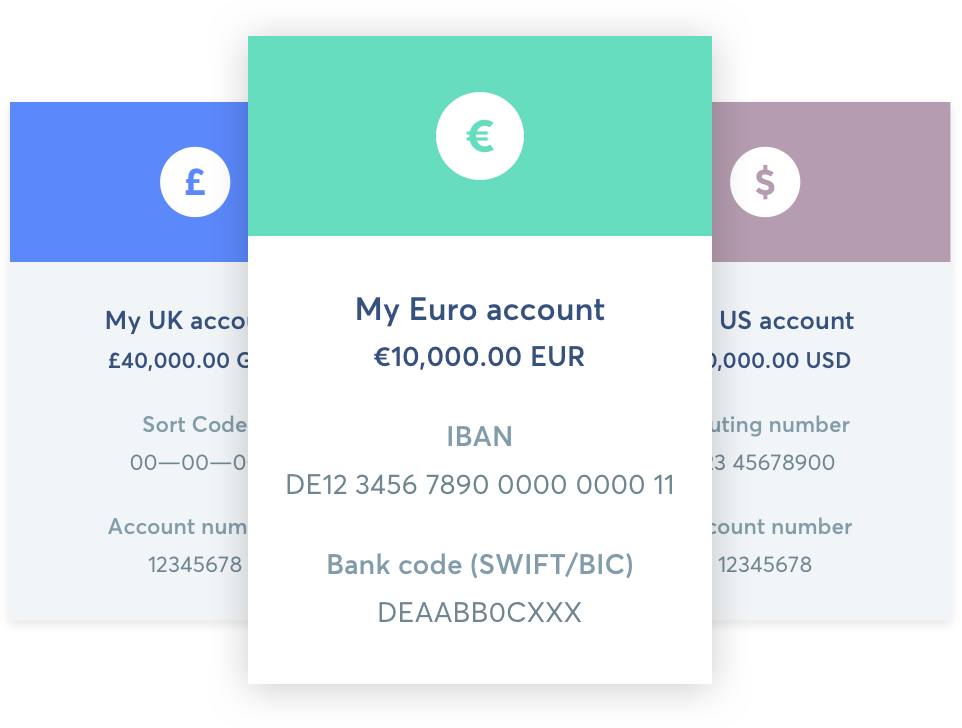 TransferWise introduced borderless banking in 2017. The big advantage it gives you is that you can have bank accounts in multiple currencies. The vast majority of entrepreneurs I know require a combination of accounts in these three major currencies:
US Dollars (USD)
Euro (EUR)
British Pounds (GBP)
The problem so far has been the simple fact that it's unnecessarily and frustratingly hard or downright impossible to open a bank account in another country than the one your business is based in.
So for example if your business is based in the UK, but you make all your online sales in USD, you would probably want a USD account so that you would be able to transfer money to it without losing on exchange rates.
This problem is now solved with Transferwise's borderless banking system. Once you open an account with Transferwise, you will be able to apply for borderless banking and select the accounts you need (USD, EUR and GBP available at the moment). Within two days you will have them in place and you can then start receiving client payments to these accounts.
So what are borderless accounts?
Your borderless account is a bit like having local accounts all over the world, without having to open a real bank account abroad.
It's a multi-currency account that lets you keep money in 28 currencies, and convert between them at the real exchange rate whenever you need.
You get bank details (like account numbers, bank codes and IBANs) issued by TransferWise so you can receive money in different currencies around the world with zero fees. These aren't actual bank accounts (they only work similarly to bank accounts), so you don't have to fill in any forms or have a foreign proof of address. They're your unique bank details issued by TransferWise to you, that you can give to your friends, company or customers in the US, UK, Eurozone and Australia to get paid in those countries as if you had a bank account there, with zero fees.
How do they work?
Add money to your account in any of the supported currencies. Then activate the currencies you want to convert to or hold money in.
Convert money between your currencies in seconds whenever you need, always at the real exchange rate, with our low conversion fees.
Send money directly from any currency in your account to pay bills, pay friends or move it to another account of your own.
Activate AUD, EUR, GBP or USD in your account to get account numbers and IBANs. Give them to your friends, company or customers to receive those currencies from any bank account in Australia, Eurozone, UK or US with zero fees.
Where is the money stored?
Your TransferWise borderless account is an Electronic Money account. It's important to note how it differs from a bank account because:
You won't be able to get an overdraft or loan
You won't earn interest on your account
Although your bank details are unique, they don't represent real bank accounts, but simply 'addresses' for your Electronic Money account, meaning you can receive payments much like a real bank account
Your money is protected and safeguarded, but not guaranteed by the Financial Services Compensation Scheme (FSCS) that you may get with a bank account.
The great thing about your TransferWise borderless account is that you can use it just like a bank account in many cases, like making payments with your TransferWise debit card (currently available for those in EEA). You can also send payments to other accounts and receive payments from your clients or employer using the bank details attached to your borderless accounts.
The main benefit of using your TransferWise borderless account over traditional accounts is that you won't be charged international transaction fees or outrageous exchange rates.
Your TransferWise borderless account is an Electronic Money account. You can send, receive and convert currencies all in one account. You'll always get the real exchange rate and the lowest possible fees.
Will TransferWise report transfers to the tax authorities?
TransferWise Limited is a UK company authorised by the Financial Conduct Authority as an Electronic Money Institution. They are still evaluating the impact of the Common Reporting Standards, including FATCA, to our business and how we will adopt the new requirements. At this time they are not reporting this information to HMRC or any other tax authority.
TransferWise vs PayPal
I've written about the loss of money due to currency conversion when using PayPal before, so I was hoping that Borderless Banking would solve this issue once and for all. However, after checking with PayPal, they have informed me that at this stage they don't support virtual bank accounts, which is what TransferWise's Borderless banking solution is classified as.
2Checkout do not allow withdrawals to a Borderless Banking account unfortunately, so I can't use them there either.
It would also be interesting to know what Stripe are doing, so if any of my readers wants to try that, do leave a comment with the results.
You should be able to use Borderless Banking with other services that support bank wire transfers, such as affiliate systems like Avangate and Shareasale.
This is a great step in the right direction. Revolut released something similar earlier this year, but TransferWise's solution is better. The last step now is to be able to use this type of account with PayPal for withdrawals.
In any case, you can still ask clients to pay you to one of your multi-current TransferWise Borderless accounts, and that's already a huge bonus for those entrepreneurs and companies who receive invoice payments directly rather than through payment gateways such as 2Checkout, Stripe or PayPal.
Don't forget that you can now also get a TransferWise debit card, which gives you direct access to your multi-currency Borderless accounts so that you can spend your money anywhere around the world where cards are accepted.