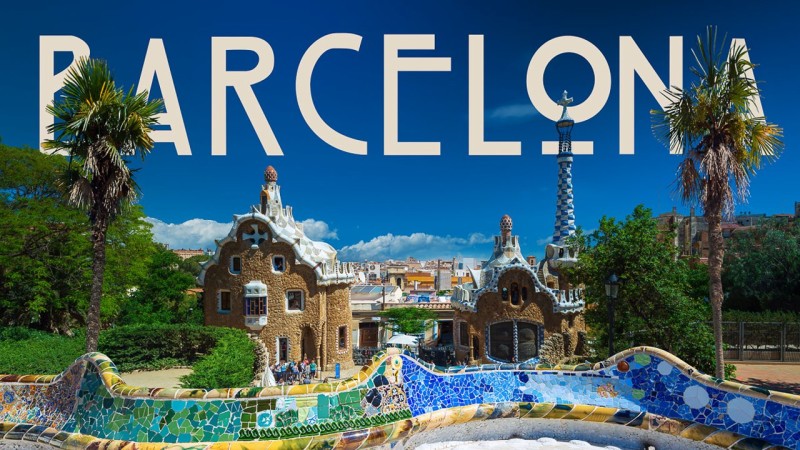 After spending several years traveling as a digital nomad in search of an ideal place to settle in, our choice fell on Barcelona.
I think it's one of the best destinations in Europe for online entrepreneurs, lifestyle designers and freelancers. The closest alternative I've found is Lisbon, and I've compared the two in my Lisbon vs Barcelona article. In a nutshell, Barcelona is the better place lifestyle-wise, but Lisbon wins on the taxation front due to its NHR programme and lack of tax on crypto. It would also probably be fair to say that if you've already made your money and want to be around investors and well-off families, Cascais (seaside town close to Lisbon) is the better option for you.
This is a subjective post as every person/family has their own needs and requirements from a place; Barcelona just happens to fit mine very well. Here's why. I will list both positives and negatives. People tend to criticize me for looking negatively at countries or cultures, but I only try to be realistic.
I choose to live in a city/country not because everything there is perfect, but because the good things outweigh the bad ones by a very significant margin. This ratio can change over time so I do evaluate my thoughts every few years, keeping into consideration the alternatives available.
Although I do my best to integrate wherever I am, that doesn't mean that I'll adopt the negative aspects of that culture, nor do I stop wishing that those aspects would change over time.
With that in mind, I'll be going through all the best and worst things about Barcelona.
The Good
Sport is in Barcelona's DNA
Barcelona is a city where sport is held in very high regard. You can easily practice any kind of group sports, and there are great locations for individual sports too. Do you love running? You have the hills and mountains all to yourself, not to mention the seaside promenade. Beach volley, check. Football, check. Cycling, awesome. Padel, of course! Swimming? At many gyms all year round or in the sea. The list never ends. The only problem I have is deciding what sport to practice!
A big chunk of Barcelona owes its origins to the Barcelona Olympic games in 1992, and today one can still feel that ambiance pervade the city. There are many gyms to choose from at all price ranges, with many of them having an indoor pool. The topology of the city also presents natural invitations to practice sport. There are some awesome hills and mountains to climb if you're into cycling, or you can head to the beaches for a swim or try your hand at SUP.
When I arrived in Barcelona I also fell in love with padel, and this city, along with Madrid, is the top place to be for any padel amateur or pro player.
One can also find several apps designed to help people access many gyms and sports facilities for one monthly price, which is very convenient.
I don't need to mention that Barcelona is home to one of the most famous football clubs in the world, Barcelona FC.
Culture and Diversity
Barcelona is a city that oozes culture wherever you go. Each barrio in the city has its own character and it's clearly felt as soon as you arrive there. The city center is, of course, world-famous, with the Gothic quarters and El Born being a true experience for culture vultures.
Gastronomy
Another thing I love about Barcelona is eating out. There are thousands of restaurants and many great cafes too. By using apps like The Fork (El Tenedor) you can also get fantastic discounts when eating out. Spain is also home to the fabulous menu del dia, which translates to menu of the day. The majority of restaurants will offer a three-course meal at a very good price every single working day during lunchtime. Expect a three-course meal for 10-14 euros. That's why many workers don't bother cooking themselves, they just go out and have a great meal and socialize during their long lunch breaks. In the evening they then prepare something simple or go out to socialize again over tapas.
While we're talking about gastronomy, it's also worth noting that I've found a good number of coffee shops, and coffee is very reasonably priced. They're great for mingling with other people, holding meetings or just absorbing the Barcelona vibe and people watching.
There are plenty of Michelin star restaurants too if you fancy luxurious meals that involve all the senses.
I've even managed to find a chef to cook all my meals at an affordable price, which is one of the best luxuries one can have in my opinion.
Transportation
Moving around is really easy. You can use the metro and bus system, both of which are modern and efficient. You also have the possibility to use the city's bike-sharing system, as well as make use of car and scooter-sharing platforms. Moreover, Barcelona is a very walkable city. I can't imagine how many kilometers I've walked since I got here. Back when I lived in Malta, I barely walked as we had to take the car to go anywhere. Here I don't even own a car, it's just too easy to get to where I want to go via public transport or my own foldable Brompton bike.
Barcelona has a very efficient bus and metro system, so you can get to most parts of the city very easily with minimum hassle. I also love the fact that there are many scooters (it's the city with the most scooters per capita in Europe) as I'm a big fan of this mode of transport. I don't love the noise that the older ones make, and I hate the noxious fumes the very bad ones leave behind, but hopefully, over time they'll be made illegal in favor of cleaner electric scooters. I use the electric scooter sharing system which is great.
From where we live to anywhere in town I can pretty much choose between 7 types of transport depending on various parameters, such as comfort, traffic, cost etc.
Co-working Spaces
Barcelona is one of the European cities with the most co-working spaces. In the past few years these types of offices have really taken off, so I definitely think one can easily find a space to fit his tastes. Here's a map of all the coworking spaces in Barcelona.
International Feel
Being a major tourist hub as well as home to many ex-pats, Barcelona has a truly international feel. I haven't encountered anything similar in other Spanish cities and so I think Barcelona is unique in this aspect. As much as I love to immerse myself in new cultures, I don't feel so good in the long run when I so obviously stick out in any way amongst the local population. Barcelona is a melting pot of cultures so I have no problem at all, if anything it gives me access to different cultures all in one place.
Friendly People
I realize this is a somewhat subjective thing and it also depends a bit on who you have the luck to meet. However, the vast majority of people are very friendly and ready to help. I had spent two months in Barcelona in my twenties (the real start of my digital nomad lifestyle), and even then, when I couldn't really speak Spanish, I had found people to be very helpful. I don't understand why some people say that the people in Barcelona are not friendly and will refuse to speak to you in a language other than Catalan. I'm not sure where this myth originated from but my experience has been totally different. Note that this might be true in smaller towns in Catalunya, but definitely not in Barcelona itself.
Cost of Living
The cost of living is very decent. It's lower than in other big cities in Europe. Keep in mind that local salaries are also on the lower end when compared to their northern European counterparts. If you own an international business or work for a foreign company, chances are your monthly income will be significantly higher than the local average, so you'll be able to afford a great apartment, eat out at the best restaurants, etc.
International Private Schools
For those of you with kids, you'll be pleased to know that there are several international schools. The American School is the leading private school in the city. The public schooling system seems to be good enough by international standards, although I think the level of spoken English needs to be improved drastically.
I find it appalling that many young people in their twenties in their thirties still can't speak any English. I am one of those who believe that having a great command of the English language is one of the best elements of one's education as it opens so many doors. The fact that the classes are taught in Catalan within the public school system makes that option unfeasible for many ex-pats including myself, but I would always go for an international private school anyway. Keep in mind that there is a strong movement within the local system to promote the Catalan language and suppress Spanish within schools. You can imagine how much attention is given to English and other foreign languages within this environment.
Kid-Friendliness
Barcelona and Spain in general are a great place to raise kids. Private international schools are good, although the public system is not ideal for expats as previously mentioned. Taking kids with you to restaurants and other places is the norm and they will get many smiles and compliments from the locals.
On the other hand, I would advise against adopting the typical bedtimes practiced by most Spanish. Research and common sense indicates that it is much better to put kids to bed earlier.
Opportunities for Short Trips
If you ever get bored of Barcelona, there are many awesome day trips you can take, and of course flights to other Spanish cities and the islands are cheap. The Catalan government is very active in promoting the community's best sights and outings. On this site, you will find many suggested trips.
Barcelona has a pretty unique position between the mountains and the sea. It's obviously great to be so close to the beaches, both those in Barcelona itself and also places like Castelldefels and Sitges which are only a short train ride away. They can be easily reached by car as well of course. On the other hand, there are the mountains which offer a really nice opportunity for those times when you need to get away from it all and immerse yourself in nature.
Furthermore, connections from Barcelona to other important cities in Spain and throughout Europe are readily available. You can hop on a train or fly to most places directly from Barcelona. Since most of the conferences in my field take place in the US, having good flight connections to North America is also a plus. It's very important for me to be somewhere that is well connected to the rest of the world and with few barriers to international travel. Barcelona is one such place, with a very good airport just twenty minutes away from the city center.
Interesting Suburb Options
Families or people who are more used to living in the suburbs rather than the main city centers can opt to live in some good suburbs near Barcelona, chief of which are Castelldefels, Gava, and Sant Cugat. Within the Sant Cugat area, the best places to live are Coll Fava, Parc Central, Volpelleres, Mirasol, Golf and Can Matas.
Personal and Business Networking
Barcelona is becoming a central hive of activity for startups, freelancers, entrepreneurs and digital nomads. It's one of the top destinations in Europe and even worldwide if you fall within those categories.
Since the city hosts so many entrepreneurial minds it is no wonder that one can find several groups and meetups which can serve as a hotbed for networking as well as making new friends.
If you're new in Barcelona or new to the networking scene in general, you will find many meetups and groups, for example the group I founded a few years back:
Barcelona Entrepreneurs and Digital Nomads – One of the biggest groups on Facebook for Barcelona-based entrepreneurs and digital nomads. Recommended for asking questions about the city, coworking spaces, good cafes, etc.
The Negatives
Every place has things that could be improved, and Barcelona is no exception. Here are the things that bother me the most:
Property Prices
One of the worst pains is finding rental accommodation. Like many other major European cities, prices for buying or renting property have been steadily going up, and coupled with the fact that most buildings are pretty old and shabby, you end up having to spend a pretty penny to get a decent modern apartment. On the other hand, it is still quite far from the prices in cities like London and Paris. We are also finally seeing the refurbishment of many apartment blocks taking place. This was sorely needed, as the quality on offer wasn't up to standard with what you find in other countries. Therefore we had a mismatch with economically well-off ex-pats struggling to find a decent apartment even though they had solid budgets. Things are now changing, and if you have the money you can usually find an apartment that fits your requirements.
I've written an article about renting vs buying property in Barcelona if you're more inclined to buy rather than rent. There are currently rent controls in place in Barcelona as well as a social-housing quota for new builds. This has led to new home building practically grounding to a halt after a social-housing quota of 30% was imposed on all new projects above 600m2. This is the result of the nonsensical socialist policies that are all the rage in Spain and in particular in Barcelona at the moment.
Worst Regional Tax System in Spain
Catalonia, which has twice as many regional taxes when compared to the rest of the Spanish regions, ranks last in the Tax Foundation's 2020 Spanish Regional Tax Competitiveness Index. In 2020, a new tax on amenities with an environmental impact was ratified after the tax on the environmental hazard of radio-toxic elements was declared unconstitutional. Catalonia also reduced the inheritance tax credit and raised the marginal income tax rate by up to two points. Additionally, it has one of the worst-structured individual income and wealth taxes.
Catalonia also ranked last in 2021, and the surrounding regions hardly offer any hope for those who might be thinking of living just outside Catalonia. Aragon and Valencia are ranked just above Catalunya. Madrid, on the other hand, is first in the competitiveness index.
The Independence Movement
I've written an entire post on this destructive movement that has dealt a big blow to Barcelona's reputation, not to mention the millions of euros it cost to repair the damage done during the separatist protests in recent years. I won't even get started on the incompetence of Barcelona's mayor that has led to a noticeable decline in many aspects of the city in recent years.
Dog Poop
Yes, unfortunately, this is a city of dogs and a small percentage of dog owners are not very responsible. You have to be careful as you'll encounter dog poop on most of your walks here, which is pretty disgusting especially if you end up stepping on it.
Lack of Green Areas and Parks
There is just one big park in the city, and if you have kids, you'll quickly notice how hard it is to find areas for them to play.
Sand in Children's Play Areas
Unfortunately, the city council insists on using sand for children's play areas. This means that your kids will end up very dirty if they play there. I have one of these play areas right in front of my apartment, and every morning I see dogs pissing in the sand while on their walk with owners, and a few hours later it's full of kids happily playing in that same sand. Insane.
Noise Pollution
Another issue is the noise that is generated by cars (the majority of which use the noisier diesel engines) and more importantly scooters, the worst of which are obnoxiously loud and polluting.
Luckily, scooter sharing programs in Barcelona use electric scooters and they are growing steadily in usage. Unfortunately, they are hampered by the pig-headed thinking of the local mayor, who, instead of aiding them, recently changed the rules in order to drastically reduce the number of shared scooters available, crippling this system.
There are also new laws that prohibit older and more polluting cars from entering the city.
Air Pollution
That brings us to the point of air pollution. Unfortunately, Barcelona's air is quite polluted, even though it sits on the coast and has some nice mountains on the other side. Go out to the suburbs and you'll immediately notice the difference in air quality.
For this and the above reasons, in most parts of the city, you are forced to keep the windows shut at all times of the day.
You'll see most of the locals prefer to eat on the terraces, many of which are along busy roads. I honestly don't understand how they enjoy that, but I guess they've grown up in those conditions and have developed some sort of way to ignore the noise and pollution while they enjoy their meals or drinks.
These negatives are all quite serious, especially when you have young kids who are more sensitive and susceptible to illness as they develop. This is the reason why many young families, local and expats, move to the suburbs (Sant Cugat being the top place for expats). However, by doing that, you do give up some of the many incredible things that Barcelona has to offer. The good thing is that you can still commute to Barcelona quite easily if you wish to, so I think it's a good compromise if you have kids.
And some others that are hopefully self-explanatory:
Not washing their hands after going to the bathroom and doing their thing
Not taking their shoes off when they enter the apartment
Cagatio tradition (too weird any way I look at it)
Extremely loud talking
Cigarette butts are thrown onto the street, and spitting is common too
Poor timekeeping
Low level of accountability, there's always something or someone else to blame
Customer is not given much value in shops
Due to some negative traits in their culture, I think it will be very hard for Spain to compete internationally in business. Greed and corruption, as in many other Southern European states, dominate over efficiency and helping each other out and trying to make everyone successful rather than just yourself. I don't know if such countries can ever make the shift, as I can see these traits already in kids just a few years old, so they're most probably not going to change later in life. Perhaps an influx of ex-pats might shift the pendulum, but I'm not counting on it.
In the meantime, given my setup, I manage to structure my life in a way that I get to enjoy the positive things about Spain while minimizing the negatives, so all in all for me Spain remains my top choice as a place to live in.

My Wishlist
In case you're wondering what I look for in a city where I plan to live mid to long term, here's my current wishlist:
Nice people and environment

Good weather

Opportunity to practice sports, especially padel

A nice modern city

Easy connections to Malta and the rest of the world

Good co-working spaces

Decent government and taxation
All in all, I think that Barcelona is a place where you can really be what you want to be and build a life around your interests. It might not excel and top the charts at anything in particular, but it does have an incredible vibe that makes you feel at home. It is this vibe that attracts so many tourists here every year. Many of the ex-pats here started off by casually visiting the city, then immediately falling in love and moving here shortly after. Every barrio in the city has its own character, and that helps in providing a lot of diversity and opportunity for finding a place that you really like living in, with the kind of people you like in the streets, the right restaurants and cafes etc.
Barcelona feels very much like home to me, and I do think it's one of the best places for living in the whole world, but sadly I also have to note that its trajectory doesn't look too good for the next 10-20 years due to various factors that I already mentioned (most everything boils down to bad politics) and I wouldn't be surprised if it loses out to other up-and-coming destinations like Lisbon over the medium to long-term. Having said that, the exceptional weather conditions will remain a major attraction for many, especially those moving here from northern Europe or other places where bad weather is the biggest pain point in their lives.
I'd love to know other people's experiences and takes on Barcelona, so the comment section is awaiting your views!