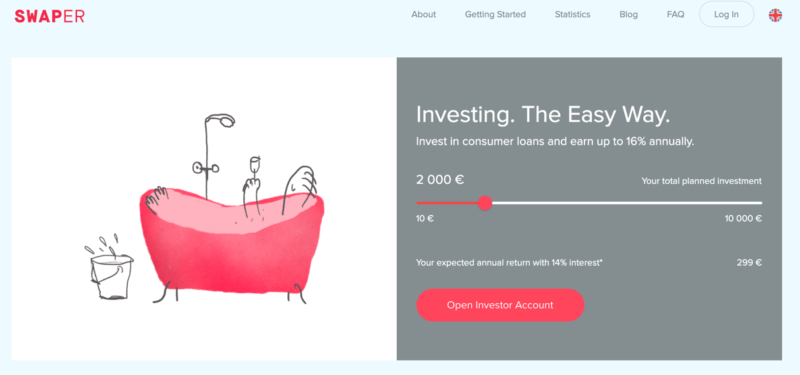 In this review, I'll be taking a look at Swaper, one of my favorite P2P lending platforms in both function and design.
Swaper is one of the latest entries into the P2P lending space in Europe, having started operations in May 2019. They have found success pretty quickly though, amassing more than 4000 active investors, 160m euro in investments and 2.1m euro in interest paid back to investors.
What is Swaper?
Swaper is a P2P lending platform, where you can earn up to 16% annually. The minimum investment is €10. There are no fees for investors, including the secondary market.
Swaper differs from other platforms by operating with only one loan originator, Wandoo, as well as offering all loans at a fixed 14% interest return. If you're a VIP investor (details below) you will earn 2% more, therefore 16% annually.
You can invest in either EUR and GBP to avoid money transfer fees.
A buyback guarantee is also in place, whereby when borrowers are late for more than 30 days, Swaper will buy back the loan from the investor.
As an investor, you can also make use of the auto-invest system to invest money automatically, for example a set amount every week, or also to reinvest the interest received.
Swaper operates and provides its services under the legislative acts of the Republic of Estonia. Swaper is not a regulated financial institution and the claim rights offered for purchase on Swaper's website are not considered as securities or any other regulated financial instruments.
Therefore the business activities of Swaper do not fall under the supervision of any Financial Supervisory Authority. Your investments are not guaranteed in any way. This is pretty normal for P2P lending platforms, although if this is your first P2P lending investment I would advise that you take this into consideration and make sure you're comfortable with the risk before taking the plunge.
One Loan Originator – Wandoo
Here's a bit more information about the Wandoo loan originator. Since Swaper have decided to keep things simple, it is well worth it for investors to dig a bit deeper into Wandoo and its operations, as you're putting all your eggs in one basket in this case.
In December 2016 Wandoo started its operations with headquarters in Latvia. Wandoo makes consumer finance quick-to-access by using the most advanced and representative scoring techniques, which minimizes our customers' effort and streamlines risk management.
Wandoo offers up to 30-day consumer loans starting from 50 EUR up to 1 500 EUR. Loans are sold to Swaper based on assignment agreements concluded between Swaper and loan originators. Following the assignment loans are placed on the Swaper platform that makes these loans available to investors. Investors will earn 14% interest per year and even 16% within our loyalty program.
As Wandoo issues unsecured consumer loans it receives over 200% of annualized interest from these loans. This permits the Group to earn sufficient funds to offer loans with a BuyBack. In case of a BuyBack investors are compensated for their invested principal and accrued interest, in case the borrower is more than 30 days late with the loan repayment.
You can find more information about the Wandoo Finance Group and its management team here: wandoofinance.com
Wandoo in Poland was established in July 2016 and offering consumer financing to the customers in Poland. More information about the company and loans can be found here: wandoo.pl
Wandoo in Spain was established in April 2017 and offers consumer loans in Spain. More information about the company and loans can be found here: wandoo.es
Depositing Funds
As mentioned before, you can deposit money in both EUR and GBP, and you can use digital banks such as TransferWise, Revolut and N26 without any problem.
I always try to use such banks to avoid the fees and hassles of traditional banks. If you're new to these digital banks, make sure you read my reviews below, I highly encourage you to try them out.
TransferWise review
Revolut review
N26 review
If you're worried about keeping track of several bank accounts, then you can check out the Curve app. It's a very elegant solution for integrating multiple bank accounts and controlling which one you pay with using a mobile app.
The Swaper Management Team

Swaper is owned by Marina Tjulinova, described by the Swaper websites as follows:
Marina is the guru of all financial and legal matters. She is hard working and a real team player. In daily basis Marina maintains the connection between Swaper and its loan originators as well as business partners.
Marina is in her mid-thirties and has spent her whole career in finance, and still acts as CFO of software company Neotech. My understanding is that she was able to leverage her money knowledge together with the software development firepower that was in her reach to be able to create a fintech solution like Swaper.
The Swaper platform definitely feels like a polished product, and this is coming from someone with a long career in web development and software.
There are two more young women that are shown on Swaper's about page, which is beautifully presented. Through chatting with the team I discovered that there are more team members who work on Swaper but they are not shown on the about page.
In reality, a platform like Swaper doesn't require a massive team to run once the software is solid and well-tested. You only need to layer a great support and marketing team as well as a solid finance department and you're good, and for a smaller platform 3 or 4 people can definitely cover the work, so I don't have many concerns about Swaper's small team or the fact that Ms Tjulinova still works as a CFO at Neotech in addition to running Swaper.
Secondary Market
Swaper operates a good secondary market, which provides liquidity to investors should they need it. Nowadays I don't invest in platforms that don't have a secondary market, so I'm very happy that Swaper implemented this feature right from the start.
The other good thing is that there are absolutely no fees for selling or buying loans on the secondary market.
Support
You can reach Swaper via phone, email and live chat. All options are clearly displayed on the website. I usually use live chat and I've found the support team to be excellent, absolutely no complaints from my end in this regard.
Swaper and the COVID-19 Crisis
Swaper was one of the platforms that best communicated with its investors during the COVID-19 crisis, issuing no less than eight official updates through the Swaper blog, through which investors were kept up-to-date with the changes happening at Wandoo as well as the evolution of investment figures at Swaper.
Communication happens in perfect English, unlike other platforms that really struggle to issue coherent statements.
Swaper Loyalty Bonus
Something that I'm seeing a lot nowadays across all investment platforms is some kind of loyalty bonus or VIP service. With Swaper, they reward investors who have entrusted funds over 5000 EUR (or equivalent amount in GBP) for investment, granting an additional +2% to the interest for new investment.
I think that's a very good bonus, considering the fact that €5,000 is not that high of a hurdle to reach.
My Final Thoughts
I really like this platform and the team have been extremely pleasant to deal with whenever I contacted them. The live chat support works flawlessly and the team will be happy to answer any questions you have with a cheerful but professional attitude.
The results so far speak for themselves, so I can't fault Swaper. Perhaps in the future, they can expand further beyond Wandoo, as I believe that would minimize the risk of depending on just one loan originator (although it already operates in several different markets, which in itself minimizes risk).
I would recommend Swaper for those who want to diversify their P2P lending investments, for example using two or three other established P2P platforms to spread risk. Mintos and Peerberry would be two candidates that I would recommend. You could also mix that with real-estate lending and equity platforms like EstateGuru and Raizers for a well-rounded portfolio.
Have you invested with Swaper yourself? Let me know about your experience in the comments section below.
Swaper
Summary
Swaper is a platform that boasts a beautiful and clean web design as well as iOs and Android apps to easily manage your investments. Returns range between 14 and 16% which is what I would expect for a P2P lending platform, although they are above average in reality when compared to other similar platforms.
I expect Swaper to continue growing rapidly and take it's place among the big players in the European P2P lending scene.
Pros
Efficient support
High returns
VIP programme for an extra 2% returns
Cons
Lacks the long track record of other platforms, having been launched in 2019.